5 Clues to the Pregnant Rabbit
"Is my rabbit pregnant??" "How can I tell a pregnant rabbit?" 
Have you bred your buck and doe rabbits together? How can you know the breeding 'took?'  Are there ways to know if she's pregnant or not? 
Actually, there are at least 5 very useful clues.
And knowing these 5 clues becomes even more crucial if you suspect a breeding took place by accident...

Your first clue a doe is pregnant is her mood - she gets cranky.  A doe who was your best friend might suddenly flee to the back of the cage when she sees you coming. She might growl a little if you open the door to her cage.  Does can get grouchy as early as a few days into her pregnancy. 

Don't worry.  She'll chill out nearly as soon as her bunnies are born, or by the time the kits are peaking out of the nesting box, and become your BFF all over again.

---
Second Clue: The surest way to know if your rabbit is pregnant is to "palpate" her abdomen - meaning to feel for little baby lumps.  You do this as early as day 10 or as late as day 14. This requires some practice, usually.

Set the doe on a carpeted table or in your lap, head toward you. Be careful - she might be cranky by 10 days pregnant. Place your right hand under her tummy, palm up, making a bit of a cup with your hand. You want to gently explore the doe's tummy with your 4 fingers on one side of the back bone (from underneath), and with the thumb on the other side. Simply push upward gently, lifting the doe's hindquarters up a bit. Then slide your hand up and down, and see what you can feel.

If you can feel distinct, soft little grape-sized lumps in a row on either or both sides of the abdomen, this confirms the pregnancy.  (Hard little lumps along the middle of the abdomen are probably little poop-balls.)


(Surprise rabbit pregnancy? Consider a roomy cage or wooden hutch for the doe and babies)
Third Clue: Some pregnant rabbits start trying to 'dig' inside their cage from 2 weeks pregnant and beyond.  You might notice the doe scratching quite diligently at the far corners of her cage.  If I wasn't sure I had palpated her abdomen correctly, I would be very pleased to see this behavior in the doe.  It frequently indicates a positive pregnancy, at least in my rabbits.  Although, a doe with a false-pregnancy may also scratch at the wire in an attempt to burrow. 

(Pictured - Amaranth, our very pregnant opal rex doe, cramming hay in her mouth. And she thinks she can tuck in a few more stems! See clue #4 below.)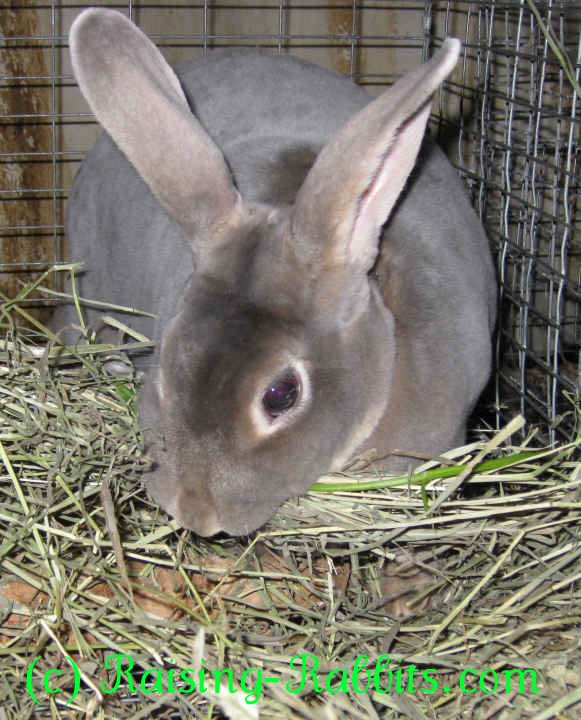 Nesting Box Materials: Pine Shavings, Hay, Straw
Fourth Clue: Some pregnant rabbits become desperate to build their nest.  This pregnant rabbit clue occurs a week or less before she's ready to give birth (3-4 weeks pregnant). 

Toss some hay or straw into her cage.  If the doe starts gathering heaps of hay into her mouth like a blue jay carrying twigs for a nest, this is a sure sign she's pregnant. We call that bundle of hay in her mouth a "haystache" because with a little imagination, it looks like a mustache made of hay.

If one of my does seems agitated, ready to build her nest, and carrying straw early, I've been known to give her the nest box as early as day 21, when normally the nest box goes into the cage exactly on day 28.  But I still won't expect the doe to give birth on any day except day 31, as usual.  The doe whose hormones are running her ragged will calm right down once she's built her nest.

(Below: Xena has received her nestbox stuffed full of nesting material. Clearly she's unimpressed!)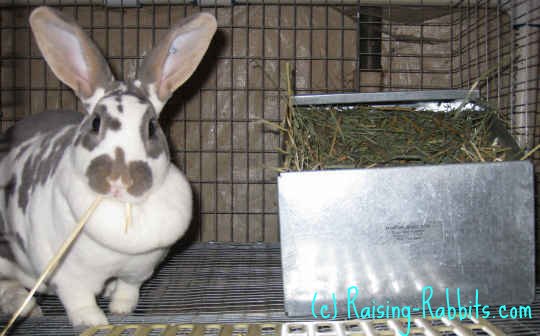 If your doe doesn't carry hay around, it doesn't necessarily mean she isn't pregnant. Some does are mellow as jello, like Xena here. You give them a nest, and they start eating straw out of it. But the next morning (day 29), Xena had her nest nicely formed, though no fur pulled.

Just to complicate things, the occasional doe will wait until the night she kindles to actually form her nest.

But, my point is this: if you see the doe carrying the straw after day 21...she's for sure pregnant.
Fifth Clue: Sudden and random jerking of her sides during her last week of pregnancy. That will be little bunny-feet kicking around in her womb. Look for quick little kicks, especially when she's laying on her side. You'll know it when you see it.  And when you see it, you've definitely got a pregnant rabbit.  Don't confuse the little kicks with the rhythmic rolling movement of the rabbit's intestines, however. Actually, the two are very easy to tell apart, especially when you've seen both.


More Pregnant Rabbit Tips
Pregnant rabbits don't always 'look' pregnant, not even on the day they kindle (give birth).  Of course, if there's 15 kits in her belly, you might wonder if you oughtta duck and cover - she'll look big enough to pop.  Most frequently, they'll lose their waistline along about the last few days of the pregnancy.  That's why it's helpful to know these pregnant rabbit clues for confirming your suspicions.

The pregnant rabbit usually gives birth on day 31 without fail.  But the bunnies can arrive on day 28 up to day 34.  If I've bred the doe and buck in the evening, I can expect the kits on the morning of day 32.  If no babies by day 35, the doe was probably not pregnant. ("Probably," because on a rare occasion, the doe manages to hang onto her kits until after day 40. If you're still seeing bunny-feet kicks and day 35 has come and gone, consider getting a vet's opinion on whether the doe needs additional help, or whether you only need to be patient.)


Click here to go to Rabbit Pregnancy - and see how another rabbit breeder deals with confusing rabbit pregnancy signs in her three Californian does.

Click here to go to the Rabbit Behavior page. Try to count how many signs my pregnant rabbit tried to give me, if only I had been paying proper attention...  


Add your Comments or
Share your Experiences!
Your comments or experiences can help others who read them. So, comment away, and if you have pictures, you can post up to four of them. Pictures are always helpful.

(Have questions? Perhaps your question was already asked, and answered, below. If not, Karen has answered hundreds of your questions in her book: Rabbit Raising Problem Solver, covering every aspect of pet rabbit and livestock rabbit care as well as rabbit health and disease. We recommend it!)

Comments from Other Visitors...
Click below to see additional posts that other visitors have made to this page...

(Return to Top of Page)
Double-Value Guarantee
Our policy is to always OVER-deliver on value,
which is why your purchase is fully covered by our
Double-Value Guarantee.
Go ahead - take any of our e-books for a test drive. Peruse our detailed informational and educational e-books. Examine our plans for building rabbit cages, runs, or metal or PVC hutch frames. Check out the Rabbit Husbandry info e-books.
If you aren't completely satisfied that your e-book purchase is worth at least double, triple or even quadruple the price you paid, just drop us a note within 45 days, and we'll refund you the entire cost. That's our Double-Value Guarantee.
Note: When you purchase your e-books, they will be in PDF format, so you can download them to any device that supports PDF format. We advise making a back-up copy to a drive or cloud account. If the books are lost, you can also purchase another copy from Raising-Rabbits.