World of Raising Rabbits
Books and E-Books

Welcome to the World of Raising Rabbits!
There's no way to put everything we know on a topic on each website page, which is why we offer our e-book publications -- useful and effective info in a format which you can download and take with you.


Announcing our
12th Anniversary Celebration!
10% Discount on All E-Books until 11/30/2021!

Purchase one or more of them today and receive an instant download link.
If you need more information on one or more of these e-books, no problem at all. Just click on a title (or other hyperlink such as an e-book cover picture) to learn more about the e-book that interests you.



Enjoy!

---


Rabbit Husbandry E-Books
---
Domestic Rabbit Breeds: $7.49  ON SALE! $6.74!!!
206 pages. Comprehensive information and huge photos of all US rabbit breeds and as many of the world's domestic rabbit breeds as we were able to find: 
Satisfy your fascination with the astounding diversity between rabbit breeds
Decide the breed or breeds that are best for you 
"What breed is my rabbit?" Guidance on answering this question about your own mystery rabbit
---
Feeding Your Rabbits: $9.49  ON SALE! $8.54!!!
This 74-page e-book will have your rabbits bursting with health and vitality by focusing on:

Nutrient needs and qualities of excellent rabbit pellets

Rabbit digestion, how cecotrophy works, why it is important

Brand new, researched information on feeding successfully with fresh forages and other foodstuffs, plus enhanced list of safe plants and forages

Feeding kits, orphans and baby cottontails

Links to feeding supplies, and much more
---
Rabbit Reproduction: $8.97  ON SALE! $8.07!!!
Second Edition - Updated and Revised!
This 87-page e-book covers all aspects of rabbit reproduction from mating, to pregnancy, kindling, care of the rabbit kits, weaning, sexing, and rebreeding. It discusses all the common problems that might arise and the interventions you can employ to avoid disaster in the lives of the buck, doe, and/or kits.
This essential e-book covers it all, adding much more info than is found on the Raising-Rabbits website.
---
Keep Your Rabbits Healthy: $6.99  ON SALE! $6.29!!!
An essential and continual focus of rabbit care is keeping rabbits healthy. This involves two steps:
Providing living conditions that promote health while eliminating those conditions that tend to result in health problems

Recognizing the implications of various symptoms, and then taking the right measures that will result in a return to health
If you cannot purchase Rabbit Raising Problem Solver, then this 92-page e-book collects all the rabbit health and disease information on the Raising-Rabbits website, enhances it, adds new photos and info, and puts it all conveniently at your fingertips.
---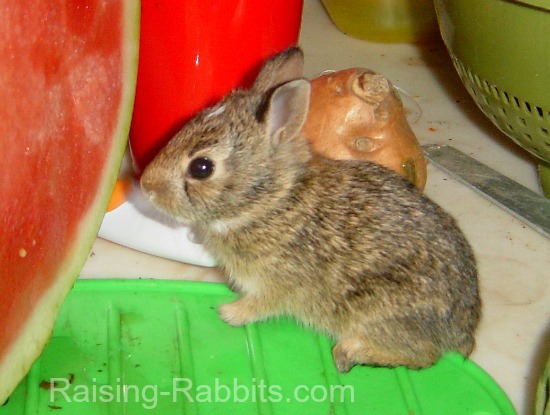 "Being a relatively new wildlife rehabber, I was inundated with baby cottontails this last spring. I had NO IDEA that they were hard to raise! 
"...I learned a lot from your ebook, 'Rabbit Reproduction' (part of my quest to learn as much as I can). I didn't know about BOSS.... I appreciate all I am learning from your ebooks and website. Here's a photo of "Brighty," one of my successes... Thanks!"  ( Fae, MI)
---


Rabbit Housing E-Books
---
Ideal DIY Rabbit Cages: $11.49  ON SALE! $10.34!!!

ALL the DIY plans for all the cages, hutches, runs and pens that we build and use.
"Your website is amazing. I love these plans using PVC pipe to build a rack for hanging cages. I'm going to build one this weekend" (Laural, MN)
---
Pet Rabbit Living Spaces: $7.49  ON SALE! $6.74!!!

Specifically for pet rabbits, whether indoors or outdoors - Cages, hutch frames, exercise runs and pens.
(All plans in Pet Rabbit Living Spaces have been included in Ideal DIY Rabbit Cages above.)
---
DIY Livestock Rabbit Housing: $9.49  ON SALE! $8.54!!!
All-wire cages, large hutch frames, and rabbit runs designed and created for the meat and show rabbit breeder, and anyone raising more than just 1-3 rabbits.
(All plans in DIY Livestock Rabbit Housing have been included in Ideal DIY Rabbit Cages above.)
---
Double-Value Guarantee
Our policy is to always OVER-deliver on value,
which is why your purchase is fully covered by our
Double-Value Guarantee.
Go ahead - take any of our e-books for a test drive. Peruse our detailed informational and educational e-books. Examine our plans for building rabbit cages, runs, or metal or PVC hutch frames. Check out the Rabbit Husbandry info e-books.
If you aren't completely satisfied that your e-book purchase is worth at least double, triple or even quadruple the price you paid, just drop us a note within 45 days, and we'll refund you the entire cost. That's our Double-Value Guarantee.


---
If you prefer,
here is an honest-to-goodness real page-turner
Rabbit Raising Problem Solver is available as a paperback and also in Kindle format (electronic). It was written by our own Karen Patry and published by Storey Publications.
Obtain it wherever excellent books are found, both online and in bookstores. Click on the link above for more information, or purchase your hard copy on this World of Raising Rabbits page at a significant discount!

"Just wanted to tell you I love love love your book! It is my rabbit bible. Seriously. As soon as I found it, I put all other books down. The questions and answers made it so simple to learn. You get right to the point. Thank you so much!"  (Lynette, CA)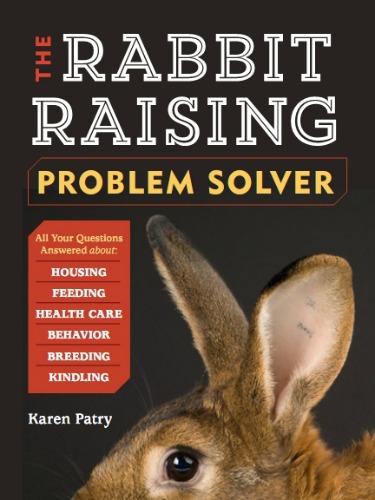 $ 22.62 - includes
10% off your autographed copy of 

Rabbit Raising Problem Solver

All packaging, handling, and Media Mail postage costs

(WA residents are subject to sales tax)




Applies to US addresses

-

(sadly, Media Mail is not offered for international shipping, not even for 

really awesome books)

(International shipping is available, of course, but it's out of our control how much they charge for shipping. Send us your country, city, and area code to obtain a shipping quote.)
"I finished the book…it is so good! You touch all the bases and you cover everything from medical technical to hands-on-the-rabbits fun and funny - really, very well done, just right and so real.
"You write like you are talking to a person, not just to the 'reader.' I do not know many folks who can sit down to read a how-to, inform-me kind of book, and when they are through, be smiling, and better informed and also to have had a couple laughs and smiles along the way, as I did"
(Belinda, WA)


---
Purchase Together:  


Two Premier Books for Rabbit Owners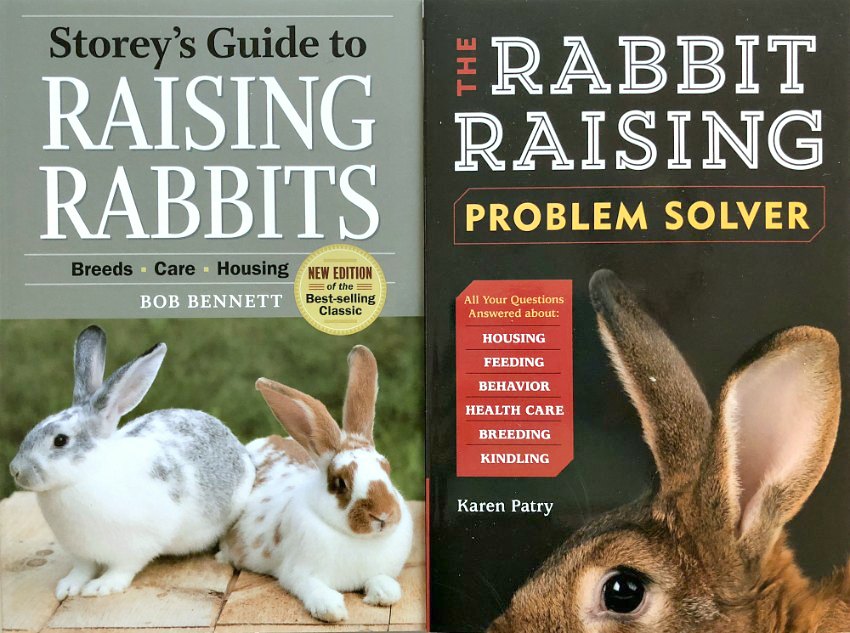 Karen's Rabbit Raising Problem Solver and Bob Bennett's Storey's Guide to Raising Rabbits (4th Edition), both published by Storey Publications, complement each other. Between both books, you'll find no stone unturned! 
Learn the basics of raising rabbits from Bennett's "Best-selling Classic" (this is the book that introduced me to raising rabbits - it's updated and still terrific)


Solve your rabbit raising problems with an autographed copy of Karen's Rabbit Raising Problem Solver. Besides complete answers and explanations of each solution, a full section (83 pages)  is dedicated to health and co

mm

on diseases your rabbit(s) might encounter


Bottom line price includes both books and all shipping and packaging


(Temporary offer - only 1 book set left at this price)


Get them both for a flat, bottom-line price of $39.00
(WA residents may be subject to sales tax)

More World of Raising Rabbits
E-Books coming soon:
The A's to Z's of Rabbit Care, Rabbit Farming, and Rabbitry Management




Essential Rabbit Genetics (Coat Color Genetics and much more)

Tanning Rabbit Pelts: A Step-by-Step Illustrated Guide

Our World of Raising Rabbits e-books contain some of what you will find on the website (at no extra charge). They also contain both enhanced and new information above and beyond what is presented on Raising-Rabbits.com which is what makes them so useful. After all, you can only put so much on each website page. 

Some people (like us!) want the extra info, illustrations, warnings, and guidance supplied in World of Raising Rabbits e-books.

Plus, it's really nice to have an electronic or printed-out copy of this extensive rabbit raising information on hand where one can resort to it just whenever you like or need the info, especially as the world wide web is sometimes not as dependable as expected.
Best of all, offering valuable information at an economical price is part of our mission to OVER-deliver the information you really need. 

There is no risk to you.
Simply take advantage of our Double-Value Guarantee if you are the least bit disappointed.
We don't think you'll be sorry
 (which is why we offer our guarantee with confidence!)


Many thanks!
A hearty and very warm thank-you to our many friends who have purchased one or more of our e-books! We hope you and our new visitors continue to receive great value above and beyond your expectations from this website and from our World of Raising Rabbits e-books.