Rabbit Diseases and 
Health Hub Page

Rabbit Diseases: Major symptoms of the more common diseases affecting rabbits, like snuffles and enteritis.
We'll help you get to know some of the major symptoms of the major rabbit illnesses, and what you can do for these health challenges, including some effective home remedies.
Rabbit Health: 3 rabbit husbandry practices that will help to optimize rabbit health and minimize the onset of disease.



To get to the true cause of your rabbit's illness, Always check with a vet right away. 
Since we're not vets, see the disclaimers at the bottom of this page. 
The Merck Veterinary Manual has a good amount of rabbit health care information.


---
(Pictured: Keep Your Rabbits Healthy, our ebook on keeping bunny happy and healthy.




To help your rabbit live his best life, check out our ebook:

Two of the most important questions a rabbit owner has:

Is my bunny healthy and happy?     
How do I keep him that way?

Keep Your Rabbits Healthy is all about how to keep your rabbit free from injury and disease, and what to do in case something happens. It has lots of pictures so you can compare your rabbit, and know exactly what you're seeing. This has everything on how to take care of bunny from teeth to feet.

    Summer sale! All of our ebooks are ON SALE, 30% off!
     BUY NOW for $12.99 $8.99!

Rabbit Diseases
This page contains a fairly long list of nearly all the rabbit diseases that could possibly befall your rabbit or your rabbitry, plus links to pages of additional information about conditions impacting your rabbit's health. 
You might not ever need to worry about the vast majority of these rabbit diseases, however pasteurellosis and some forms of diarrhea are fairly common banes amongst rabbits. I've listed them first.


PASTEURELLA MULTOCIDA (Snuffles)
Does your rabbit tend to sneeze repeatedly, in long jags of sneezing or snuffling?
Do you frequently see clear mucus or thick white or yellow snot in your rabbit's nose?
With regrets, these two symptoms together are diagnostic for Pasteurellosis, and occasionally for Bordetellosis (see below). Pasteurellosis is frequently incurable, very contagious respiratory disease. Snuffles is the common term, which describes the sounds made by rabbits that have mucus-filled nasal airways. The term Pasteurellosis is a reference to the causative bacteria: Pasteurella multocida.
Pasteurellosis can quickly degenerate into pneumonia and death. It is also the guilty agent in a variety of other serious infections in other parts of a rabbit's body other than its respiratory system.
Do not use a rabbit with Snuffles as a breeding animal.
Learn more about Snuffles here
There is a glimmer of hope for curing Pasteurellosis if...
the infection has not yet become established in areas of low blood flow such as the sinuses
the pasteurella bacteria species is not highly pathogenic. 

Is your rabbit sneezing due to Pasteurella bacteria or other simpler causes? Click here.

If antibiotic treatment is to be successful, it should be instituted promptly upon development of symptoms. Unfortunately, many rabbits that come down with Pasteurellosis cannot shake the infection, despite treatment.

How rabbit breeders can gain control of pasteurellosis (snuffles) in their herds - Utilize this breeding and culling program which can eradicate the disease in your rabbitry within one to three years, and fix health in your rabbits' genetic code.

BORDETELLA in Rabbits - Bordetella bronchiseptica infections in rabbits can look and act a bit like Snuffles, but how to tell the difference? Learn to recognize the symptoms and how, or if, to treat.


These rabbit diseases can cause severe watery or mucoid diarrhea of varying severity.  Some can be fatal within 12-48 hours:
BE PREPARED:
Dysbiosis - a disruption of the normal healthy bacteria in the rabbit gut - can occur suddenly and without apparent cause. The result could be a mild bunny diarrhea, a potentially fatal enterotoxemia, or something in between.  Having a tube or two of Benebac on hand could save a bunny-life or even the life of a stricken adult rabbit by re-supplying healthy gut bacteria and normalizing the action of the intestines. 
Add Benebac to your arsenal of remedies for rabbit diarrhea.

(More)
Infectious Rabbit Diseases


Abscesses
Suspect an abscess if your rabbit has a soft round lump under the jaw line or nearly anywhere on the body. A pus-filled abscess is due most frequently to either pasteurella or staphylococcus infections just under the skin. Click here for info on abscess treatment in rabbits. 
Rabbit Hemorrhagic Disease (RHD) is a devastating viral disease that can wipe out your entire herd in a matter of days. This is one rabbit disease every United States or Canadian rabbit breeder should know about and protect against.
RVHD and RVHD2 are killing rabbits in the UK and Europe. Since these two strains of Rabbit Hemorrhagic Fever are endemic there, they handle outbreaks differently, and they have developed vaccines for both strains of viral rabbit diseases. 
RVHD in BC: Info on the ongoing 2018 outbreak of RVHD2 in British Columbia.
Myxomatosis

This is a very nasty viral rabbit disease carried without symptoms by wild rabbits.  The disease is transmitted by mosquitoes, and is fatal.  Myxomatosis is common in Europe.  In the United States it is present in California and Oregon.
Myxy comes in two forms.  In the rapidly killing form, all you see is a dead rabbit.  But here are some clues you might see if you're watching:
Slight redness of the eyelids
Rabbit is limp or lethargic

Rabbit has no appetite, and eats very little
Rabbit's temperature is elevated to as much as 106 degrees F (normal being 101 - 102 F)
The next thing you know, the rabbit is dead.
There's a chronic form of myxy, where the face, lips and eyelids get huge lumpy swellings, and sometimes the ears as well.  If, at the same time, the rabbit's vent (female) or scrotum (male) swells, you'll know it's myxomatosis. 
See photos of stricken rabbits here, along with technical (veterinary) info on Myxy.
The worst time for the spread of myxy is mosquito season - late summer and early autumn.
There is no cure for this disease and no vaccine in the United States.  Europe has a vaccine.  Consult your local rabbit clubs for vaccination schedules.
What to do (USA):

Immediately destroy sick rabbits, and burn or bury their carcasses.  The recommendation of Drs. Cheeke and Patton in Rabbit Production is: Whenever a rabbit goes off its feed or appears abnormal, and if the rectal temperature is elevated above 103.5 degrees F, kill the rabbit and bury the carcass.  In their opinion, the disease is so deadly, it is better to mistakenly kill a rabbit that is not infected with myxy, than to let one live that does.
In areas where myxy is endemic, it is a good idea to control the presence of flying insects in your rabbit barn.  This is a nasty viral disease that ranks right up there with the worst rabbit diseases.
Rabbit syphilis is another name for 'vent disease.' This highly infectious disease results in crusty, inflamed tender sores around the genitals.  The sores can spread to the face and nose with grooming and coprophagy. 
An infected animal will resist breeding due to the discomfort.  But since it is contagious, one infected animal that is infectious but not yet showing symptoms can spread the disease to many other animals.
Check your breeding animals frequently, and be very careful with studding your bucks.  Some recommend dedicating a buck to stud service and not using that buck in your own herd.
Rabbit syphilis is easily cured with penicillin.
Get the whole scoop on Rabbit Syphilis here
The following serious infections can threaten or take the life of lactating does:

Mastitis: Infection of one or more mammary (milk) glands, also called 'caked udder.'  If the nursing doe stops eating, check her milk glands.  Additionally, she will run a fever of, say, 104 degrees F or more.
The doe needs immediate antibiotics to prevent a full-blown abscess and hardening of the milk gland.
Young Doe Syndrome: The doe suddenly dies, 4-10 days after kindling a perfectly fine litter. The doe may go off her feed.  You might also notice a touch of rabbit diarrhea.  The cause of Young Doe Syndrome is enterotoxemia, but a staph infection of a milk gland can also cause sudden death in the lactating doe.
Maintaining clean cages can help prevent mammary gland infection ("caked udder," "blue udder,") and giving hay on a daily basis can help prevent enterotoxemia.
Condition Enhancers: BOSS, Whole Oats

These rabbit diseases or conditions are the result of parasites:

Ear Mites
Encephalitozoon cuniculi, also known as EC, or Nosema
Pinworms
Ringworm
Tapeworms: If you have dogs, you should know about the possibility of tapeworm cysts in your rabbits.
Our Rabbit Health Care page gives tips and information on dealing with other non-infectious challenges to your rabbit's health:
Cannibalism
Dystocia
Hairballs
Heat prostration
Hutch Burn
Red Urine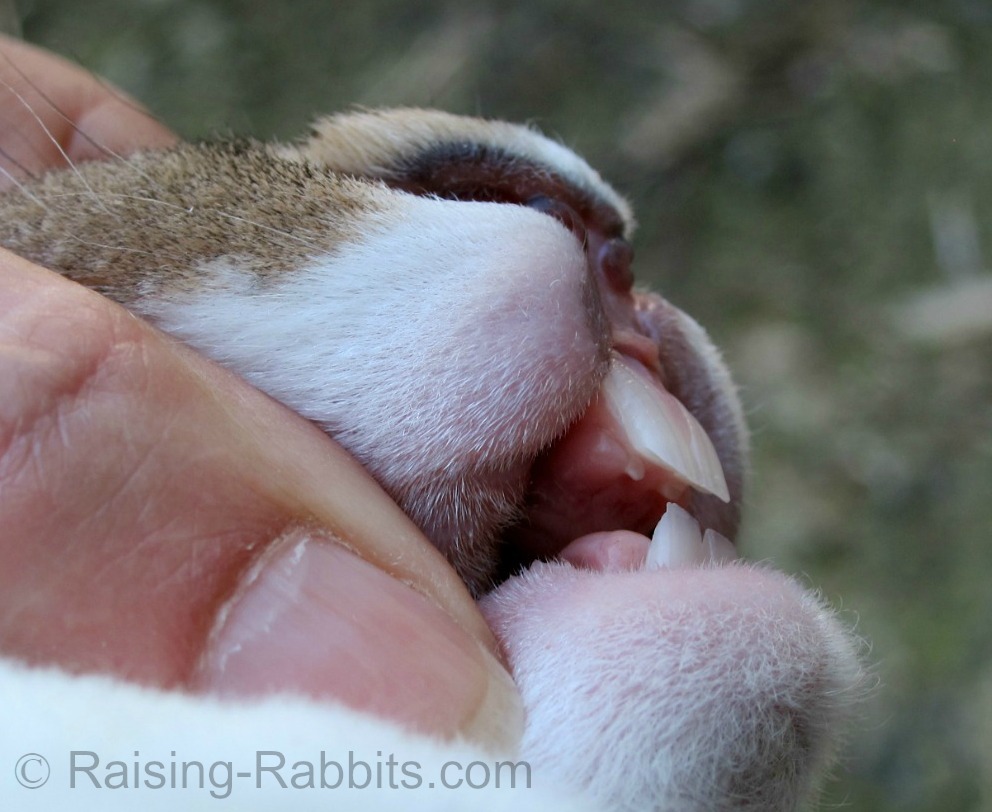 Learn what you can do, if anything, about malocclusion, which is when the rabbit's teeth don't wear down correctly due to an incorrect alignment of the teeth, resulting in the teeth growing excessively long. Other terms for malocclusion are buck teeth and wolf teeth.
Pictured: All 6 of the rabbit's front teeth are perfectly aligned
All the above is a TON of information! It's all yours (and then some) in our health and diseases e-book: Keep Your Rabbits Healthy...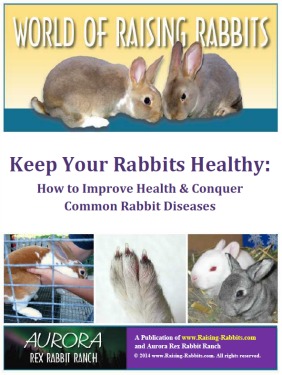 Keep Your Rabbits Healthy
Two of the most important questions a rabbit owner has:
Keep Your Rabbits Healthy is a very easy guide on making sure your rabbit lives his best life. Illness and injury can be quite scary, especially if you don't know what to look for or what to do to help your rabbit. Keep Your Rabbits Healthy is a straightforward book for real people, with lots of pictures, so you know what you're seeing. Keep Your Rabbits Healthy has preventative care to ensure your rabbit's well being, and tells you what to do and what to look for when your rabbits need your help.
Summer Sale:
30% Discount on All E-Books!!!
Buy Now for only $12.99 $8.99
To find out about all of our great books, check out World of Raising Rabbits.
As always, your purchase is 100% risk free. See our Double Value Guarantee below.




Disclaimers




While we have hands-on experience with the most common of rabbit diseases, Raising-Rabbits.com has no actual veterinary expertise.  We do know that a normal temperature for a rabbit is 101 - 102 degrees Fahrenheit. 
First Disclaimer:
Our desire is to communicate what we've learned through hard-earned experience over the last 30 years.  Some of it will be very helpful to you. But if your rabbit is sick and you're looking for guidance, we can at best only show you the big picture of what some rabbit diseases typically look like.  There's not a chance we can help you make a definitive diagnosis.  Always consult a professional veterinarian, especially one that specializes in rabbits and small mammals. 
About rabbit vets: They're not as easy to find as you might think!  So you'd be well served to locate a vet experienced in rabbit diseases before you have any need of him. Because when you need one, you may very well need him right away.
Second Disclaimer:
In the United States, a pet rabbit can cost as little as $10, and as much as $30.  The majority of show-quality purebred rabbits will set you back at most up to $100.  We think that for the price of a veterinary visit (and toss in any drugs you might be advised to purchase), you can, and maybe you should in some circumstances, simply replace your rabbit. 
This is absolutely no consolation to the owner of a well-beloved pet bunny.
Begging your pardon, we know that in the case of a few, very serious and contagious rabbit diseases, the sick rabbit should not be allowed to live.  For the rest, however, we sincerely hope you will be able to work with your vet to find a way to make your pet rabbit better.

Double-Value Guarantee
Our policy is to always OVER-deliver on value,
which is why your purchase is fully covered by our
Double-Value Guarantee.
Go ahead - take any of our e-books for a test drive. Peruse our detailed informational and educational e-books. Examine our plans for building rabbit cages, runs, or metal or PVC hutch frames. Check out the Rabbit Husbandry info e-books.
If you aren't completely satisfied that your e-book purchase is worth at least double, triple or even quadruple the price you paid, just drop us a note within 45 days, and we'll refund you the entire cost. That's our Double-Value Guarantee.
When you purchase your ebooks, they will be in PDF format, so you can download them to any device that supports PDF format. We advise making a back-up copy to a drive or cloud account. If the books are lost, you can also purchase another copy from us.
Add your Comments or
Share your Experiences!
Your comments or experiences can help others who read them. So, comment away, and if you have pictures, you can post up to four of them. Pictures are always helpful.

(Have questions? Perhaps your question was already asked, and answered, below. If not, Karen has answered hundreds of your questions in her book: Rabbit Raising Problem Solver, covering every aspect of pet rabbit and livestock rabbit care as well as rabbit health and disease. We recommend it!)

Comments from Other Visitors...
Click below to see additional posts that other visitors have made to this page...