Rabbit Pictures

If you love rabbits, you probably love looking at great rabbit pictures. We do.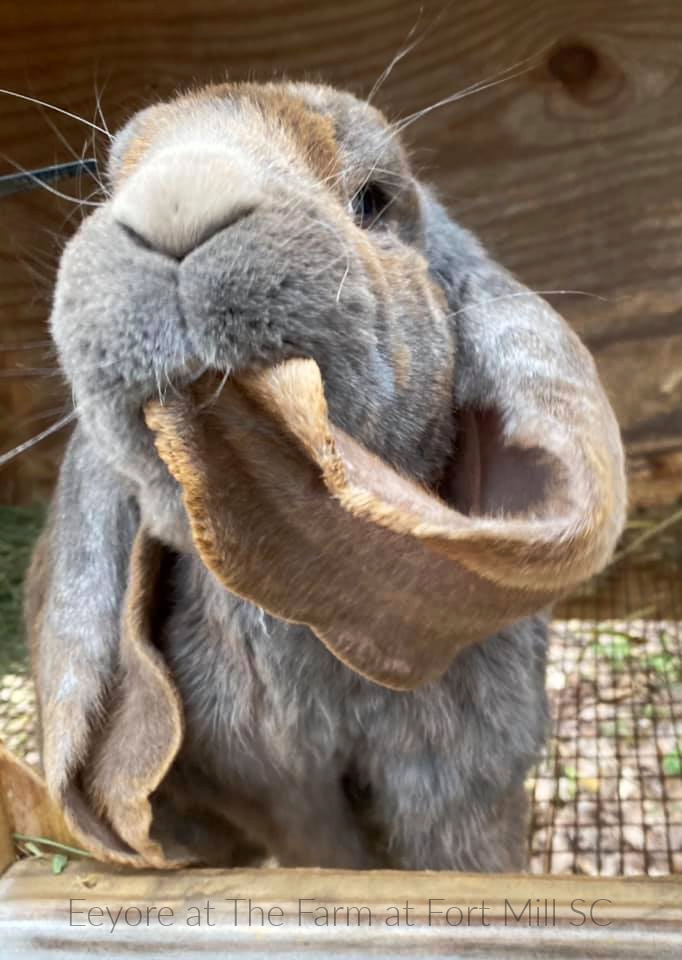 So, we compiled some great rabbit picture albums for you. On this page, you'll find stories and pictures of rabbits from our friends and visitors below. We hope you enjoy them!


We are also creating themed rabbit picture albums. Several are under construction, but we are working on it. 


(Pictured: Eeyore, the celebrity rabbit from The Farm at Fort Mill, in Fort Mill, SC. They are right across the border from Charlotte, NC.)
---
Sponsored Links
---
Here are a couple of our rabbit  photo albums. Click on these links here, or the links and photos below this collection of rabbit pictures, to go to our albums. You will find many themes and collections of pictures of rabbits and settings. Also, check out our Rabbit Breed pages if you want to see several specimens of a beloved breed.
Serious Stuff

Fun and Festive

Shenanigans! St Patricks Day fun. (under construction)

Easter Bunnies (under construction)

A Day at the Races (from our friends at What the Fluffle)


A Day at the Beach (under construction)

Fluffs in Fall (under construction)


Happy Halloween (under construction)

Christmas Cheer (under construction)
A Collection of Rabbit Pictures for You to Enjoy! 
If you're looking for rabbit photos, you've come to the right place! Here is a fun assortment of photos that we hope you'll enjoy! They're of different breeds and colors, different ages, some wild and others are pets... 


Three cute rabbits enjoying the view as they sit at an open window...  
This little light gray bunny has lovely dark eyes. 
A cute little rabbit sitting on the lawn enjoying the afternoon sun.
This handsome rabbit is surveying the scene over the fence.
What do you think he sees?
This little girl loves her soft, white pet rabbit.
A little bunny in the grass.
A great close-up of a cute little bunny's big dark eyes and wiggly little nose. 
An adorable baby bunny.
Posing for a photograph.
This lovely gray rabbit is comfortably nestled in straw.
Four bunnies hanging out with other rabbit friends.
This little girl loves her pet bunny! 
Is he crying? Or praying? Actually, this darling little bunny is just washing his face!
A fancy little rabbit with a ribbon in her hair.
A cozy snuggle of baby bunnies.
This Hugable, Snuggly Bunny love being held by it's human friend!
An alert rabbit!
I wonder what he hears...
This rabbit almost looks like Peter in Mr. McGregor's garden! 
This person is gently holding a beautiful tiny brown rabbit.
A little tan bunny rabbit out in the yard.
This shy little rabbit is trying to hide in the grass but his ears give him away.
Pretty Black and white Rabbit sitting on a stump.
Two little gray bunnies enjoying their salad!
What was that noise? It doesn't take much to alarm a wild rabbit!
A little rabbit hiding in the grass. 
A snuggle of cuddly bunnies.
The race is on! This little rabbit is in a hurry, running lickety-split across the grass!

Here are More Rabbit Pictures for You to Enjoy!
Picture Albums of Rabbits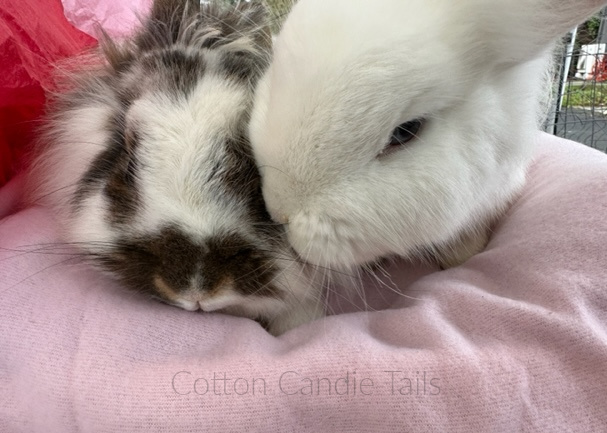 Our Valentine Bunny Photo Album pictures many of the featured rabbitries on Raising-Rabbits, and more! See photos of romantic bunnies, from the first shy date to bunnies on their honeymoon. Enjoy the photos and the accompanying dialogue!


---
Delightful pictures of rabbits at Aurora Rex Rabbit Ranch
These were professionally taken by Double Click Productions (Sequim, WA).
---
Show Rabbit Photos - Taken at an actual rabbit show in Washington State.
If you're new to rabbit shows, this pictorial glimpse will help you get a feel for how rabbit shows work.
---
We hope that you've enjoyed these rabbit photos! In the form below we'd love to see some of your rabbit photos! 
Have a photogenic rabbit?
We'd love to see pictures of your rabbits, and while you're at it, why don't you tell us about them?

Are yours pet rabbits? Meat or show rabbits?
What kind of rabbit(s) do you have?
Do you raise any endangered breeds?
Do you participate in rabbit agility or other fun activities with your rabbits?

What Other Visitors Have Said
Click below to see contributions from other visitors to this page...