Advertise on
Raising-Rabbits.com


Interested in advertising on Raising-Rabbits.com? We already reach your target market; let us do the heavy lifting by pre-selling your products, business, or rabbits for sale.


If we are already reaching your target audience, your company or rabbitry could get significant attention through a pre-selling page on Raising-Rabbits.com.


Today, I'm proud to say, Google now places
www.raising-rabbits.com at #1 on page #1 for the
search term RAISING RABBITS. Here's the screen shot...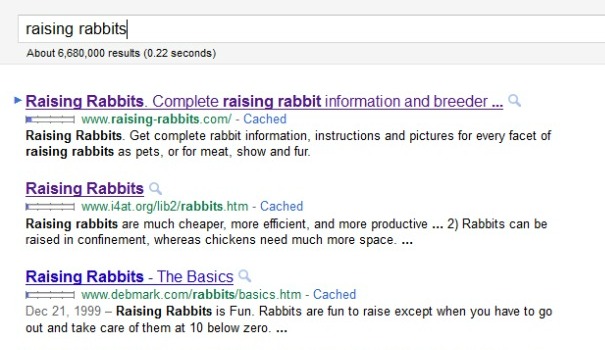 The Raising-Rabbits home page has a page rank of 3.



Unless you desire otherwise, we have an ingenious way to help you pre-sell your rabbits or products. 
We place a text link, banner, or button on multiple pages of the website which takes the reader to a page dedicated to your company or rabbitry 

After clearly explaining and illustrating your product benefits, or rabbits for sale, we will link the reader to your own website/sales page.  




Advertise: Let's Discuss the Options*
Fill out the form below, let us know what you have in mind in as much detail as desired, and then hit the "Submit Form" button. 


What visitors are saying
about Raising-Rabbits.com...
"Hello - FANTASTIC, thorough, comprehensive, exhaustive website. The amount of clearly organized, clearly stated info is amazing...you do an unbelievable job..." George in New York

"Hey, I just want to say thanks for your website. My rabbit gave birth to her first litter last Friday, both mother and babies seem to be healthy. I was a newbie to birth, baby rabbits, the whole thing. Your website has been extremely helpful and without your website I think I would be completely lost on what to do, how to check the kits correctly etc. So thanks a lot. I've attached a few pictures of the 7 kits =]."  Ross in the UK

"Your site has been such a help as we are getting started with our Netherland Dwarfs. There is so much rabbit information to pore over--it will take me a while to get through the whole site. I'm working on constructing the pvc rabbit hutch frame now..." Stacy in Illinois

"Congratulations for your website, fantastic. I have been breeding rabbits as a hobby since I was 6 years old. Now I'm 62, and still breeding rabbits ... Best greetings from the sunny island of Malta." Joe in Malta

"We have just started raising meat rabbits. I really enjoyed your website it helped us a lot thank you!!!" Bridget in Missouri

"This website has all the answers! Thanks!" Lisa in Arizona

"I came to learn about breeding my rabbits I've owned for a while and wow, did this website ever help!" Haley in Ohio

---
* NOTICE:
Paid links on this website, whether text links or image links, are required to comply with Google's webmaster guidelines. Therefore, all paid advertisement links will include the "no follow" attribute, which sends visitors to your page but not the search bots. This condition is non-negotiable. Feel free to submit the above form for more info.

Double-Value Guarantee
Our policy is to always OVER-deliver on value,
which is why your purchase is fully covered by our
Double-Value Guarantee.
Go ahead - take any of our e-books for a test drive. Peruse our detailed informational and educational e-books. Examine our plans for building rabbit cages, runs, or metal or PVC hutch frames. Check out the Rabbit Husbandry info e-books.
If you aren't completely satisfied that your e-book purchase is worth at least double, triple or even quadruple the price you paid, just drop us a note within 45 days, and we'll refund you the entire cost. That's our Double-Value Guarantee.
Note: When you purchase your e-books, they will be in PDF format, so you can download them to any device that supports PDF format. We advise making a back-up copy to a drive or cloud account. If the books are lost, you can also purchase another copy from Raising-Rabbits.