Bunnies by Emma and Ellie
Bunnies by Emma and Ellie
♡ Mini Rex ♡ Mini Lop ♡ 
 Our bunnies are family-raised in a natural, outdoor play-focused environment.
We have mini lop, mini rex, and mini lop/mini rex mixes.
Proud ARBA registered rabbitry.
(Left) Broken Black Mini Lop, (Right) Broken Red Mini Lop.
Well, hello there!

Fall Fluffs

Hopping to New Homes!
Our newest litter will be ready to go to their fur-ever families on November 21, 2022.
Contact us to reserve your bunny:
Website at BunniesbyEmmaandEllie or
Email alexandra120748 @ gmail. com 




At what age can a baby bunny be adopted?



A baby bunny is ready to go to his/her forever home at 8 weeks of age.



---

A Furever Friend

Prior to adopting a bunny, please ensure you do your homework and have a proper space for your bunny to exercise (or roam free) on a daily basis. We've found that litter training is a great way to ensure your bunny can enjoy a larger space indoors or outdoors. Need advice on litter training? Just ask!
---

What makes Bunnies by Emma and Ellie so special?
We use 4 key methods to breed ideal pet rabbits:
Companionship
Handling
Socialization
Enrichment
Our bunnies get lots of handling right away, so they are well socialized and make great companions. We also enrich them with group playtime and toys.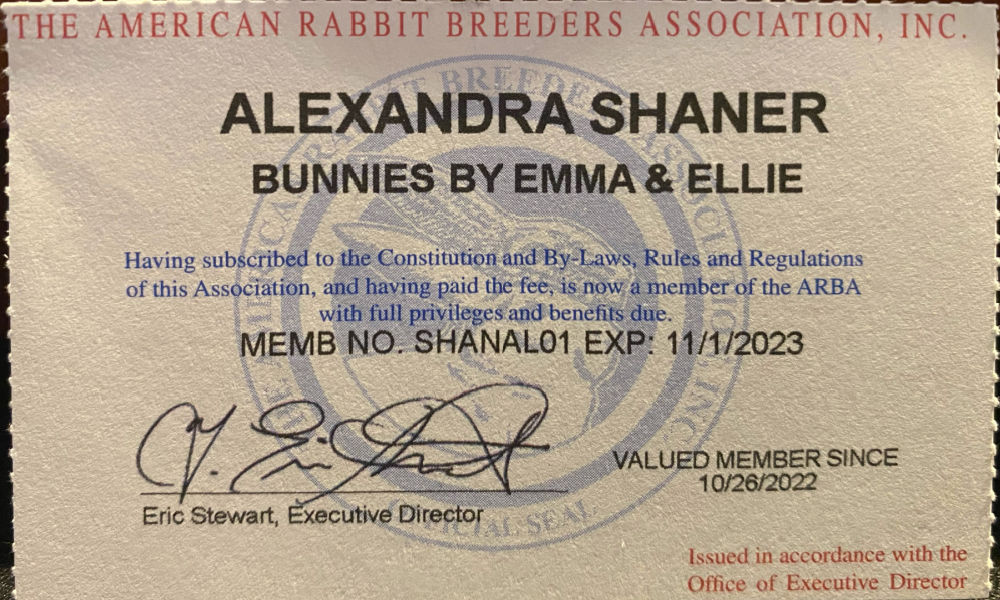 Our rabbits have quality pet training as well as good healthy bloodlines.
We are proud members of ARBA, dedicated to producing happy, healthy rabbits. 

About the photos on this page: Most of the bunnies in these photos are very young - too young to go to new homes. But they sure are darling!! Please don't stress over this - our friends at Bunnies by Emma and Ellie will not send their bunnies away to new families until they are old enough.





Is there anything that sets your rabbits apart from other similar rabbits?

Our bunnies are never force-bred in a cage. Every mated pair is bonded and we believe that's what makes our bunnies extra loveable!





What is the lifespan of a bunny?

The lifespan of a bunny can vary depending on the breed. The typical lifespan for a mini lop bunny averages between 7-10 years.



Can bunnies live alone?

While bunnies can technically live alone, they are social creatures and so it is recommended that they are housed with another bunny, or another furry friend like a dog. If you decide to litter train your rabbit so he/she can free-roam indoors,  a dog can sometimes make a great companion!



When can I pick up my bunny?

While bunnies cannot go to their new home until 8 weeks of age, you're welcome to visit the bunnies before 8 weeks of age to reserve YOUR bunny in advance! We ask that you pick up your bunny; we do not have a partnership with a transport service.

Pricing
Your bunny will come with a complimentary Rabbit Packet containing important information all about your new baby bunny. Alfalfa/Timothy hay and Oxbow pellets are available for purchase to help get you and your new friend off to a great start!

Visit our website, 
https://bunniesbyemmaandellie.godaddysites.com/ to submit a litter inquiry and learn about current pricing.

Bunnies by Emma and Ellie Contact Information
Bunnies by Emma and Ellie
Location: Morgantown, PA, USA
Point of Contact: Alexandra
Phone: (215) 519 - 1059
Email: alexandra120748 @ gmail. com
Instagram: https://www.instagram.com/ali.shaner/
Website: https://bunniesbyemmaandellie.godaddysites.com/
Morgantown is the midpoint between Harrisburg and Philadelphia on I-76, just 1.5 hours east of Harrisburg and 1.5 hours west of Philadelphia.

Bunny Play Day!

Rabbit Restaurants and Bunny Buffets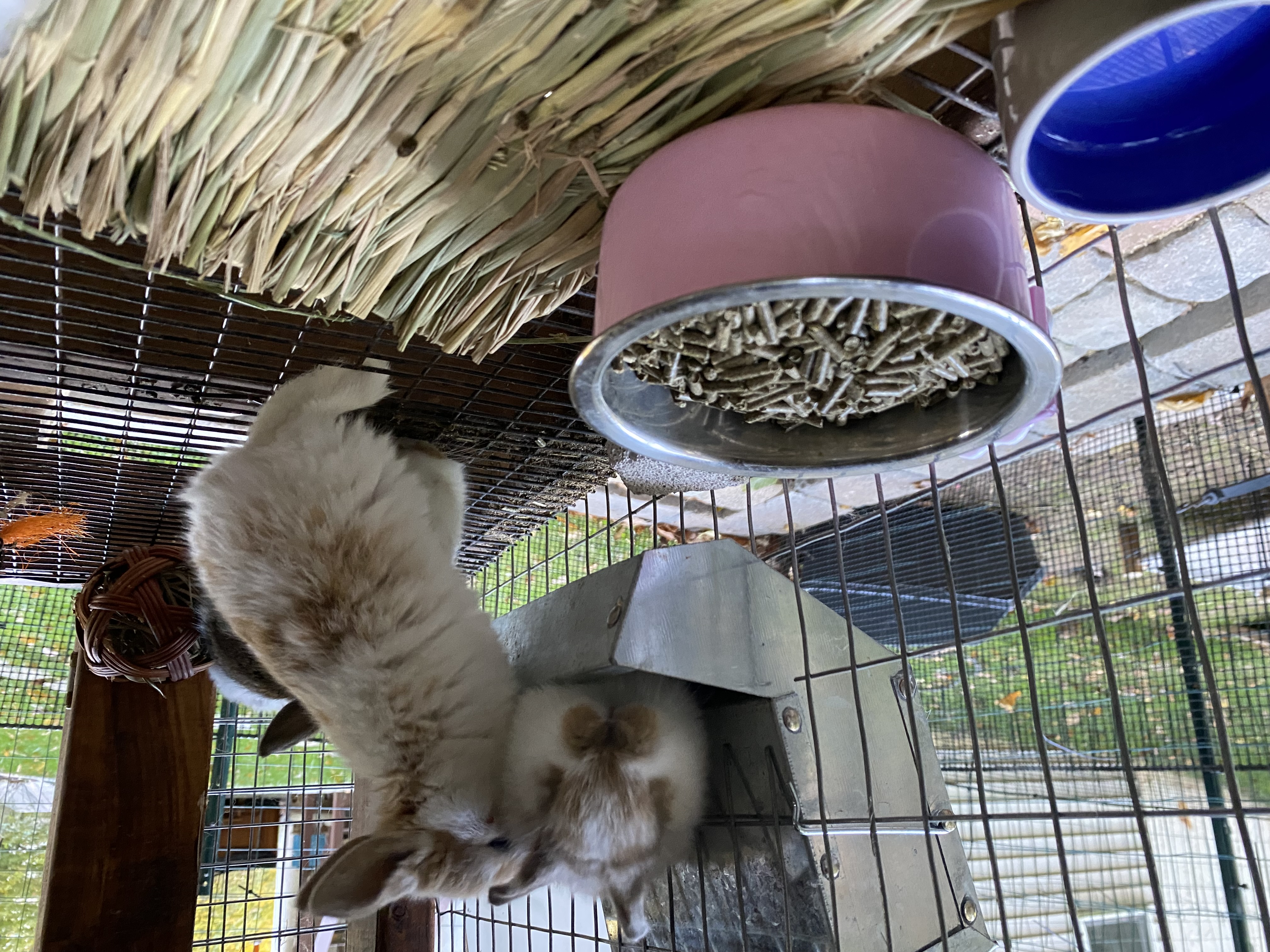 Hey! Get your butt out of my breakfast!

We understand that sometimes life circumstances change, and you may not be able to keep your bunny. Before handing them over to a shelter, please contact us. We will take the rabbit to find a new home. We cannot give a refund, but you can have peace of mind knowing that the bunny will find a fur-ever family.