Rabbit Raising
Problem Solver


About Rabbit Raising Problem Solver. We collected your questions about rabbits over the last four years and answered them all in this Question & Answer book published by Storey Publishing, now available here, and wherever excellent animal husbandry books are sold.


For first-time pet owners and the experienced livestock farmer alike
Rabbit expert Karen Patry addresses questions and concerns about housing, feeding, breeding, and caring for rabbits at every stage of their lives.
From choosing productive meat and fiber breeds to preparing a proper nest box and coaxing a fussy bunny to eat, you'll find proven answers and humane solutions to all your rabbit raising quandaries.
This book covers every imaginable scenario, from the cradle to the rainbow. 
Rabbit Raising Problem Solver is "an excellent, well-written book that will become a classic resource for experienced and novice rabbit breeders," is the opinion of Don Atchison, President of the National Rex Rabbit Club.
Are you a new pet owner or new rabbit breeder?
Rabbit Raising Problem Solver will be invaluable, helping you navigate all options safely while minimizing the chance of a premature loss of a beloved pet or grand champion sire.

"This is the most useful book on rabbits I have ever read in 30+ years of rabbit raising. 
"It has clear information for beginners as well as enough detail and substance to interest long-time rabbit keepers. 
"The breadth of topics is incredible; there is very little I have encountered in rabbit keeping that is not addressed here. 
"Its balanced approach is properly concerned with the welfare of the animals but wonderfully free of the PETA/animal rights influence evident in so many books regarding the care of animals. 
"Cheers to Karen Patry for publishing such a useful book!" (Amazon Reviewer 'PhDinAK,' 7/30/2017)
---
"Just wanted to tell you I love love love your book! 
"It is my rabbit Bible. Seriously. As soon as I found it, I put all other books down. The questions and answers made it so simple to learn. You get right to the point. Thank you so much!" (Lynette, CA)

---
"I have several books on rabbits.
"This was the last one I purchased. If I had seen this book before purchasing the others, I would have only needed this one!" (Kelli, CO)

Are you a grizzled, long-time rabbit breeder with as much understanding of rabbits as anyone?
The rabbits of even the most experienced breeders eventually face health challenges (what was that Albon dosage again?). ALL rabbit owners and breeders can use the tips, reminders, and a ready reference all in one volume.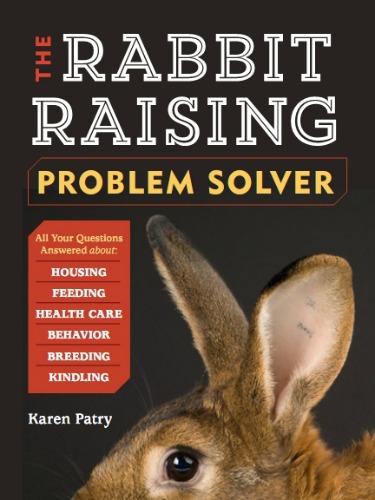 $ 22.62 - includes
10% off your autographed copy of 

Rabbit Raising Problem Solver

All packaging, handling, and Media Mail postage costs

(WA residents are subject to sales tax)




Applies to US addresses

-

(sadly, Media Mail is not offered for international shipping, not even for 

really awesome books)

(International shipping is available, of course, but it's out of our control how much they charge for shipping. Send us your country, city, and area code to obtain a shipping quote.)
"We were so excited to get our copy of The Rabbit Raising Problem Solver. The writing style is delightfully conversational, and makes for a pleasant read. My 11-year-old wanted to read the book right away, and was reading me bits of it in the car on the way home this evening, saying, 'I loved the way she worded that!'" (Angela, WA)

---
"It's handy being able to flip through the book as a 'what-am-I-missing' list. My rabbits have had some digestive issues on and off. There are no vets in this area that know rabbits, but I wanted to do more than just feed hay and wait and hope. Thanks again for the details in it." (Jan, AL)

---
"Rabbit Raising Problem Solver was recommended to us by a 4H leader and mentor. It has been such an invaluable resource that I had to buy a second copy when the kids lost the first one. It is easy to locate info using the question-and-answer format. When something weird pops up I can quickly find that section and read the answers. Easy to understand and very straightforward and honest. I tell all of our buyers to purchase this book if they can only buy one." (Dawn, MA)

Rabbit Raising Problem Solver Contents

Part 1:
All about Rabbits, from Wild to Domestic
Chapter 1: The wild nature of rabbits, and how their instincts carry over to their lives as domestic rabbits. If you know how rabbits act and think in the wild, it will help you understand your domestic rabbit's behavior in your home or your rabbitry.


Chapter 2: The rabbit as a pet, including the needs of pet rabbits, choosing a pet rabbit, types of toys, the litter box and litter box training, taking care of pet rabbits, whether they are house rabbits or the kits' pets out in the hutch under the oak tree. Much more help for pet owners is found throughout this book, and not in this chapter only.


Chapter 3: The rabbit with a purpose. Many people are interested in the business side of raising rabbits. This chapter includes info on show, meat, fur, or fiber rabbits, including a few questions on genetics and managing your rabbitry.


Rabbit Raising Problem Solver delivers
Immediate Answers

"Great, informative book! I was told to purchase this book by 2 of my friends who have rabbits. Very informative and easy read. Covers a lot of information without being overwhelming. Saves me from having to use Google to find answers to simple things!" (Amazon Reviewer Shopaholic, 9/3/2015)
"Ordered Two! This book was a gift for our granddaughter who raises rabbits for profit and she has increased her business at 9 years old to supply local markets! We rescued two bunnies...and so WE needed the information too. Both are large, friendly pets that benefited from the advice we attribute to this informative book."  (Amazon Reviewer LS Shopper, 6/28/2018)
"Super Helpful. Most helpful book on rabbits I've read yet. Got it from the library and then, when finished, had to purchase one myself. (Amazon Reviewer RJ Conte, 6/15/2019)
There is nothing as comforting as having in your hand reliable answers to pressing rabbit situations or emergencies at the very moment when the questions arise.
Part 2:
Basic Care of Rabbits: Housing and Feeding
Chapters 4 and 5: Housing and Feeding Rabbits.


Housing solutions include both hard floors, hutches, and all-wire, including the advantages and drawbacks for each option.





Feeding can be quite controversial in some circles, but once you understand the basic nutritional needs for both adults and even the little kits, a lot of that controversy goes away.




Part 3:
Making more Rabbits: Breeding, Kindling, Weaning
Chapters 6 - 9: Rabbits do what rabbits do best - multiply. These chapters are all about the entire breeding cycle: mating, pregnancy, kindling, newborn kit care, and weaning. And as you can imagine, there are a LOT of things that can go wrong. We've got the answers in these four chapters.


Part 4:
In Sickness and in Health: Illness and Injury
In Part 4, we broke with the Q&A format in order to give you just about as comprehensive a section on rabbit health and common (and uncommon) diseases as one can get without buying a book on veterinary medicine. Seriously.



Many rabbit owners around the globe have no access to a vet. And even in the USA, many wonderful cat and dog vets are unfamiliar with the health needs of a rabbit, a prey animal with a digestive system that is completely different from those of dogs and cats.



Due to the extensive and detailed information here, you may be able to cope with and overcome many health crises. But please don't think you must manage alone. If you have access to a rabbit-savvy vet, please do obtain his or her help when needed.



Rabbit Raising Problem Solver contains:

301 pages of answers to your questions, plus

A list of additional resources, clubs and services valuable to rabbit breeders, plus

A full Index that will help you easily and quickly locate the information you need.


"This is a fantastic resource. Whether you plan to breed rabbits or just have one as a pet, this book is a fantastic resource. It answers so many questions, and gives advice on how to help your rabbit get to know his/her new home as well as you. I love this book." (Amazon Reviewer Heather Cowley, 2/15/2018)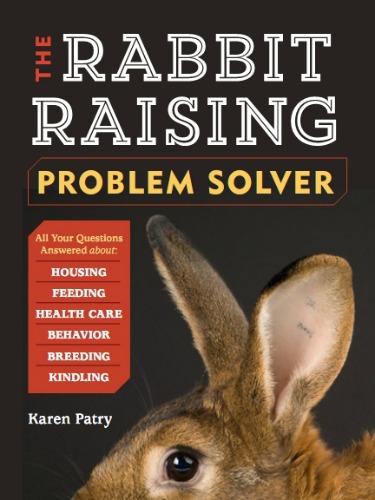 $ 22.62 - includes
10% off your autographed copy of 

Rabbit Raising Problem Solver

All packaging, handling, and Media Mail postage costs

(WA residents are subject to sales tax)




Applies to US addresses

-

(sadly, Media Mail is not offered for international shipping, not even for 

really awesome books)

(International shipping is available, of course, but it's out of our control how much they charge for shipping. Send us your country, city, and area code to obtain a shipping quote.)
Why I Wrote
Rabbit Raising Problem Solver
Our visitors here at Raising Rabbits have been checking in with us for years when various problems have arisen. It's been fun answering your questions, both by private email, over Facebook, and through our interactive comment forms found on certain pages on this website.
But eventually, along with your individual unique quandaries, various questions came around again and again.
"Is my rabbit pregnant?" was a common question, followed quickly by, "If so, now what do I do?" Questions about housing rabbits, about all sorts of health challenges, and about the gamut of breeding, kindling, taking care of the kits and orphan care were also very frequently asked.

Apparently the already available books, which present the basics very well, were not adequately answering the more specific rabbit care questions that rabbit owners and breeders run into nearly every day.

These rabbit owners and breeders needed a more specific resource that would be far more likely to answer their specific questions.
Storey Publishing - my FIRST choice for a publisher - got wind of my ideas for a book back in December, 2011, and liked what they heard. By March, 2012, I was immersed in manuscript deadlines.
The Rabbit Raising Problem Solver was published on May 6, 2014. Storey Publishing did an AMAZING job, as usual! It is available in both softback and electronic (Kindle).
Once you've obtained your own copy of Rabbit Raising Problem Solver, you'll be able quickly to "problem-solve" most any issue with your rabbits, and even help other rabbit breeders with their questions.
"This book is awesome. For the money you will not find a better book that will answer all your rabbit questions. Glad I bought it." (Amazon Reviewer Donald Smith, 5/14/2015)
"I would like to personally thank Karen Patry for this book. Her book opened my eyes and cleared up some issues I had in my rabbit farm." (Amazon Reviewer Andrew Russell, 12/11/2016)
"I LOVE the illustrations! They're so perfect" (Karen Sez)


About Storey Publishing
"For 30 years, Storey Publishing has been helping readers practice creative self-reliance.
"Self-reliant doesn't mean doing everything all on one's own, but having the confidence to get out there and learn what it takes to get things done....
"From the first days in an old creamery in Charlotte, Vermont, Storey has stayed true to the original purpose: to provide dependable, nuts-and-bolts advice in affordable and attractive formats. Now located in the MASS MoCA complex in North Adams, Massachusetts, Storey has sold more than 49 million books to date and has more than 600 active titles, 103 of which have sold more than 100,000 copies.
"Storey publishes classics in the making...."

Out Here magazine says:

Storey's "best-selling books . . . provide nuts-and-bolts, practical, and most importantly, dependable advice on raising livestock, growing a garden, home renovation, cooking, and well-being. That's why, at Storey, experts write the books. And experts edit the books." 
In 2004, Storey was awarded the 2004 NEIBA New England Book Award for Publishing because:
"Whether the subject is keeping chickens, or knitting, you don't have to be an expert on the topic to recommend a Storey title. The information will be correct, the presentation pleasing, the directions clear and the price reasonable."
Get Rabbit Raising Problem Solver,
and find the answers you need
before you need them.


Because in the rabbit world where a situation might turn catastrophic in a heartbeat, you may not have time to place a book order and then wait for even an overnight shipment.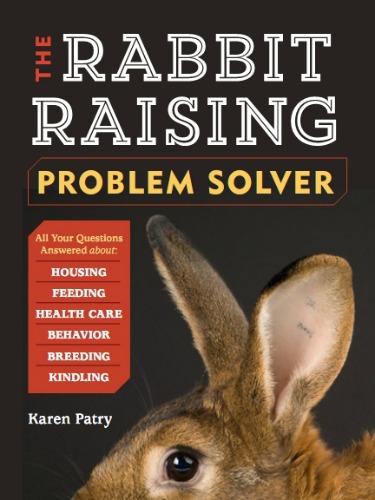 $ 22.62 - includes
10% off your autographed copy of 

Rabbit Raising Problem Solver

All packaging, handling, and Media Mail postage costs

(WA residents are subject to sales tax)




Applies to US addresses

-

(sadly, Media Mail is not offered for international shipping, not even for 

really awesome books)

(International shipping is available, of course, but it's out of our control how much they charge for shipping. Send us your country, city, and area code to obtain a shipping quote.)
"I finished the book…it is so good! You touch all the bases and you cover everything from medical technical to hands-on-the-rabbits fun and funny - really, very well done, just right and so real. You write like you are talking to a person, not just to the 'reader.' I do not know many folks who can sit down to read a how-to, inform-me kind of book, and when they are through, be smiling, and better informed and also to have had a couple laughs and smiles along the way, as I did" (Belinda, WA)

---
"This is a great book. Rather than going by the same vomit that is regurgitated on the internet without any basis, this book takes a hard look at what will and will not work for rabbit raising. It has answered such questions as:

"'In 10 or 12 weeks, some of those kits will end up in the freezer. How the heck does one transition from a caretaker to a life taker and then back again?


"'Lightweight hardware cloth. It's cheap and tempting and your local raccoons and coyotes really hope you'll use it for the floor of your hutches, especially fastened to wood with flimsy staples. Should I use it?
"I would definitely purchase this book if rabbit ranching is on your horizon. (Amazon Reviewer D. Crane, 6/17/2015)
Order your copy of Rabbit Raising Problem Solver today!

Purchase Together:  


Two Premier Books for Rabbit Owners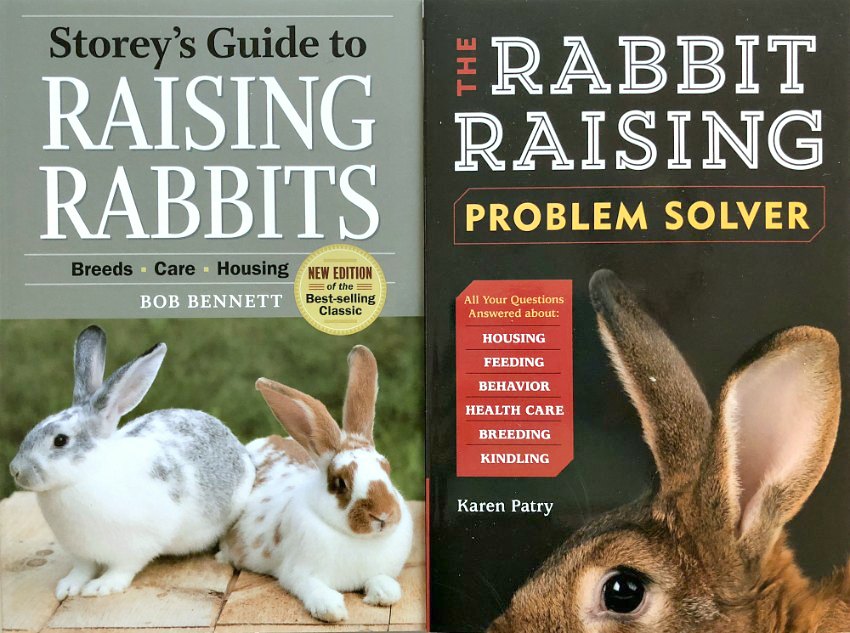 Karen's Rabbit Raising Problem Solver and Bob Bennett's Storey's Guide to Raising Rabbits (4th Edition), both published by Storey Publications, complement each other. Between both books, you'll find no stone unturned! 
Learn the basics of raising rabbits from Bennett's "Best-selling Classic" (this is the book that introduced me to raising rabbits - it's updated and still terrific)


Solve your rabbit raising problems with an autographed copy of Karen's Rabbit Raising Problem Solver. Besides complete answers and explanations of each solution, a full section (83 pages)  is dedicated to health and co

mm

on diseases your rabbit(s) might encounter


Bottom line price includes both books and all shipping and packaging


(Temporary offer - only 1 book set left at this price)


Get them both for a flat, bottom-line price of $39.00
(WA residents may be subject to sales tax)
Do you have a copy of Rabbit Raising Problem Solver?
Have you already purchased this book? Has it been useful to you? We'd love to hear your feedback.

Have you not yet obtained it? What are greatest needs which you hope the book will provide answers for?

Your comments or experiences can help others who read them. So, feel free to comment! You can even add photos if you like (up to four of them), since pictures are always helpful.