Bunny Branola ®

Bunny Branola is a rabbit feed supplement that supports lustrous fur, improved stress management, and digestive and immune health for all pet and livestock rabbits.

It is also a rabbit conditioning supplement containing a combination of completely natural and healthful ingredients: grains, vegetables, seeds, and herbs.

One only needs to use small amounts of Bunny Branola (a teaspoon or tablespoon per day, depending on the rabbit) as a top dressing in order to promote health and a sleek, glossy coat, whether the rabbit is a long-wooled Angora or a short-furred Rex rabbit.


---
"Fantastic product!"
"We use this as a top dressing for ALL of our rabbits - breeding, market and show stock. The bunnies go crazy for their daily treat and their coats are beautiful" (Erin, 10/5/2021).

As a high-calorie energy source, Bunny Branola has the extra calories and nutrition rabbits need in winter. Your rabbit will stay warmer and happier during the cold months.
The seeds and fiber in the Branola require chewing, helping to keep your rabbit's teeth and digestion healthy. 
5-Star Reviews from Happy Customers:

"My two Holland lops LOVE their Branola! Sooty is nearly 11 years old. I know the Branola has helped with his overall health and wonderful thick soft fur. Thank you for this product!" (Cate, 6/6/2022)
"Fresh ingredients that were vacuum sealed for freshness. Healthy treat and our bunnies all LOVE it! Will definitely buy this again.. Well worth the price and a nice option for our rabbits. I am so glad I found your page and your store. Thank you!!" (Kari C.)

"Our rabbits just love the Bunny Branola! They get so excited when they hear the Branola container open. They all have such nice coats, and since we have a couple going through a hard shed right now, we are thankful that the Branola is keeping their digestive system moving. It's always arrived promptly, and very fresh" (Laura, 10/5/2021).
Rabbits do experience stress sometimes, and the herbs and nutrition in Bunny Branola help them feel calm and comforted. If your bunny is going to experience any of the following stressors, the Branola will help ease them through it.... 
Cold weather

Shedding coat

Recent shear or wool harvest

Pregnancy or milk production

When travelling or making other adjustments




Frightening encounters

Rabbits not eating or losing flesh tone despite eating plenty
Other situations can create stress in a rabbit. Good nutrition produces a desirable and healthy physiological response to stress. This helps to minimize the drain on health that sometimes results from stress. (This statement doesn't include internal parasites, disease or injury, just the day-to-day stressful adjustments that rabbits frequently have to make, since they live with humans.)

Just a Tablespoon...!
For an average-sized rabbit of 6 - 9 pounds, it only takes a tablespoon or so to make a big difference in nutritional quality, and therefore overall health and stamina!


---
---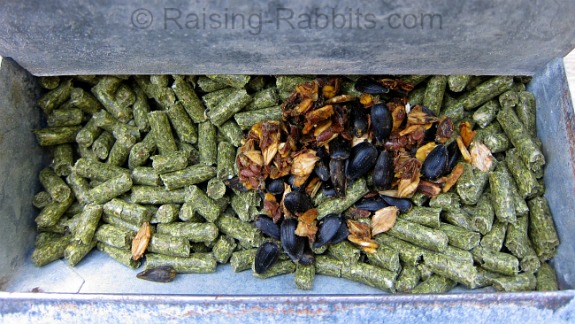 1 tablespoon of Bunny Branola sits atop the rabbit's rations for the day in this 5.5-inch J-feeder
More 5-Star Reviews for Bunny Branola

"My bunnies LOVE Bunny Branola" (Lisa, IN)

"I have to say it smells wonderful! I picked up some Branola at the Springfield show. Some of the rabbits were hesitant the first day, but on the second day they were waiting eagerly for their treats" (Nikki, OH)
"Our rabbits love the branola! Our two kids really get a kick out of feeding it to them and seeing how excited the rabbits are to dive in. Their coats look wonderful and they look bright eyed and well kept on the branola. We currently have one expecting doe. Once she has her kits will it be ok to let them munch on it as well?  Thanks for making such a great product." (Laura - 10/4/2021) - Raising-Rabbits Sez: As soon as the kits start nibbling on Mama Bun's feed, they can enjoy Branola!

Bunny Branola: An Excellent Source of Healthful Nutrition
Branola Ingredient List
Crude Analysis:
Protein: 13.2 % min
Fiber: 11.8 % min
Fats: 20.5% min
Moisture 5.9% max
Ash: 2.9%
Black Oil Sunflower Seed

Flax Seed

Rolled Barley

Rolled Oats

Pumpkin

Banana (in Original Formula only)
Apple (in Pumpkin Spice Formula only)

Black strap molasses

Canola Oil

Original Formula: Less than 1% each of the following: 

dandelion leaf, raspberry leaf, oregano, rosemary, pumpkin seed, rose hips, willow bark, dandelion root, yucca powder

Pumpkin Spice Formula: Less than 1% each of the following: 

dandelion leaf, raspberry leaf, oregano, rosemary, cinnamon, ginger, pumpkin seed, rose hips, willow bark, dandelion root, yucca powder

Cranberry Crunch Formula: Less than 1% each of the following: alfalfa, dandelion leaf, raspberry leaf, oregano, rosemary, pumpkin seed, rose hips, willow bark, dandelion root, yucca powder

Merry Mint Formula: Less than 1% each of the following: mint, sage,

 raspberry leaf, oregano, rosemary, cinnamon, ginger, pumpkin seed, rose hips, willow bark, dandelion root, yucca powder. (Merry Mint is a great treat for bucks, kits, and does who aren't pregnant/nursing. Ingredients in Merry Mint help to dry up nursing does when weaning kits.)

No Soy
No Corn
No Artificial Ingredients
No Dyes
No Preservatives



Bunny Branola is Available in FOUR Flavors!

Bunny Branola is now available in FOUR flavors:
Original!
Pumpkin Spice, new Bunny Branola autumn flavor! 

Cranberry Crunch, great holiday treat!
Merry Mint, for delish Christmas! 
The effective herbal formulation is changed very little. For Pumpkin Spice, we added additional pumpkin, cinnamon and ginger, and swapped out the banana in favor of apple. The smell is still divine, with a touch of "holiday!" This formula will deliver the same excellent health benefits, and will also stimulate your rabbit's senses. We think bunnies will love the holiday flavor!
Each flavor of Branola is not just delicious, but is also fortified with specific herbs and all natural ingredients to promote specific good health issues for your rabbits:
Original: Great overall conditioner for fur, stress, immune system, nutrition support, and digestion.
Pumpkin Spice: Pumpkin, Apples, Cinnamon, and Ginger all contribute to your rabbits immune system, keeping them healthy.
Cranberry Crunch: Cranberry, Plantain, Alfalfa, and Dandelion are all great for liver, kidneys, and urinary tract, keeping your rabbit detoxed and in prime functionality.
Merry Mint: Aloe, Mint, and Sage help your doe when it's time to wean her kits. The mint and sage dry up her milk while the aloe helps prevent mastitis, an infection of her mammary glands. Merry Mint is a great treat for bucks, kits, and does who aren't nursing/pregnant.
---
Multi-Variety Packs!

Now you can purchase an assortment of flavors with your purchase! Choose the Multi-Variety Pack option in the STORE, and obtain an assortment of flavors! For example, if you order one (1) pound, just let us know in the notes which flavors you would like. We can do 8 ounces of 2 flavors, or 4 ounces of 4 flavors.
Additional flavors are in the offing! We'll continue to make it possible for you to choose a selection of flavors of your choice. Your bunnies will love them all!

"Thank you for the Bunny Bran! This stuff is amazing. My new Giant Angora wasn't eating, mildly wool blocked, and this is all she would eat!!  I want more! Thank you Bunny Martin; your stuff saved my Giant's life! It's amazing...it got her eating again" (Emily in IN)


Bunny Branola is hand made and packaged in small batches to preserve freshness.
When you purchase more than one pound, you will receive it in 1-pound vacuum-sealed packages so that you can open just what your rabbit needs, so the rest of the Bunny Branola stays fresh, tasty, and nutritious. 
Ingredients for Branola are locally sourced from organic gardens and micro farms in beautiful Washington state.
The pumpkin in Branola is from fresh pumpkin in local pumpkin patches, not canned pumpkin sitting in metal containers in warehouses.
Branola is preserved by warm air drying; no chemical preservatives are used. 
Branola is stored in glass mason jars until you order it. Then it's vacuum packed and sent out to you. 

Bunny Branola is Available in These Sizes

2 ounces is a one-week trial size, and is priced at $5.00. 

4 ounces is a sample size, and is priced at $7.00. This is a two week supply for 1 rabbit.
8 ounces (1/2 pound) is priced at $12.00. This is a month's supply for 1 rabbit.
16 ounces (1 pound) is priced at $18.00. This is more than a month's supply for 2 rabbits.
5 pounds, is priced at $85.00. This is more than a month's supply for 10 rabbits.



General Directions for Feeding
Bunny Branola


Use Bunny Branola 4 different ways!

Amounts specified here are sufficient for an average-sized adult rabbit, roughly 6-9 pounds. 
Use as a stress reliever: Feed 1 tablespoon on top of pelleted rabbit feed every other day during situations stressful to the rabbit (see above).

Give slightly more if it is cold or the rabbit has recently been shorn – the oils and extra calories help to raise the rabbit's internal temperature.



Give slightly more if the rabbit has begun to shed, along with a daily handful of grass hay. Extra fiber helps to keep any ingested hair moving through the digestive system, and the variety of ingredients may also help maintain healthy gut flora which will combat GI stasis from the start




Use as a show conditioner: Feed 1-3 teaspoons every day, for 2-3 weeks before a rabbit show


Use as a daily health enhancer: Feed 1/2 - 2 teaspoons every day or every other day to help support daily health, including immune, digestive and dental health. 


Use as an occasional rabbit treat

: Give 1 teaspoon as a top dressing if there is no other treat during the day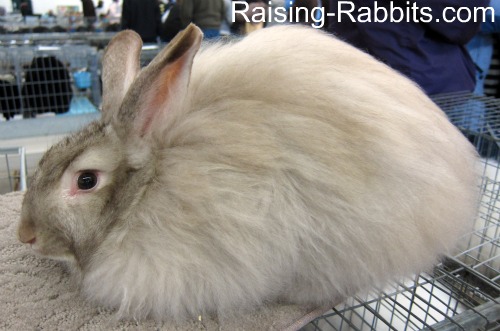 Chocolate chinchilla satin angora rabbit preparing for a rabbit show.
Bunny Branola was specifically designed for angora rabbits, however normal-furred rabbits will absolutely also benefit from supplementation. 
If you are newly adding Branola to your rabbit's diet, it would be wise to keep a close eye on the rabbit's weight at first. This will help ensure that you are giving enough to benefit the rabbit but not so much that it will become overweight.
---
It's remarkable how enthusiastically the Rex rabbits in our own Aurora Rex Rabbit barn attack the Bunny Branola! Every one of them without fail cleans up the branola almost immediately.

How Bunny Branola Came to Be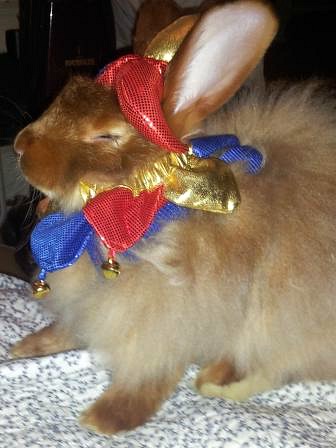 Milton, one of several Satin Angora test bunnies, dressed for Halloween.
Bunny Branola was originally developed by rabbit breeder Kim Martin, who raised Satin Angora rabbits for wool production, and American rabbits, a heritage breed.
Kim was looking for a way to feed flax and other rabbit super-foods to her rabbits, using natural ingredients instead of factory-made supplements. She went through several recipes, taking the time to find fully rabbit-safe ingredients, testing and verifying old wives' tales and facts with the help of a veterinarian.
Valuable information came from the most important rabbits in her barn, Ralph and Milton, her test-bunnies. If Ralph and Milton liked an ingredient or recipe, chances were good that all rabbits everywhere would also love the new Bunny Branola supplement. If Ralph and Milton's health and lustrous wool would bloom, then the health and condition of "anybunny" was attainable.
Ralph and Milton the test bunnies willingly chewed their way through multiple ingredients and each of the various recipe experiments. Their "opinions" and reactions were the stage I testing for all the research and development decisions.

Kim states, "It's thanks to Ralph and Milton the test bunnies that Bunny Branola has become a rabbit-favorite-food!"
Rabbit Breeder Opinion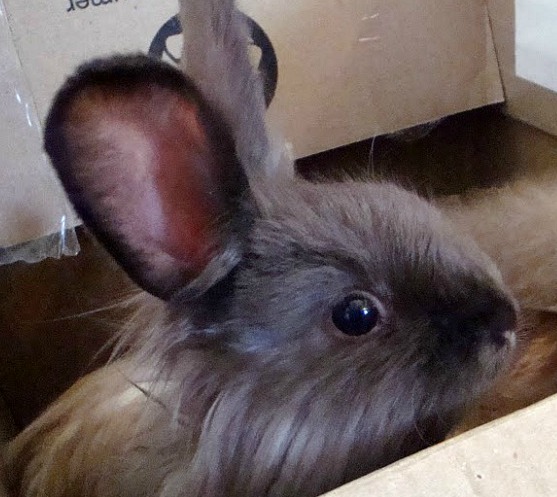 Angora rabbits thrive on Branola supplementation
Besides testing Branola on her own rabbits, Kim gave out free samples to other rabbit breeders. Many of them immediately remarked, "I'd eat this stuff!" 
Of course, the rabbits dove into their feeders head first whenever the Branola was sprinkled over the feed, and the breeders begged Kim to officially market it.


---
Bunny Branola - Ultimate Rabbit Nutritional Supplement, and Treat!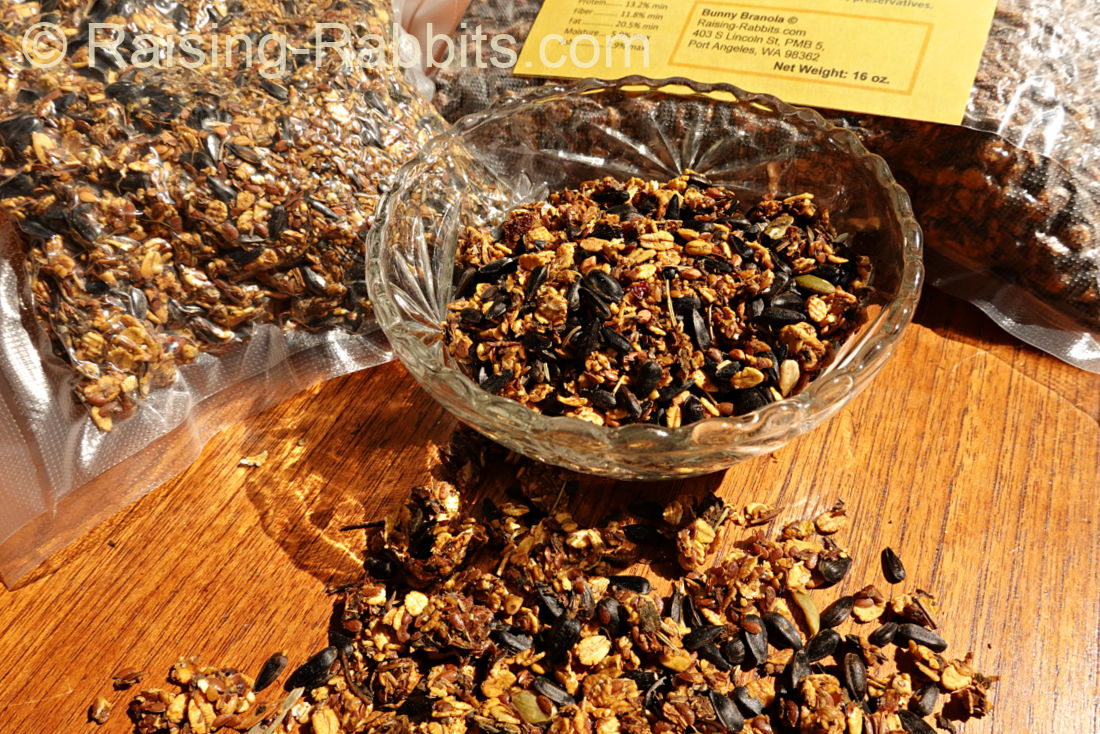 Bunny Branola.
What bunny doesn't love Bunny Bran??!
1 Tablespoon per day of our tasty and nutritious snack mix
sprinkled on their regular food is all your bunny needs to be happier and healthier.
Bunny Branola makes fur softer and shinier, teeth and tummies healthier, and helps relieve stress due to things like barking dogs, new situations, or ultra cold winters. 
Bunny Branola is a wonderful rabbit superfood supplement for pregnant bunnies and growing bunnies. 
Bunny Branola now available in three flavors - Original, Pumpkin Spice, and Merry Mint!
Bunny Branola can be ordered in Multi-Variety Packs!
Veterinary Approval
Ava Firth, BS DVM MVS MANZCVS DACVECC MRCVS, has years of experience as a critical care veterinary surgeon in Nottingham UK. She holds lectureships at the University of Melbourne AU, University of Minnesota USA, and the University of Glasgow UK.
Dr. Firth carefully reviewed and approved the Branola formulation, encouraging Ms. Martin to produce it widely for sale to the public. Bunny Branola has been available since April, 2015.