Bunny Branola ®

Bunny Branola
Bunny Branola is a rabbit feed supplement that supports lustrous fur, improved stress management, and digestive and immune health for all pet and livestock rabbits.
It is also a rabbit conditioning supplement containing a combination of completely natural and healthful ingredients: grains, vegetables, seeds, and herbs. 
Used in small amounts as a top dressing, Branola promotes health and a sleek, glossy coat in any rabbit.
---
Bunny Branola is unavailable for the foreseeable future (we're sorry about that!)
As a high-calorie energy source, it helps keep your rabbits warmer in winter, reducing cold-weather-related stress.

It also promotes good dental health and gastrointestinal function.
Improved nutrition in a rabbit also helps to support the rabbit's healthy physiological stress response whenever they encounter a "stress situation:"
Cold weather

Shedding coat

Recent shear or wool harvest

Pregnant or lactating does

When travelling or making other adjustments




Frightening encounters

Rabbits off feed or just not holding condition
Many things can stress a rabbit, but good nutrition can help. (This statement doesn't include internal parasites, disease or injury, just the day-to-day stressful adjustments that rabbits frequently have to make, since they live with humans.)

---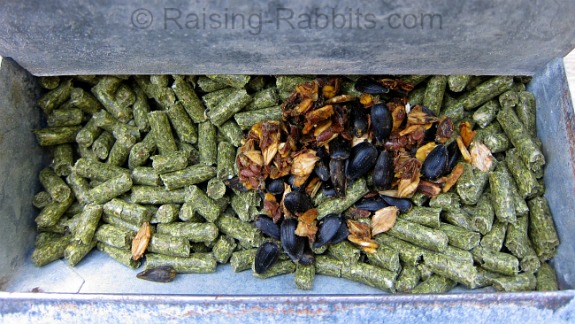 1 tablespoon of Bunny Branola sits atop the rabbit's rations for the day in this 5.5-inch J-feeder

"I picked up some Branola at the Springfield show and I have to say it smells wonderful. Some of the rabbits were hesitant the first day, but on the second day they were waiting eagerly for their treats" (Nikki, OH)
"My bunnies LOVE Bunny Branola" (Lisa, IN)


Branola
Ingredient List
Crude Analysis:
Protein: 13.2 % min
Fiber: 11.8 % min
Fats: 20.5% min
Moisture 5.9% max
Ash: 2.9%
Black Oil Sunflower Seed

Flax Seed

Rolled Barley

Rolled Oats

Pumpkin

Banana

Black Strap Molasses

Canola Oil

Less than 1% each of the following: dandelion leaf, raspberry leaf, oregano, rosemary, pumpkin seed, rose hips, willow bark, dandelion root, yucca powder

No Soy
No Corn
No Artificial Ingredients
No Preservatives


Bunny Branola is unavailable for the foreseeable future (we're sorry about that!)
For now, try using the ideas on this page to assemble dietary ingredients that will boost your rabbits' health

"Thank you for the Bunny Bran! This stuff is amazing. My new Giant Angora wasn't eating, mildly wool blocked, and this is all she would eat!!  I want more! Thank you Bunny Martin; your stuff saved my Giant's life! It's amazing...it got her eating again" (Emily in IN)


Condition Enhancers: BOSS, Whole Oats, Doc's Rabbit Enhancer


General Directions for Feeding
Bunny Branola


Use Bunny Branola 4 different ways!
Use as a stress reliever: Feed 1 tablespoon on top of pelleted rabbit feed every other day during situations stressful to the rabbit (see above).

Give slightly more if it is cold or the rabbit has recently been shorn – the oils and extra calories help to raise the rabbit's internal temperature.

Give slightly more if the rabbit has begun to shed, along with a daily handful of grass hay. Extra fiber helps to keep any ingested hair moving through the digestive system, and the variety of ingredients may also help maintain healthy gut flora which will combat GI stasis from the start


Use as a show conditioner: Feed 1-3 teaspoons every day, for 2-3 weeks before a rabbit show


Use as a daily health enhancer: Feed 1/2 - 2 teaspoons every day or every other day to help support daily health, including immune, digestive and dental health. 


Use as an occasional rabbit treat

: Give 1 teaspoon as a top dressing if there is no other treat during the day




Branola was specifically designed for angora rabbits, however normal-furred rabbits will also benefit from supplementation. 
If you are newly adding Branola to your rabbit's diet, it would be wise to keep a close eye on the rabbit's weight at first. This will help ensure that you are giving enough to benefit the rabbit but not so much that it will become overweight.
(Pictured: Ralph the test bunny (in full wool), and a recently shorn Satin Angora rabbit)
---

It's remarkable how enthusiastically the
Rex rabbits in our own Aurora Rex Rabbit barn attack the Bunny Branola! Every one of them without fail cleans up the branola almost immediately.

About Bunny Bran LLC, Formulator and Manufacturer of Branola


Kim Martin, developer and owner of Bunny Bran LLC, raises Satin Angora rabbits for wool production, and American rabbits, a heritage breed.
Initially, Kim was motivated by the desire to feed flax seed to her rabbits, but with the usual screened J-feeders that Kim and most breeders use, the flax seeds would end up on the ground or in the drop pan.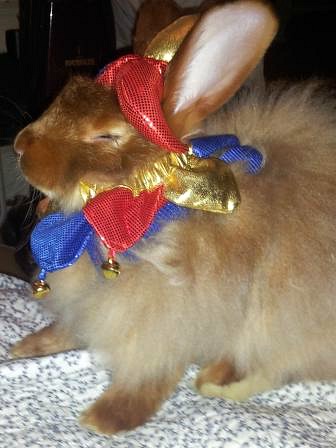 Milton, another Satin Angora test bunny, dressed for Halloween
So she shifted to Plan B: Find a way to concoct a rabbit feed supplement that could be conveniently fed without being wasted.

This of course became a long process. She tried cookies, flax crackers, even a gelatinous goo. Eventually Kim hit upon the idea of making a rabbit type granola with all yummy (to rabbits) ingredients.
Researching rabbit-safe ingredients can be time consuming and frustrating as the current available information mixes scientific findings with old wives' tales and anecdotal "facts." Hence, the need for the most important rabbit in her barn, "Ralph the test-bunny." If Ralph liked an ingredient or a recipe, chances were good that all rabbits everywhere would also love the new Bunny Branola supplement.

Ralph the test bunny willingly chewed his way through multiple ingredients and each of the various recipe experiments. His "opinions" and reactions were the stage I testing for all the research and development decisions.

Kim states, "We could not have made Branola into the rabbit-favorite-food it has become without all his help."


Rabbit Breeder Opinion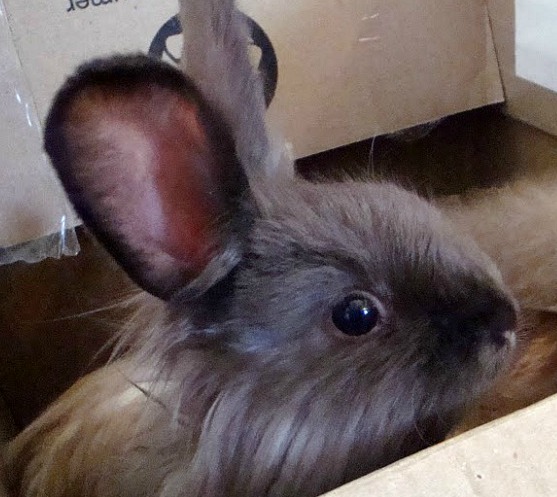 Angora rabbits thrive on Branola supplementation
Besides testing Branola on her own rabbits, Kim gave out free samples to other rabbit breeders.
One sniff of Branola's wonderful aroma, and many of them immediately remarked, "I'd eat this stuff!" 
Of course, the rabbits dove into their feeders head first whenever the Branola was sprinkled over the feed, and the breeders begged Kim to officially market it.


---
Bunny Branola is unavailable for the foreseeable future (we're sorry about that!)
For now, try using the ideas on this page to assemble dietary ingredients that will boost your rabbits' health

Veterinary Approval
Ava Firth, BS DVM MVS MANZCVS DACVECC MRCVS, has years of experience as a critical care veterinary surgeon in Nottingham UK. She holds lectureships at the University of Melbourne AU, University of Minnesota USA, and the University of Glasgow UK.
Dr. Firth carefully reviewed and approved the Branola formulation, encouraging Ms. Martin to produce it widely for sale to the public.


Bunny Bran's Branola has now been available since April, 2015. It has been so well received that Kim is expanding her manufacturing facilities to accommodate your needs!
Condition Enhancers: BOSS, Whole Oats, Doc's Rabbit Enhancer


*A significant part of the information on this page was adapted directly from the Bunny Bran website at the direction of and with the permission of the website owner.