Aurora Rex Rabbit Ranch


Aurora Rex Rabbit Ranch is a hobby-sized rabbitry that has provided owner and manager, Karen (me!), with over 30 years of rabbit-raising savvy learned 'on-the-job.'
I began my career in rabbits with three small pet rabbits when I was sixteen years old.  These beautiful and healthy rabbits were among others in a pet store display window. I was ecstatic to find them.
At the time, I couldn't think of any way I'd rather spend the few bucks in my pocket than on those beautiful rabbits.  I brought home a black Dutch rabbit, a blue Polish, and a black English Spot since I couldn't decide which I liked more, and I never looked back. 
Back in the day, educational resources about rabbits were hard to come by. A website just like Raising-Rabbits would have been incredibly helpful, if there had been such a thing when I was sixteen!

At the point at which I decided I wanted more from rabbits than just pets, I discovered the incomparable REX rabbit with its amazingly plush fur.  Since then I have raised Rex rabbits exclusively.
Here I am - chief barn mucker,
and also owner and webmaster at Raising-Rabbits.com.



Here are a few more details about me:

Aurora Rex Rabbit Ranch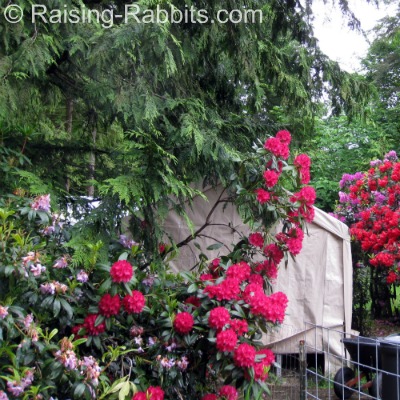 The Aurora Rex Rabbit Ranch in Springtime

One of several 'barns' barely visible behind all the rhody blooms.
The Aurora Rex Rabbit Ranch houses over 40 very nice rex rabbits, not counting the young stuff.  Aurora rabbits actually do a bit of winning at rabbit shows, including some Best of Breeds and one Best in Show.  Nevertheless our rabbits are not by any means numbered among the best, or the national breeders.  Our rabbits are, however, cared for meticulously using current best practices.
The Ranch currently focuses on raising the brokens (spotted) and solids of the following varieties of standard Rex rabbits: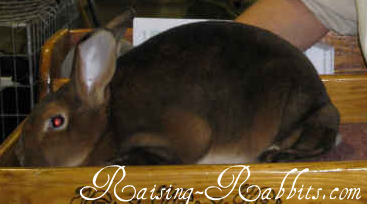 Castor
Opal
Chinchilla
Otter
Pictured: Jornada, our BIS castor rex doe

Our rabbits do not carry a chocolate gene.  However, we sometimes discover a red, fawn, black, blue or white (REW, or albino) bunny in a nest box.
Aurora Rex Rabbit Ranch usually (but not always) has rabbits for sale.  If so, we may have posted pictures of available or soon-to-be-available rabbits at Aurora Rex Rabbits.

Please contact us if you need additional information.

About Raising-Rabbits.com

Raising-Rabbits.com has arisen from years of experience raising rabbits. 
I used Solo Build It! to build this website (see the bottom link in this page's footer). Here is an SBI Review about Solo Build It!.
Raising-Rabbits is informational in nature, and has a two-fold mission:
First, to provide comprehensive rabbit information, instructions and pictures for every facet of raising and breeding rabbits as pets, or for meat, show and fur. Raising rabbits is not difficult, and it is especially not difficult when you know what to expect and how to achieve excellent outcomes.


Second, to shine the light of truth on the abundance of rabbit-raising disinformation cluttering the web. As one who is extremely familiar with rabbits and with rabbit research, I quickly discovered that the information that rabbit research turns up can be heavily biased toward a particular philosophy, and not based on facts at all. And if this quasi-information is published and re-published on many like-minded or affiliated websites, well, you might just think they know a thing or two.

For example: Is it okay to feed just pellets to rabbits? A vast number of certain affiliated websites state absolutely not, recommending that rabbits should eat mostly grass hay. So, a novice rabbit breeder begins to feed his rabbits as directed, and then can't understand why the rabbits lose weight, sicken and die. Yes, this has happened. Go to Feeding Rabbits for a better way.

I hope you will never find criticism or condemnation regarding your rabbit care on this website. We're not here to accuse, condemn, or call you cruel, but to provide you with the information and the needed tools you came searching for. 

Raising-Rabbits provides you with the facts so that you can provide sound animal welfare practices for your rabbits.
I sincerely hope you'll find Raising-Rabbits.com very helpful!