Rabbits for Sale in Your Area

It's not always easy to find rabbits for sale in your area! So, consider these suggestions to help you find your chosen rabbit or breed.


---
2) Check our Rabbit Classifieds page.
Our Rabbit Classifieds page includes 30-day listings for rabbits for sale and rabbits wanted.


3) Look for a rabbit at your local feed store or pet shop
Even if they have no rabbits at the time, they might have a lead on a reputable rabbit breeder in your town.


4) Search the American Rabbit Breeders Association (ARBA) website. Or for those in the UK, search the British Rabbit Council website.
The ARBA has an ARBA Breeders listing which includes a great number of member breeders, including the state where the breeder lives, contact information, and the breeds each breeder raises. 
The BRC maintains a Breeder Directory on their website. If the breed you are searching for is not represented, you can at least contact the organization for further guidance.
5) Search the national rabbit breed club website.
Nearly every breed recognized by the ARBA has a national rabbit breed club. Our All Rabbit Breeds page contains links to these breed clubs, if we could find the information.  Many of these breed websites also include a breeders listing, including location of breeders by state. 


6) Attend an ARBA (or BRC) rabbit show.
ARBA-sanctioned shows occur throughout the year in every state and even internationally. You are sure to find a breeder of your desired breed, OR someone who knows where you can find your desired breed of rabbit.


Two creative, XL-sized indoor rabbit cages. Recommended!
7) Obtain a rabbit from a local animal shelter.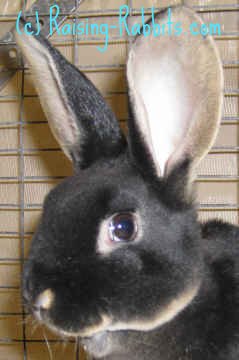 Just so you know, we've discovered that 'rabbit overpopulation' is actually a myth perpetrated by animal rights organizations. But, your local animal shelter might have a few rabbits available.

There is a dark underbelly to the 'rabbit rescue' industry. If you find a shelter with a LOT of rabbits -- PLEASE ask questions.  It could be the rabbits were voluntarily surrendered. But it might happen that those rabbits were illegally 'rescued,' meaning stolen under the color or pretense of law. See 200 Rabbits - a shocking example of the lengths animal rights groups are going in order to put rabbit breeders out of business.
If your local shelter has a no-kill policy, be extra careful. The problem isn't the 'no kill' philosophy, by itself. The problem is an unwillingness to euthanize a sick rabbit for which there is no hope of recovery. Such a rabbit should not remain in the pet rabbit pool. Sneezing rabbits fall into this category. Be wise - avoid any rabbit with moisture around the nose, as well as any rabbit housed in proximity to that rabbit.


8) Search the Internet.
Use Google or another search engine to search for the type of rabbit you're looking for (include your location in your search term), or use Craigslist, for example.

(Regrettably, some animal activists in some areas have nothing better to do with their time than haunt the Craigslist rabbits for sale postings and flag them all for take-down. We're not sure when Craigslist is going to wake up to this abuse of their service, but until then, that's why we maintain listings of rabbits for sale in your state - click here.)


9) You could even try the old-fashioned way...
Ask around! Word-of-mouth may yield some good information. Check your newspaper's classified ads section, or the Pennysaver or similar classified circular.


10) Want to buy a pet rabbit of a particular breed?
Our Pet Rabbits for Sale page offers some frequently asked questions and answers to help you obtain a wonderful - and healthy - pet rabbit. If you need help finding your pet rabbit, return to this page for some great ideas for locating a rabbit as a pet.



*******

Try following one or more of the above suggestions.  One way or another, you should be able to find someone not too far from you who raises the breed you're interested in. 

*******
---
Rabbit Breeders and Rabbit Owners: Here's How Raising-Rabbits Helps You Sell Your Rabbits
We provide THREE separate ways to help you sell your rabbits:
Rabbit Classified Ads: 30 days of free publicity to visitors of Raising-Rabbits. If your animals have not sold in that timeframe, simply re-contact us.


Free listing on a rabbits for sale in your state page. This listing will remain until you let us know you don't need it any more. We certainly appreciate being advised of any necessary changes to the details, and will update your listing freely.


A full-page website advertisement for your rabbits and rabbitry. This is a subscription service. We will write the page for you, or accept your "copy" and publish it.
Are any of these options interesting to you? Keep reading.
Or contact us with more questions.


1) Rabbit Classified Ads for Buying or Selling
One-Time (or very occasional) Rabbit Sellers: If you have a single litter for whom you'd like to find buyers, feel free to request a temporary rabbit classifieds listing. (Or, leave a post on the Raising-Rabbits Facebook page, or both!)
Get a 30-Day Rabbit Classifieds Listing


---

2) FREE Rabbits for Sale Listing, for Rabbitry Owners and Breeders
List your healthy pet and show rabbits on Raising-Rabbits.com for free!

No Cost, No Unfair Flagging or Ad Removal, BIG Publicity (thanks to Raising-Rabbit's high traffic rates)
---

3) Advertise Your Rabbitry on Your Own Featured Rabbitry Page
Why should people purchase your rabbits?
Tell them why, with a Dedicated Web Page on Raising-Rabbits.com that features your Rabbitry.

Get multiple Links to your Information, for Minimal Cost

Get an Entire Featured Rabbitry Page for YOUR Rabbitry