All About Rabbits


This All About Rabbits page is a catalog of rabbit-breeder-tested-and-proven online and printed resources to help you care for, understand, and manage your rabbits' care and health.

The following websites are owned, run, and/or managed by respected and reliable rabbit breeders who know rabbit husbandry inside and out.
These are websites and breeders that intimately understand the meaning of "animal welfare" (as opposed to animal rights - see https://www.raising-rabbits.com/against-animal-rights.html for clarification, if necessary).
General online of resources that are
all about rabbits, in one aspect or another


http://www.barbibrownsbunnies.com/
Barbi Brown has tons of useful info both older and newer. She pushes the limits of "hobby" into the commercial, raising multiple individuals of multiple breeds for multiple purposes. She knows her stuff.
http://rabbitgeek.com/
This is a great site for breed info, list links, etc., managed by Mr. Franco Rios. Mr. Rios keeps track of the rare and heritage breeds.
http://www.thenaturetrail.com/
The Nature Trail has many educational articles, including showing, rabbit care, breeding, rabbit genetics, and more. They specialize in the very popular Holland Lop breed.
http://www.threelittleladiesrabbitry.com/
These are breeders of Holland Lops and Jersey Woolys. This website is strong in education for 4H, showing, and overall rabbit care.
http://AngoraRabbit.com/
This site supports angora rabbit breeders with info, a blog, and educational articles about the special care needs of long-wooled angora rabbits.
---
Specifically All About Rabbit Health and Diseases:
The above sites all touch to some degree on rabbit diseases. If you want to go deeper, take a look at these links.
For those who need it, the
Merck Veterinary Manual
has lots of rabbit information.
https://www.raising-rabbits.com/rabbit-diseases.html
- we've drawn from our own well of experience (some of it hard-earned) and from extensive research to present a fairly comprehensive rabbit health and disease resource for all rabbit owners.
We don't know any rabbit breeders or pet rabbit owners that don't want to give excellent care to their rabbits. All folks need is accurate information and the want-to.
Yahoo! Groups:
Meatrabbits Yahoo! Group
There is a wealth of personal (and even professional) experience in this very large and active group. You do NOT have to raise meat rabbits to be a part of the list.
HerbalRabbit Yahoo! Group
Try the Herbal Rabbit Group to learn and share herbal or natural remedies or feeding methods for your rabbits.
Meat Pens:
Raising meat pens - groups of 3 nearly identical young rabbits to demonstrate conformity and quality in meat rabbits - is governed by specific rules. Those entering County Fairs and Rabbit Show Meat Pen competitions can check this link for meat pen notes by www.rabbitgeek.com.


Having trouble finding what you're looking for somewhere on

Raising-Rabbits.com

?
Try using the custom website search bars, located near the top of most of our pages, such as this one. If you're still stymied, we'd be pretty shocked if you didn't find what you needed somewhere else on either Raising-Rabbits or one of these excellent sites on the World Wide Web.


Purchase Together:  


Two Premier Books for Rabbit Owners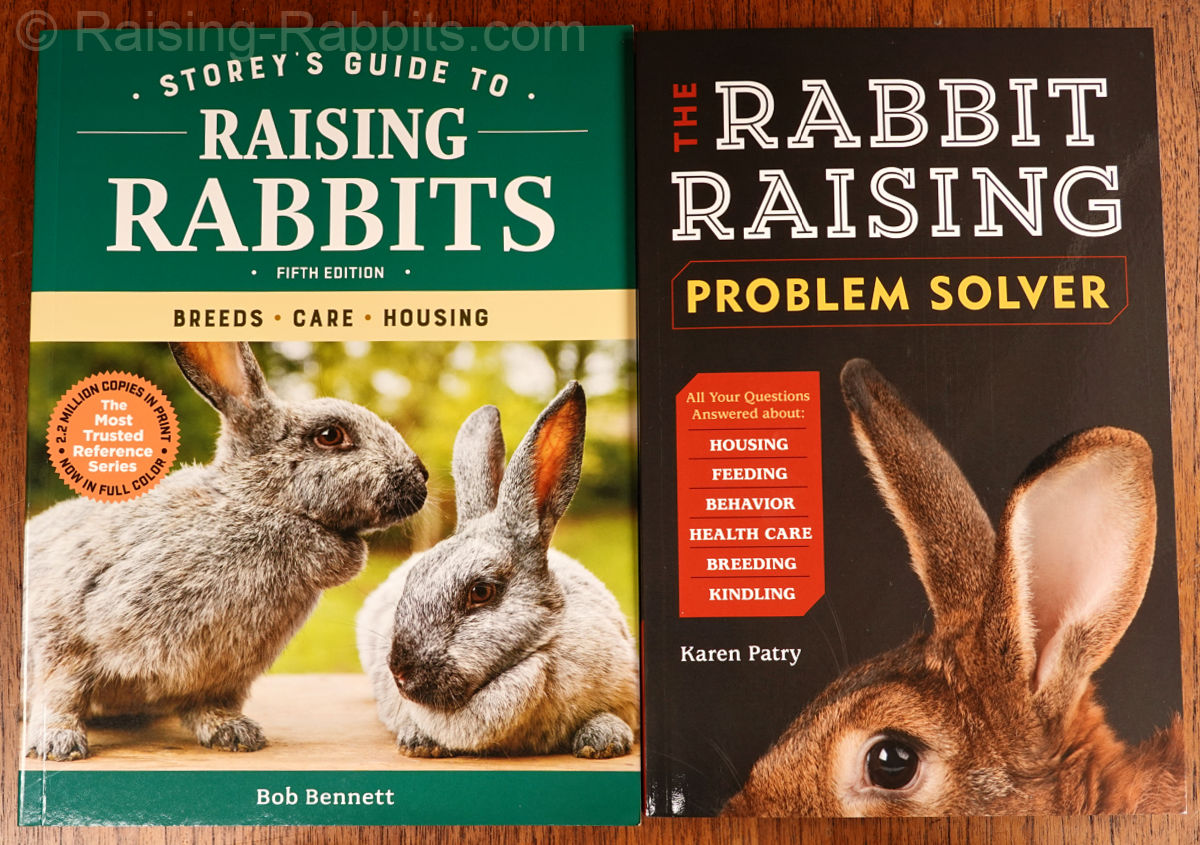 Karen's Rabbit Raising Problem Solver and Bob Bennett's Storey's Guide to Raising Rabbits (5th Edition), both published by Storey Publications, complement each other. Between both books, you'll find no stone unturned! 
First Book: Learn the basics of raising rabbits from Bennett's "Best-selling Classic." This is the book that introduced me to raising rabbits years ago. The 5th edition is the newest one, presented in full color, and better than ever. It has earned a 4.6-star rating from 319 reviewers.
Per Amazon reviewer Quality Plus: "...A frank, clear, usable, and inspirational book on rabbits as livestock...It covers rabbits thoroughly enough including their breeds, feeding, care, and housing in a detail that would also be useful to owners of pet rabbits."
Second Book: Solve your rabbit raising problems with an autographed copy of Karen's Rabbit Raising Problem Solver. Besides complete answers and explanations of each problem and solution, a full section (83 pages - more than 1/4 of the book) is dedicated to health, and common and some uncommon diseases your rabbits might encounter. It has earned a 4.6-star rating from 164 reviewers. 
Per Dawn in MA: "

Rabbit Raising Problem Solver was recommended to us by a 4H leader and mentor. It has been such an invaluable resource that I had to buy a second copy when the kids lost the first one. It is easy to locate info using the question-and-answer format. When something weird pops up I can quickly find that section and read the answers. Easy to understand and very straightforward and honest. I tell all of our buyers to purchase this book if they can only buy one.


Per Amazon reviewer RS: "I have read MANY rabbit books and this one is my favorite. It can easily be used by both rabbit breeders and pet owners which I have never encountered in another rabbit book. It covers almost all aspects of owning one or more rabbits. Literally the ONLY things missing from this book are a complete list of plants that are toxic to rabbits and information on training your rabbits. It has a very in depth section on rabbit illnesses which is a must for any emergencies...."
Get them both for a flat, bottom-line price of $45.00
(WA residents subject to sales tax)
Price includes both books and all shipping and packaging!


'Best-of-Breed'

How-To Books 

that are all about rabbits


Storey Publications has published a new resource book for rabbit breeders and pet rabbit owners:

Written by Karen, owner of Aurora Rex Rabbit Ranch, and owner and webmaster of Raising-Rabbits, it is a Q&A format book that answers nearly every pet rabbit or breeder question we've ever encountered here on Raising-Rabbits.com.

"An excellent, well-written book that will become a classic resource for experienced and novice rabbit breeders" (Don Atchison, President of the National Rex Rabbit Club)

"Just wanted to tell you I love love LOVE your book! It is my rabbit bible. Seriously. As soon as I found it, I put all other books down. The questions and answers made it so simple to learn. You get right to the point. Thank you so much!" (Lynette, CA)

Click on the link above for more info on this excellent resource, or purchase on this page.




More Excellent Books


That said, we clearly know there's much more rabbit raising info out there other than what we can include on this website, and the above list of great websites should prove that assertion.

Here are some of our other favorite rabbit resources, top notch books that are all about rabbits and their care.

Any rabbit breeder that lives farther than 50 miles or one hour from a very good rabbit-savvy vet might seriously consider keeping a book or two of this sort on their rabbit resource shelf.

Book Descriptions:

Textbook of Rabbit Medicine, by Frances Harcourt-Brown. A top-notch resource, if you're into learning all you can learn about rabbits, including the gory details.

Though a bit pricy, it might be worth it if you live far from a rabbit-savvy vet and need to manage your own rabbit emergencies.


Rabbit Production by McNitt, et al. Occasionally referred to as the Rabbit Bible, it is an invaluable resource even for pet rabbit owners who want to know the nitty gritty about overall rabbit care, diseases, genetics and much more. 


The Nervous New Owners Guide to Angoras - a great resource since caring for long-haired angora breeds comes with its own set of unique challenges (and we raise the very short-haired Rex). Yeah, get the book.

Storey's Guide to Raising Rabbits, the classic by Bob Bennett. This is another tried and true source that is all about rabbit raising. Many breeders cut their teeth on this book, including us.



(Without a doubt, we include Rabbit Raising Problem Solver
among the ranks of these classic rabbit books.)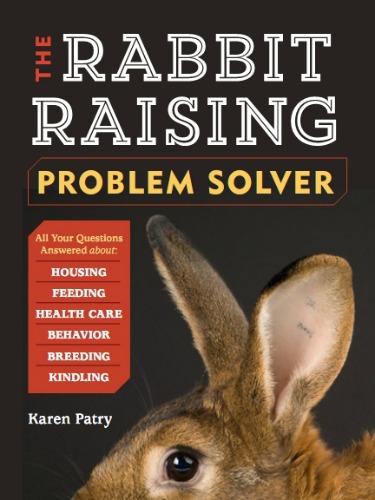 As the autumn leaves fall,
so does our price on the
Rabbit Raising Problem Solver:
Was: $ 25.14 
 Now $22.62 - includes
10% off your autographed copy of 

Rabbit Raising Problem Solver

All packaging, handling, and Media Mail postage costs

(WA residents are subject to sales tax)




Applies to US addresses

-

(sadly, Media Mail is not offered for international shipping, not even for 

really awesome books)

(International shipping is available, of course, but it's out of our control how much they charge for shipping. Send us your country, city, and area code to obtain a shipping quote.)