Rabbit Classifieds: Wanted and For Sale
Rabbit Classifieds...
Finally! Another avenue for finding rabbits to purchase that doesn't involve Craigslist or Facebook.
Want to find a rabbit? If you are actively looking for a pet rabbit or are having trouble finding one, perhaps this page can help! We are able to put a rabbits-wanted listing on this page advertising your desire for a rabbit.


Need to part with your rabbit? We can help you sell your pet rabbits to folks who are actively looking to acquire one or more rabbits. We know that peoples' lifestyles, situations, and seasons change. If you are ready (or need to) part with your healthy rabbit, contact us and provide the information and contact info a prospective buyer will need in order to purchase your bunny.
CLICK HERE TO REQUEST A LISTING
---
To Sell your Pet Rabbits
Here's how our rabbit classifieds work:
If you have one or more rabbits that you need to sell or give away and are not a rabbit breeder (we offer other free listings specifically for breeders), we will give you a temporary classified ads for rabbits listing on the Raising-Rabbits website. Ask for this free service by filling out the form at the bottom of this page. We will be looking for the following information:
Rabbit Classifieds Can Work for You!
"Thank you so much for posting my rabbits for sale - someone came to get them the very next day!" (BreAnna, TX)
Your Name
City and State
Are you selling a rabbit, or are you wanting to acquire a rabbit?
Breed, color, age, size of rabbit, as well as any other details you'd like to include. Details are good - how does the buyer know if they want your rabbit if you just tell them "I gotta get rid of this rabbit"...?
The point of contact of your choice (email, phone, FB page, website, etc.). No live links for email or phone numbers, to avoid spam bots.


CLICK HERE TO REQUEST A LISTING
Rabbits Wanted
Yes, we do Rabbit Classifieds: Wanted Ads as well! If you are looking to buy rabbits, follow the instructions above, and tell us what kind of rabbit you are looking for - breed, age, size and coloration, etc., if you have a preference. Your listing will display your name, location, point of contact (no live links), and a brief message about your desired pet rabbit. Please specify (if you know) what you desire, similar to the bulleted instructions above.
Go to Rabbit Classifieds Wanted section now. 

Rabbit Classifieds: Post rabbits wanted ads, or rabbits for sale ads. We'll leave your ad up at least 1 month.
*LISTINGS LAST ONE MONTH*

We will date your rabbit classified ad listing, and remove it after one or so months (30-ish days).

This is because we have no way of knowing whether or not your rabbit classified ad listing is up to date after even one day. If you sell your rabbit, we'd love it if you'd drop us a note and say your rabbit is sold already. If you do, we'll take the listing down. But if you don't, a no longer valid listing does no one any good. That's why in order to offer this free service, we hope a month will be long enough for you to make the sale. If you need more time, simply resubmit your listing. Thank you!

---
Rabbit Classifieds: FOR SALE

Australia
In New South Wales
1/6/2020
First name: Patricia
Email: pattaeang @ gmail . com
Location: Fairfield West, NSW, Australia
*I am selling two female Mini Lop and Netherland Dwarf mixes. One is brown and white while the other is black and white!*
United States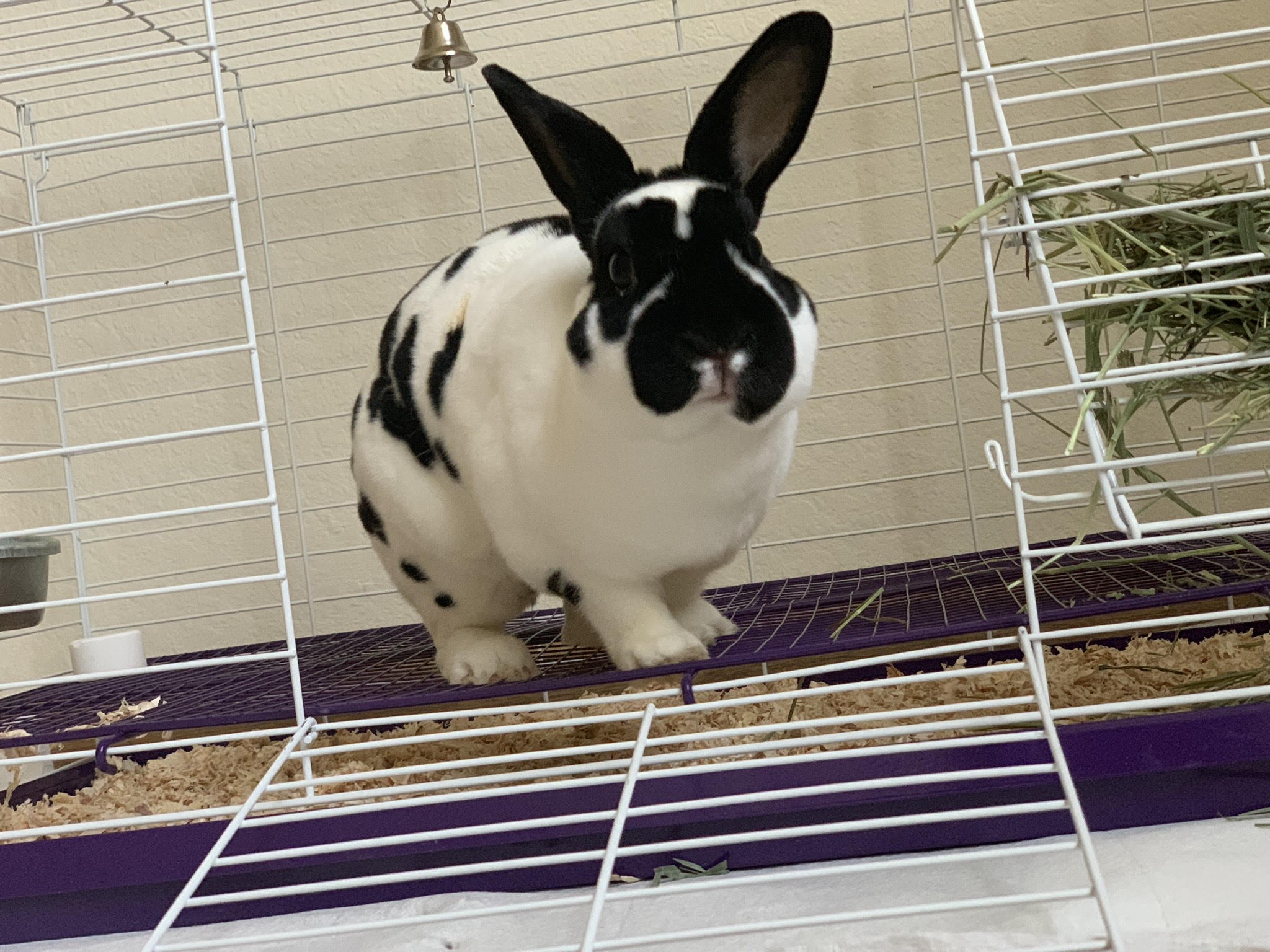 Amanda's Mini Rex named Legacy
In Illinois
12/23/2019
First name: Amanda
Email: amandaquast96 @ gmail . com
Location: Bloomington, IL, United States
*My bunny needs a good home where he will be taken care of properly and has room to run and play. He is a Mini Rex around three years old, very active and healthy. I am willing to give him away for free to a good home.*

In Indiana
12/23/2019
First name: Mary
Email: mary3791 @ frontier . com
Location: Fort Wayne, IN, United States
*I am selling a Netherland Dwarf, broken, black otter doe.  Born: 10/08/19. Very sweet little bunny.  Would make a great pet or brood doe.*
In Michigan 
1/3/2020
First name: Kemji
Email: Rangyxl @ yahoo . com
Location: Ypsilanti, MI, United States
*I am selling an 8 month old Flemish Giant mix.*
In Pennsylvania
1/14/19
First name: Tina
Email: Mandtmidkiff @ aol . com
Location: Littlestown, PA, United States
* Selling standard Rex, bucks, does, solid blues and broken blues.*
---
Rabbit Classifieds: WANTED!
Wanted in The United States
Wanted in Hawaii
1/20/2020
First name: Mary
Email: miehlstein @ mac . com
Location: Honolulu, HI, United States
*I am looking for in a baby, male, mini lop; grey or black.*
Wanted in Idaho
12/31/2019
First name: Madison
Email: maddytheexaggerator @ gmail . com
Location: Rathdrum, ID, United States
* I would like a younger, female that would breed with a Holland Mini Lop.*
Wanted in Indiana
12/23/2019
First name: John
Email: Johndalemiller1849 @ gmail . com
Location: Ligonier, IN, United States
*I'm looking for a polish black and white rabbit buck*
Wanted in Louisiana
1/20/2020
First name: Kaitlyn
Email: Motherofj3 @ gmail . com
Location: Ball, LA, United States
*I am interested in a Mini Lop or Netherland Dwarf. It must be fluffy, and under 8 lbs. It will be an inside rabbit that will be loved very, very much.
Wanted in Missouri
12/23/2019
First name: Juno
Email: jz1829 @ gmail . com
Location: Saint Louis, MO, United States
*I would like a solid colored, Netherland Dwarf buck.*
Wanted in Rhode Island
12/31/2019
First name: Robert
Email: robertjbasha @ gmail . com
Location: North Kingstown, RI, United States
*I would like Altex, New Zealand, California, or Flemish Giant*
Wanted in Texas
1/14/2020
First name: Elizabeth
Email: smith.elizabeth19821987 @ gmail . com
Location: Pilot Point, TX, United States
*I am looking for black and white checkered, younger rabbits.*
Wanted in Washington
12/31/2019
First name: Cherri 
Email: mason.cherri1 @ gmail . com
Location: Spokane, WA, United States
*I am looking for a black otter, Rex female that is 7-8 weeks old (after weaned). I am willing to travel a couple hours outside of Spokane for the perfect bun bun.*
Wanted in Wisconsin
1/7/2020
First name: Kashawneda
Email: kashawneda @ gmail . com
Location: Kenosha ,WI, United States
* I am looking to purchase a bunny for my daughter as a birthday present. Her birthday is in April and she really loves animals!! She wants a bunny to add to her family of small pets.*
1/21/2020
First name: Steven
Email: rcx @ msn . com
Location: Brookfield, WI, United States
*Looking for a spayed doe less than a year old. Breed doesn't matter much but no dwarves, lops or lionheads. I am looking as a pet for my daughter. Willing to drive a couple hours.*
---
***Attention Breeders***
If you breed rabbits regularly and wish to advertise, the form below is not for you!
Instead, visit our Rabbit Breeder's page to fill out a listing form!

Here's the request form for your rabbit classified ad:
---
Warning Regarding Rabbit Classifieds

We don't know you, your rabbit, or your prospective customer/seller! Therefore we have not vetted the condition of the rabbits offered through our rabbit classifieds.
Let me just be honest with you. Please don't purchase or sell:
Sneezing rabbits! Sneezing rabbits are very sick rabbits. Rabbits with Pasteurellosis have acquired it because their immune systems cannot ward off the germ. If by mistake you obtain a rabbit with snuffles, you'll be in for a very long and expensive road if you don't wise up and simply euthanize the poor thing. (Very occasionally rabbits with snuffles overcome the illness. This is due to good fortune, providence, or the fact that the causative germ was not Pasteurella multocida.)


Cranky rabbits! Some rabbits just DON'T make good pets. These are the ones with a propensity to bite or scratch, are ultra-dominant, and will not be good for your family.


Rabbits with overgrown teeth! (Also called buck teeth or wolf teeth.) The likelihood of buck teeth self-correcting is very slim, though such correction is not un-heard-of. It just almost never happens, leaving you to whack the rabbits' teeth short every 4-6 weeks. Or have the vet do it or pull those teeth permanently. Why take on the headache when you can simply obtain a rabbit with normal teeth?  


Rabbits with intestinal upsets or diarrhea at the time you're considering the purchase! Yes, it is very possible the digestive upset is transitory. It is also possible that the rabbit has one or more dangerous parasites. 


Rabbits with head tilt! Head tilt is a sign of brain involvement with most likely either Pasteurellosis, or E. cuniculi (EC).
ALSO NOTE: If the rabbit you're thinking of buying has been vaccinated with BunnyVac, you will have no idea of this animal's true health status, and you will need to continue vaccinating it with yearly doses of dead virus and potentially toxic aluminum and formaldehyde (etc.) for as long as the rabbit lives. (All that aluminum may very well shorten both the quality and longevity of life.) 


Two Other Ways to Advertise Your Rabbits-for-Sale