Mini Rex Rabbits
Mini Rex Rabbits. History, description, standards, photos of the petite Mini Rex breed. Is this miniature rabbit breed right for you or your kids?

The Mini Rex has become a huge favorite wherever it goes. The breed dates to the early 1980's. It was a brilliant idea - combine the wonderfully plush fur of the Rex rabbit in a very small, easy-to-handle rabbit.
Mini Rex Rabbit History
Ms. Mona Berryhill of Texas gets the credit for creating the Mini Rex breed. She won a pair of Dwarf Rex in a raffle at the 1984 ARBA Convention, and used the buck, crossed with an undersized Lynx Rex doe, to begin her efforts at creating a miniature Rex rabbit. Many breeders joined her in the project – who can resist a little plush rex? Within 2 years, 1986, they made their first ARBA presentation.
Because of the underlying Netherland Dwarf genetics, many colors began cropping up. These were show-worthy Mini Rex. The Mini Rex breed was accepted in 1988 in 9 varieties: 
Blue, Broken, Castor, Chinchilla, Himalayan, Lynx, Opal, Red, Tortoise.
Since then, several other colors have been added to the above Mini Rex line-up, which now totals 17:

Black, Blue-Eyed-White, Chocolate, Lilac, Otter, Sable Point, Seal, Red-Eyed-White.

Does and bucks should weigh no more than 4.5 pounds (2.04 kg) in both the USA and UK.
In the UK, Mini Rex are recognized by the BRC in all the many colors seen in the British Rex. It should be identical to the BRC Rex rabbit in every way except for size.
The Mini Rex breed is a perennial favorite today, enjoying huge numbers at the show table. Unsurprisingly, Best in Shows are not uncommon for this breed, given their overall excellent type and fur.
Mini Rex tend to take the number one position in ARBA records for registrations, Grand Champions, and BIS winnings. In fact, castor Mini Rex rabbits owned by Lou and Anne Lassen won Open Best in Show at ARBA Conventions two years in a row – 1994 and 1995.
The National Mini Rex Club (www.nmrrc.com) is separate from the National Rex Rabbit Club.
Also Note:
Along with Netherland Dwarf size and color genes came the lethal dwarfing gene. Breeders will find fatal "peanuts" in their nest boxes. See Dwarf Rabbits for more information.


Interested in other rabbit breeds?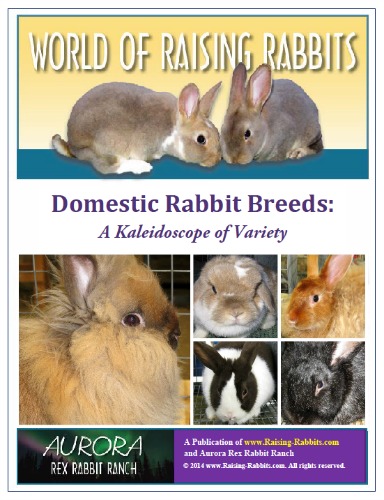 Get the full scoop and tons of full-size photos by purchasing our e-book...


Domestic Rabbit Breeds: 
A Kaleidoscope of Variety


Visit Breeds of Rabbits for a complete description of the e-book, and to purchase it. 


All of our ebooks are on sale 30% off!