Breeding Rabbits

Breeding Rabbits. Breeding domestic rabbits, from mating to weaning the bunnies. Here are links to all the reproductive and maternal stages of rabbit breeding.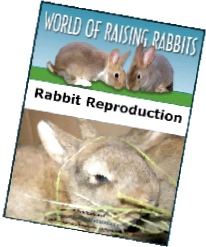 But first, would you like all this breeding rabbits information, and so much more, off-line, conveniently at your fingertips when you need it?


From mating to weaning, we compiled all the information, doubled the number of photos and details, and put it all into our 108-page e-book titled Rabbit Reproduction. This e-book provides much more than our webpages contain. 
This is in PDF form, easily readable and printable through any free PDF reading software such as Adobe Reader. Your purchase provides you with an immediate download link so you can receive your copy of Rabbit Reproduction without delay.
Rabbit Reproduction: Only $8.49
As always, your purchase is 100% risk-free. See our Double-Value Guarantee below.
Click here to learn more about this e-book.

Rabbit Raising Problem Solver is another printed resource which will answer your questions from mating to weaning, and of course every other aspect of raising rabbits.


Sponsored Links

Here are our web pages
on the topics of breeding rabbits and the
stages of rabbit reproduction

When to re-breed a doe depends on a number of different factors.  Some breeders simply breed every three months. This gives the doe plenty of time to rebuild her condition.  Others let the doe's condition dictate the rebreeding schedule.

Breeding rabbits can provide an unforgettable experience when done wisely, and is especially valuable for teaching kindness and animal husbandry to children.
"The righteous man regards the life of his animal"
(Proverbs 12:10)


Rabbit Reproduction: Only $8.49
As always, your purchase is 100% risk-free. See our Double-Value Guarantee below.

Sponsored Links




Double-Value Guarantee
Our policy is to always OVER-deliver on value,
which is why your purchase is fully covered by our
Double-Value Guarantee.
Go ahead - take any of our e-books for a test drive. Peruse our detailed informational and educational e-books. Examine our plans for building rabbit cages, runs, or metal or PVC hutch frames. Check out the Rabbit Husbandry info e-books.
If you aren't completely satisfied that your e-book purchase is worth at least double, triple or even quadruple the price you paid, just drop us a note within 45 days, and we'll refund you the entire cost. That's our Double-Value Guarantee.