Info on Rabbits and Bunnies


Info on Rabbits and Bunnies: This rabbit information FAQ page answers questions about pregnant rabbits, rabbits giving birth, and taking care of bunnies.
Frequently Asked Questions and Info on Rabbits and Bunnies
Q: Babies: "Are you allowed to pick up the baby rabbits from the litter?"
A: Are you the one taking care of the mother and babies? Then yes, picking up the babies to check that they're doing well is fine for you. Check the babies and their nest once a day to make sure everything is clean and okay. If you check them over and over every day and also play with them, you wouldn't want the mother to get fed up with you and begin to threaten you. So, check the babies once a day, and wait to "play" with them until they are 2-3 weeks old and out of the nest box.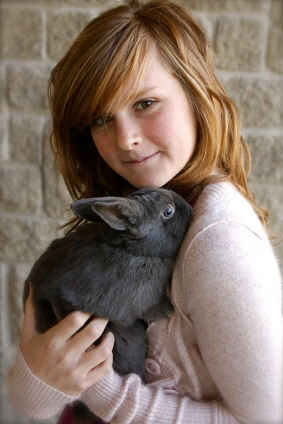 Q: Birth: "What comes out at a rabbit birth?"

A: A baby rabbit comes out. It is wrapped in a membrane and a lot of liquid. After the baby is born the placenta comes out. The placenta is also known as the after-birth. The mom cleans everything up by licking the baby clean, eating the membranes and the placenta. This might sound gross, but it is normal, and helps to tell her body to make lots of milk for the bunnies. See Rabbits Giving Birth for more info on rabbits and bunnies.


Q: Bunnies: "How are baby rabbits made?"
A: The doe (mama rabbit) makes an egg, which combines with the sire's (father rabbit's) sperm. The sire puts the sperm in the doe by mating. When the egg and sperm join together, that is the beginning of the baby rabbit. It takes just 31 days for the baby rabbit to grow inside the doe and then get born. More info on rabbits and bunnies and breeding - Rabbit Mating.


Q: Bunnies: "How soon after bunnies are born can you change a rabbit's drip tray?"
A: It is usually okay to maintain your normal routine around the rabbits, unless the doe is very nervous and very skittish. With my does which are used to me, I would be comfortable changing the rabbit's drip tray on the day of kindling (birth). You'll have to be the judge, however, because you know your own rabbits.


Yesterday's News Paper Pellet Litter Unscented, in 5 lb and 26.5 lb
(Marketed for Cats, Excellent for Rabbits)

Q: Bunnies: "How to get prepared for a litter of baby rabbits?"
A: The most important preparation is keeping records. Make a note of when the doe was bred. Mark the calendar 28 days later for putting the nest box in the cage. Mark the 31st day because this is the date the doe will likely kindle (give birth).
About preparing the nest box, palpating the doe, feeding the doe, and other info on rabbits and bunnies, please go to Breeding Rabbits and follow the links as necessary.


Nesting Box Materials: Pine Shavings, Hay, Straw
Q: Bunnies: "Our mother rabbit had 15 babies..."
A: That's a lot of babies, and it happens quite a bit, especially in larger meat rabbit breeds. Unfortunately, unless you have a fabulous milking doe, the kits might not all survive. (Those does do exist.)  In our rabbitry, we usually try to foster kits to other does. If that's not possible, then we wait a couple days to see which kits are not able to fight for a teat. We keep an eye out for weaker, unthrifty kits with failure to thrive and try to remove these before they die in the nest and begin to rot. A large litter like this usually ends up with at most 11 or 12 kits. I hope your doe happens to be one of the super-milkers.


Q: Bunnies: "Our doe has two-bunny litters..."
A: Yes, this is the flip-side - tiny litters. The immediate concern is keeping the kits warm. Two kits keep themselves warm better than singletons, but 3 kits per litter is usually preferred. The next concern, if the doe repeatedly has tiny litters, unless she is a dwarf rabbit, is: is she old? Does she have any underlying health problems such as a retained fetus from a prior litter or immune-draining disease such as asymptomatic snuffles? The answers will help you know how you proceed.


Q: Food: "When do baby rabbits start eating rabbit food?"
A: Baby rabbits start nibbling on straw or hay just as soon as their eyes are open, at around 10 days old. The bunnies also nibble on the doe's fecal pellets and cecotropes in the nest box which deliver correct bacteria to their guts. 

At around 14 days old we remove the nest box. The bunnies are still sleeping a lot, however they soon locate the pellet feeder and begin eating rabbit pellets, typically within a few days, or 2 1/2 weeks of age. 


This Bunny Food is Currently the Best I Have Found:


Q: "How old do rabbits have to be to have babies?"

Info on Rabbits Answer: The answer to your question depends on the breed of rabbit. Very large breeds tend to mature later, and the dwarf breeds tend to mature earlier.  A good middle-of-the-road rule of thumb is about 6 months, however don't think that male rabbits can't make babies before this age. Bunnies have been known to breed before 4 months of age (it is probably not good for them to breed this early), so breeders separate litter mates before they reach 3 months of age.


Q: Nest Box: "Do my baby rabbits need a nest box?"
A: Yes, probably, and certainly if you are using a wire-bottom cage. In hutches with a solid bedroom area, nesting boxes are still advantageous, as they confine the litter in a warm nest and prevent them from wandering away, getting lost, and then chilling to death. Nest boxes save bunny lives.
Go to Rabbit Nest Box for more info.


Q: Peanuts: "Can peanut rabbits live?"
A: No, unfortunately. The 'peanut' is a very tiny rabbit that has inherited two copies of a dwarfing gene. The two-gene combination is always 100% fatal. The peanuts are born dead, usually, but a few live a couple days, and even fewer live a couple weeks. See Dwarf Rabbits for info on rabbits and bunnies that carry the dwarf gene.


Q: Pregnant: "How do you know if a rabbit is about to give birth?"
A: There are a few ways - see Pregnant Rabbit.
If your rabbit has been scratching in the corners of its cage
If it tries to cram lots of hay in its mouth and then carries the hay around
If you know it was around a male rabbit about 31 days prior
If it has lost its waistline
If it's been more cranky than usual, or is running away from you uncharacteristically
If it doesn't seem to be eating quite as much (the tummy has more pressure in it due to growing babies)
What to do? If you think there's any chance that your rabbit is pregnant, prepare it a nesting box.


Enhance Lactation and Doe's Conditioning with Whole Oats, BOSS

Q: Pregnant: "How does one care for a pregnant meat breed rabbit?"
A: For the first two weeks, there is no need to change the care you are already giving. 10 - 14 days after breeding is when you can palpate your doe to see if you can detect little kits. Once a pregnancy is confirmed, slowly increase the doe's feed until she is nearly free-fed. Check our Rabbit Breeding page which links to info regarding each of the stages of rabbit reproduction.  


Seems like there's always another angle of info on rabbits and bunnies that can be considered.
See the questions and comments below.
Also, see our book, Rabbit Raising Problem Solver, for 301 pages of questions and answers.


Questions and comments from other visitors
Click below to see contributions from other visitors to this page...

(The ability to post your questions to this page, Info on Rabbits and Bunnies, has been temporarily suspended, however you can still comment on any of the posts above.)