Rabbits Giving Birth


Day 31 -- Rabbits giving birth!
You find a pile of fur in the rabbit nest box.  And as you watch, the fur wiggles. 
Glorious day--your doe has kindled (given birth).  Count yourself very fortunate if you got to actually watch your rabbit giving birth. They have the capability of waiting until you're gone and all is quiet before giving birth.

Me?  At this point I'm dying of curiosity. 
Are all the kits alive and healthy?
How many new kits in the nest box?
Is the doe taking care of them?
Can I safely check, or handle, the kits?

Rabbits giving birth is an amazing event.  Let's answer these questions, because after your rabbit kindles, you'd like to know that the doe and the kits are all fine.
---
Rabbits Giving Birth - a Video
Maryjane, owner of Faithful Flemish Rabbitry in Oak Ridge, NJ, sent this video to me and graciously granted permission for us to show it to you. It features her Flemish Giant rabbit giving birth. Since rabbits tend to kindle when no one is looking, it is not every day that breeders get to see their does in action. I hope you enjoy this short, 2-minute video as much as I did. 
Rabbits Giving Birth: Checking the Nest
Are the baby rabbits all alive and healthy?
You need to know, because if there's a dead kit in the nest, and there might be, you'll need to remove them before they start rotting, smelling and attracting flies. After checking this nest, I found one stillborn kit, which I removed.

There could also be a few stray placentas laying around.  The doe usually eats them.  This apparently increases the hormone levels that she will need for making milk.  But if you find any in the nest, and it is likely you will if the litter is large, then just pull them out and throw them away. The doe will have nothing to do with it, once she's finished with giving birth and nursing the babies.
Rabbit kits are born with their eyes and ears sealed shut, and completely furless.  Don't be alarmed at how they look. It'll take them a couple weeks for the fur to grow in enough to keep them warm outside the nest box.   
Here's a picture of Xena's kits. They are only hours old; their tummies are nice and round. 

How many newborn rabbits are there?
A rabbit litter can number anywhere from 1, all the way to 15.  Yes, a couple of our does have kindled 15 kits.  No, not all the kits survived. 
It's just as difficult, rabbits giving birth to just 1 kit. Chances rise that it freezes to death, even in the nest, since it has no littermates to snuggle with and body warmth to share.  But one of my does, who had just one kit, sat in her nest and helped keep the little one warm.  Smart doe, I thought.
There are ways to help rabbits giving birth to more kits than she can handle.  Your outcomes will improve if you remove a few of the babies from the nest, perhaps fostering them to those rabbits giving birth to just a few kits.  This gives the stronger kits a better chance at a good start in life, and the weaker ones a better chance at survival.
Here's how I do it: I let nature take its course for a couple days.  At the end of, say, 2 days, it becomes evident which of the kits are not strong.  The weaker kits will not be getting their fair share of the doe's milk, and after a couple days, these kits will have thin abdomens.
Despite being thin, the gray kit was still strong enough to compete for milk. She stayed with her litter.
I will remove the scrawny kits from the nest.  In this picture of 4-day-old rabbits, the gray bunny has no tummy.  You don't want to see such a waist-line!  But I'm happy to report that she still managed to get enough milk to do okay.  Despite being the runt of the litter, she did very well, and grew up to be a competitive show rabbit.  

I like to have 2 or more rabbits giving birth on the same day.  It increases the odds I can foster a few kits to another doe, if necessary. 
Sometimes even after reducing the litter size or fostering a few kits to another dam, a few more kits become scrawny. In this case, the litter might end up numbering around 8.  Most does are just fine with 8 kits.
If some of your kits are thin, try supplementing your doe's rations with a source of additional oil, for example, whole oats or black oil sunflower seeds (bird seed). The extra oil is essential for helping the doe to increase her milk production. It doesn't take much - just a tablespoon for the lactating doe.


Packaged for Poultry, Great for the Rabbit Nestbox. Quality Pine Shavings in Bulk:

Is the doe taking care of the baby rabbits?
After rabbits giving birth comes the feeding of the kits, and the doe will likely take excellent care of her babies. But just to be sure, you can check the bellies of the kits.  If they have nursed, their little bellies will be round, even distended, just like Xena's opal rex kit pictured here.

But even if they don't look full, they might safely go 1 - 2 days before getting a full 'meal.'  This is probably built into the rabbit as a protective mechanism, since in the wild, the doe might need to stay away from the burrow entrance for a while to avoid leading predators to her kits.
Which brings up an important observation for domestic rabbit breeders: Mother rabbits only ever feed their kits once a day, rarely twice, and that for just 5 to 10 minutes.  In this short time frame, the kits get their whole day's milk supply.  So, if you never see the doe go near the nest box, but the little kits have round tummies, everything is fine.  You don't need to help nature along.  The doe is doing her job while you're in bed asleep.
Rabbit Condition Enhancers: BOSS, Whole Oats


Can I safely check on the kits?

Despite what you may have heard in the past, and sometimes STILL hear, the answer is:

Yes, of course!

Here's how it works: The doe has kindled her kits in the dark of night, and spent her 10 minutes in the nest.  You come along in the morning and check on the kits.  Or you're ready to check the kits after school in the afternoon or after work in the evening.

You can follow steps similar to these for a newborn litter and during the subsequent days:  
Give the doe a handful of hay or whole oats (or other favorite treat).  This distracts the doe.


Remove the nest box from the cage and place on a flat surface.


Move the mound of fur aside.  If you see any dead baby rabbits or placentas, remove them.


Reach down into the deeper recesses of the burrow and pull out all the kits, counting each one.


Place them on top of the shavings in front of the burrow, one by one, where you can see them.


Observe that there are no dead kits in the back, down in their little sleeping burrow, and if there is, remove them. Remove any shavings that are obviously damp or bloody from the birthing process.


Check that each kit has a full tummy and seems healthy.  If the litter is large, there may be one or two whose bellies are not as full as the others, however hopefully they will have had at least some milk, and you can make a note to recheck in a day.


Replace the kits where you found them.  Some may have already crawled back down into their burrow.  Mound the fur where you found it, over top of the burrow.


Put the nest box back into the cage. The doe will come check it out. She might hop in the nest and feed her babies, but chances are better that she won't return to her babies until late at night.


In the meantime, the kits will pick up the scent of their nest again, and lose your scent.


If your doe knows you and your scent, and is comfortable with you, the chance is very great that she'll be completely unimpressed by your scent on the nest box.  I have NEVER had a doe reject her litter because I checked the nest box.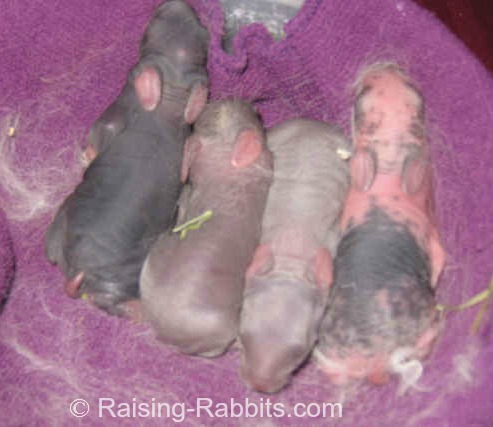 If you have doubts, for example, if you acquired a pregnant doe who is unfamiliar to her new surroundings, if you never handle the doe, or if you know your doe is skittish or highstrung, then put a dab of vanilla extract on her nose.  She won't be able to smell anything else for a while, they tell me.  You can check the kits safely, and they will lose your scent by the time she goes back into the nest to feed them.


It is wise to check the nest every day for several days to a week (or longer if you enjoy doing so), as a kit may sometimes fail to survive through no fault on anyone's part, and you will want to remove it as soon as possible from the nest.
You've checked the nest carefully. The kits are well fed, snug and warm.
But what do you do should you discover a kit on the cage wire the next day, cold, still and apparently lifeless?
Go to Warming Chilled Kits for our best tips.
Any Help Needed for Rabbits Giving Birth?
Most of the time the answer is "no."  But sometimes it might take them a while before their instincts kick in.  Go to Help the Doe Take Care of her Baby Rabbits for more information. 
Learn more about taking care of the baby rabbits - Care of Baby Rabbits.
We hope this information about rabbits giving birth has been helpful to you, and we hope you enjoy watching your baby rabbits grow!

Add your Comments or
Share your Experiences!
Your comments or experiences can help others who read them. So, comment away, and if you have pictures, you can post up to four of them. Pictures are always helpful.

(Have questions? Perhaps your question was already asked, and answered, below. If not, Karen has answered hundreds of your questions in her book: Rabbit Raising Problem Solver, covering every aspect of pet rabbit and livestock rabbit care as well as rabbit health and disease. We recommend it!)

Comments from Other Visitors...
Click below to see additional posts that other visitors have made to this page...