2 kits from a dwarf doe and a lionhead male
by benjamin
(malta)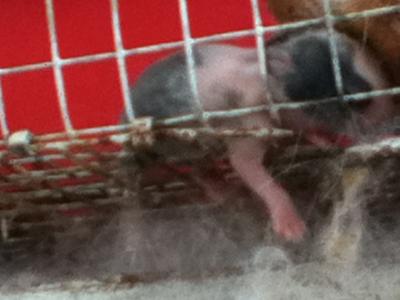 here is the one with spots
Hi I'm Ben and 2 days ago my dwarf rabbit had 2 kits, 1 normal pink colour and another with dark spots. The one with dark spots is a little slim. Here is a picture of it.


Can you tell me if he will live or not?
And I'm worried that if I even get too close to them Daisy
the doe
will eat them.
And by the way this is my first time with kits.
Thanks a lot.
***** Karen Sez *****
Looks like you're doing okay with those bunnies. Hard to actually see the belly or waistline of the spotted one. You can help the doe make more milk by ensuring enough protein and enough fat in her diet. We feed commercial pellets of at least 16% protein, and supplement her feed with black oil sunflower seeds or whole oats. Any whole grain will have extra oil.
Good luck and have fun!