Rabbits for Sale in PA
Pennsylvania

Rabbits for Sale in PA | Pennsylvania:
Find the rabbits you want to raise in your local Pennsylvania neighborhood.

Rabbits for Sale in PA - Pennsylvania


Apollo, PA | Bethy's Bunny Barn
Breeds: Holland Lops, Netherland Dwarfs

Bernville, PA | Happily Ever After Rabbitry
Breeds: Mini Rex & Mini Lop.  Pet, show, and brood quality rabbits.
Contact: Happilyeverafterrabbitry @ gmail . com | (484) 755 - 0800
Sponsored Links
Carlisle, PA | Beaming Bunnies Rabbitry
Breeds: Mini Rex, Champagne d'Argent, Harlequin, English Spot, Lionhead, Dutch, Silver Fox, Holland Lop. All of my rabbits are bred to high standards and are all very healthy. They are handled daily and are my top priority.
Contact: jgracie825 @ gmail . com | (717) 422 - 2883
1/21/2021
Fairfield, PA | Mildred's Mayhem
Breeds: English Angora
Contact: (301) 514 - 2526

Frackville, PA | T and H Rabbitry
Breeds: Mini Lops; Our rabbits cared for and loved by my girlfriend and I. We take much pride in having friendly, adorable, and playful mini lops for you to take home and enjoy as another member of your family. 
Contact: tandhrabbitry @ gmail . com | (570) 590 - 7825 (cell) | Facebook
8/24/2020
Gardners, PA | Yaleska
Breeds: Mini Lops, we currently have 5 three month old females, 4 four month old males, and 3 nine month old females. 
Contact: boriyaly @ gmail . com
Gratz, PA | Beanie Buns Rabbitry
Breeds: Holland Lop, Mini Rex, Lionhead
Contact: https://beaniebunsrabbitry.weebly.com | christie.m @ outlook . com
3/10/2021
Hanover, PA | Beachcomber Bunnies
Breeds: Mini Lop, Holland Lop, Netherland Dwarf, Mini Lop-Holland Lop Mix
Our goal is to provide you and your family with pet bunnies bred specifically for smaller size, calm temperament, beautiful markings, and optimal health.
Contact:  beachcomberbunnies @ gmail . com | (717) 451 - 4936 | Instagram: beachcomberbunnies | Facebook: Beachcomber Bunnies
Harrisville, PA | T&J Bunny Barn
Breeds: Mini Lops, Mini Rex, Lionheads, Velveteen Lops

Herndon, PA | Joan
Breeds: Holland Lops. Does and bucks, some pedigreed, some not.
Contact: joanherman1975 @ gmail . com
Howard, PA | Krystal
Breeds: Californian/New Zealand mixes; All are handled from birth, make great breeders, pets, and meat rabbits.
Contact: 1craftykittie @ gmail . com | (412) 915 - 0713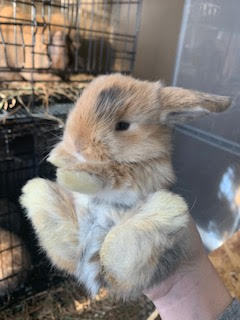 Morgan's Mini Lops in Langhorne, PA.
Langhorne, PA | Morgan's Mini Lops
Breeds: Mini Lops
Contact: morgangoldenbaum @ gmail . com | (267) 994 - 1763 | Website URL

Landisburg, PA | Carriage House Rabbits
Breeds: New Zealand/Californian cross. We are an ARBA registered rabbitry.
Contact: carriagehouserabbits @ gmail . com | (717) 636 - 3441

Lebanon, PA | Pixie Hollow Rabbitry
Breeds: Netherland Dwarf, Dwarf Hotot, and Champagne d'Argent

Littlestown, PA | Tina
Breeds: Standard Rex, bucks, does, solid blues and broken blues. We are a small rabbitry and handle babies daily. We only breed for pets. 
Contact: Mandtmidkiff @ aol . com
McKeesport, PA | Painted Dreams
Breeds: Mini Rex Mixed Rabbits. Sweet and loving family pets, used to dogs, enjoy being petted, and are used to the sounds of daily home life.
Contact: painteddreams21 @ yahoo . com
New Oxford, PA | Katrina
Breeds: Netherland Dwarf, Jersey Wooly, Hotot. All rabbits are handled since birth and have very calm personalities. We breed for both personality traits and looks.
Contact: kabarfarms @ pa . net | (717) 465 - 5155
Newport, PA | Gusler's Rabbit Ranch
Breeds: Holland lops, English lops, Polish, Rhinelanders, Belgian hares, Lion Heads, Soon teddywidders. We've been breeding, showing, and raising rabbits off and on for 15 years.
Contact: Salenahaas @ yahoo . com | (717) 275 - 6068
New Providence, PA | Providence Satins
Breeds: Satins. We raise show quality satins that could be competitive anywhere they are shown. The goal of our rabbitry is to bring quality to rabbit breeding programs by offering the healthiest and most structurally correct rabbits possible. Satin rabbits are a dual purpose breed because they are known both for their soft, shiny, luxurious coat, and their great meat qualities.
Contact: Gabrielle at providencesatins @ gmail . com
3/27/2021
Northampton, PA | Becca's Burrow
Breeds: Havana Rabbits: Chocolates, lilacs, blacks, and brokens in all these colors. Pedigreed, show or pet quality.
Contact: beccasburrow @ gmail . com | +1 (484) 866 - 5599
Perkasie, PA | Smolbuns
Breeds: Holland lop, Lionhead. These are sweet adorable bunnies raised with love!
Contact: tsmolen @ hotmail . com
Snow Shoe, PA | Luvin' Buns Rabbitry
Breeds: English Angoras, Lionheads
Contact: Marshallmaude61 @ yahoo . com

Tionesta, PA | Clara
Breeds: Beautiful show quality lion head kits available! I am a certified ARBA and NALRC breeder. They make wonderful pets and have been handled by kids since day one. Parents have won several awards at competitions! In total there are ten bunnies left! Prices range from 25 to 40 depending on the color, quality and sex of the rabbit. We have many colors available, and they are currently 7 weeks old.
Contact: clarajbeck @ icloud . com | (814) 354 - 2031
Waynesboro, PA | BlackThumb @ pa . net
Breeds: Meat and Pet Rabbits: CaliWhites, Lops, Lionheads and Flemish Giants

York, PA | Rosalee's Bunnies
Breeds: Mini Lops
Contact: angelbug1578 @ gmail . com | rlunsford38 @ aol . com | (717) 714 - 0493 (phone or text) 
York Haven, PA | Sugar n' Spice
Breeds: Rex, Flemish Giants, Holland Lops, Lionheads, Hotot. All rabbits are handled since birth and have very calm personalities. We breed for both personality traits and looks.
Contact: Jokelso9606 @ gmail . com
*******

---
FREE to Rabbitry Owners and Breeders!

Request a listing for your own healthy pet and show rabbits on Raising-Rabbits.com for free!

No Cost, No Unfair Flagging or Ad Removal,
BIG Publicity (thanks to Raising-Rabbit's high traffic rates)

Advertise Your Rabbitry on Your Own Featured Rabbitry Page
Why should people purchase your rabbits?
Tell them why, with a Dedicated Web Page on Raising-Rabbits.com that features your Rabbitry.

Get multiple Links to your Information, for Minimal Cost

Woven Grass Comfort Toys (Great for Small Rabbits, Bunnies):

Buyer Beware
Rabbit raisers are a very good bunch, most of the time. We've heard of no problems with any rabbitries we've listed, but just the same, we ask that the buyer beware.
We have not visited the rabbitries listed. Do your research, keep your eyes open, and get yourself healthy rabbits:
Ask if the breeder has had problems with buck teeth. Look in the rabbit's mouth - the top

rabbit teeth

should overlap the bottom teeth.

Ask if any genetic problems lurk in the herd. Buying meat rabbits? Ask about yellow fat. Certain breeds and lines within breeds have have their own various genetic problems - ask.

Listen inside the rabbitry - If you hear *any*

sneezing

or see *any* white snot, you may wish to leave without rabbits. Snotty mats on forearms means a sick rabbit - don't buy. A damp nose (except on very hot days) might (but doesn't always) mean trouble - be cautious.
Turn the rabbit (or bunny) over to ensure the bottom is clean (no

diarrhea

). (Remnants of a  mild bunny diarrhea between 4 - 9 weeks old that has passed is not a problem.)

Buy at your own risk, and let us know of any problems. Thanks!