Welcome to Raising Rabbits!



Get comprehensive information and how-to instructions on all aspects of raising rabbits, absolutely free, or go deeper by purchasing any of our 
in-depth rabbit care e-books.
AND, get rabbit supplies, cages, tools and toys
in our secure online Store
Are you New to Rabbits?? Here is an Introduction to Rabbit Raising!
Rabbit Owners and Breeders: Start here to buy and Sell Rabbits through Raising-Rabbits!
---
The Rabbit Care Section serves all who have rabbits: Show rabbits, pet rabbits, and livestock rabbits, breeders and pet owners alike.
Most of the time, rabbit raising involves similar animal husbandry practices independent of the purposes those rabbits serve, whether meat, fur, fiber (wool), or pet. 


---
(If you're a livestock rabbit owner, skip on down to the Livestock Rabbit section below.)

Pet rabbits can be a perfect solution for animal-loving but busy urban dwellers. They sleep while you're at work or school, and are active during your breakfast, suppertime, and early evening. 
With 49 breeds of domestic rabbits available in the USA alone, the choices are nearly endless.


---
Livestock rabbit farming, especially if a commercial enterprise, requires greater attention to detail. Various breeding, feeding, and lighting practices are optimized to help stabilize general and wintertime production. As always, animal welfare is paramount.

Raising-Rabbits is the Home of the PVC Hutch-Cage Combo!
Rabbit Products, Info, and Supplies
You'll find nearly everything you need for your rabbits at one or more of the following links:
Interact!
Raising Rabbits Gets Compliments...
From Jeni in the UK:
"I just would like to say that this website is AMAZING! I am a veterinary nurse with 15 years experience and have just started to breed my rabbits. I have learnt sooo much from all the info here....there is so much stuff I didn't know...." 

From Cheryl in Florida:
"Your website has been my Bunny Bible...."

From Christine in Texas:
"Best rabbit website anywhere on the net! ...Thank you!"

From Amy in Utah:
"Thank you so much for a fantastic website! This is by far the most helpful and friendliest rabbit website I've ever seen."
---
Rabbits have a way of hopping into your heart and putting a grin on your face.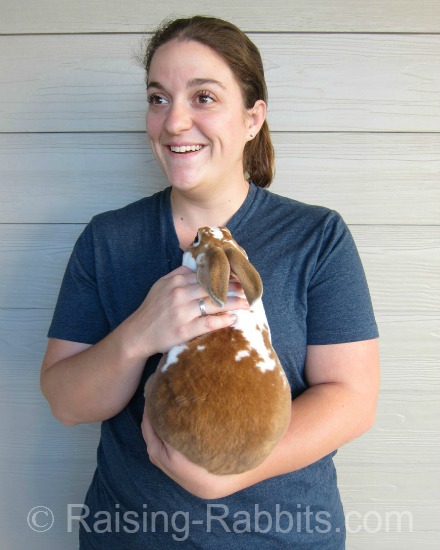 The American Rabbit Breeders Association recognizes and supports the many purposes of rabbits, including meat, show, wool, fur and pet ownership.

So ...

Stroll around our site!
Take your time, enjoy our rabbit photos and absorb all the information on raising rabbits. If you have trouble finding the info you need, use the search box, or visit the Site Map, where you'll find links to every page.

Here's hoping your nest boxes are always full of show-stoppers.

God bless you!

---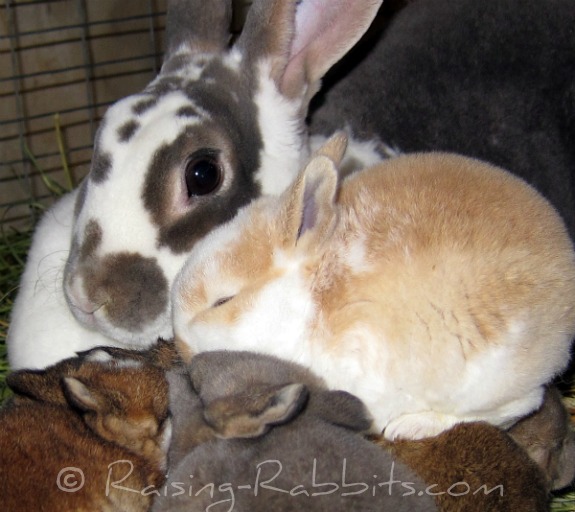 Pictured: Broken Opal Rex Rabbit and 3 week old litter ... that little fawn young'n?

He grew up a bit, and won his new young owner a Youth Best-In-Show!
More recently, the fawn youngster is all grown up.
He won Best of Breed TWICE at the Evergreen Rabbit Breeders Association double show a couple years ago. Congrats to the winner!
---

Bunny Branola - Ultimate Rabbit Nutritional Supplement, and Treat!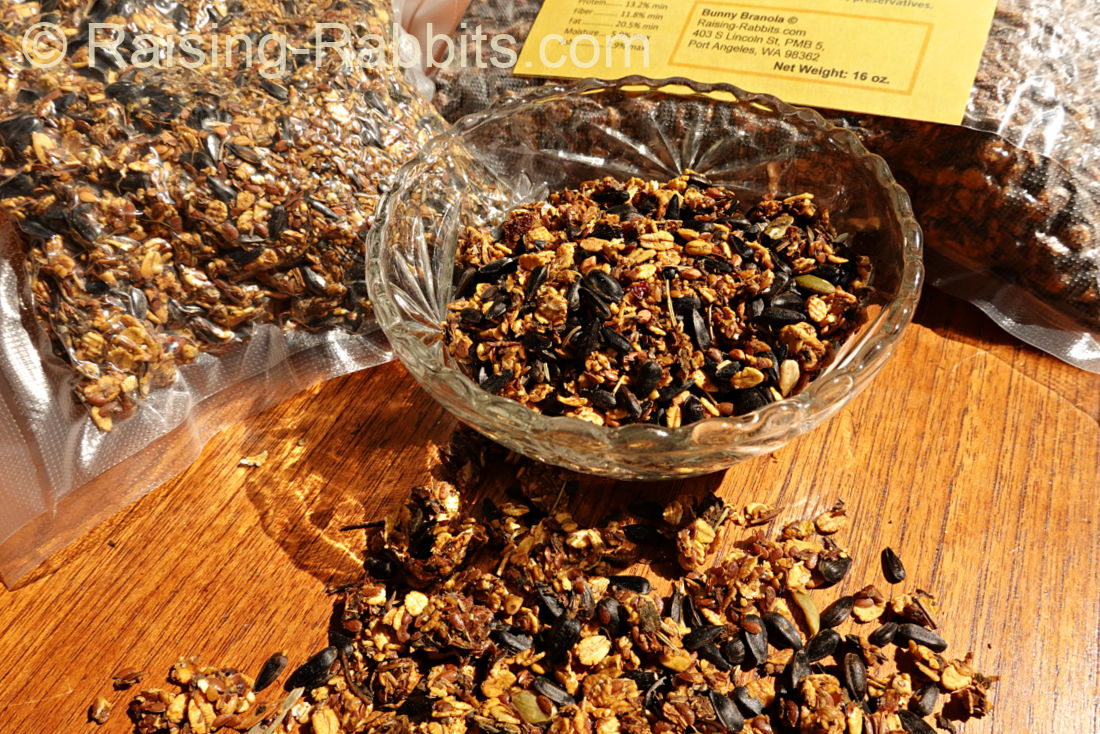 Bunny Branola.
What bunny doesn't love Bunny Bran??!
1 Tablespoon per day of our tasty and nutritious snack mix
sprinkled on their regular food is all your bunny needs to be happier and healthier.
Bunny Branola makes fur softer and shinier, teeth and tummies healthier, and helps relieve stress due to things like barking dogs, new situations, or ultra cold winters. 
Bunny Branola is a wonderful rabbit superfood supplement for pregnant bunnies and growing bunnies. 
Chew Stix by Raising-Rabbits


Just the sticks your bunnies need for chewing and gnawing!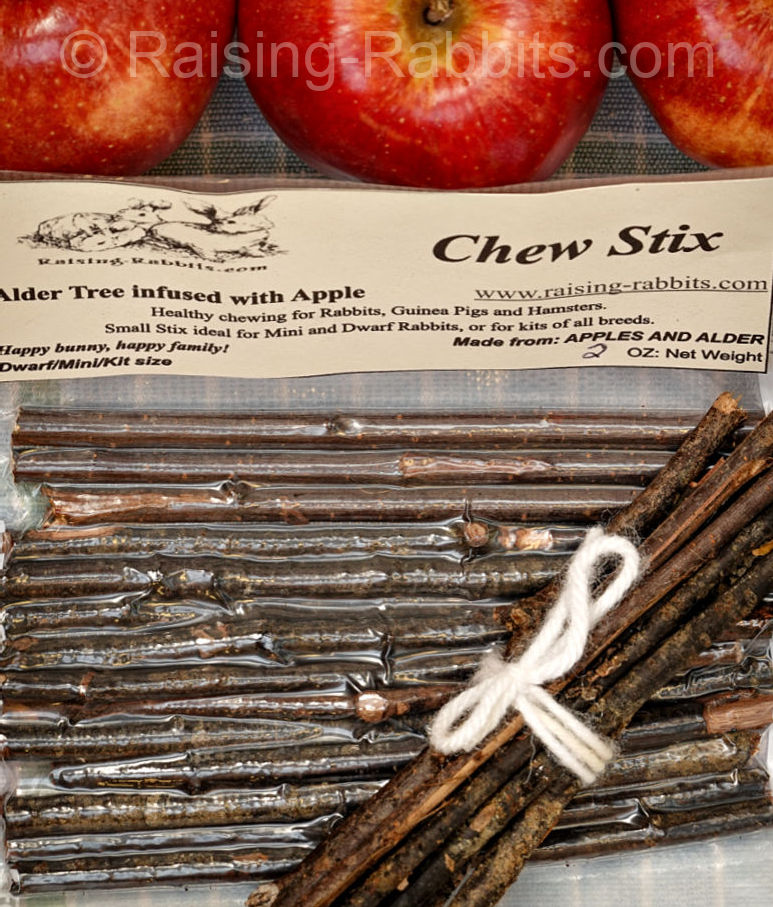 Fruit-infused Raising Rabbits Chew Stix are nature's blessings from the beautiful Washington State forests and orchards.
Fresh alder branches are harvested from trees grown without chemicals, pesticides, or smog. Those branches are then hand cut down to bunny size portions, and infused with apple from Washington's famous apple farms.

Alder is perfect for rabbit dental hygiene! The apple taste and smell will attract your bun, and they can chew to their heart's content, saving your phone cords and your sanity. 
---