Rabbit Cage

Rabbit cages, rabbit hutches, rabbit runs, and our own system of all-wire cages on PVC hutch frames, plus how and why it may actually be advantageous to keep rabbits in all-wire cages.

This page will direct you to a variety of cage and hutch choices, information, and directions, some of it completely FREE.
Rabbits Have to be Housed
If you're going to raise rabbits, you'll need a rabbit cage for every rabbit. Even pet rabbits in your home do well with the safety and protection of a cage when it is not directly supervised.
You can find a TON of different styles of cages, both commercially constructed and homemade, here and on the web. 
At our Rabbit Cages page we list cages that are the most popular for most common rabbit breeds. 
These cages are stackable, and come equipped with the tray, and wire guards around the door to prevent harm to either your arms or your rabbits. They also come with urine guards. You'll just need a waterer, feeder, and the rabbit.
Or: Head over to our Bunny Bazaar or our Raising-Rabbits Store to find more cages, and also any rabbit supplies you need.
If DIY isn't your thing, Hostile Hare has a great selection. Just click the green link to jump ahead.
[We've found some really excellent DIY supplies for you via Amazon - see below.]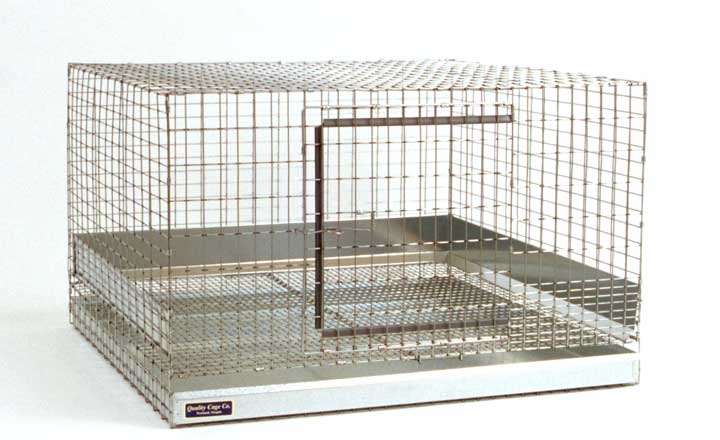 Stackable rabbit cage measuring 30" x 30"
Stackable cages are really great, especially when one has space constraints. But they do necessitate extra time expenditure for cleaning; the more cages, the more time cleaning. Which is totally fine if your situation or preference requires it.
Hostile Hare also has stackable cages. click the link to jump ahead and check it out.
---
Build your own cages and hutch frames, like we do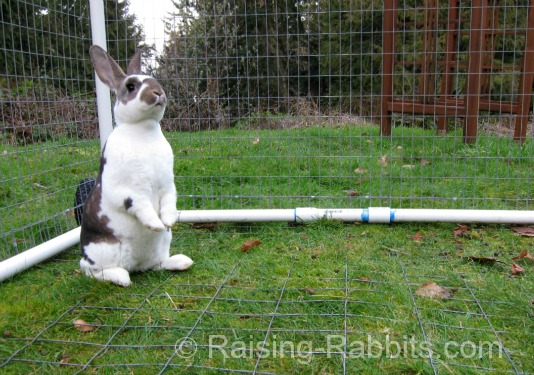 Double-large rabbit run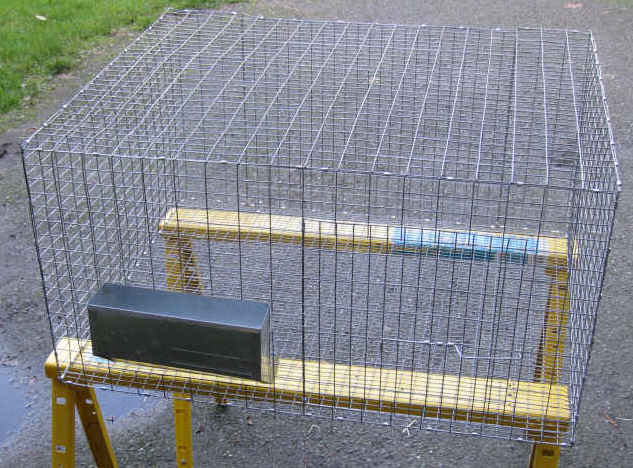 Wire cages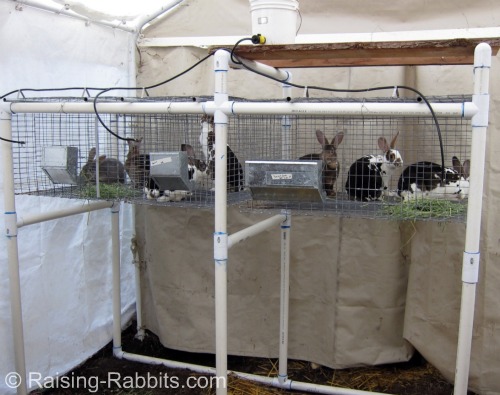 PVC Hutch Frames
Of all types of cages and hutches, we at Raising-Rabbits strongly favor those that make life easier. If you have the space, why not suspend your all-wire cages on a hutch frame, and let gravity do the work? We built our own cages and hutch frames of various sizes and designs, and put all our plans and designs into e-book form.

One of the following 3 e-books will be just right for you, if you'd like to do your own cage-building. Click on an e-book photo for more information on that e-book and to purchase.
NEWSFLASH!!! 2023 is Year of the Rabbit, so all of our ebooks are 30% off! Click the green links below to BUY NOW!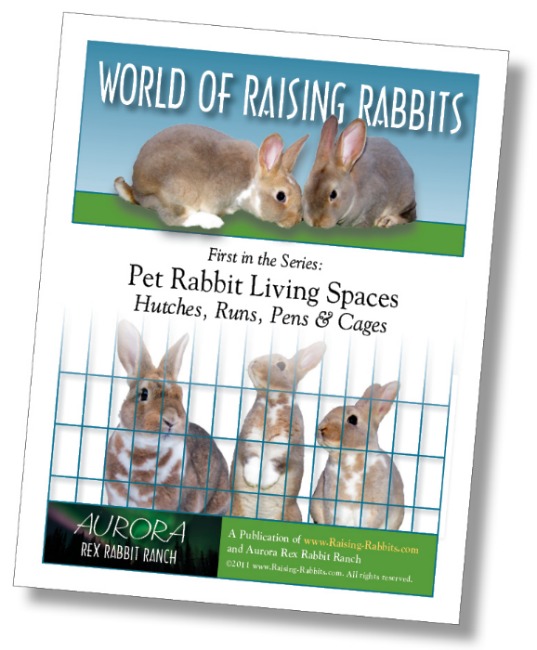 PET RABBIT LIVING SPACES - HUTCHES, RUNS, PENS, AND CAGES
Just what you need to give your pampered pet a custom build. Regularly $9.99

Buy now for only $6.99!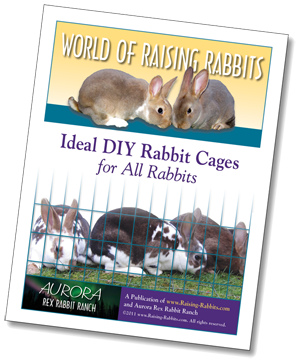 IDEAL D.I.Y. RABBIT CAGES - FOR ALL RABBITS. 


Both of our great housing books together!
Regularly $18.99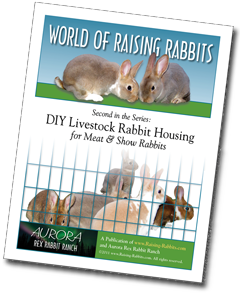 D.I.Y. LIVESTOCK RABBIT HOUSING - FOR MEAT AND SHOW RABBITS
 
Great for small farms and homesteads getting in market breeding.
Regularly 12.99
For more information on all these rabbit housing e-books and other rabbit care publications by Raising-Rabbits, go to World of Raising Rabbits.

Links to the wire, clips and tools you will need to build cages are all below, 
at the bottom of this page, in case you cannot find what you need in your area.



Rabbit Cage and Hutch Information and Free Plans
Here are links to our free rabbit cage, PVC hutch and rabbit run plans, plus other housing info and recommendations.


Free DIY All-Wire Cage Plan
With our free rabbit cage plans, you can build this very large, 36" x 30", homemade all-wire cage. Hang this cage on a PVC rabbit hutch frame either inside the house or outdoors in the barn. Ideal DIY rabbit cages will help you alter the dimensions, if you need a different size. We've enhanced these instructions and included many more illustrations of the wire cage-building process in all 3 of our rabbit housing e-books.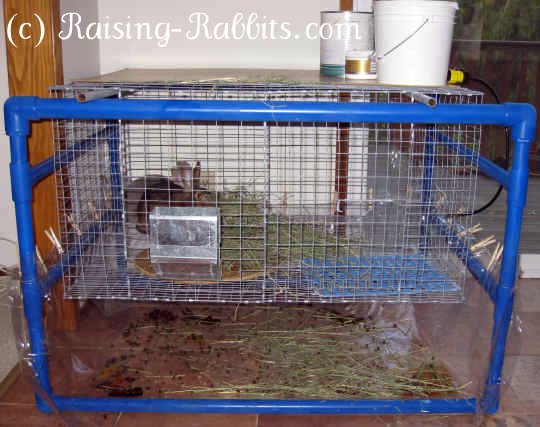 Free PVC Indoor Cage Frame Plan
Build a PVC frame from which you can hang the 36" x 30" all-wire cage. Designed for indoor use, or use on a covered porch.

Free plans for setting up the indoor cage and PVC cage frame
Here's how we set up our indoor PVC hutch frame with a large wire cage. We used a heavy vinyl drop cloth to unfailingly catch all the droppings. With a litter-box-trained rabbit, this system will be incredibly tidy. You'll find many variations on the basic design of this indoor rabbit cage in our Pet Rabbit Living Spaces E-Book.
Many pet rabbit owners provide their rabbit an indoor cage, and additionally permit the rabbit access to the house, or parts of it. This requires that the owner "rabbit-proof" their home, since rabbits chew by nature. The owner ensures that all electric cords are out of reach or well-covered, and the furniture legs are protected. Some rabbits can be distracted by chew toys - wooden is best, since they eat wood and bark in nature. Learn more at our Pet Rabbits page.


---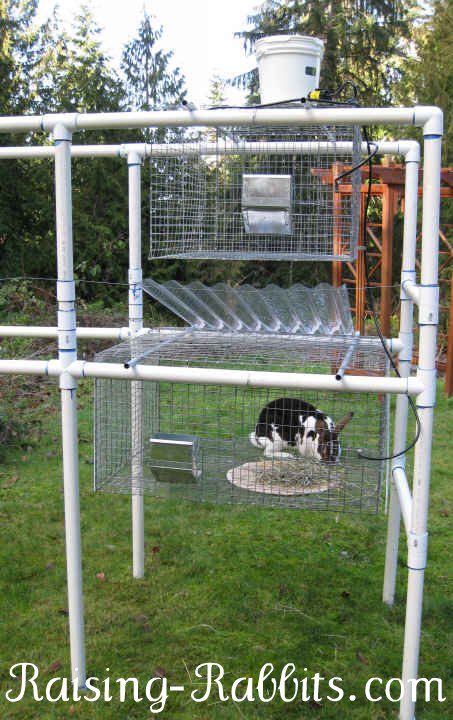 Large PVC Rabbit Hutch Frame
Rationale for using all-wire cages on PVC rabbit hutch frames, plus links to good-sized wood rabbit hutches and more
(Right: Our PVC hutch frame is pulled outside so you can see in more detail how to suspend the cage on the frame and how to easily place slanted drop pans between the two tiers of cages. The set-up will be moved into the barn once the "photo-shoot" is complete.)

Large PVC Rabbit Hutch Set Up Overview
How to hang slanted drop plans and cages on the PVC hutch frame, outlined, with hutch and cages rabbit-ready. We'll also show you the many benefits of using an easy-off, easy-on, cage system. 
Once you see how easy it is, you will be able to do it yourself.
---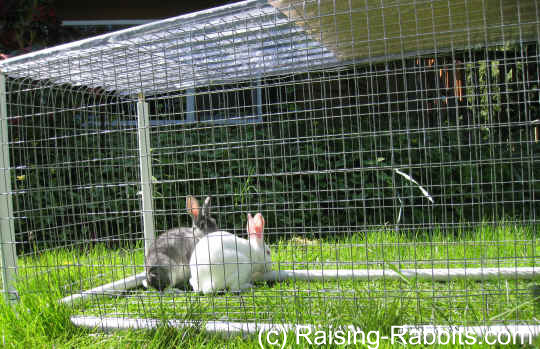 Free Outdoor Rabbit Run Plans
Run rabbit run! Portable rabbit run building plans for a 2' x 8' fully enclosed run, with mesh on the bottom through which the rabbit can nibble grass. Just pull the run to a new location when the rabbits have finishing "mowing" the area.

The advantages to an enclosed portable rabbit run are many:
Not looking to build your own rabbit run?
Check out some premade options from Amazon in our Bunny-Bazaar.


---

Here are some ideas, plans and links for a few university-designed wooden rabbit hutches, and links to some very nice store-bought wooden rabbit hutches. 
We've used wooden hutches in the past. They have some definite drawbacks:
They are usually enclosed on three sides, seriously reducing air flow.
The hutch can get too hot, or become rank with odors if not cleaned very frequently. This will burn the rabbit's lungs, predisposing it to

snuffles

and pneumonia.
If you're not alert, a rabbit could possibly chew its way to freedom.
After learning about my own experiences with wood hutches and hutch frames, you'll see why I really like PVC hutch frames. But it's not like all wood hutches are horrible. Many of the drawbacks can be minimized with attention to detail.
If you're wondering why many breeders choose all-wire cages over solid floors, read the very good explanations at Shiny Satins Rabbitry.
Nevertheless, countless rabbits around the globe are kept in covered wooden hutches on legs to keep them off the ground and a little bit more secure from predators. With the proper care and attention, wooden hutches can make very suitable homes for rabbits.


DIY Rabbit Cage Building:
Wire, J-Clips, J-Clip Pliers, Door Latches, More
Cage wire for Cage top and sides, and for Cage bottoms
Flush Cut Wire Cutters Cut Squarely, without Jagged Ends
Use Flush Cut Wire Cutters to Avoid Wires Ending in Spears
Cage Door Latches
J-Clip Pliers
Either of these J-Clip Pliers is Top Quality - should last 20+ years
J-Clip Fasteners
J-Clips - 1 pound should last for a couple cages at least
A Great Choice for a Manufactured Rabbit Cage
Our friends at Hostile Hare have lots of great options for:
single rabbits,
a few rabbits,
"Where did all these rabbits come from?!"
and even
"My army of rabbits will conquer the world!"
(Just click the link to jump ahead.)
Lavender Aromatherapy Rabbit Resting Mats
are great additions to your new rabbit cages!