Rabbit Cage Plans

Build Your Own All-Wire Cage
Here are free rabbit cage plans below for an all-wire rabbit cage measuring 36 inches wide by 30 inches deep.  The cage you build with these cage plans can serve as an indoor or outdoor rabbit cage.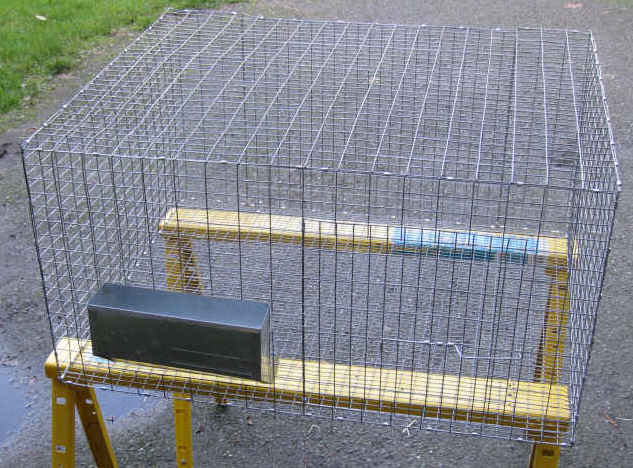 But first...
Consider purchasing one of our e-books.





Two Separate E-Books OR Both E-Books in One
Do you own one or a few pet rabbits?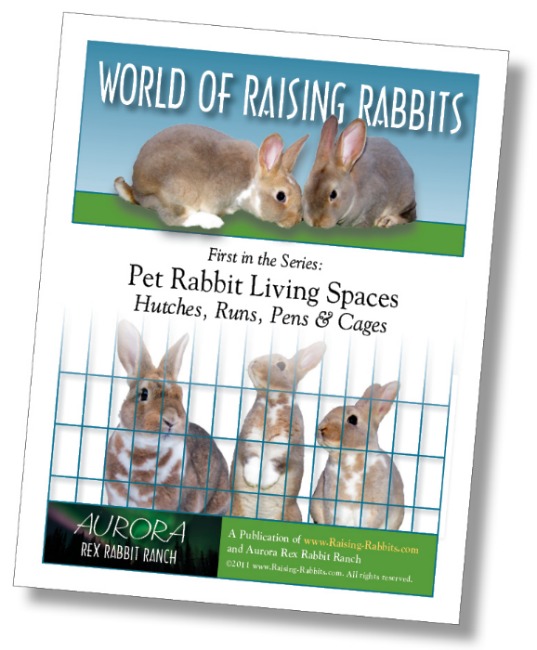 Pet Rabbit Living Spaces, our e-book for pet rabbit owners, is available for immediate download. Click the link for more info.

Pet Rabbit Living Spaces includes tons of illustrations for building this all-wire cage, various other cage dimensions, and many more options for pet hutches, cages, even a run and a pen. It is priced at an extremely affordable $6.49.

Get your copy today.
---
Are you a meat rabbit breeder or a breeder of show rabbits?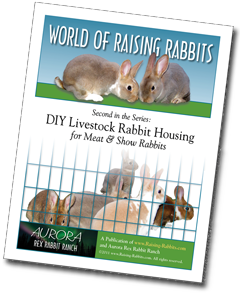 DIY Livestock Rabbit Housing for Meat & Show Rabbits provides ideas, plans and fully illustrated directions for housing methods well-suited to livestock rabbits. These are the same methods used at Aurora Rex Rabbit Ranch. Plus we offer reviews of other rabbit housing options. Click the link for more information

DIY Livestock Rabbit Housing is available at a low price of $8.49.

Get your copy today.
---
Do you want ALL our Cage and Hutch Frame Plans?
BOTH of the above e-book plans are included and available in one comprehensive e-book containing ALL plans: Ideal DIY Rabbit Cages - Click here for more info or purchase below.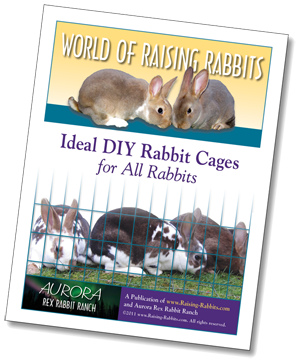 If you want all of our cage and rabbit run building information, check out our ebook:
Ideal DIY Rabbit Cages for All Rabbits
This great ebook has tons of pictures, including all the tools and supplies you need to build everything. Whether if your buns are pampered pets, show divas, or if you ranch rabbits for livestock, this book has it all. Best yet: you can print off the pages you need to be a supply list for the hardware store, and an instruction manual out at the workbench when you are putting it together. 
Ideal DIY Rabbit Cages combines all of the information in our other 2 books: Pet Rabbit Living Spaces and DIY Livestock Rabbit Housing.
2023 is the Year of the Rabbit, so all of our ebooks are 30% off!
Get Ideal DIY Rabbit Cages for $18.99 $12.99! <----Click to buy now!
Here are the Free Rabbit Cage Plans


(If you cannot find the cage wire, tools, and j-clips that you'll need in your area, here and below are links to excellent tools and wire which should work well for you.)

Tools needed for building the all-wire rabbit cage
Tools required are few:
Needlenose pliers 
J clip plyers
Wire cutters
J clip removers
A couple sawhorses, for ease of working (or workbench or...)


Use Flush Cut Wire Cutters to Avoid Wires Ending in Spears
Either of these J-Clip Pliers is Top Quality - should last 20+ years

Materials:

1 inch by 2 inch by 3 feet wire - 14 gauge, approximately a 10 foot length.

Our rabbit cage plans use J-Clips
1/2 inch by 1 inch by 3 feet wire - 16 gauge, 2 1/2 foot length. (14 gauge is better if you can find it...I use 16 gauge)


1 pound of J clips, a few are pictured (you'll probably use less than a pound)


1 Door latch (pictured)


J-Clips - 1 pound should last for a couple cages at least

One style of cage door latch that we like
12" J-Feeder. See picture of finished cage. You can also use a crock for food.  For a 9 pound doe and her kits, a crock would have to be large, unless you feed twice a day.


Water crock.  Or better, an automatic watering system. Edstrom makes a great system.


Find rabbit supplies and cage building tools at our Raising-Rabbits Store. (Temporarily out of stock...)



Rabbit Cage Plans

1) If you purchased 2 1/2 feet of 3 foot cage floor wire, this piece is ready as is. If you purchased enough for several cages, then cut a 30 inch x 36 inch piece. Cut the protruding wires flush for this and all wire pieces.

2) Cut the 1" x 2" inch wire to size:
1 piece:  36" x 18" for the cage front
1 piece:  30" x 36" for the cage top
2 pieces: 36" x 18" for the cage sides
1 piece:  24" x 18" for the cage back
1 piece:  13" x 14" for a door 
First Note:
First: If you cut a 24 inch x 36 inch piece of wire for the back (since the roll is 36 inches tall) and then trim it to the indicated 24" x 18," you'll have a piece left over that is big enough to use for the door, with very little waste.
Second Note:
6" of cage side wire will wrap to the back on both sides, reducing the amount of wire needed for the back panel to just 24 inches.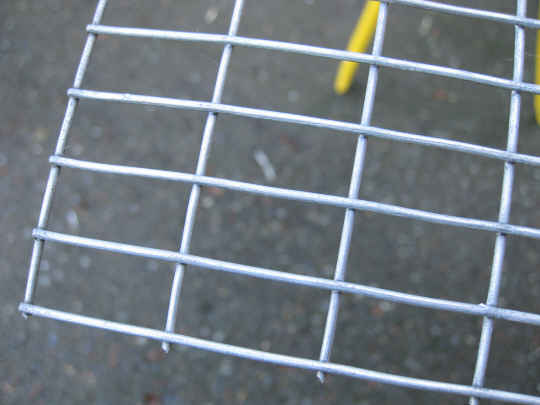 3) Set the 30 x 36 piece of rabbit cage floor wire on your sawhorses or work space. An important caution: you need the 1/2" wires to be on top where the rabbits will stand, as shown on the right. This is much easier on the rabbit's feet.

4) Bend 6" of the side panels around a 2x4 or sawhorse, so that the final lengthwise measurement of the piece is 30" x 18".  The extra, still-attached  6" length will wrap around and become part of the back of the cage. We wanted rabbit cage plans that save time by not having to cut wire, and that eliminate wire waste.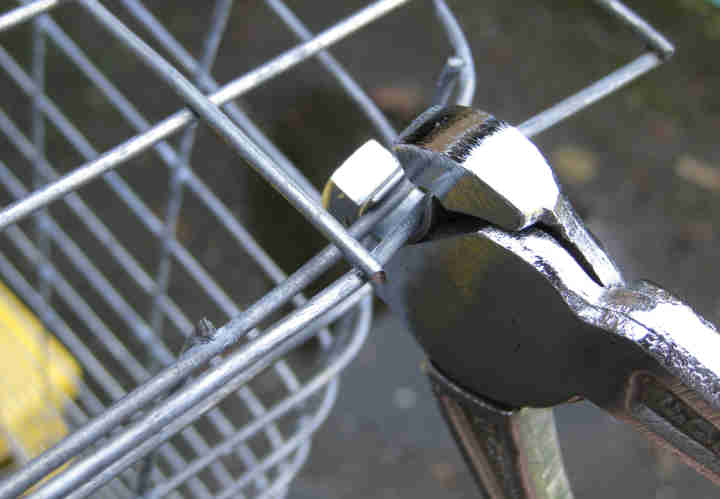 5) Attach the side panels to the floor with J-clips, as shown.  You can also use hog rings if you have them, and hog ring plyers. I've always used J-clips.  I attach them roughly every 2" or 2 1/2".

6) Attach the back panel using J-clips.  Because you've wrapped wire from the sides, the back panel is only 24 inches wide.  There, you've saved money!

7) Attach the front panel using J-clips. 

8) Attach the top panel using J-clips. You could substitute hog rings for the J-clips in the rabbit cage plans. In that case, you'd also need hog ring pliers.

9) Locate where you'll place the door, and cut a 12" x 12" hole in the front panel.  Allow 2" of cage wire at the bottom and 4" at the top.  If you're right handed, you might find it easier to reach into the cage if the door opening is placed towards the right of the cage.  (Left side if left-handed.)  Leave about 6", however, to the right of the door, so you can attach a water valve or a hay feeder.

10) Position the door over the opening so the 14" length is top-to-bottom and the 13" length is side-to-side.  Overlap the top and bottom by 1" each.  You won't need any overlap on the side you attach to, leaving 1" overlap on the side that opens. Be sure you allow at least a 12" - 14" length of cage-front intact, in case you decide to use a J-feeder. (They'll cut down on your rabbit care time, because you won't have to open the door of every rabbit cage to feed, but they're definitely not essential--crocks work just fine, or other container that won't easily tip over.)

11) Attach the rabbit cage door with J-clips: Two at the very top bumping each other (to help keep the door positioned without sagging), a couple in the middle, and one or two clips at the bottom.

12) Attach the latch to the door with J-Clips.  There are a number of great latching systems, each designed a bit differently, but getting the job done well. 
13) If you decide to use J-feeders, now is the time to cut a 12" x 2" hole in the front of the cage, 2 inches off the floor.  The feeder will hang on the outside of the cage, and deliver the feed to the rabbit (and bunnies) on the inside.

Congratulations.  In an hour or less, you followed these rabbit cage plans and made your own homemade rabbit cage.



Not everyone feels like building their own rabbit cages.


Two creative, XL-sized indoor rabbit cages. Recommended!
We think we get the most value for our money by building our own cages with our rabbit cage plans and we think you will too.
But we understand that some folks may prefer to save time and effort by purchasing cages ready-made. You'll find some top-quality ones at our Raising-Rabbits Store. (Temporarily out of stock.)