Build Your Own Rabbit Cage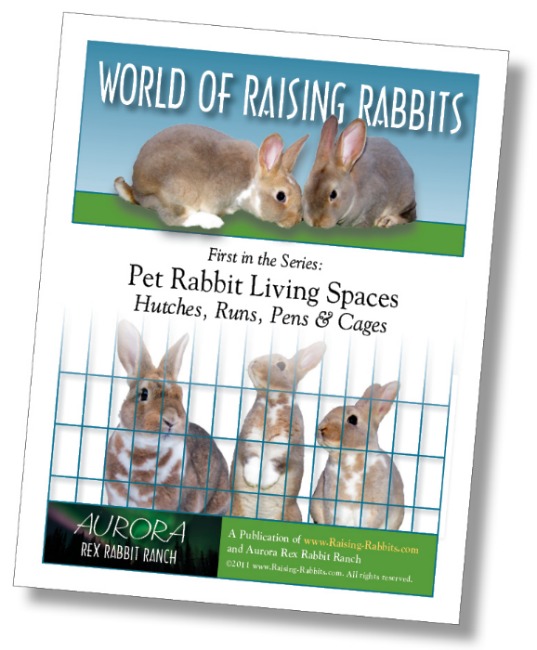 Who says you can't build your own rabbit cage?
Are you new to rabbits?
Would you like to build cages right the first time?
Do the cheap or tiny store-bought cages and hutches seem inadequate for the needs of your rabbit?
Are you concerned about the cleanliness or healthiness of your rabbit's current cage?
Are the big fancy rabbit digs priced out of sight?
We can help you with all that.

In moments, you could be making rabbit cages for yourself at a fraction of the cost of the store-bought ones, cages that look every bit as professional...
Especially if you follow our plans...


---


"Your e-book was a 14, no, make that a 24 carrot book! The pictures were clear and the wording was easy to read and understand (whether to an expert or a novice). Your book was so helpful and descriptive. We're going to get started.... Thanks!" (Debby, WA)




Pet Rabbit Living Spaces
Exclusively from Raising-Rabbits.com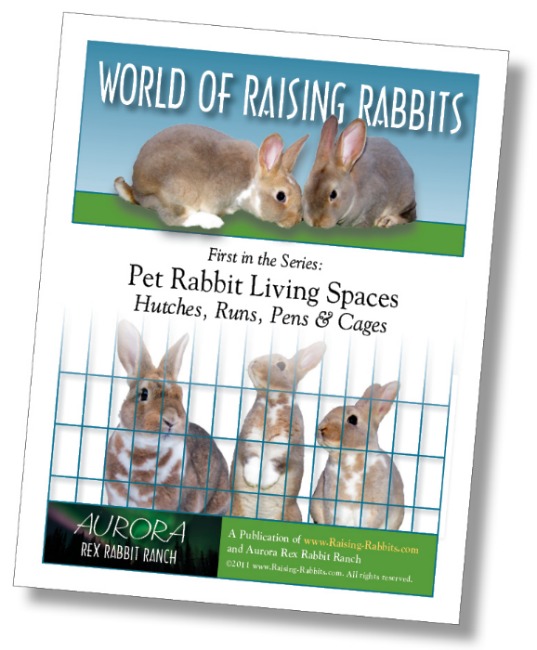 Easily build your own rabbit cage with Pet Rabbit Living Spaces. 
We start with our basic all-wire cage, and then let our imaginations explode. 

There are homemade PVC Hutch Frames of whatever size is right for your rabbit


Plus, all sorts of various cage dimensions, too


Every single project is filled with detailed illustrations - many more pictures, diagrams and large photos so you know exactly what to do


We give the indoor PVC hutch frame some legs to stand on


Want to give your pet rabbit a romp outdoors? Okay, there's plans for a 30-inch-high folding rabbit pen. The pen works indoors, too...


An expansive yet secure rabbit run is included - with pimped out instructions


How about an eye-level, single-tiered outdoor PVC hutch frame for 2-4 pet rabbits? We thought that'd be something we'd want too, so we built it, and love it!


Check out the "Cadillac" -- a 'self-cooling' two-part outdoor rabbit house. You'll never worry about summertime again. Seriously. 


Bonus Section - Healthy Environments - to help you set up your rabbit living space and keep it clean


Plus lots more - 69 pages and 13 chapters of rabbit-pleasing plans.
With our step-by-step directions and many photographs clearly illustrating each next step, you can confidently build your own rabbit cages, hutches, runs and pens! 

"Thank you. My daughters
finished building their first cage at 10pm!"
(Tracy in Texas)
Pet Rabbit Living Spaces is a Definitive, Step-by-Step Illustrated Guide to Providing your Pampered Pet Rabbit with all sorts of living spaces...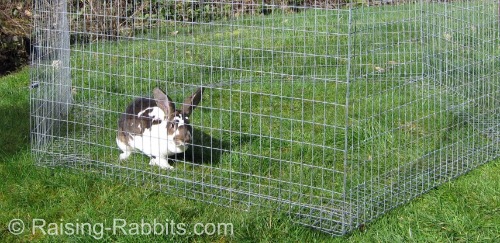 The experienced rabbit-raisers at Aurora Rex Rabbit Ranch have built and used ALL the plans.

We wanted you to feel comfortable in the knowledge that you are providing your rabbit with luxury
We wanted to give you easy-to-build plans for all your rabbit's housing needs. 
We wanted to make your job easier - easier to build, easier to clean the rabbit living spaces, and easier to enjoy your pet rabbit.
We wanted to help you keep your rabbit healthy. A healthy pet rabbit is a happy and fun pet rabbit. A healthy rabbit definitely starts with a healthy cage.
We wanted to give you options, so you could give your pet rabbit options - not just cages, but runs and pens as well.
We can help you build your own rabbit cage, and much more!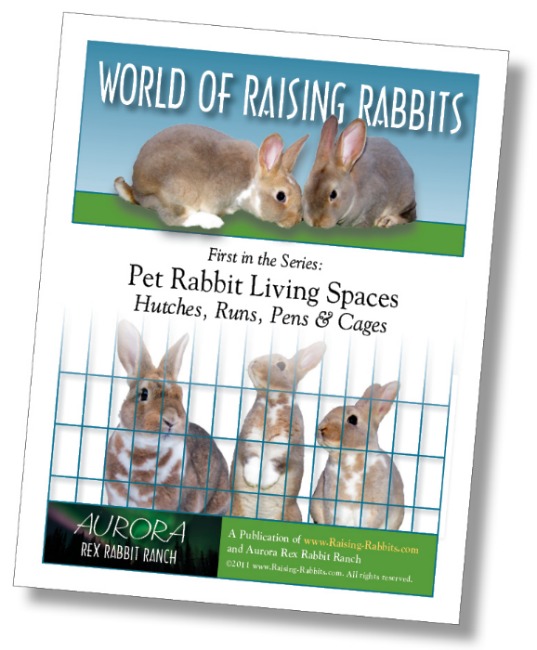 Pet Rabbit Living Spaces builds on our free plans found on Raising-Rabbits. The e-book will give you countless variations on sizes and more than several design options for keeping your pet both inside and outside of the home. For example, think how nice it would be to have a PVC hutch frame indoors that is tall enough for you to interact face to face with your bunny! 

(Not to mention a little farther away from Fido...)
Table of Contents for Pet Rabbit Living Spaces: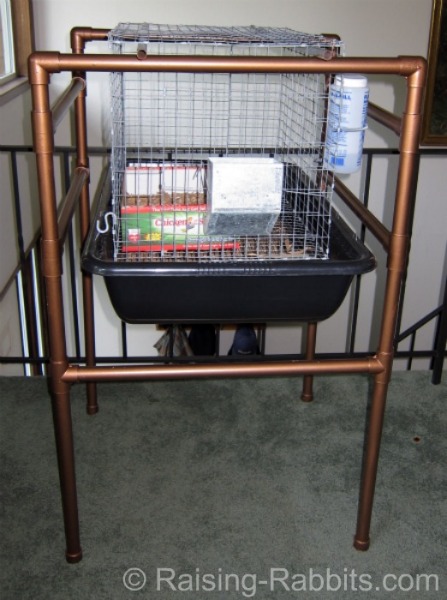 Rabbit Cage Materials and Tools needed
Build an All-Wire Rabbit Cage
Variations on Wire Cage Sizes
Prepare Indoor Rabbit Cage for Rabbit
Build an Indoor PVC Rabbit Hutch Frame
Variations on Indoor PVC Hutch Frame Sizes
Indoor Rabbit Cage and PVC Frame Set Up
Build a Very Tall Indoor PVC Hutch Frame
Build a PVC Hutch Frame for Outdoor Pet Rabbits
Easy Indoor or outdoor Rabbit Pen
Build a Secure Rabbit Run
The "Cadillac" of outdoor Rabbit Cages
Bonus Chapter: Healthy Environments
Sixty-Nine pages and Thirteen chapters of rabbit-pleasing plans
, all for the ultra-low price of
$6.49
. Yeesh, at that price, the very first completed project will already save you a minimum of double the price of the book.
Note that the e-book's file size is very large because of the many pictures, diagrams and photos showing you exactly what to do. Do be patient as the file downloads onto your computer.

"Thanks - this is just what I was looking for!" (Patricia in USA)

Get our tried and true Pet Rabbit Living Spaces designs, and build your own rabbit cages right the first time


See our Double Value Guarantee below!
Double-Value Guaranteed
We intend to always OVER-deliver on value, which is why
Pet Rabbit Living Spaces is fully covered by our
Double-Value Guarantee.
Take
Pet Rabbit Living Spaces
for a test drive. Build your own rabbit cage. Or pen. Or rabbit run. If you aren't completely satisfied that the e-book is worth at least double, or even triple or quadruple the price you paid, just drop us a note within 45 days, and we'll refund you the entire cost. That's our
Double-Value
Guarantee.