Rabbit Cages

Rabbit Cages: They come in a variety of styles, from wire to wood. On this page Raising-Rabbits reviews several rabbit cage styles and designs to help you choose the best cage for your needs, whether for indoors or outdoors.
At Raising-Rabbits, we love to raise rabbits. And since rabbits each need a cage of their own, our own homemade, DIY-type wire cages hung on PVC hutch frames are the most cost-effective way to house rabbits. 
On the other hand, if you have only one or two pet rabbits, you may prefer to find a suitable rabbit cage commercially built that will last you the life of your rabbit.
Whether you're raising and breeding rabbits, or simply caring for a really terrific pet rabbit, see what you think about the following different rabbit cages, all available (most of the time) on Amazon.com. We'll give you our impressions as well. 
Indoor Rabbit Cages
The indoor cages I have seen are either cabinet-type cages, or are cages constructed of wire and plastic parts. My biggest consideration for indoor cages is size - it will ideally be a very large cage to allow the rabbit plenty of room to move about. It also needs to have enough head room to allow the rabbit to stand up fully on its hind legs.
There are always drawbacks to mass-produced products. Plastic breaks; wood may become urine-soaked or may not fit properly. Nevertheless, with care the cages featured on this page may last for years.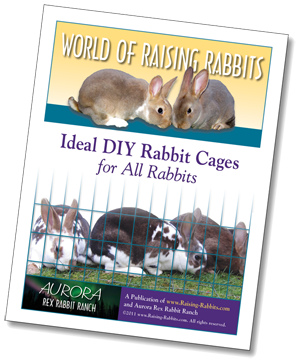 If you want all of our cage and rabbit run building information, check out our ebook:
Ideal DIY Rabbit Cages for All Rabbits
This great ebook has tons of pictures, including all the tools and supplies you need to build everything. Whether if your buns are pampered pets, show divas, or if you ranch rabbits for livestock, this book has it all. Best yet: you can print off the pages you need to be a supply list for the hardware store, and an instruction manual out at the workbench when you are putting it together. 
Ideal DIY Rabbit Cages combines all of the information in our other 2 books: Pet Rabbit Living Spaces and DIY Livestock Rabbit Housing.
2023 is the Year of the Rabbit, so all of our ebooks are 30% off!
Get Ideal DIY Rabbit Cages for $18.99 $12.99! <----Click to buy now!
---
Indoor Double-Story Cabinet-Type Cage for Rabbits
The Ecoflex Indoor Rabbit Hutch is quite ingenious.
Hutch measures 39.4 x 19.7 x 23.6 inches. It has a ramp to a second level which includes an enclosed bedroom section.

With clear poly front panels, one can observe and enjoy your rabbit without any of the litter or droppings escaping the confines of the hutch. While this helps with cleanliness, it also decreases ventilation. It will be important to minimize build up of ammonia fumes. Do this by adding deep litter in the bottom tray, and by using litter shown by scientific testing to reduce ammonia formation. See Rabbit Litter for recommendations.


The bottom features a watertight deep tray which pulls out for ease of cleaning. You'll want to clean it out before it gets too deep, and you'll want to keep enough litter in the tray to keep the rabbit separated from its droppings.


Top of the hutch is wire mesh, which helps with ventilation. This is not as desirable as having the sides of wire mesh as well, however keeping the hutch clean will minimize any problem with air quality inside the hutch.
 
---
Indoor Rabbit Habitat - Wire
Both the Living World Deluxe and Ferplast Krolick Plus are worthy cages.
They come in extra-large sizes, which will be ample for up to medium-sized rabbits.

The Living World cage measures 47 in by 22.8 in by 24 in high, or 1,071 square inches of space.
The Krolick cage measures 56 in x 23.6 in x 19.7 inches high, or 1,321.6 square inches of space. 

Both habitats come with everything you may need for your rabbit - cage, waterer, food bowl, hay rack.  
The Living World Rabbit Habitat has a small bedroom area at the bottom of the cage. If you should wish to breed your female rabbit, this appears to be large enough to serve as a nest "burrow" for the new litter.
The Krolick rabbit habitat comes with a large add-on "bedroom" for the rabbit, which could also serve as a nesting box for a litter of rabbits, if needed.
I would be happy to use either of these cages for my house rabbit.


---
Wooden Rabbit Hutches for Outdoors
These outdoor wood rabbit hutches are all similarly constructed, with a few design differences. Many of them open up nearly entirely - tops open, drop trays pull out for cleaning, a portion of the top is enclosed for privacy should the rabbit wish to retreat or kindle a litter. 
As one who has constructed my own hutches, I am impressed with the creativity of design in these hutches, but a little less impressed with the quality of building materials. (If it were built with heavier materials, it would cost a small fortune, especially once shipping charges were added to the total.) 

Wood on the soil:

Whenever you place a hutch directly on the ground and the rabbit has access to the soil underneath, there is potential for rotting wood and for a rabbit to tunnel out. To prevent tunneling and predator access, and to improve the longevity of the hutch, place the wood on two-inch pavers to keep it dry and off the ground. Additionally, lay some 2-inch by 4-inch welded wire mesh under the hutch and under the pavers. This will allow the rabbit to eat any grass or forages, but will prevent it from tunneling (and will prevent predators from reaching your rabbit as well).
Kindling and Raising Bunnies in These Rabbit Cages:

I love the heavy wire used in the construction of the cage. But, if you're lucky enough to raise a litter of bunnies in one of these hutches, and any of those tiny kits get lost and wander away from the nest, they could spill out of the cage and then chill to death. For the month that the doe is tending kits, you'll want to wrap the lower 4-inches of each compartment with 1/2" chicken wire which will keep the kits confined to the cage until they have grown too large to fit through the wire.
As always, wooden hutches have two main drawbacks:

Eventual saturation of the wood with urine or feces, causing ammonia formation
Rabbits love to chew wood, and this can eventually result in significant damage to the hutch.
You may be able to delay the eventual destruction with a steady supply of tasty chew toys for your rabbits.


---
Wooden Rabbit Hutches with attached run/grazing area



Commercial hutches are sometimes not made out of the strongest materials, although the taller hutch with run above appears to be VERY sturdy.
Pluses on these hutches are:
Large size
Solid aluminum droppings tray minimizes exposure of wood to urine and droppings, plus it pulls out for easy cleaning.
They provide access to grazing
Both provide multiple doors to the run and cage. The square run enclosure is detachable, making a hutch move a bit easier, while the ark-shaped run is tall enough to walk into.
It is possible to secure the rabbit inside the hutch if necessary, such as when moving it to a new spot in the yard.
The taller hutch is fox- and coyote-proof according to its info page
In both cases, the grazing space will be exhausted within a few days. If you want the rabbit to continue to graze on the growing grass, you'll have to move the hutch frequently. (The fact that it separates into two pieces is an advantage.)

Also note that female rabbits in particular tend to dig; with nothing between the rabbit and the grass/dirt, you may soon find yourself trying to locate and catch an escaped rabbit. For either hutch, plan to put 2" x 4" welded wire mesh under the grazing space to prevent digging out.
Suggestion for the taller ark-shaped hutch:
The ladder is designed for poultry, but it can be modified for rabbits by placing a solid surface under the rungs.
Suggestion for the second (shorter) hutch: 
Have a handyman attach 2 wheels to one end of the hutch. (Attach them flush with the ground, without lifting up the hutch.) When it's time to move the hutch, rock it up onto the wheels, pull to the desired spot, and set the hutch onto the ground once again. (The run enclosure is probably light enough to not need any wheels.)
I hope these observations and suggestions will help you identify the best rabbit cage design for your needs.
If after studying these options you think making cages and PVC hutch frames might not be as difficult as you thought, click here to see if you might like our building plans. 
We also have 2 great ebooks. They can be available online or offline, like to print the pages you need for the hardware store and workbench.
If you have a pampered pet, Pet Rabbit Living Spaces.
Are you a rabbit rancher and want to build livestock cages? DIY Livestock Rabbit Housing.
2023 is Year of the Rabbit. All of our ebooks are 30% off. Click here if you'd like to browse our BOOKSTORE.
Enjoy your rabbits!
---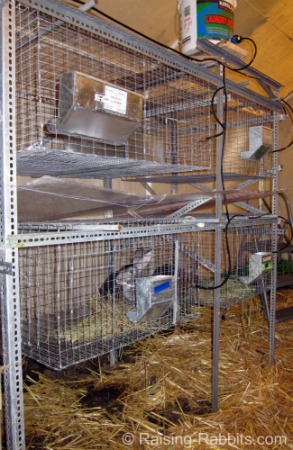 All-wire rabbit cages suspended from angle iron hutch frame.
Affiliate Links:
We use affiliate links (including these Amazon.com links) to help keep the use of this website completely free of charge to you. We have selected our affiliate products carefully with the purpose of improving your experience, both on this website, and in the ease of the care you provide your rabbits. Purchases from our affiliates come at no extra cost to you.