Very Cool PVC Frame for Indoor Rabbit Cages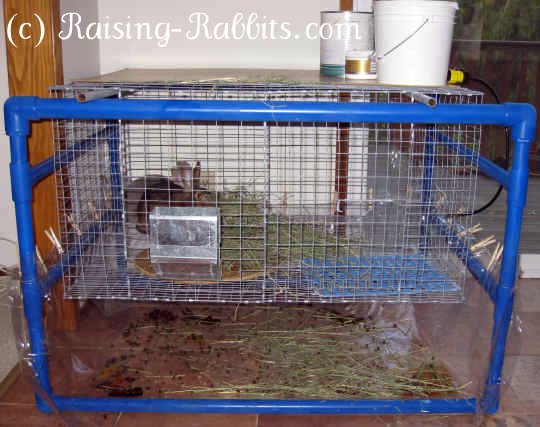 Can a frame for indoor rabbit cages, like this one, simplify your life?
Just think how quick and easy your cage-cleaning chores would be if you could remove the cage in the blink of an eye, and take it outside or to the mud room for fast and thorough cleaning! We're about to show you exactly how to build it...

This PVC frame for indoor cages is designed for use with our free, easy-to-make rabbit cage plan.  The given dimensions accommodate the very large 36 inch by 30 inch all-wire rabbit cage.  You can keep giant rabbits in it if you like. 

If you favor smaller rabbits, such as Polish or Holland Lops, we'll show you how to change the dimensions for the indoor cage frame, and make it smaller. 

Pictured above: The finished hutch frame and cage partially set up indoors. The blue glue and black lettering on the PVC looks a bit, erm, unfinished, so we spray-painted it a bright blue.
See the set-up plans for spray-painting and for installing a drop-tarp or drop-pan under the cage.


---
Okay, here's the plan for a PVC frame for indoor rabbit cages


In the picture to the right, the unlabeled leg pieces (8) are each 9 inches long (1" PVC).


Materials List:
1 1/4 Inch PVC Schedule 40:
7 feet of 1 1/4 inch PVC, Schedule 40
1 1/4" Ell's: 4 (blue above)
Reducers: 1 1/4" to 1" (4)

1 Inch PVC Schedule 40:
26 feet of 1-inch PVC
1" Tee's: (8) (purple above)
1" Ell's: (4) (brown above)
Caps: 4 (brown above)
Red Hot Blue Glue
1/2 inch aluminum conduit pipe: (2) 40-inch lengths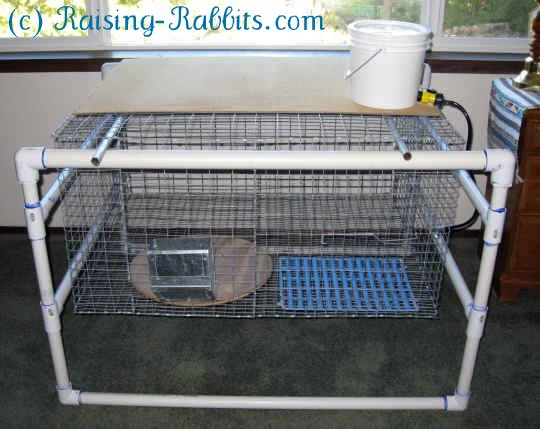 Directions for building this indoor rabbit cage:
Cut PVC pipe to length, sanding ends to remove burrs:
1 1/4": (2) 40" pieces
1": (2) 40" pieces
1": (4) 32" pieces
1": (8) 9" pieces
1": (4) 4" pieces
Glue a reducer into 1 arm of each 1 1/4" ell
Glue 1 1/4" ell to each end of both 1 1/4" PVC pieces, ensuring arms remain on same plane.
Glue 4" pieces into reducers. This completes the assembly of the two top bars.
Assemble the 4 side bars, by gluing the center arm of each tee to an end of each 32" piece, as shown, keeping arms on same plane.
To assemble the top section, glue (1) 32" assembly to each side of top bars, ensuring a 90 degree angle.
Glue a 9" piece into each tee.
Glue last two side bars to the 9" pieces.Glue the remaining (4) 9" pieces into the empty tee arms.
Assemble the feet by gluing a 1" ell to each end of the (2) remaining 40" pieces (1" PVC).
Glue the feet to the indoor PVC frame by gluing an ell to the other end of the last (4) 9" pieces.
You're done... Well, you might want to sand and paint the PVC frame to match your indoor decor!
Be sure to allow a couple inches on all sides for a drop pan for cleanliness.

This frame fits one large 36 inch by 30 inch cage, or 2 smaller cages measuring 18 inch by 30 inches. 

To install the rabbit cage into the frame:
It's so easy -- lower it into the frame with the door facing toward you. While the top of the cage is still 1-2 inches above the frame, slide the 40-inch-long aluminum conduit pipes through the top of the cage wire, about 3 inches from either end, from front to back.  Let the cage drop into position, resting on the conduit pipes, which are resting on the frame.  Simple. 
Tie the cage to the frame with a length of 17 gauge steel wire.

Remove the cage the same way:
Snip the wire. Pull out the conduit pipes and lift the cage out.  That's all.
How to set up your indoor rabbit cage:
Click this link for the directions on setting up your cage so it is fully ready for your new rabbit!
Need a Different Cage Size?
You can tweak the dimensions fairly easily. Or, we do it for you in our e-book, Pet Rabbit Living Spaces. This e-book also provides multiple illustrative photos so you'll see exactly how to construct everything.


Pet Rabbit Living Spaces
Pet Rabbit Living Spaces is our collection of exclusive and luxurious DIY plans for building your own rabbit cages, hutches, runs, and pens. Included are never-before published plans and designs that will please you and your pet rabbits.
Like the idea of a PVC rabbit frame but don't feel like stooping? One of our indoor rabbit cage plans features legs on this PVC frame so you and your kids can enjoy your rabbit nearly face-to-face.

Pet Rabbit Living Spaces: A hands-on, do-it-yourself manual of plans and instructions for creating a variety of rabbit homes and exercise spaces for your pet rabbits, both indoors and outside.
Pet Rabbit Living Spaces is available as an instant-download e-book. It's a big PDF file...it  is full of pictures and illustrations so we could over-deliver on value.
Click the photo or go to Build Your Own Rabbit Cage to learn more!



Where can I purchase top quality pet rabbit cages?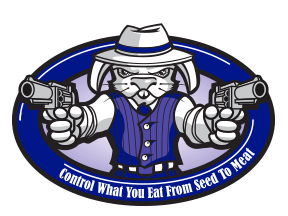 From Raising-Rabbits, of course! 
Raising-Rabbits has partnered with Hostile Hare to bring you cages that exceed our rigorous rabbit housing standards.
We do not produce cages, but we sure know a well-built, predator-proof, baby-safe, bunny-feet-safe cage when we see it! We think Hostile Hare cages will serve you well for years! 
Explore the many choices by clicking the logo or this link! 


Hostile Hare Cages Hang Nicely on Raising-Rabbits PVC Frames

Whether you purchase or build your rabbit cage or cages, just know that they can ALL be  easily hung on our PVC rabbit hutch frames.
Enjoy your rabbits!!
Resting Mats
Resting mats provide a smooth surface for bunny to sit or lounge on, especially in all wire cages. We offer two types: slotted plastic resting mats, and Raising-Rabbits' chewable aromatherapy mats that smell glorious...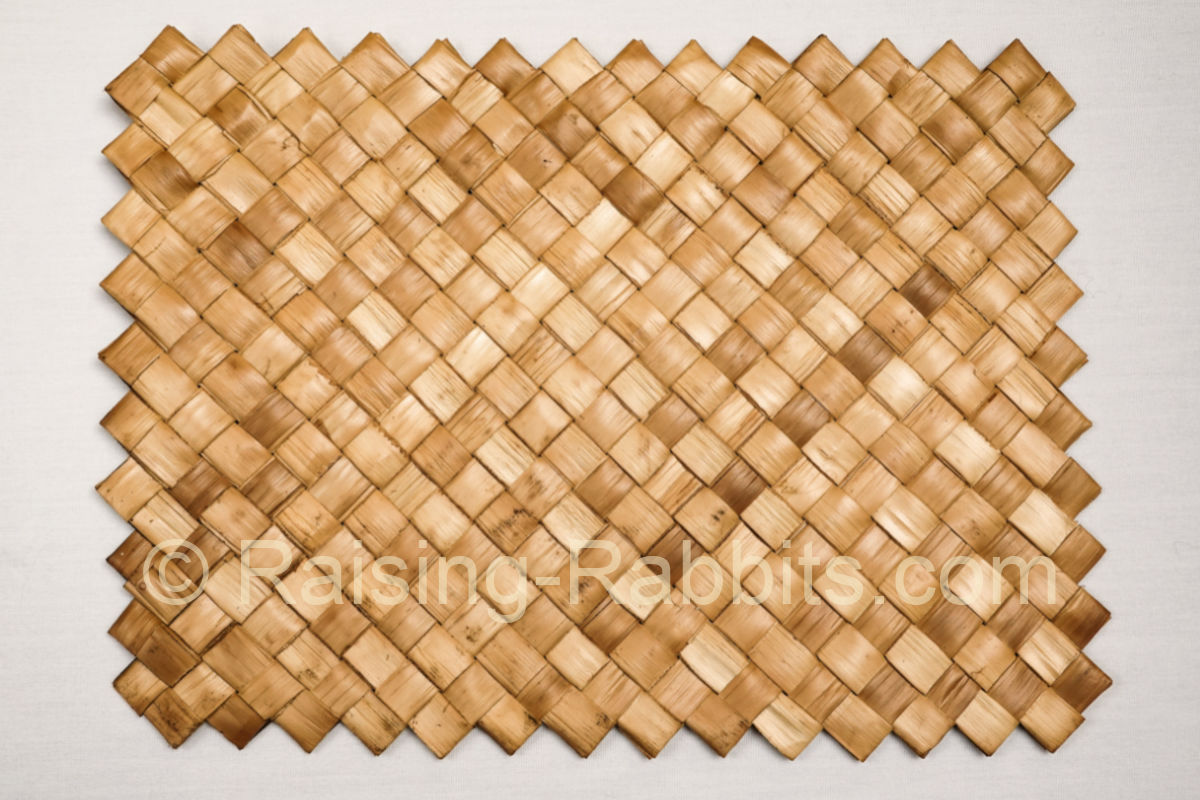 Raising-Rabbits Aromatherapy Resting Mats
Safe, chewable mats are infused with  soothing lavender essential oil. Click the link to learn more or to purchase: Aromatherapy Resting Mats.
30% Seasonal Sale!
Was $12.99, now $9.99!
Free shipping!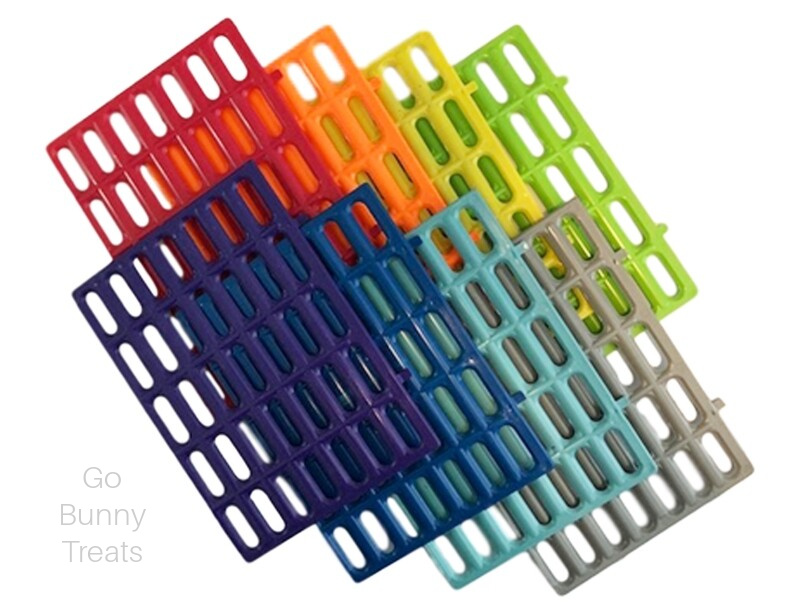 Plastic Resting Mats
Our friends at GoBunnyTreats have these great hard plastic resting mats. They are buffed to a smooth finish and allow maximum airflow to help keep bunny cool.

They are durable and super easy to clean with regular soap and water.
Only $10 plus shipping.
Check out their full page to see everything else they have to offer: GoBunnyTreats



American Rabbit Breeder Association supports pet rabbit owners.


Double-Value Guarantee
Our policy is to always OVER-deliver on value,
which is why your purchase is fully covered by our
Double-Value Guarantee.
Go ahead - take any of our e-books for a test drive. Peruse our detailed informational and educational e-books. Examine our plans for building rabbit cages, runs, or metal or PVC hutch frames. Check out the Rabbit Husbandry info e-books.
If you aren't completely satisfied that your e-book purchase is worth at least double, triple or even quadruple the price you paid, just drop us a note within 45 days, and we'll refund you the entire cost. That's our Double-Value Guarantee.
Note: When you purchase your e-books, they will be in PDF format, so you can download them to any device that supports PDF format. We advise making a back-up copy to a drive or cloud account. If the books are lost, you can also purchase another copy from Raising-Rabbits.