Indoor Rabbit Cage Set Up


How to set up a large indoor rabbit cage and its indoor PVC frame so the rabbit has an ideal environment, also considering food, water, indoor temperature, protection from drafts, and predator pets.
If you are looking for a manufactured rabbit cage,
Hostile Hare has lots of great options. Just click the link to skip ahead.
Get free plans for building a PVC frame suitable for indoor use on which you can hang a quite large all-wire cage.
At Rabbit Cage Plans we offer completely free plans for building the large all-wire cage which can be hung on the PVC hutch frame.
For enhanced instructions with lots of photos, as well as many different dimensions for customizing the hutch frame and cage sizes, we created the e-book, Pet Rabbit Living Spaces.
Learn much more at Build Your Own Rabbit Cage.


If you want to spoil your bun with their own custom designed space, check out our ebook:

This great ebook has tons of pictures, including all the tools and supplies you need to build everything. If your buns are pampered pets or show divas, this book has it all. Best yet: you can print off the pages you need to be a supply list for the hardware store, and an instruction manual out at the workbench when you are putting it together. 
Pet Rabbit Living Spaces has plans for the cage, an outdoor run, a folding pen, and even includes how to install air conditioning!

As the autumn leaves fall, so so our prices! All of our ebooks are 30% off!

Get Pet Rabbit Living Spaces for $9.99 $6.99! <----Click to buy now!
---
Hang the indoor rabbit cage on the PVC frame and set up the rabbit's space
To hang the cage on the frame, we used 1/2 inch aluminum conduit pipes, cut to 40 inches long with a hacksaw (easy to cut). Simply thread them through the cage wire.


Not shown in this picture: one simple 17 gauge wire tie, affixing the indoor rabbit cage to the middle of the upper cross bar, in front. See the picture below.


The outside dimensions of this PVC indoor cage frame are approximately 44 inches wide by 35 inches deep.


The whole set-up is 30 inches tall, counting the top of the cage. This is a big indoor rabbit cage!



Are your pet rabbits small? You can hang two smaller cages on this frame, if you like. Or, our e-book, Pet Rabbit Living Spaces, shows you how to cut down the dimensions to make a smaller PVC frame, in case you don't want one this large. (This cage will be almost too deep for most children to reach into.) If the cage is for a very large rabbit, however, it might be just right.


We placed a piece of plywood on top. This gives the rabbit a sense of protection. The cage will feel safer to the rabbit. I've watched rabbits relax after such a board was placed on top of their cages.


You can use a water crock or water bottle in this cage, however, we really like our Edstrom automatic water system. The white bucket holds 1 gallon of water, and the water gets delivered to the rabbit through flexible tubing and a simple and convenient brass water valve.


We put two different types of resting boards in this indoor rabbit cage - the round plywood used to be an end of a heavy strapping spool. They were discarded--we picked them up free. You can also purchase the slotted plastic resting boards, which are nice because droppings fall through the slots. Your indoor rabbit might be used to some other type of cushy padding, especially if he is litter-box trained.


---

Resting Mats

Resting mats provide a smooth surface for bunny to sit or lounge on, especially in all wire cages. We offer two types: slotted plastic resting mats, and Raising-Rabbits' chewable aromatherapy mats that smell glorious...

Raising-Rabbits Aromatherapy Resting Mats

Safe, chewable mats are infused with  soothing lavender essential oil. Click the link to learn more or to purchase: Aromatherapy Resting Mats.

30% Seasonal Sale!
Was $12.99, now $9.99!
Free shipping!

Plastic Resting Mats

Our friends at GoBunnyTreats have these great hard plastic resting mats. They are buffed to a smooth finish and allow maximum airflow to help keep bunny cool.


They are durable and super easy to clean with regular soap and water.

Only $10 plus shipping.

Check out their full page to see everything else they have to offer: GoBunnyTreats



---

To catch the droppings and loose hay, we stretched 17 gauge wire around three sides at the level of the bottom tee's. To this we clothes-pinned very heavy clear vinyl. The vinyl was approximately 5 feet by 6 feet. I would have preferred fastening the vinyl directly to the PVC sidebars with some kind of a clamp that would not rip any holes in the vinyl. Across the back, there is no bar, so the wire is just fine. As it is, the system works very well.


(We used a lot of clothes-pins! That might have been over-kill....)


The vinyl caught ALL the droppings and urine very successfully. In the front, it was a simple matter to brush the few wayward pieces of hay back under the cage.


It is so easy to clean the entire system! The cage can be removed by cutting the wire fastener and pulling out the poles. Take it outside and clean with the hose.

Unclip the clothes-pins. Pinch the corners of the vinyl into a tidy package and take outside to dispose of droppings and to thoroughly clean. Reinstall vinyl; reinstall cage. Voila!


This is heavy vinyl, which I obtained at our local fabric store. You want heavy, to minimize the chance of ripping any holes in it.


The vinyl under the indoor rabbit cage rests on the tile floor, then goes up and over the front bottom cross bar. Because of that 'lump' under the vinyl, the droppings all remain under the cage.


After two days, there was still no odor. However, to stay odor-free, the vinyl should probably be wiped down fairly regularly. Litter-box-training your pet rabbit definitely cuts this chore in half.


We set our can of feed and little container of calf manna on top of the cage.


Our two young rabbits are nibbling grass hay in their new home!


Ideally you will litter-box-train your indoor rabbits. In the meantime, however, this set-up simplifies your life before your new pets are box trained. To quickly clean under the cage in-between major cleanings, use a squeegee and a plastic dust-pan to pick up the droppings, and then a moist rag on the end of a broomstick to wipe down the plastic.


Don't forget to consider indoor temperature (cool is good), to protect your rabbits from drafts, and to ensure the predator pets in the house (dogs and cats) aren't planning an entree of bunny.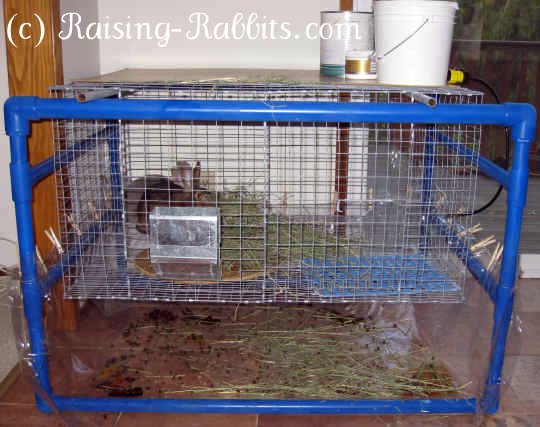 ---
Happy Rabbit Cage Accessories
Popular Rabbit Toys with both Rabbits and Owners:


Pet Rabbit Living Spaces
Build Your Own Indoor Rabbit Cage
Here's our collection of exclusive and luxurious DIY plans for building your own rabbit cages, hutches, runs, and pens. Included are never-before published plans and designs that will please you and your pet rabbits.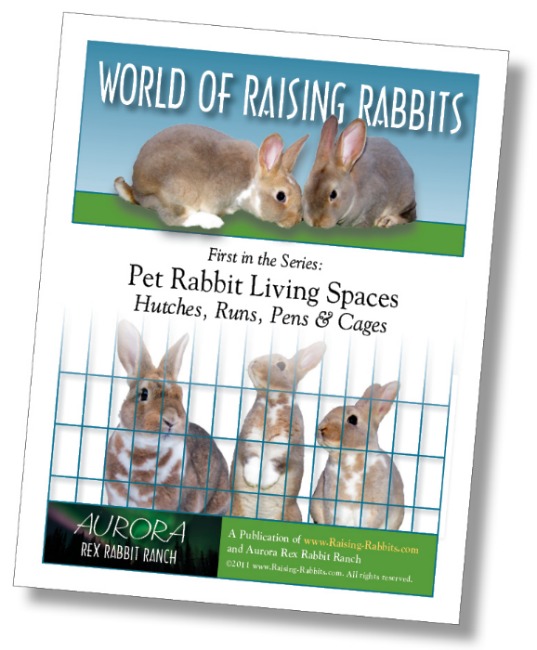 Pet Rabbit Living Spaces
is available as an instant-download e-book. Just so you know - it's a big file...we crammed it full of information and photos so we could over-deliver on value.
Pet Rabbit Living Spaces
A hands-on, do-it-yourself manual of plans and instructions for creating a variety of rabbit homes and exercise spaces for your pet rabbits, both indoors and outside.



For complete information, go to Build Your Own Rabbit Cage.
---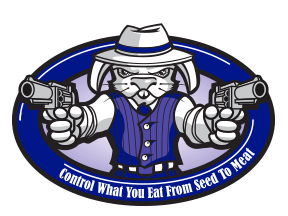 Check out these quality cages from Hostile Hare. Perfect for pets or homesteaders. Just click the green links.
If you  want a manufactured rabbit cage,
Hostile Hare cages can house:
A single rabbit
A couple rabbits
A handful of rabbits
A lot of rabbits
Where did all these rabbits come from?!
My rabbits are going to take over the world!
Double-Value Guarantee
Our policy is to always OVER-deliver on value,
which is why your purchase is fully covered by our
Double-Value Guarantee.
Go ahead - take any of our e-books for a test drive. Peruse our detailed informational and educational e-books. Examine our plans for building rabbit cages, runs, or metal or PVC hutch frames. Check out the Rabbit Husbandry info e-books.
If you aren't completely satisfied that your e-book purchase is worth at least double, triple or even quadruple the price you paid, just drop us a note within 45 days, and we'll refund you the entire cost. That's our Double-Value Guarantee.
Note: When you purchase your e-books, they will be in PDF format, so you can download them to any device that supports PDF format. We advise making a back-up copy to a drive or cloud account. If the books are lost, you can also purchase another copy from Raising-Rabbits.