Rabbit Hutch Building Plans

E-Book: DIY Livestock Rabbit Housing for Meat and Show Rabbits
Rabbit hutch building plans. Get our plans for building rabbit cages, rabbit hutches, large rabbit run, and modified colony pasturing plans. Plus ideas for large rabbit barns.

At Aurora Rex Rabbit Ranch, we built our own rabbit housing. 
And then we compiled our various hutch building plans so you can make the same long-lasting cages, hutches, burrows, and large wheeled rabbit runs that we built and use.
Are you handy with tools? Want to save a LOT of $$$ on rabbit housing?
Then you'll love DIY Livestock Rabbit Housing for Meat & Show Rabbits.

Because the truth of the matter is:

Every rabbit needs some sort of a secure cage or enclosure.
"This livestock book has just what I needed. Thanks!" (Sonja, Tulalip, WA)
You can free-range chickens, but not rabbits.
Rabbits? They'll dig out of your enclosure, and make their own burrows and colonies. And why not? The environment around them is their dinner table, and it's greener on the other side of the fence.
If they like you, they may not go too far--if they survive--but don't count on it.

(HINT: DIY Livestock Rabbit Housing will show you how to safely pasture your rabbits on fresh forage.)


Do YOUR rabbits fall into the category of livestock?
Livestock rabbits are:
Backyard meat rabbits raised for family use, self-sufficiency and as a hedge against hard times. Backyard meat rabbits are frequently cared for by parents and children with affection and kindness
Show rabbits of any size, and especially those show rabbits raised for a dual purpose (showing being a way to ensure excellent quality)
And of course, large commercial production herds.
These are all rabbits raised for a specific purpose, most often meat, with fur being a by-product of rabbit consumption.
Livestock rabbits are rabbits raised in humane settings in order to serve mutually beneficial purposes.


It's a herd, not a hoard
Livestock rabbits are never 'factory-farmed' or 'rabbit-milled.' In the world of raising rabbits, every buck and every doe requires its own cage and personal care, whether the herd comprises a few, a few dozen, or a few hundred or more rabbits. In return, they reward you with health, contentment, and many offspring.

Pictured - you will be able to confidently build all of this and much more with the plans in
DIY Livestock Rabbit Housing.
Any rabbit owner or breeder who needs cages for more than 2-4 rabbits will be very happy for these rabbit hutch building plans.


"Your website is amazing. I love these plans using PVC pipe to build a rack for hanging cages. I'm going to build one this weekend" (Laural, MN)
DIY Livestock Rabbit Housing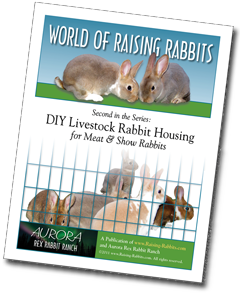 DIY Livestock Rabbit Housing provides ideas, plans and extensively illustrated directions for housing methods well-suited to livestock rabbits. These are the methods used at Aurora Rex Rabbit Ranch. Plus we offer reviews of other rabbit housing options.
Take our rabbit hutch building plans and build them exactly, or tweak them to suit your needs. We give you varying cage dimensions to suit the needs of nearly every rabbit breed.
Building just one of the projects in this e-book will save you double or triple the cost of DIY Livestock Rabbit Housing.
We've included, and greatly expanded upon, the valuable rabbit housing information on Raising-Rabbits. Plus, we've more than doubled the number of illustrations and photos.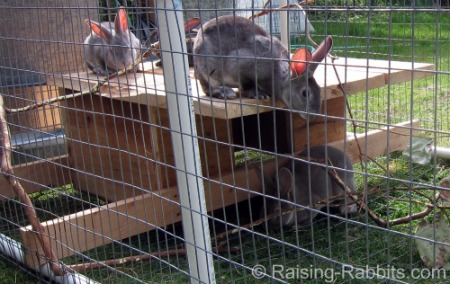 But more than this -- we added extensive new information in NINE additional chapters, along with ample photos and drawings, so you'll know exactly how to construct these all-new projects:
The all-wire cage, PVC rabbit hutch and rabbit run offered on Raising-Rabbits. We enhanced the plans in DIY Livestock Rabbit Housing and thoroughly illustrated them.
A much larger rabbit run that comes with wheels
Lots of additional cage dimensions so you can customize the cages and plans to suit your own needs
"Your DIY Livestock Rabbit Housing book is fantastic. I am interested in the angle iron hutch, personally. I think the book will give a hand to a lot of new rabbit breeders"
(Rick, TX)
---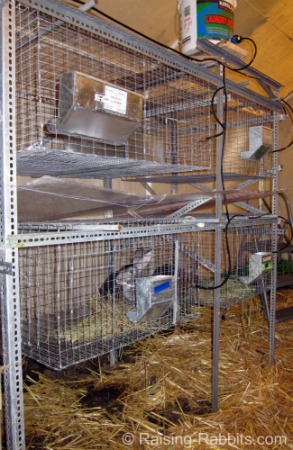 A single-tier PVC hutch frame
Hutch frames constructed of angle iron
The "Cadillac" -- a rabbit cage with an attached cement pipe "burrow." It stays cool even in 100+F temperatures
Information on colonies and pasturing rabbits through the entire year
Tips on repairing both wire cages and PVC hutch frames
Information on wooden rabbit hutches, including reviews of various hutches in the USA and the UK
Pictures and ideas for building a large rabbit barn for show rabbits or commercial meat rabbit operations
And more!


"I'm looking forward to building the cage frame...this is great!" (Mandy, AR)

If you like what you've seen at Raising-Rabbits, you'll be very pleased with the enhanced and illustrated directions found in DIY Livestock Rabbit Housing.
89 pages and 15 chapters of rabbit-pleasing housing plans, all for the ultra-low price of $8.49. In fact, the very first completed project will already save you a minimum of double or triple the price of the book.
The e-book's file size is very large because of the many pictures, diagrams and information showing you exactly what to do. Do be patient as the PDF e-book file downloads onto your computer.


Get DIY Livestock Rabbit Housing

Our Tried and True Rabbit Hutch Building Plans and Other
Caging and Colony Designs

See World of Raising Rabbits for all our e-books

Double-Value Guarantee
Our policy is to always OVER-deliver on value,
which is why your purchase is fully covered by our
Double-Value Guarantee.
Go ahead - take any of our e-books for a test drive. Peruse our detailed informational and educational e-books. Examine our plans for building rabbit cages, runs, or metal or PVC hutch frames. Check out the Rabbit Husbandry info e-books.
If you aren't completely satisfied that your e-book purchase is worth at least double, triple or even quadruple the price you paid, just drop us a note within 45 days, and we'll refund you the entire cost. That's our Double-Value Guarantee.
When you purchase your ebooks, they will be in PDF format, so you can download them to any device that supports PDF format. We advise making a back-up copy to a drive or cloud account. If the books are lost, you can also purchase another copy from us.