Your site helped so much for my 'surprise litter' thank you!!!!!!!!
by April
(Long Island, New York)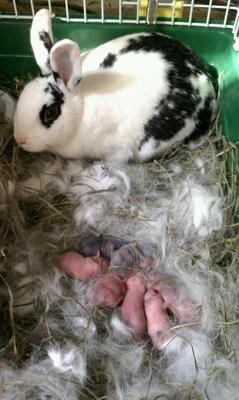 1st day
I had a lot of trouble at my house during Hurricane Irene August 28, 2011 and in preparation I made different arrangements on where I was going to keep all my buns. I had brought them upstairs and put them in a spare bedroom, lining the floor with plastic tarps and green outdoor rugs to try and protect the floor. I set them in 3 groups and at that time only had 7 in that room.


3 days after the storm they were still in there because we had a lot of flooding because we live on the water and the water was 5 ft high in the yard and came up to the house and filled the basement. when I was spending time with them I noticed one of my recently acquired rabbits "Honey Bunny" humping 'Patches ' my 2 yr old female and I quickly picked honey up and was shocked!
Honey was supposed to be a girl and was only about 6 months old but is a dwarf so maybe that's why "he" didn't show. Anyway I separated Honey and worried if I was too late. I took Honey to the vet and got him fixed $200 dollars later and 4 weeks exactly later patches had 7 babies!
It wasn't until 2 days before when I picked her up I knew something was off. She felt like she was lactating. I tried to palpate her and couldn't find anything. Then the next night around 10 pm I went downstairs in their newly set up room and found her panicking trying to make a nest. She had hair and hay in her mouth and just stared at me she was freaking out. I separated her from honey and his sister (who i also feared was pregnant), set Patches up in her own quiet cage, and ran to the computer.
I did the research and had nothing to do but wait.... 8am next morning there they were 7 beautiful babies, seriously I almost cried lol. Poor Patches was a teen mom!...
She did great. I did check them every day to see if they were feeding and some were a bit small so I helped them nurse one by one for the first 4 days, each time stopping when their bellies were nice and full. But that's not all, his sister who also stayed in the group was also pregnant! She wound up having 2 babies and thankfully had no deformities! All the babies are almost 7 weeks old and the cutest things in the world.
Unfortunately I am now up to 18 rabbits and taking them to the vet tomorrow to get them sexed. I sent him pix and told him we were too late.
I might keep them all!