6 week old rabbits??
by Amber
(Shropshire)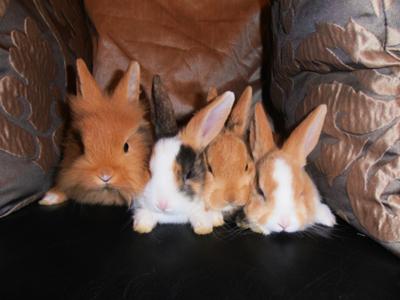 40 days old
These kits are 6 weeks old tomorrow and are doing very well. They started eating solid foods and water when the were 3-4 weeks old and now they just eat it all the time.


I've recently noticed that when the kits try to feed off the doe, she runs off. I read this is a sign that it's time to wean, is this right??
I also read online that dutch rabbits can be weaned from 4-6 weeks of age. As the kits are part dutch part lionhead, do you think the same applies to them??
What do you you think?? Do you think I can wean them at the weekend when they'll be 6 weeks old??
Thanks xxx
***** Karen Sez *****
Wow, soooo cute!
The doe doesn't want her kits at the dinner table all the time. Once in the evening is probably more than enough for her once the kits are this big. She's chasing the kits away because they don't need her any more. But in the evening, you might see her relent for a few minutes. But it doesn't mean the kits need her.
Yes, these kits are no doubt already weaned, meaning, they don't need the doe any more. In our opinion, 5 1/2 weeks and on is perfect for separating (weaning) all but the largest breeds.
Enjoy!