Rabbit Pedigree Chart

Rabbit Pedigree Chart: Pedigrees, what they are, what information is needed, where to get forms, and how to create pedigrees for your rabbits.

Rebecca from Nevada wrote and asked: "What are pedigrees, and how can I get some for my baby buns, that I plan to adopt out?" 
A pedigree is nothing more than a record of the ancestry of the animal in question. A minimum of three generations, including the dam and sire, are required, on both the dam's and sire's side.

You can create your own pedigrees by providing the required information for both yourself and the next owner of the animal or offspring.

The information typically looked for pertaining to the pedigreed animal are:

--Name
--Ear number
--Weight
--Registration # (if available)
--Grand Champion # (if applicable)
--Number of 'legs' (qualified wins toward a GC)
--Variety and Breed of Animal
--Sex of Animal
--Date of Birth
For sires, grandsires and great-grandsires (and dams), the pedigree contains all of the above information except the date of birth. (If you've been keeping records, you will have that DOB information on the pedigrees of the parents, grandparents, and great grandparents of your youngsters.)
If you show your rabbits, it is a nice touch to include on the pedigree any winnings achieved by any of the animals listed on the pedigree. This helps to show any winning potential the rabbit may have, and might possibly increase the value of the animal in the eyes of a prospective purchaser.


Producing a proper pedigree requires accurate record-keeping by you (or prior owners) for the 3 generations behind the animal in question

.
If any of this information is not in your possession, and you cannot obtain it from prior owners, then there will be no pedigrees available for your bunnies.
But, you can begin keeping those records now.

In 3 generations, you will finally have the full pedigree info needed to begin offering pedigrees for the grandbabies of your current rabbits.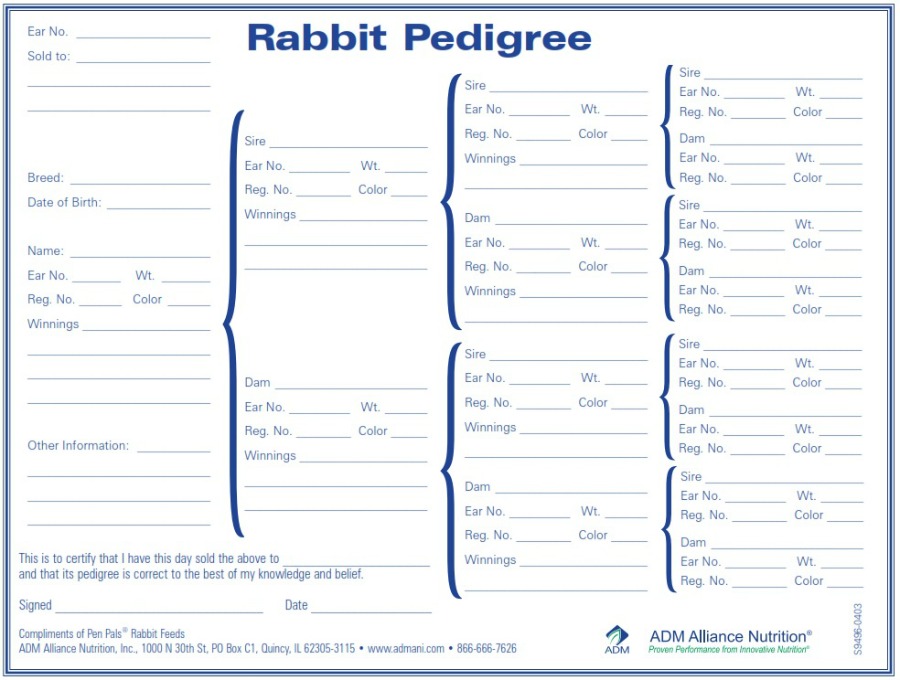 Example of a blank rabbit pedigree chart compliments of Pen Pals Rabbit Feeds
There are 2 ways to produce a rabbit pedigree:
Write out the rabbit pedigree chart by hand.
Each pedigree lists 15 animals, including the animal belonging to the pedigree. List the information in blocks, with each generation being placed in a new column. 

Nothing says you can't list the information carefully on a plain sheet of paper, but the pedigree may seem far more trustworthy if you fill in the information on a pre-printed rabbit pedigree chart.
The ARBA sells booklets of these on their website. (You might need to be an ARBA member to purchase. If so, we highly recommend joining – they will provide you with rabbit raising resources worth more than the price of membership.)
Here's another pedigree form (link coming)

You'll see that they're all pretty much similar, though some layouts are a bit nicer than others.


Use rabbit pedigree software to create the pedigree electronically.
There are a number of software programs, some of them free, that will create pedigrees for you. You plug in the information where directed, push 'print,' and voila. 

I have used Evans Software for years: evsoft.us, (413) 499-0426
Evans will produce professional pedigrees printed in either landscape or portrait orientation.

In my opinion, anyone who has any ideas about breeding rabbits commercially or selling more than one or two litters a year should invest in pedigree-making software. It's just so much easier for both record-keeping, pedigree creation, and even chore-scheduling.

Do a Google search with the term pedigree maker and see what you can find.

I found this "free" one - www.smartdraw.com/pedigree-chart/pedigree-chart-software.htm - technically free; I didn't download it. (I wondered if they would try to upsell me a premium version or some such trick.)

I know there are others out there; hopefully this info will at least get you started on creating nice rabbit pedigrees for your animals.