The First Litter!
by Layla
(NJ)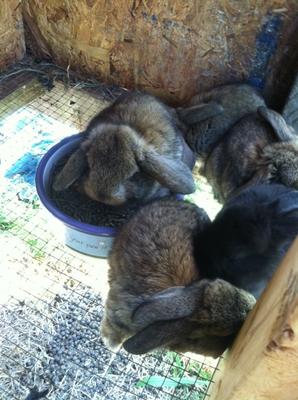 All the babies at four weeks old:)
Hi, I'm Layla. I joined my local 4-H club about a year and a half ago, and started raising rabbits. I raise French Lops and Mini Lops. For those of you who are unfamiliar with the breeds, French Lops are the second largest breed of rabbit in the US at 11+ lbs. Mini Lops are the smaller version of Frenches, at about 4-6 lbs.


Just last April, I bred my French Lop, Momma, for the first time. It was also my first litter. I was so excited on the 31st day when I went out and found a litter of 6 babies. When I got home from school and checked the nest, the pile looked a lot bigger. I quickly realized that when I was in school, Momma had seven more babies-totaling 13! Not bad for a first-time mom. Unfortunately as expected, I lost eight of them in the first week, and ended up with five.
Four of the babies grew rapidly, but one of them was a little black runt. This one was always on the bottom of the pile and the thinnest baby. Knowing how delicate runts are, I gave the little runt separate feedings on Momma for a few days. Luckily the runt-affectionately dubbed "Runt Runt"-pulled through and grew right alongside its siblings. Runt Runt turned out to be a "she," and was the first one to open her eyes and start hopping outside the nest.
When they finally reached weaning age, they were about 5 lbs. and a pain in the butt for their mom! I think she was happy to have all her cage space back! The babies all found wonderful homes-especially little Runt Runt! It was such a fun experience to raise them, and I can't wait to do it all over again!