HELP!!! 31st day. NO KITS
by Maggie
(Valley City, ND, USA)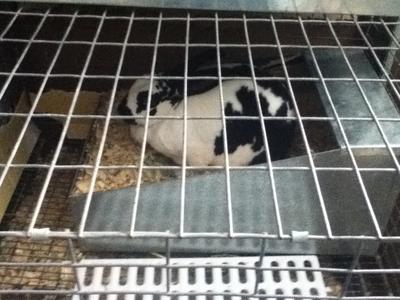 This is Adella, it's her 31st day just chilling in her insulated nesting box, No Kits, fur, nor anymore hay
My (supposedly) pregnant doe ate all the hay in her nesting box. She would toss it around she and then eat, but she usually just eats it. I don't what to do she hasn't really been nesting, pulling fur, digging a lot, but she'll rearrange things to her liking if I move bedding in the box. I'm soooooooo confused!!!


***** Karen Sez *****
Patience, my good friend!
She's either pregnant, or she isn't. You'll know whether or not in the next 4 days or so, at which point you can rebreed her if no kits.
Gotta say though - it is a rare doe that eats every scrap of hay out of a nesting box if she is pregnant. You might rebuild the nest with more hay and/or straw, and wait it out until day 35.
The joys and setbacks are all part of raising rabbits - sometimes the does have their own mind about things, or you can't quite 'read' the situation. It's all good; time and patience will give you the necessary hindsight.
Enjoy your rabbits!