Pet Rabbit Breeds

The category "Pet Rabbit Breeds" is nearly as large as the category "rabbits." 
The word "pet" refers, in our opinion, to the function you wish the rabbit to serve in your life.  This being the case, a pet rabbit can be of any size, fur, color or personality that suits your needs.

Are you searching for the best breeds for pet rabbits? 

You can turn nearly any rabbit of any breed into a pet rabbit with kindness, handling, and socialization.

Many folks select dwarf-sized rabbits as pets because they eat less food, need less housing space, and are very cute.  But frankly, there are a number of very excellent standard and large breeds that also make fine pets.  Flemish Giants, for example, are said to be very laid-back and docile. 

We raise standard Rex rabbits.  Rex rabbits are considered a medium-sized breed. They also make wonderful pets. Plus, the amazing rex fur means you'll love petting your pet rabbit!

In my opinion, there are very few breeds of rabbits that would not make good pets, so don't think you must limit yourself to dwarf pet rabbit breeds if you are an adult, teenager, or even a precocious child.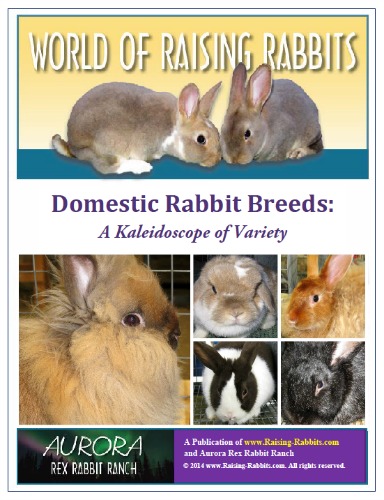 Only 12.99  $8.99
Happy Lunar New Year! 2023 is Year of the Rabbit!
 All of our Ebooks are 30% off until 9 February 2024!!!
Your purchase is 100% Risk Free. See our Double-Value Guarantee below.

Well, what about pet rabbit breeds for children?

Children have small hands and small laps.  Perhaps this is why folks seem likely to purchase small rabbits for children. Small is fine -- just be sure that the little one knows how to handle the rabbit safely before you turn him loose with the animal unsupervised.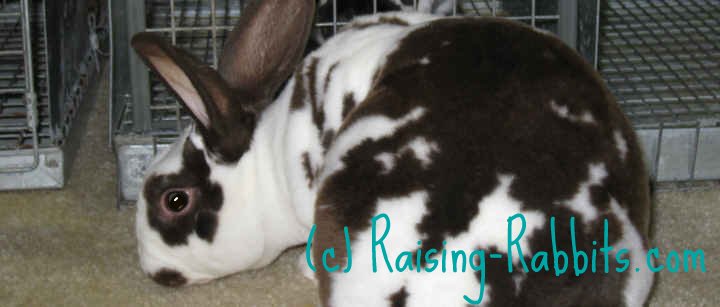 Pet Rabbit Breed Suggestions
There's not a doubt in my mind that you'll find pet rabbits of every single breed around the world. That said, this list presents the popular breeds for pet rabbits in the United States, plus a few breeds we think you might like as pets. Please know that this list is by no means authoritative!
Cinnamon ~ Dutch ~ Dwarf Hotot
English Spot ~ Flemish Giant ~ French Lop ~ Harlequin
Himalayan ~ Holland Lop ~ Lionhead ~ Mini Lop ~ Mini Rex
Mini Satin ~ Netherland Dwarf ~ Palomino ~ Polish
Rex ~ Tan ~ Thrianta

(Other than Lionheads, we included no wooled breeds, due to the additional grooming required. If you'd like a wooly rabbit as a pet, by all means check them out at our All Rabbit Breeds page, or purchase our complete Domestic Rabbit Breeds e-book.)

Click here to learn more about small and dwarf-sized rabbit breeds.

Our Rabbit Breeds page is a good place to go if you want to check out other categories of rabbit breeds other than pet rabbits or little rabbits. 

If you need to continue your search, or if you think a 4-H or FFA project might end up turning into a breeding project or a lifelong hobby (it's happened too many times to count!), we've provided various categories and lists of rabbit breeds by type, fur, size, etc.  
Whichever pet rabbit breed you like best, we strongly recommend you purchase from a reputable breeder of your chosen breed. A rabbit breeder is familiar with his breed of rabbits, and can offer you a healthy pet rabbit. The reputable breeder guarantees his rabbits' health. And, it is in his best interest to sell you a fine rabbit, since you will tell others about your awesome pet.
If you decide to look for pet rabbits at shelters and rescue organizations, please be aware of these important observations:
The rate of sickness among rescue rabbits is high, some estimate as high as 8 or 9 out of every 10 rabbits. Sick rabbits are often cranky rabbits; if the prior owners didn't know how to recognize the symptoms or did not want to deal with vet bills, they may have simply relinquished the rabbit to a shelter.
Please do not feel compelled to 'rescue' a sick rabbit. It is best euthanized.  

Healthy rabbits are friendly rabbits. Fussy crankiness should not be considered normal pet rabbit behavior. 
Healthy rabbits don't need their teeth trimmed. 
Healthy rabbits are a delightful addition to a family.  This is why the actual percentage of rabbits abandoned for no reason hovers somewhere around 2%.
Choose a Healthy Pet Rabbit

If you're in the market for a pet rabbit and have no plans other than to give a rabbit a home for the long term, then by all means, check with a shelter or rescue organization.  Just be very, very careful.  Learn about rescue and shelter rabbit populations.
Before making your final choice about which pet rabbit breeds to choose from, we hope you'll choose a healthy pet rabbit no matter which pet rabbit breed you choose, or where you get it from.

Be sure to check the nose and front paws for mats or moisture - signs of pasteurellosis, also known as snuffles. 

For more information:
Snuffles
Rabbit Diseases
Keep Your Rabbit Healthy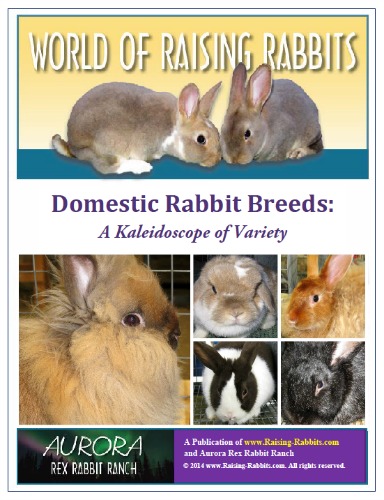 Only 12.99  $8.99
Happy Lunar New Year! 2023 is Year of the Rabbit!
 All of our Ebooks are 30% off until 9 February 2024!!!
Your purchase is 100% Risk Free. See our Double-Value Guarantee below.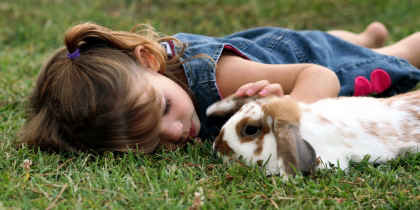 Do you know your pet rabbit breed?
What kind of rabbit is your pet? Is it a mixed or unknown breed, or a pedigreed rabbit? Is it a big breed or a small one?

Feel free to share with other visitors about your pet rabbit, and your recommendations for a pet rabbit breed. We think it will be a big help to them. (While you're at it, you can even share pictures of your pet bunnies!)
What Other Visitors Have Said
Click below to see contributions from other visitors to this page...

Double-Value Guarantee
Our policy is to always OVER-deliver on value,
which is why your purchase is fully covered by our
Double-Value Guarantee.
Go ahead - take any of our e-books for a test drive. Peruse our detailed informational and educational e-books. Examine our plans for building rabbit cages, runs, or metal or PVC hutch frames. Check out the Rabbit Husbandry info e-books.
If you aren't completely satisfied that your e-book purchase is worth at least double, triple or even quadruple the price you paid, just drop us a note within 45 days, and we'll refund you the entire cost. That's our Double-Value Guarantee.
When you purchase your ebooks, they will be in PDF format, so you can download them to any device that supports PDF format. We advise making a back-up copy to a drive or cloud account. If the books are lost, you can also purchase another copy from us.