Mini Rex
by Martine Whittaker
(Bolton, United Kingdom)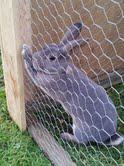 Tilly one of my does
Hi, I currently have 5 mini rex rabbits they are a gorgeous breed very friendly and entertaining personalities. My otter doe has recently had kits proud mummy of 6 her first birth and is doing wonderfully. Rex rabbits have a beautiful velvet fur and very calming personalities. I have a 2 year old niece who plays with them every day and gets lots of cuddles which my male rabbit especially loves as he is a big softie.


***** Karen Sez *****
Lovely pics of your beautiful rabbits! Yes, mini rex rabbits make terrific pets, plus 4-H and FFA projects for the youth. They are very popular as a show rabbit too. Kinda hard to keep your hands off that plush fur, isn't it?!
Thanks for sharing.