This is Fizzgig the Lionhead
by Talia Clark
(Saskatoon Saskatchewan Canada)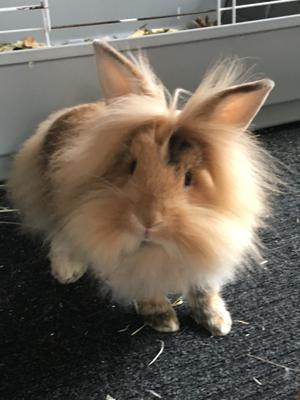 Is he considered to be a Harlequin Lionhead Rex?


Fizzgig is about 8 months old. We rescued him from the animal shelter after our rabbit Burrito passed. He's very playful; his fur is extremely soft. I feel like he might have a fair amount of angora in him. But what I am most curious about is if he is a harlequin rex. Help!
***** Karen Sez *****
What a beautiful rabbit! Do you have any info on his forebears or pedigree? How much does he weigh?
From the photos, it is clear that he indeed has harlequin coloration. But other than that, he carries some beautiful lionhead characteristics. I do not see any Rex fur in him. Although, by selectively breeding him, you might begin to decipher any recessive genes he may carry, such as rex.
Enjoy your rabbit!