We have 4!
by Maria
(Miami, FL)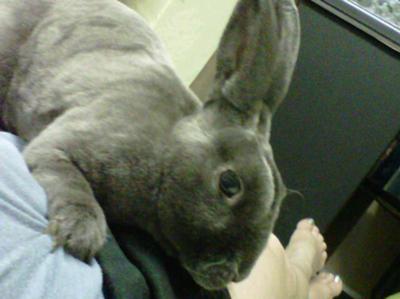 Buggsy! - Rex
Buggsy is our Mini-Rex Rabbit. He is the sweetest and most kind rabbit. He loves to play and has never once nipped any of us! We also have a Mini-Lop, Oreo, she is a bit more fiesty and a lot more demanding than our Mini-Rex. She has a very happy personality but can nip here and there if you dont give her what she wants. Finally, we have 2 Lionhead's, very cute little kits! Simba and Scar. They are our newest addition and I have yet to pick up on their personalities 100% but so far Simba, the brown one is the biggest sweet heart and loves to lick my hand! Scar is a little shy so we will work on that :)


I would recommend just about any rabbit (except for the long haired like Angora - too much work!!). If you treat the rabbit right, feed it quality food and spend quality time with your rabbit the breed should not make a difference!
I included pix of all the rabbits! Enjoy!
Join in and write your own page! It's easy to do. How? Simply click here to return to Pet Rabbit Breeds.