idk what breed my rabbit is
by Brittany Ward
(claremore)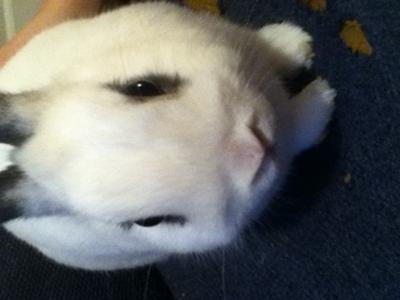 front
He is gray and white, is small and has short ears. Oh and his fur is soft but not like a rex or mini rex.


***** Karen Sez *****
He looks like a bit of a mixture, Brittany. He is what they call a 'charlie,' meaning a spotted pattern that is mostly white. But 'charlie' refers to a color pattern, not a breed.
I'm guessing your very cute rabbit is probably a Polish rabbit that is a charlie, but likely has some other breed as well, especially if he weighs over 4 pounds. (Maximum weight for Polish rabbits in the USA is 3 1/2 pounds.)
He could be partly dwarf hotot, though I doubt it. Dwarf hotots are marked very similarly, but minus any colored markings outside of a 1/8 inch ring of color ('mascara') around the eyes. Even the ears on a dwarf hotot are white. The maximum weight for a dwarf hotot is 3 pounds, and I would expect the ears to be a bit shorter.
Hope this helps!