Lionhead
by Suzy Young
(Chicago,IL)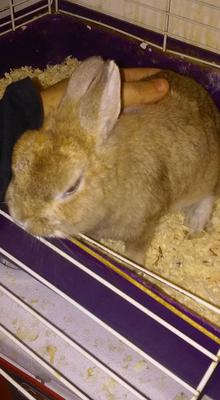 Hello!


I purchased a cute lionhead that I thought was a younger one out of the pick only to find out she is pregnant.
She gave birth but showed no signs, she only laid on her side and ate and drank more but did not dig or create a nest with all the hay or bedding that we supplied her with.
They all passed sadly.
Five months later we decided she needs a female company since she's been kind of depressed it seemed so we did so only to find out he was a male!
The man who sold him to us told us he was in fact a she.
She is pregnant again or I assume due to her behavior; she clings to me more and she won't make a nest, what do I do?
***** Karen Sez *****
Nest building frequently starts only in the last few days before the rabbit gives birth. We recommend providing the nest box along with shavings, hay and straw on day 28, which is 3 days before the doe is likely to give birth. Maybe she'll build a nest this time when the time is right?
If you hand the doe a handful of hay along about day 25 and she starts carrying it around in huge bundles in her mouth, this will be a good sign that she is indeed pregnant.
Unfortunately, some does lack maternal instincts altogether. If this is the case, the doe may never figure out how to raise a litter, but if she has all the materials she needs to build the nest, and good food to eat, the chances will be amplified that she might figure out what she needs to do in time to care well for her kits.
You'll only know whether or not your doe has figured out her maternal instincts by providing the materials in good time and seeing how she does with it and with her litter. If after 3 attempts at raising litters she still fails, then it's a fair assumption that she doesn't have what it takes to be a mama bunny.
Enjoy your rabbits!