Rabbits for Sale in WI
Wisconsin

Rabbits for Sale in WI -- Wisconsin: Find the rabbits you want to raise in your local Wisconsin neighborhood.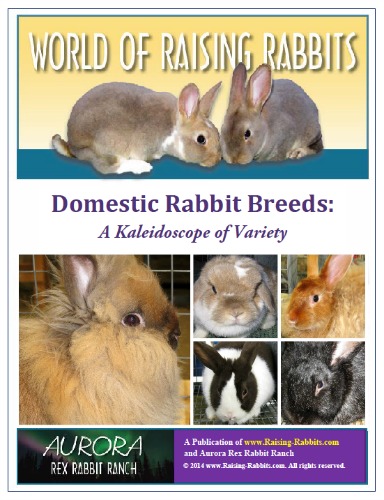 Are you trying to decide which breed is best for you?
Do you see a bunny available, but haven't heard of that kind before?
Are you curious about the different types of rabbits?
Check out our ebook, Domestic Rabbit Breeds. All of our ebooks are ON SALE, 30% off!



Rabbits for Sale in Wisconsin
Albany, WI
Fur & Feather Haven
Point of Contact: Amanda
Phone: (651) 895 - 6301
Email: rockgirl_16 @ live. com
Facebook: https://www.facebook.com/furandfeatherhaven
Breed/Color/Age/Size: Mini Lops and Champagne d'Argent
2Sep2022       
Amherst, WI
Pine Haven Acres
Breeds: Flemish Giant, Holland Lop, Silver Fox, New Zealand
More detail: Pine Haven Acres is an ARBA registered rabbitry that breeds primarily for show but also for pets and self sufficiency. Our goal is to breed our rabbits as close to the SOP as possible.
Email: Pinehavenrabbitry26 @ gmail. com
Phone: (715) 899 - 0800
Website: https://phrabbitry.wixsite.com/bunny
5/28/2021 
Augusta, WI
Bunny Barn Beauty Rabbitry
Point of Contact: Grace
Phone: (715) 533 - 8474
Email: gracek1029 @ gmail. com
Breed/Color/Age/Size: Flemish Giants, Mini Rex, Mini Lop, New Zealand
24June2022                 
Brookfield, WI 
The Humble Homestead, LLC
Breeds: Golden Palomino, Blanc de Hotot, New Zealand
More detail: We are advocates for the genetic protection and conservation of endangered livestock and raise rare rabbit breeds to promote their necessity for meat, fur, and presence in the show ring. We also believe in the power of learning and independence and hope to help you on your journey towards self-sufficiency with raising meat rabbits!
Email: thehumblehomesteadllc @ gmail. com
Phone: (262) 305 - 1021
Website: https://thehumblehomesteadllc.com/
5/28/2021 

Chetek, WI
Lucky Charms Rabbitry
Breeds: Holland lops, Mini Lops, Netherland Dwarfs, Lionheads, Lion Lops
Email: brookehrabak @ gmail. com
Phone: (715) 764 - 9329
Facebook: LC Rabbitry 
5/28/2021 

Endeavor, WI
Rusty B Rabbitry
Point of Contact: Emily
Email: rideabuck @ hotmail. com
Breed/Color/Age/Size: Satins, Californians, Thriantas
More Detail: Satin varieties - black, blue, broken, californian, chinchilla, red, white. We pretty much always have something for sale. Feel free to reach out for info. Discounts for 4Hers.         
31May2022        
Footville, WI
Hazel's Hoppin' Rabbitry
Breeds: Mini Rex, Champagne D'argent, Argent Brun, and Flemish Giants.
Email: kirstinstockman17 @ gmail .com
Phone: (608) 751 - 3752
12/27/2021 

Sponsored Links
Manitowoc, WI
Rabbit Ranch
Breeds: Creme d'argents, Rex, New Zealand Whites, Californian x New Zealand Crosses.
Email: rabbits54220 @ gmail. com
Phone: (920) 242 - 1510
10/29/2021 

Marshfield, WI 
Mary's Rabbitry
Breeds: Mini Rex, Mini Lop.
Email: mary.urban @ preventiongenetics . com
Phone: (715) 486 - 6145
2/6/2021

McKenna, WI
KM Rabbitry
Breeds: Lion lops, New Zealands, and Flemish Giants. 
Email:  markomck @ shelllake. k12. wi. us
Phone: (715) 939 - 9241
Facebook: KM Rabbitry
2/25/2021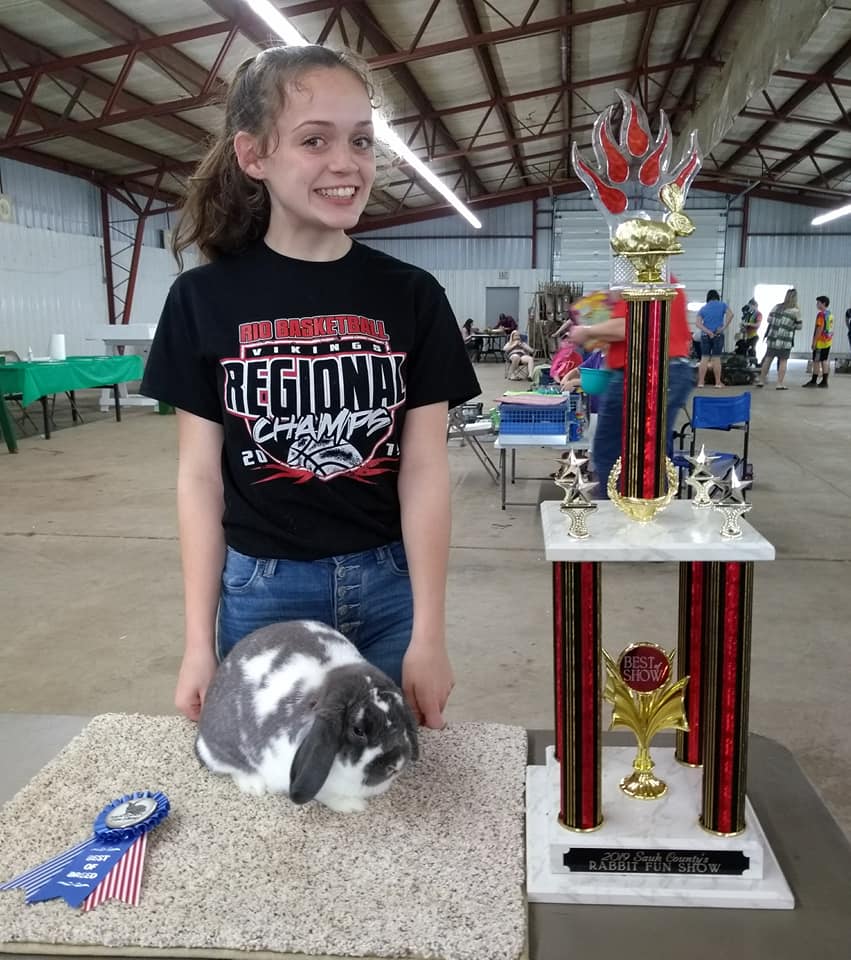 Riley at Rainy Day Rabbitry earns best in show with her Mini Lop
Rio, WI
Rainy Day Rabbitry
Breeds: Mini Lops, Dwarf Hotots, Himilayan.
More detail: Riley Landsverk has been into raising, showing and improving the rabbits she breeds since she was 10 years old.  At 16, she and her mom, Karrie and her grandmother, Marlene Dreifke, have a medium sized rabbitry specializing in quality over quantity. 
Email: marlenesbling @ hotmail . com
Phone: (608) 225 - 3984
Facebook: Rainy Day Rabbitry
 9/13/2021 (Updated)

Woodman, WI 
Sharon's Rabbits
Breeds: Holland Lops, Netherland Dwarfs, and Mini Rex. Some pedigreed, some pet quality.
Also available: all-wire cages of many sizes
Phone: (608) 988 - 4208, ask for Sharon
*******

If you don't find a listing in your area, please go to Rabbits for Sale for more suggestions on finding your choice of rabbit locally. Or, check out our Rabbit Classifieds page for temporary rabbit listings.
---
FREE to Rabbitry Owners and Breeders!

Request a listing for your own healthy pet and show rabbits on Raising-Rabbits.com for free!

No Cost, No Unfair Flagging or Ad Removal,
BIG Publicity (thanks to Raising-Rabbit's high traffic rates)

Advertise Your Rabbitry on Your Own Featured Rabbitry Page
Why should people purchase your rabbits?
Tell them why, with a Dedicated Web Page on Raising-Rabbits.com that features your Rabbitry.

Get multiple Links to your Information, for Minimal Cost


Buyer Beware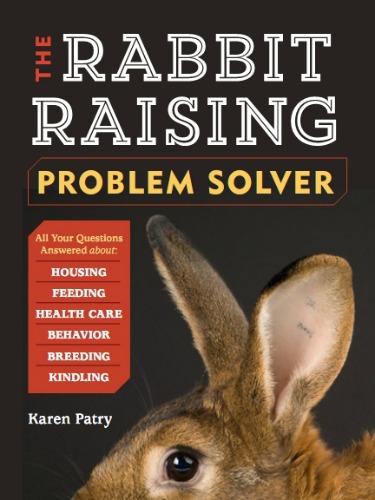 Rabbit raisers are a very good bunch, most of the time. We've heard of no problems with any rabbitries we've listed, but just the same, we ask that the buyer beware.
We have not visited the rabbitries listed. Do your research, keep your eyes open, and get yourself healthy rabbits:
(Pictured: Our book, the Rabbit Raising Problem Solver is a great paperback with questions and answers for everything you need to know about bunny's health.)
(Pictured: Keep Your Rabbits Healthy, our ebook on keeping bunny happy and healthy.



Ask if the breeder has had problems with buck teeth. Look in the rabbit's mouth - the top rabbit teeth should overlap the bottom teeth.

Ask if any genetic problems lurk in the herd. Buying meat rabbits? Ask about yellow fat. Certain breeds and lines within breeds have have their own various genetic problems - ask.

Listen inside the rabbitry - If you hear *any* sneezing or see *any* white snot, you may wish to leave without rabbits. Snotty mats on forearms means a sick rabbit - don't buy. A damp nose (except on very hot days) might (but doesn't always) mean trouble - be cautious.
Turn the rabbit (or bunny) over to ensure the bottom is clean (no diarrhea). (Remnants of a  mild bunny diarrhea between 4 - 9 weeks old that has passed is not a problem.)

Buy at your own risk, and let us know of any problems. Thanks!