Rabbits for Sale in OR
Oregon

Rabbits for Sale in OR - Oregon:
Find the rabbits you want to raise in your local Oregon neighborhood.

Rabbits for Sale in OR - Oregon


Albany, OR: RM Rabbitry
Breeds: Californian, Dutch, Holland Lop and Netherland Dwarf
Aurora, OR: Furs and Feathers Homestead
Breeds: Pedigreed Flemish Giants, New Zealands, and Californian Rabbits
Contact: Furs and Feathers Homestead

Baker, OR: Wild 1's Lil Farm
Breeds: New Zealand, Holland Lop, Jersey Wooly.
Bend, OR: Bee's Beautiful Bunnies Rabbitry
Breeds: Mini Rex Harlequin Crosses, Holland Lops and Netherland Dwarfs and crosses. Ask us about our "request-a-breed" program. Pet-quality and show-quality bunnies so that you can find your perfect fit! 
Contact: https://beesbeautifulbunnies.wordpress.com | beesbeautifulbunnies @ gmail . com
Bend, OR: Cooksey Holland Lops, Cooksey Mini Rex
Breeds: Raising Holland Lops and Mini Rex in Bend Oregon; 20 years raising and showing rabbits
Contact via Manta Listing
Canby, OR: lapinofluxury @ gmail . com
Breeds: All three chinchilla breeds - Giant, American and Standard. We specialize in show and breeding stock. If we can't supply you, we'll help you locate another reputable breeder.
Coos Bay, OR | Plum Crazy Ranch Fiber Art
Breeds: Pedigreed French Angora Rabbits.  Various colors of bunnies with gorgeous fiber
Cottage Grove, OR | CD Rabbitry
Breeds: Mini Lops, Californian/Mini Rex mix, Californian/Satin mix, and Californian/New Zealand mix
Contact: cdrabbitry @ gmail . com
Gates, OR | Canyon Silver Fox Rabbitry
Breeds: Silver Fox rabbits, pedigreed. 3 to 4 lbs at 9 weeks old. Available as pets, breeding stock, show, 4-H discounts, meat, or fur. They have very sweet dispositions.
Contact: oleota59 @ live . com | +1 (541) 231 - 4468
4/5/2021
Hubbard, OR | Long Eared Little Blessings Rabbitry
Breeds: Champion Lineage Mini Lops
Contact: onexiphias @ hotmail . com
Lakeview, OR | Diane
Breeds: New Zealand white; purebred. 
Contact: buffalolady_1999 @ yahoo . com | (928) 274 - 8393
La Grande, OR | Three Wise Lops Rabbitry
Breeds: Show quality English Lops and Rex rabbits. 4-H discount.
Contact: threewiselops @ gmail . com
Lebanon, OR | Johnson Bunny Briar
Breeds: French Lops, Flemish Giants, Silver Fox, Dutch, Lionheads, and mixed breeds, for meat and pets
Lebanon, OR | Caleb's Rabbitry
Breeds: French Lops, Flemish Giants, Silver Fox, Dutch, Lionheads, and m
Contact: Calebawoodward @ icloud . com | (541) 570 - 2896
1/8/2021
Madras, OR | Preston
Breeds: New Zealands all pedigree high quality stock, good lines, and good diversified breedings.  White, black, broken black, blue. Coming soon: Broken blue.
Contact: gatewaypreston @ gmail . com
Molalla, OR | Noteworthy Rabbitry
Breeds: Blue-Eyed White Lionheads, Blue-Eyed White Netherland Dwarf; other varieties also available occasionally.
Myrtle Point, OR | Millennial Homestead
Breeds: New Zealand Blue 
"ARBA certified rabbitry raising pedigreed show quality New Zealand Blue rabbits. We are dedicated to raising the happiest and healthiest rabbits possible.Our New Zealand Blues are great companion/meat/fur rabbits, naturally docile and are not known to nip or bite and overall have great temperament."
Contact: millennial.prepster @ gmail . com
Portland, OR | Bridlemile Bunnies
Breeds: Flemish Giants
Contact: mpaddockfarrell @ me . com | Facebook
*******

---
FREE to Rabbitry Owners and Breeders!

Request a listing for your own healthy pet and show rabbits on Raising-Rabbits.com for free!

No Cost, No Unfair Flagging or Ad Removal,
BIG Publicity (thanks to Raising-Rabbit's high traffic rates)

Advertise Your Rabbitry on Your Own Featured Rabbitry Page
Why should people purchase your rabbits?
Tell them why, with a Dedicated Web Page on Raising-Rabbits.com that features your Rabbitry.

Get multiple Links to your Information, for Minimal Cost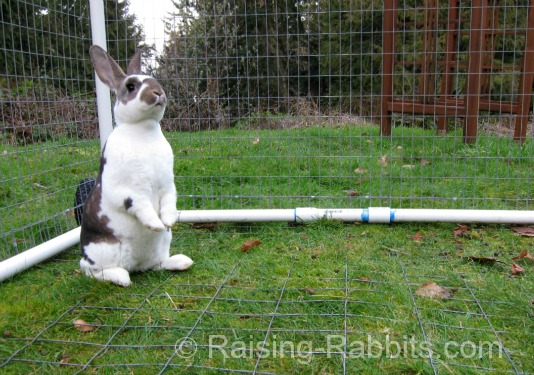 This rex rabbit is enjoying a safe excursion in our outdoor rabbit run.

Buyer Beware
Rabbit raisers are a very good bunch, most of the time. We've heard of no problems with any rabbitries we've listed, but just the same, we ask that the buyer beware.
We have not visited the rabbitries listed. Do your research, keep your eyes open, and get yourself healthy rabbits:
Ask if the breeder has had problems with buck teeth. Look in the rabbit's mouth - the top

rabbit teeth

should overlap the bottom teeth.

Ask if any genetic problems lurk in the herd. Buying meat rabbits? Ask about yellow fat. Certain breeds and lines within breeds have have their own various genetic problems - ask.

Listen inside the rabbitry - If you hear *any*

sneezing

or see *any* white snot, you may wish to leave without rabbits. Snotty mats on forearms means a sick rabbit - don't buy. A damp nose (except on very hot days) might (but doesn't always) mean trouble - be cautious.
Turn the rabbit (or bunny) over to ensure the bottom is clean (no

diarrhea

). (Remnants of a  mild bunny diarrhea between 4 - 9 weeks old that has passed is not a problem.)

Buy rabbits for sale in OR at your own risk, and let us know of any problems. Thanks!