Rabbits for Sale in MO
Missouri

Rabbits for Sale in MO (Missouri): Find the rabbits you want to raise in your local Missouri neighborhood.
Rabbits for Sale in MO - Missouri

Carthage, MO
Murphey's Californians
Breeds: Californian
Email: chalamurphey @ gmail. con
Phone: (417) 291 - 1391
5/13/21

---
Elsberry, MO 
Lost Creek Homestead
Breeds: Meat Cross rabbits, mainly; a few pet breeds from time to time.
Email: mare_bear2008 @ yahoo. com 
2/16/2021

---
Faucett, MO
4Js Rabbitry
Breeds: Quality Mini Rex.
More detail: Rabbits suited for 4H and ARBA shows. We have won multiple ARBA Best of Breeds since our inception in Fall, 2014.
Phone:  (816) 351 - 0579
Facebook: https://www.facebook.com/4JsRabbitry/
7/15/2021 (Updated)

---
Festus, MO     
James Family Farm
Point of Contact: Cheyenne
Phone: (904) 330 - 8963
Email: 1993clarson @ gmail. com
Breed/Color/Age/Size: New Zealand black, blue, and broken. 
More Detail: We breed New Zealand rabbits for meat.
4/17/2023
---
Fredericktown, MO
Saco Vally Farm
Point of Contact: Stephan
Email: scovalleyfarm @ gmail. com
Breed/Color/Age/Size: American Chinchilla
7/25/2023
---
Highlandville, MO 
Annie Bear's Angoras & Lionheads
Breeds: English Angoras and Lionheads, several colors, age 3 months and older.
More detail: Very sweet dispositions and personalities to match.
Email: kellylmayfield14 @ gmail. com
Phone: (417) 294 - 8026

---
Highlandville, MO
Sweet Rabbitry
Breeds: Holland Lops
Contact: sweetrabbitry @ gmail . com
Phone: (417) 332 - 7979
1/14/2021

---
Jefferson City, MO 
A&B Critters
Breeds: Show quality Lionheads
Website: https://abcritters.weebly.com/

---
Lawson, MO
Cedar Rock Farm
Breeds: New Zealand
Email: Cedarrockfarm1 @ yahoo. com
Phone: (816) 377 - 3740
4/11/2022
---
Lonedell, MO
Promise Land Farm
Breeds: Lionheads, Lionlops, New Zealand Whites and Californian/New Zealand crosses.
Email: archaeologistgeek @ gmail. com
Website: https://www.localharvest.org/promise-land-farms-M65234
Facebook: https://www.facebook.com/PLFarm

---
Ofallon, MO
Audrey's Bunz Rabbitry
Point of Contact: Audrey
Phone/Text: (314) 630 - 9277
Email: aud.schiele @ gmail. com
Breed/Color/Age/Size: Champagne d' Argent
More Detail: I am a 4H raiser of Champagne d' Argent rabbits, also known as the Silver Beauty. Willing to drive 20 miles to drop off rabbits/meet customers. My rabbits are pedigreed to ensure that they are purebred. Can make custom cages for additional fee.             
5/2/2023
---
Ozark, MO
Mark at MT Creek Farms
Breeds: New Zealand
Contact: mark.patrick1982 @ yahoo . com
Phone: (417) 300 - 4995
11/23/2020

---
Paw Paw, MO 
Carpenter's Rabbitat
Breeds: Mini Rex.
More detail: Variety of Colors
Email: kellylmayfield14 @ gmail . com
Website: https://sites.google.com/vbisd.org/carpentersrabbitat/home
Phone: (269) 547 - 3915
7/13/2021
---
Saint Louis, MO 
Lionhead Rex Rabbitry
Breeds: Lionheads, English Angora, Lionhead Lop, Fuzzy Lop
Website: lionheadrex.weebly.com
Phone: (931) - 292 - 4251
Email: lionheadrex @ gmail. com

---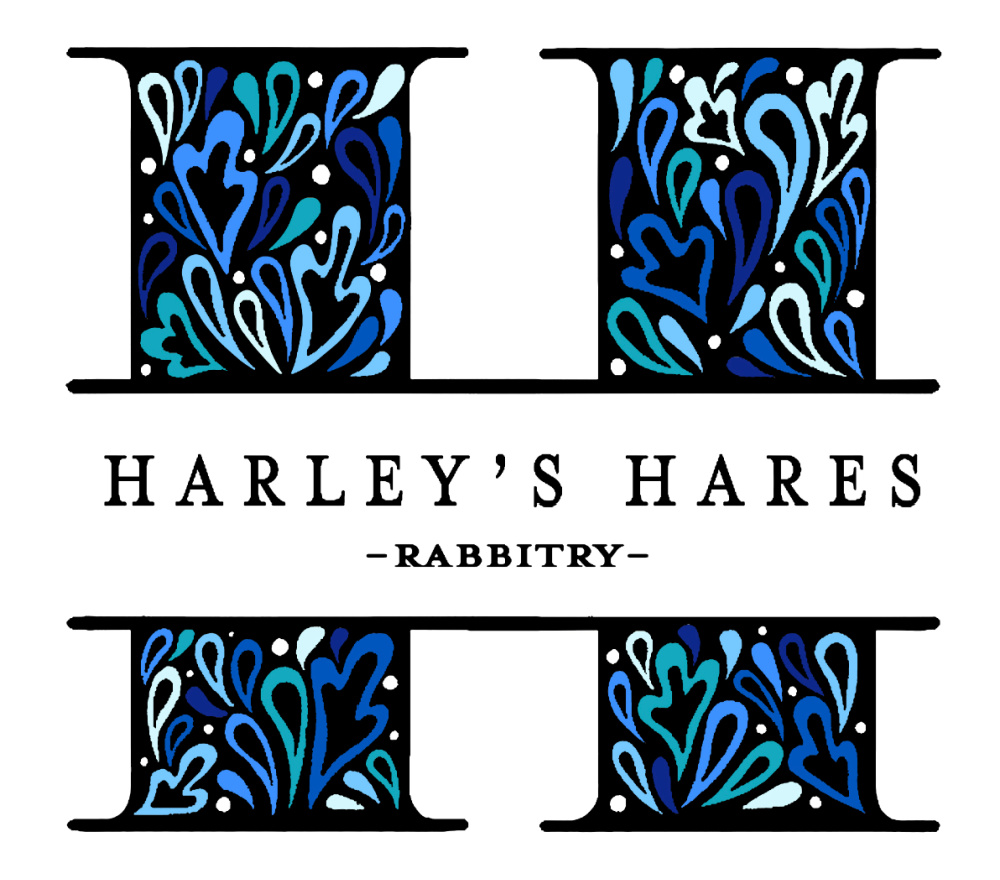 Saint Louis, MO
Harley's Hares
Point of Contact: Taylor
Email:  harleys.hares @ gmail. com
Phone: (618) 559 - 2989 
Breed/Color/Age/Size: Netherland Dwarfs, Double-Maned Lionheads, Flemish Giants, Mini Lops
More Detail: We are a small, in-home rabbitry called "Harley's Hares" and we just recently relocated to the St. Louis area. All of our litters are 100% purebred and have either partial or full pedigrees.    
5/13/2022   
---
Saint Mary, MO
Proverbs 12:10 Rabbitry
Point of Contact: Ilse
Email: ilsemoll @ proton. me
Breed/Color/Age/Size: American Rabbits; blue and ruby-eyed whites.
More Detail: American pedigreed rabbits are weaned and 7 weeks old. They are 9-12 pounds fully grown. They are healthy and tame. I am asking $45 for males and $50 for females. They are all siblings or half-siblings. We are in Southeast Missouri and can meet you in Perryville, Farmington, or St. Genevieve as is convenient for all.      
---
Sugar Creek, MO 
Joanna's Rabbits
Breeds: Mini Rex
Email: joveredblue @ yahoo. com

---
Wright City, MO 
RK Bunny
Breeds: New Zealand blue, black and broken.
More detail: For pets, show, and meat.
Email: rhelvey2727 @ gmail. com
Facebook: https://www.facebook.com/profile.php?id=100007165092571
Phone: (636) 577 - 3198
9/6/2021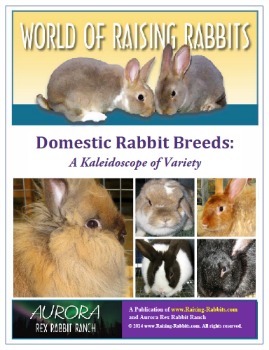 Interested in Other Rabbit Breeds?
-- Are you trying to decide which breed is best for you?

-- Do you see a bunny available, but haven't heard of that kind before?
-- Are you curious about the different types of rabbits?
We have an e-book for that! It's titled Domestic Rabbit Breeds. Find it, and our other e-books, at World of Raising Rabbits.
Click Here to Purchase Domestic Rabbit Breeds!

*******

If you don't find a listing in your area, please go to Rabbits for Sale for more suggestions on finding your choice of rabbit locally. Or, check out our Rabbit Classifieds page for temporary rabbit listings.

---
FREE to Rabbitry Owners and Breeders!

Request a listing for your own healthy pet and show rabbits on Raising-Rabbits.com for free!

No Cost, No Unfair Flagging or Ad Removal,
BIG Publicity (thanks to Raising-Rabbit's high traffic rates)
Advertise Your Rabbitry on Your Own Featured Rabbitry Page
Why should people purchase your rabbits?
Tell them why, with a Dedicated Web Page on Raising-Rabbits.com that features your Rabbitry.

Get multiple Links to your Information, for Minimal Cost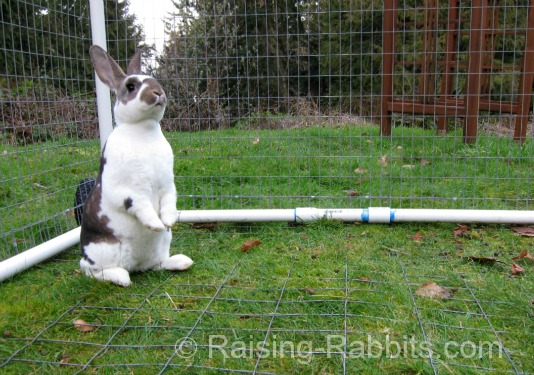 This rex rabbit is enjoying a safe excursion in our covered outdoor rabbit run.
To find out how to make your own check out our page on Rabbit Runs.
Buyer Beware
Rabbit raisers are a very good bunch, most of the time. We've heard of no problems with any rabbitries we've listed, but just the same, we ask that the buyer beware.
We have not visited the rabbitries listed. Do your research, keep your eyes open, and get yourself healthy rabbits: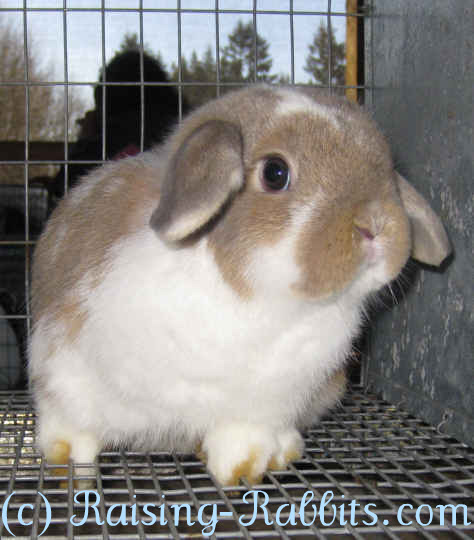 Cutest Holland Lop Rabbit Ever!
Ask if the breeder has had problems with buck teeth. Look in the rabbit's mouth - the top

rabbit teeth

should overlap the bottom teeth.

Ask if any genetic problems lurk in the herd. Buying meat rabbits? Ask about yellow fat. Certain breeds and lines within breeds have have their own various genetic problems - ask.

Listen inside the rabbitry - If you hear *any* sneezing or see *any* white snot, you may wish to leave without rabbits. Snotty mats on forearms, wet or dry, means a sick rabbit - don't buy. A damp nose (except on very hot days) might (but doesn't always) mean trouble - be cautious.
Turn the rabbit (or bunny) over to ensure the bottom is clean (no diarrhea). (Remnants of a  mild bunny diarrhea between 4 - 9 weeks old that has passed is not a problem.)

Buy at your own risk, and let us know of any problems. Thanks!
Raising Rabbits is where you will find comprehensive information and how-to instructions on all aspects of raising rabbits.
Here are two of our resources on rabbit care and rabbit health. Click the photos to learn more or to purchase. Are either of these just what you are needing?
Double-Value Guarantee
Our policy is to always OVER-deliver on value,
which is why your purchase is fully covered by our
Double-Value Guarantee.
Go ahead - take any of our e-books for a test drive. Peruse our detailed informational and educational e-books. Examine our plans for building rabbit cages, runs, or metal or PVC hutch frames. Check out the Rabbit Husbandry info e-books.
If you aren't completely satisfied that your e-book purchase is worth at least double, triple or even quadruple the price you paid, just drop us a note within 45 days, and we'll refund you the entire cost. That's our Double-Value Guarantee.
Note: When you purchase your e-books, they will be in PDF format, so you can download them to any device that supports PDF format. We advise making a back-up copy to a drive or cloud account. If the books are lost, you can also purchase another copy from Raising-Rabbits.