Rabbits for Sale in Texas
Rabbits for Sale in Texas:
Find the rabbits you want to raise in your local Texas neighborhood.


Current listings of rabbits for sale in Texas:
Corpus Christi TX: 
Californian, New Zealand Rabbits
Contact: alexanderlinda9462 @ yahoo . com
Cypress TX:
New Zealand Rabbits. NZ meat pen does.
Contact: darb81 @ hotmail . com
Sponsored Links
Dallas/Fort Worth TX: Rum Runner Rabbitry
Show Flemish Giants in sandy, fawn, REW, blue and steel Harlequins in blue-japanese and black-japanese
Magpies in chocolate, black and lilac Dutch in blue, black and tort; and Holland Lops
Contact: rumrunnerrabbitry @ gmail . com
Dayton TX: J & S Rabbitry
Double mane Lionheads, Mini Rex, Harlequins, Flemish Giants
Plus heritage rabbits: American Blues & Whites, and Silver Fox
Contact: justinboots46 @ yahoo . com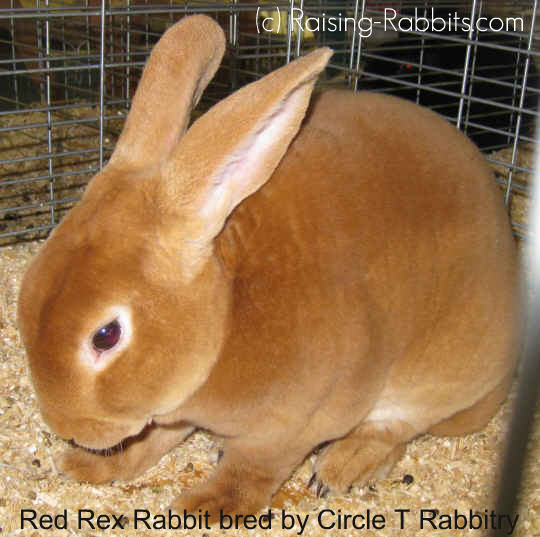 Flower Mound TX: Circle T Rabbitry
Circle T Rabbitry offers show-worthy Standard Rex Rabbits in castor, broken castor, red-eyed white, and red (pictured)
Contact: melnvanita @ verizon . net
Fort Worth TX: Horseshoe Rabbitry
Mini Rex Rabbits in several varieties
Friendswood TX: Sugar Bunny Rabbitry
Netherland Dwarfs, several varieties (inquire)

Huntsville TX: Heaton Rabbitry
Top quality Californian rabbit meat pens for Texas shows. No order is too large or too small. We give help all the way through the project. We also give free clinics on raising rabbits if your group would like some help with their projects. Come see us on our website.
Livingston TX: Crystal Creek Rabbits
Californian rabbits, New Zealands, Mini Rex, Flemish Giant
Medina TX: Texas Bunny Rabbit Ranch
New Zealand Whites, Californians, Lops, and Lionheads.
Rabbits for FFA and 4H, pets and breeding stock
Terrell TX: Double T Rabbitry
New Zealand White rabbits - Pedigreed, meat pens, show and breeding stock
Contact: jrgillis @ netscape.com
Whitney TX: Diamond Oaks Rabbitry
Californians, Holland Lops for pet, show, brood
Contact: Text to +1 (254) 495-2153 or
email:  shelby.riney @ windstream .net
Willis TX: AA Rabbitry

*******
If you don't find a listing in your area, please go to Rabbits for Sale

for more suggestions on finding your choice of rabbit locally. 
*******



Buyer Beware
Rabbit raisers are a very good bunch, most of the time. We've heard of no problems with any rabbitries we've listed, but just the same, we ask that the buyer beware.
We have not visited the rabbitries listed. Do your research, keep your eyes open, and get yourself healthy rabbits:
Listen inside the rabbitry - If you hear *any*

sneezing

or see *any* white snot, you may wish to leave without rabbits. Snotty mats on forearms means a sick rabbit - don't buy. A damp nose (except on very hot days) might (but doesn't always) mean trouble - be cautious.
Turn the rabbit (or bunny) over to ensure the bottom is clean (no

diarrhea

). (Remnants of a  mild bunny diarrhea between 4 - 9 weeks old that has passed is not a problem.)

Buy at your own risk, and let us know of any problems. Thanks!




Sponsored Links