Rabbits for Sale in Texas

Rabbits for Sale in Texas:
Find the rabbits you want to purchase or raise in your local Texas neighborhood.


Current Listings of Rabbits for Sale in Texas:
Aubrey, TX | Little Pet Palace
Breeds: Holland Lop, Mini Lop;
More detail: Little Pet Palace is a well-known rabbitry in North Dallas area, focused on raising the perfect indoor Holland Lop rabbits. We have been involved with raising rabbits since 2012. We are an ARBA registered rabbitry.
Email: thelittlepetpalace @ gmail . com
Website: www.littlepetpalace.com
Phone: (972) 972 - 8861
Austin, TX | Texas Rabbitry
Breeds: Mini Rex, Tamuk
Email: 01octagon_nice @ icloud. com
Phone: (214) 605 - 3554
3May2022
Alvarado, TX | Happy Rabbit Hobby
Breeds: Pedigree Holland Lops, Full blood Lion Heads, Harlequin Mix, Dutch Mix, Netherland Dwarf Mix, Dwarf Hotot Mix, Cinnamon Mix, New Zealand Mix, Mini Rex Mix.
More detail: Different colors, some broken. Small pets mainly.
Email: shirleybodoh @ yahoo . com

Sponsored Links
Bedias, TX | Teep's Ranch
Breeds:  Mini Rex Rabbits. 
Email: torrilancaster @ gmail . com
Phone: (936) 662 - 6279
9/1/2021 (Updated)
Bridgeport, TX | Fort Worth's Finest Rabbitry
Breeds:  Californians, New Zealands, Satin, Mini Satin, Champagne De Argent, Mini Lop. and Rex. 
More detail: Proud ARBA Members since 2003. Members of many Specialty clubs. Show and purchase stock Nationally. Service 4-H AND FFA Chapters. 
Email: philnjill @ msn . com
Phone: (817) 401 - 6755
Facebook: https://www.facebook.com/FortWorthsFinestRabbitry
Canton, TX | Oak Creek Rabbitry
Breeds:  French Angora.
More detail: "Hoppy" to breed upon request if none are in stock.
Email: Kimberlylacayo11 @ gmail. com
Phone: (713) 992 - 6928
Dallas/Fort Worth, TX | Rum Runner Rabbitry
Breeds: Show quality Flemish Giants in sandy, fawn, REW, blue and steel Harlequins in blue-japanese and black-japanese. Magpies in chocolate, black and lilac Dutch in blue, black and tort; and Holland Lops.
Contact: rumrunnerrabbitry @ gmail . com

Dayton, TX | J & S Rabbitry
Breeds: Double mane Lionheads, Mini Rex, Harlequins, Flemish Giants. Plus heritage rabbits: American Blues & Whites, and Silver Fox
Email: justinboots46 @ yahoo . com

Dorchester, TX | Teep's Ranch
Breeds:  Californian, New Zealand, Palomino, Satin. 
More detail: Wide variety of colors in each breed. Many of my youth customers show and win in 4-H and other livestock competitions. Also offering processed rabbit meat.
Website: https://www.rangecreekranch.com/
Email: kf5npm @ gmail. com
Phone: (936) 814 - 4484
12/28/2021
Duncanville, TX | Rabbit Farms
Breeds: Lionhead rabbits, in a variety of colors, you may text for pictures. (See photos.)
Email: cespal2009 @ gmail . com
Phone: (979) 330 - 3969
4/1/2021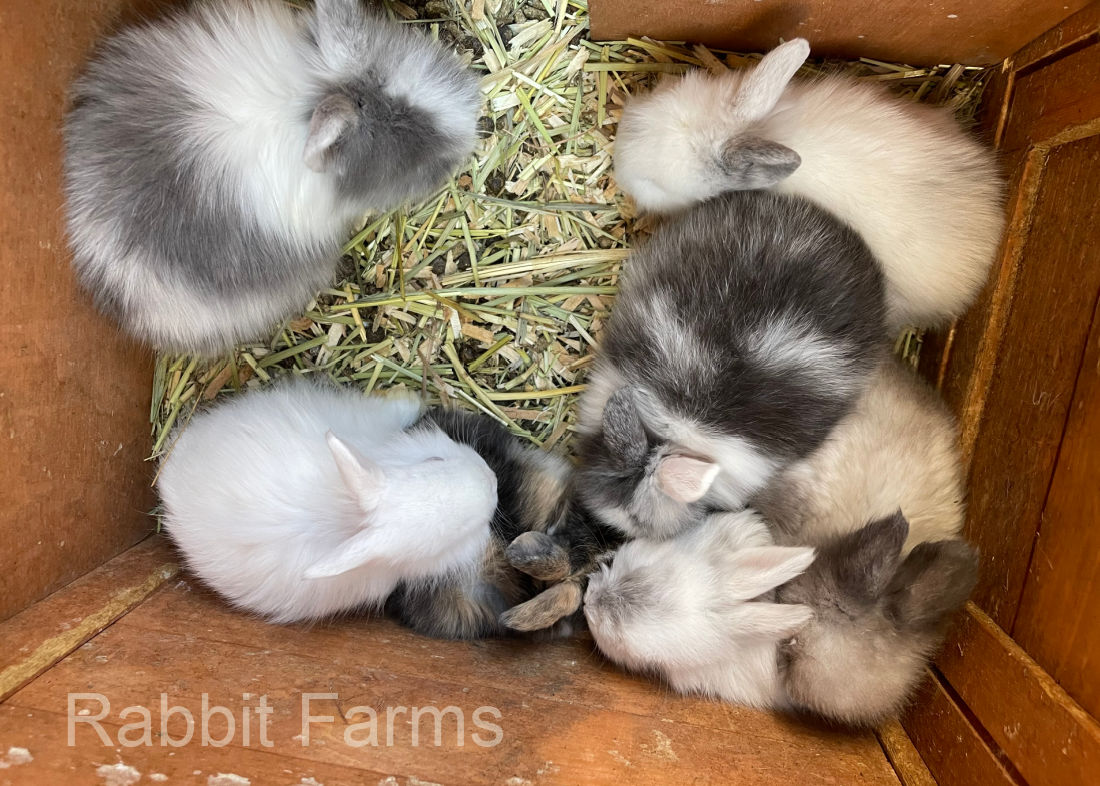 Colorful litter of Lionhead rabbits at Rabbit Farms in Duncanville, Texas.
Flint, TX | Twilight Meadows
Breeds: Mini Rex, TAMUK Composite
Email: bhkoch1992 @ yahoo . com
Phone: (903) 530 - 8549
Flower Mound, TX | Circle T Rabbitry
Breeds: Circle T Rabbitry offers show-worthy Standard Rex Rabbits in castor, broken castor, red-eyed white, and red (pictured at left.)
Contact: melnvanita @ verizon . net

Fort Worth, TX | Horseshoe Rabbitry
Breeds: Mini Rex Rabbits in several varieties
Website: Horseshoe Rabbitry
Phone: 817-239-5686
Email: kimbofisher @ hotmail. com
Friendswood, TX | Sugar Bunny Rabbitry
Breeds: Netherland Dwarfs, several varieties (inquire)
Website: Sugar Bunny Rabbitry
Frost, TX | Red Sea Ranch and Rabbitry
Breeds: Grand Champion Flemish Giants, pet quality Flemish Giants, show/pet quality Holland Lops, show/pet quality Netherland Dwarfs, pet quality pure Lionheads, and pet mix Lion Lops.
Website: Red Sea Ranch and Rabbitry
Instagram: https://www.instagram.com/Red_Sea_Ranch_and_Rabbitry/
Facebook: https://www.facebook.com/profile.php?id=100048916540020
Email: tori @ redseareanchandrabbitry. com
Phone/Text: (903) 519 - 0848 | (254) 733 - 5455
9/1/2021 (Updated)
Dee's Californians in Hillsboro, Texas.
Hillsboro, TX | Dee's Californians
Breeds: California Whites
More detail: Parents are FFA show winners.  
Email: dee.ehlinger @ gmail . com 
Phone: (254) 205 - 9540

Huntsville, TX | Heaton Rabbitry
Breeds: Top quality Californian rabbit meat pens for Texas shows.
More detail: No order is too large or too small. We give help all the way through the project. We also give free clinics on raising rabbits if your group would like some help with their projects. Come see us on our website.
Website: Heaton Rabbitry
Email: heatonrabbitry @ yahoo. com
Phone: (936) 291 - 8688 | (936) 714 - 4816
Leonard, TX | Quietcreek Farm
Breeds: Holland Lops, Netherland Dwarfs, and occasionally Fuzzy Lops and Woolie Netherlands.
More detail: Pet and show quality available. Ages vary but we don't sell young babies. Email for current list of available rabbits. You are welcome to contact me by phone but text is preferred.
Website: Quietcreek.wixsite.com/quietcreek 
Email: quietcreek @ yahoo . com 
Facebook: https://www.facebook.com/Quietcreekrabbits
Phone/Text: (972) 658 - 4673 
9/1/2021 (Updated)
Magnolia, TX | Posh Bunnies Rabbitry
Breeds: Holland Lops, Netherland Dwarfs, Dutch Rabbits. 
More detail: All of our bunnies are purebred, healthy and highly socialized!
Website: theposhbunnyburrow.com 
Email: bunniesaremagnificent @ gmail . com 
Phone: (346) 818 - 4007
9/3/2021
Montgomery, TX | R&M Funny Farm
Breeds: Standard Rex, Californian, Standard Rex Mix, Californian Mix
Email: funnyfarmrm @ gmail . com
Phone: (936) 333 - 9700
9/14/2021 (Updated)
Nevada, TX | Liz's  Lops and Angoras
Breeds: French Angoras, Holland Lops, and Lilacs.
More detail: All rabbits come pedigreed and show quality. Prices are $85 - $250, discounted if there are disqualifications or are unshowable. 
Email: lizslopsandangoras @ gmail . com
Phone: (469) 531 - 2417
4/6/2021
San Antonio, TX | Moon Rock Rabbitry
Breeds: Pet only Netherland Dwarfs, Lionheads, Holland Lops, and pet only Lionlops.
More detail:All of my babies have been handled since birth  and are super friendly!
Email: aailah4371 @ gmail. com
Website: https://moon-rock-rabbitry.square.site/
Phone: Becki (210) 392 - 9851 / Gabby (210) 801 - 5448
3/22/2022
Seymour, TX | Barbie's Bunnies
Breeds: Pure Californian Rabbits
Facebook: https://www.facebook.com/Barbies-Bunnys-825729317445029/
Phone: Barbie or Katrina at (940) 867 -8588

Vernon, TX | CMS Rabbits
Breeds: Californians and New Zealand Blacks. Show and Meat Pen Quality.
Email: michael.schoppa @ outlook . com 
Phone: (940) 886 - 8118
9/13/2021 (Updated)
Whitney, TX | Diamond Oaks Rabbitry
Breeds: Californians, Holland Lops for pet, show, brood.
Contact: shelby.riney @ windstream . net
Phone: (254) 495 - 2153 

Willis, TX | AA Rabbitry
Breeds: Californians
Phone: (936) 703 - 8055
Website: http://www.aarabbits.com/index.html
*******

---
FREE to Rabbitry Owners and Breeders!

Request a listing for your own healthy pet and show rabbits on Raising-Rabbits.com for free!

No Cost, No Unfair Flagging or Ad Removal,
BIG Publicity (thanks to Raising-Rabbit's high traffic rates)

Advertise Your Rabbitry on Your Own Featured Rabbitry Page
Why should people purchase your rabbits?
Tell them why, with a Dedicated Web Page on Raising-Rabbits.com that features your Rabbitry.

Get multiple Links to your Information, for Minimal Cost


Buyer Beware
Rabbit raisers are a very good bunch, most of the time. We've heard of no problems with any rabbitries we've listed, but just the same, we ask that the buyer beware.
We have not visited the rabbitries listed. Do your research, keep your eyes open, and get yourself healthy rabbits:
Ask if the breeder has had problems with buck teeth. Look in the rabbit's mouth - the top

rabbit teeth

should overlap the bottom teeth.

Ask if any genetic problems lurk in the herd. Buying meat rabbits? Ask about yellow fat. Certain breeds and lines within breeds have have their own various genetic problems - ask.
Listen inside the rabbitry - If you hear *any*

sneezing

or see *any* white snot, you may wish to leave without rabbits. Snotty mats on forearms means a sick rabbit - don't buy. A damp nose (except on very hot days) might (but doesn't always) mean trouble - be cautious.


Turn the rabbit (or bunny) over to ensure the bottom is clean (no

diarrhea

). (Remnants of a  mild bunny diarrhea between 4 - 9 weeks old that has passed is not a problem.)



Buy at your own risk, and let us know of any problems. Thanks!