French Angora Rabbits

French Angora Rabbits. All about the French Angora, plus additional angora-related, wool and spinning info.
The Angora Rabbit has been domesticated for their wool for over 2000 years. See Angora Rabbits for the history of the angora rabbit, as best as can be determined.
The use of French Angoras for wool production in France dates to as early as 1845 in the region of Saint Innocent in Savoy, France. A gentleman named Monsieur Lard developed a large angora herd that provided work for many in St. Innocent. But additionally, he and his wife made it possible for others to start their own angora enterprises.
If you would like to learn more about other Angora breeds, or just other breeds in general, check out our ebook: Domestic Rabbit Breeds.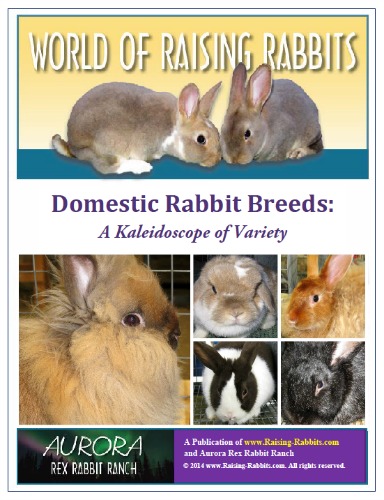 Are you trying to decide which breed is best for you?

Do you see a bunny available, but haven't heard of that kind before?
Are you curious about the different types of rabbits?
Check out our ebook, Domestic Rabbit Breeds. We also have lots of other great books with everything you need to know about rabbits, from housing to healthcare. Check out our BOOKSTORE.

2023 is Year of the Rabbit! All of our ebooks are ON SALE, 30% off!
BUY NOW for $12.99 $8.99!
Mr. Lard and his wife frequently gave to the village women and to the poor several pregnant rabbits. They paid by returning half the offspring at 12 - 16 weeks of age. The villagers cared for their own rabbits and reaped the benefits. They sheared the wool, spun the yarn, made garments according to their skills, and sold their products, whether wool, yarn or garment. It was a win win win situation, enabling the enterprising to support the family and the poor to rise out of abject poverty.

No wonder France quickly became the global leader of raw angora wool production, holding this distinction until 1965.
French Angora rabbits most resemble the angoras of centuries past. This is because they have fur, not wool, on their face, ears and feet. (Compare them to the English Angoras that are wooly everywhere except, possibly, on the tips of their noses.)
This is not to say that improvements in wool quality and quantity have not been made. To the contrary, breeders have indeed made great improvements in all aspects of French Angora rabbits. The wool of a rabbit in full show coat has far more height, density and bulk than did angoras of even 80 years ago.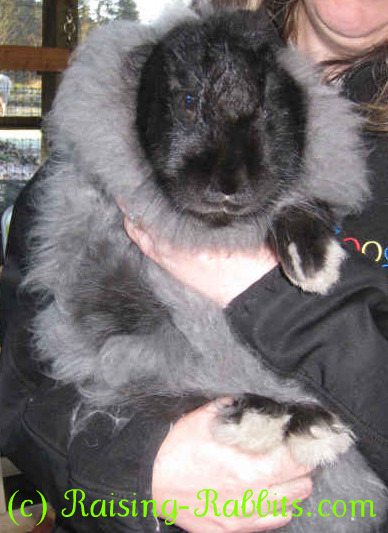 French Angoras as recognized by the ARBA weigh between 7 1/2 and 10 1/2 pounds.

The ARBA Standard of Perfection awards 35 points to the body, 55 points to wool, and 10 points to color and condition, for a total of 100 points. The body type is more commercial than is the English Angora.
They can be shown in two varieties of white, plus nearly every color possible, including the brokens of these colors:
Pointed in black, blue, chocolate and lilac
Red-Eyed-White (REW)Blue-Eyed-White (BEW)
Chinchilla (black), chocolate chin, lilac chin, and squirrel (blue chin)
Chestnut (black agouti), chocolate agouti, copper, lynx, opal
Self (same color all over) in black, blue, chocolate and lilac
Shaded - Pearl, Sable, Seal, Smoke Pearl
Tortoiseshell (black), blue tort, chocolate tort, lilac tort
Ticked - Steel (black), blue, chocolate, and lilac steels
Wide-banded - Cream, Fawn, Red


This makes 66 total allowable varieties in the USA. English, French and Satin Angoras are accepted in all of these varieties.
French Angora rabbits are a dual-purpose breed. They have oval-shaped, commercial bodies that provide plenty of meat, plus the wool for fiber. The wool, with its coarse guard hairs protruding beyond the crimped underwool, is usually low-maintenance, requiring minimal grooming.
Expect to find no wool on face, ears (other than minor tufting on some), and feet, up to the ankle joint. Their toenails should match if you plan to show the animal.
National club representing French Angoras: www.nationalangorarabbitbreeders.com/
Good nutrition is key to wool production. Our delicious supplement, Bunny Branola, has all natural ingredients to help your rabbit make luxurious angora.
Bunny Branola
The Ultimate Rabbit Conditioning Supplement




Bunny Branola is the ultimate rabbit conditioning supplement. Our specially formulated treat is all natural ingredients from Washington state. No dyes, preservitives, empty fillers, or other chemicals, just pure goodness.

Bunny Branola is available in 4 delicious flavors year round:

Original Classic (General Health)
Pumpkin Spice (Improved Immunity)
Cranberry Crunch (Better Digestive Health)
Merry Mint (For drying up nursing does).

Order your rabbits' favorite, or get a variety pack! You pick the flavors!

If you want to find out more about Bunny Branola, including the list of all natural ingredients click HERE.

If you are ready to buy now, we have several sizes, just click the one you want. All prices include shipping.

Sample: 2 oz - $7
4 oz - $9
8 oz - $12
16 oz - $18 (most popular)
5 pound - $85


French Angora Rabbit Wool
The wool on French Angoras has a higher percentage of guard hair to underwool than the English Angora. The guard hairs protrude above the underwool, which is heavily crimped. Expected wool length is 3 ½ to 4 ½ inches, though it can grow longer if not harvested.
The extra guard hairs simplify the care and grooming, as the coat is far less prone to matting or felting on the rabbit.  The fiber qualities are excellent for handspinning. It spins easily, and the yarn is fluffy.
French Angoras are fairly low maintenance. Nevertheless, if you're utilizing the fiber, it is best if you do minor grooming regularly in order to ensure no mats, webs or felting.
A maintenance schedule would include using a heavy blower to blow through the coat once or twice a week as long as the rabbit is in prime wool
The rabbits should normally be sheared 2-3 times a year.
Regular grooming keeps the rabbits beautiful, maintaining the good personalities and gentleness of French Angora rabbits.


Angora wool is 7 times warmer than wool from sheep.
It is a natural animal fiber
It is clean, coming directly from the rabbit
It does not require washing, picking, combing or carding
It is luxurious
It is very durable
It is hand-washable
It is non-allergenic, does not irritate the skin
It is easy to dye
It blends extremely well with other fibers.
This list comes from www.joyofhandspinning.com, where you can find extensive information on handspinning angora and many other types of wool.
Check out this great video of spinning directly off of the bunny!
Is This Your Rabbit Breed?
Do you have a great story or experience with this breed of rabbits? Feel free to share it!

And while you're at it, you can include up to four photos.
Here's a quick video on grooming a french angora rabbit, and at the same time obtaining wool for spinning:


References:
http://www.nationalangorarabbitbreeders.com/ 
http://www.planet-pets.com/rabtfrenchangora.htm 
https://www.joyofhandspinning.com/angora-care.shtml 
http://en.wikipedia.org/wiki/Angora_rabbit
Domestic Rabbits and Their Histories, by Bob D. Whitman