Rabbits for Sale in NY
New York State

Rabbits for Sale in NY - New York State:
Find the rabbits you want to raise in your local New York State neighborhood.

Rabbits for Sale in NY - New York State


Sponsored Links
Albany, NY | Joy Burnley
Breeds: Holland Lops.
More detail: Handled daily and loved bunches.
Email:  joyc322 @ yahoo . com
Phone: (518) 300 - 6827

Bayside, NY | Marianna's Rabbits
Breeds: White Netherland Dwarf
Email: marianna.kh7@gmail.com 

Brooklyn, NY | Joseph's Rabbits
Breeds: White Dwarf rabbits
Email: yosiwadler18 @ gmail . com
Phone: (646) 339 - 9041

Bronx, NY | G&L Rabbitry
Breeds: New Zealand & California cross, New Zealand & Flemish Giant cross.
More detail: Rabbits raised with love & care, for meat or pets. ARBA Member.
Email: VinnyRabbits @ gmail . com 
Phone: (917) 363 - 6449
3/8/2021 (7/28/2021 Updated)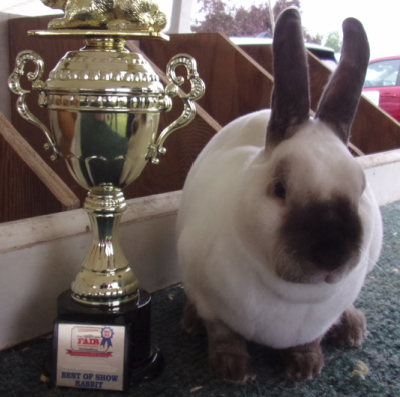 Canandaigua, NY | Just Fur Fun Bunnitry
Breeds: Quality Mini Rex Rabbits focused on SablePoint variety (with occasional Sable or Himalayan colours) & Side-Project New Zealand Whites.
More detail: Our focus is on improving the breed while keeping the characteristic Mini Rex personality! Email is the best communication.
Email:  justfurfunbunnitry @ hotmail. com
Website: https://justfurfunbunnitry.vpweb.com/
Phone: (585) 396 - 5977
12/10/2021

Centereach, NY | Chick-Silver Farm
Breeds: Silver Fox, Black, sold at 8 weeks or later.
Email: ChickSilverFarm @ gmail . com
Website: Chick-Silver Farm

Dickinson Center, NY | Burky-B Free-Range Rabbit Farm
Breeds: Free-Range rabbits for meat and other, mixed breed and purebred for 20+ yrs.
Email: laddybaby11 @ gmail. com
Phone: (518) 529 - 6337 
Address: 87 Heath Hill Rd. Dickinson Center NY, 12930

Dix Hills, NY | Prianti Farms
Breeds: Lops, Lionheads, and Netherland Dwarfs.
Website: https://priantifarmsinc.com/farm-friends 
Email: orig917 @ gmail . com

East Otto, NY | Bunnylove Rabbitry
Breeds: Full Pedigree Holland lops.
More detail: We are a small rabbitry with very well cared for Pedigree Holland lops and have a large variety of colors available all year. Kits are handled from birth and introduced to litter training immediately. We are always available for questions on care after purchasing. Upon holding we keep you updated with pictures and video until of age for pick up.
Email: lilmichael.ar @ gmail . com
Phone: (716) 253 - 4671
Updated 3/22/2021

Fultonville, NY | OTB's Bunnies
Breeds: Argente Brun, Champagne D'Argentes ( both with or without pedigree), mixed breed (mini Rex/Dutch).
More detail: Willing to provide transport for fee.
Email: bweaver120 @ frontier. com
6/7/2021

Gloversville, NY | Stephanie's Rabbits
Breeds: Flemish Giants, Rex, American Chinchillas. 
Email: s.arteaga.2 @ icloud .com
5/14/2021

Harpursville, NY | Kolb Family Farm
Breeds: Flemish, New Zealand, Rex, crosses.
Facebook: https://www.facebook.com/Kolb-Family-Farm
Email: kolbfamilyfarm2020 @ gmail . com
Phone: (607) 693 - 1469
1/6/2022
Queens, NY | Netherland Dwarf Rabbit
Email: orellanarafael @ gmail. com
Phone: (718) 593 - 5225
5/31/2021 

Queensbury, NY | Argyle Angoras
Breeds: English Angora Rabbits. Pedigreed, various colors, champion bloodlines.  
Email: argyle_angoras @ hotmail . com

Rensselaerville, NY | Garden of One
Breeds: American Chinchilla Rabbits. 
More detail: Raised organically.
Email: info @ gardenofone. com
Website: Garden of One

Rochester, NY
Dogwood Blossoms Rabbitry
Point of Contact: Jaidyn
Email: dogwoodblossomsrabbitry @ gmail. com
Instagram: https://www.instagram.com/dogwoodblossomsrabbitry/
Breed/Color/Age/Size: Netherland Dwarf
More Detail: Hand raised Netherland Dwarf rabbits. Used to children and dogs/cats. Check out our Instagram page for updates on available rabbits and our upcoming litters!           
23May2022   
Sanborn, NY | Sandyz Rabbitry
Breeds: Holland and Velveteen Lops. 
More detail: I own a small rabbitry, and I breed Holland Lops according to ARBA standards . I also breed Blue eyed Holland's .
Email: rabbitsunlimited @ yahoo . com

Valatie, NY | Bucky's Bunnies
Breeds: Champion caliber breeder of Netherland Dwarfs - Show stock, pets, several varieties (colors)
Email: Ranger18 @ nycap. rr. com
Website: Bucky's Bunnies

Vestal, NY | JaneMar Farms
Breeds: Various meat rabbit and pet rabbit breeds.
Email: janeytilleman @ gmail. com
Facebook: JaneMar Farms

Warwick, NY | Highland Rabbitry
Breeds: Silver Fox, New Zealand.
More detail: Pure breed Silver Fox.
Email: Nicolo1956 @ yahoo. com
Phone: (862) 312 - 3612
Yonkers, NY | Bello Coniglio Rabbitry
Breeds: Holland Lops
Email: xxyokairisxx @ gmail .com
Phone: (914) 536 - 1465
Website: Bello Coniglio Rabbitry

*******

---
FREE to Rabbitry Owners and Breeders!

Request a listing for your own healthy pet and show rabbits on Raising-Rabbits.com for free!

No Cost, No Unfair Flagging or Ad Removal,
BIG Publicity (thanks to Raising-Rabbit's high traffic rates)

Advertise Your Rabbitry on Your Own Featured Rabbitry Page
Why should people purchase your rabbits?
Tell them why, with a Dedicated Web Page on Raising-Rabbits.com that features your Rabbitry.

Get multiple Links to your Information, for Minimal Cost

CareFRESH Plus Pine Shavings - Available Singly or in Multiples: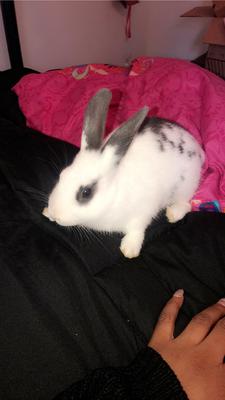 Young spotted rabbit of mixed breeding.
Buyer Beware
Rabbit raisers are a very good bunch, most of the time. We've heard of no problems with any rabbitries we've listed, but just the same, we ask that the buyer beware.
We have not visited the rabbitries listed. Do your research, keep your eyes open, and get yourself healthy rabbits:
Ask if the breeder has had problems with buck teeth. Look in the rabbit's mouth - the top

rabbit teeth

should overlap the bottom teeth.

Ask if any genetic problems lurk in the herd. Buying meat rabbits? Ask about yellow fat. Certain breeds and lines within breeds have have their own various genetic problems - ask.

Listen inside the rabbitry - If you hear *any*

sneezing

or see *any* white snot, you may wish to leave without rabbits. Snotty mats on forearms means a sick rabbit - don't buy. A damp nose (except on very hot days) might (but doesn't always) mean trouble - be cautious.
Turn the rabbit (or bunny) over to ensure the bottom is clean (no

diarrhea

). (Remnants of a  mild bunny diarrhea between 4 - 9 weeks old that has passed is not a problem.)

Buy at your own risk, and let us know of any problems. Thanks!