Rabbits for Sale in CT
Connecticut

Rabbits for Sale in CT - Connecticut:
Find the rabbits you want to raise in your local Connecticut neighborhood.
Rabbits for Sale in CT - Connecticut
Sponsored Links
Dayville, CT | MacMillan Farm
Breeds: Flemish Giant, Mini Lop, Lionhead Lop mix
Website: https://macmillanfarm.weebly.com/ 
Email: MacMillanFarms @ gmail . com
3/9/2021
Ellington, CT | Buff Bunnies
Breeds: Holland Lops  
More information: Bunnies have been held on a daily basis. The bunnies also come with pedigree papers!
Email: Buffbunnies2021 @ gmail. com
5/4/2021

Monroe, CT | Eclipse Rabbitry
Breeds: Netherland Dwarf, New Zealand rabbits
More information: I am a small dedicated breeder of Netherland Dwarf Rabbits. I breed for health, temper and adherence to the standard.
Email:  eclipserabbitry @ gmail . com
Facebook: https://www.facebook.com/EclipseRabbitry
Website: www.eclipserabbitry.com
6/20/2021
Morris, CT | Doc Oc's Rabbitry
Breeds: American Chinchilla
Contact: doc.ocs.rabbitry @ gmail . com

New Haven County, CT | Amanda's Rabbitry
Breeds: Show quality Mini Rex and Netherland Dwarfs
Phone: (203) 317 - 3386
Website: https://amandasminirex.webs.com/
South Windsor, CT | Sand Meadow Havanas
Breeds: Havana.
More detail: We are a small family farm that breeds and raises Havana Rabbits and Shropshire Sheep.  We also raise shorthorn cattle, laying hens, and pigs.
Email:  sandmeadowfarm @ gmail . com
Phone: (860) 944 - 8112
Facebook: facebook.com/sandmeadow
6/3/2021 (Updated)

*******

If you don't find a listing in your area, please go to

Rabbits for Sale

for more suggestions on finding your choice of rabbit locally.

Or, check out our

Rabbit Classifieds

page for temporary rabbit listings.
---
FREE to Rabbitry Owners and Breeders!

Request a listing for your own healthy pet and show rabbits on Raising-Rabbits.com for free!

No Cost, No Unfair Flagging or Ad Removal,
BIG Publicity (thanks to Raising-Rabbit's high traffic rates)

Advertise Your Rabbitry on Your Own Featured Rabbitry Page
Why should people purchase your rabbits?
Tell them why, with a Dedicated Web Page on Raising-Rabbits.com that features your Rabbitry.

Get multiple Links to your Information, for Minimal Cost


Buyer Beware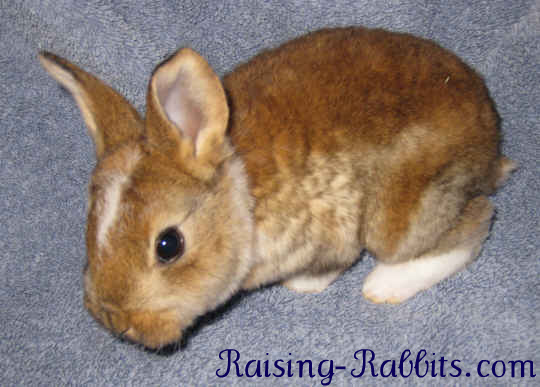 Young pet Rex rabbit will go to a new home in a few weeks.
Rabbit raisers are a very good bunch, most of the time. We've heard of no problems with any rabbitries we've listed, but just the same, we ask that the buyer beware.
We have not visited the rabbitries listed. Do your research, keep your eyes open, and get yourself healthy rabbits:
Listen inside the rabbitry - If you hear *any* sneezing or see *any* white snot, you may wish to leave without rabbits. Snotty mats on forearms means a sick rabbit - don't buy. A damp nose (except on very hot days) might (but doesn't always) mean trouble - be cautious.
Turn the rabbit (or bunny) over to ensure the bottom is clean (no diarrhea). (Remnants of a  mild bunny diarrhea between 4 - 9 weeks old that has passed is not a problem.)

Buy at your own risk, and let us know of any problems. Thanks!