Rabbits for Sale in Canada
Rabbits for Sale in Canada:
Find the rabbits you want to raise in your local neighborhood.

Current Listings of Rabbits for Sale in Canada

Lillooet, British Columbia: Cedar Falls Exotics
Lionheads (from show lines)
Sponsored Links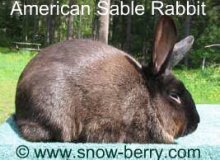 Whistler, British Columbia:
Snowberry Rabbitry
American Sable (pictured), Californian, Holland Lops
Ellerhouse, Nova Scotia: Heaven's Half Acre
Californians, Mini Rex

Lansdowne, Ontario: Sereno Valley Rabbits
Flemish Giants, Lionheads

Windsor, Ontario: The Rabbit Annex 
Silver Fox, Netherland Dwarf, Mini Rex, Lionhead, Fuzzy Lop
Drummondville, Quebec: La Maison des Nains
Netherland Dwarf
*******
If you don't find a listing in your area, please go to Rabbits for Sale for more suggestions on finding your choice of rabbit locally. 
*******
Buyer Beware
Rabbit raisers are a very good bunch, most of the time. We've heard of no problems with any rabbitries we've listed, but just the same, we ask that the buyer beware.
We have not visited the rabbitries listed. Do your research, keep your eyes open, and get yourself healthy rabbits:

Sponsored Links