Rabbits for Sale in Canada

Rabbits for Sale in Canada:
Find the rabbits you want to raise in your local neighborhood.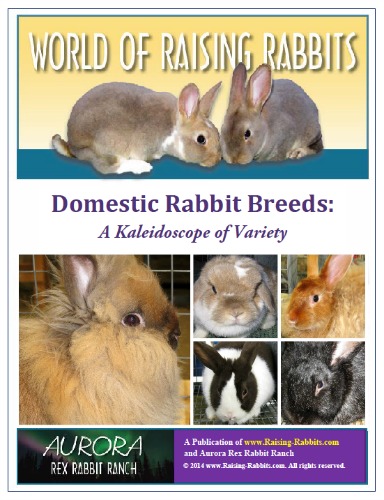 Are you trying to decide which breed is best for you?
Do you see a bunny available, but haven't heard of that kind before?
Are you curious about the different types of rabbits?
Check out our ebook, Domestic Rabbit Breeds. All of our ebooks are ON SALE, 30% off!

Current Listings of Rabbits for Sale in Canada


Featured Rabbitries!
(Just click the caption to find out more!)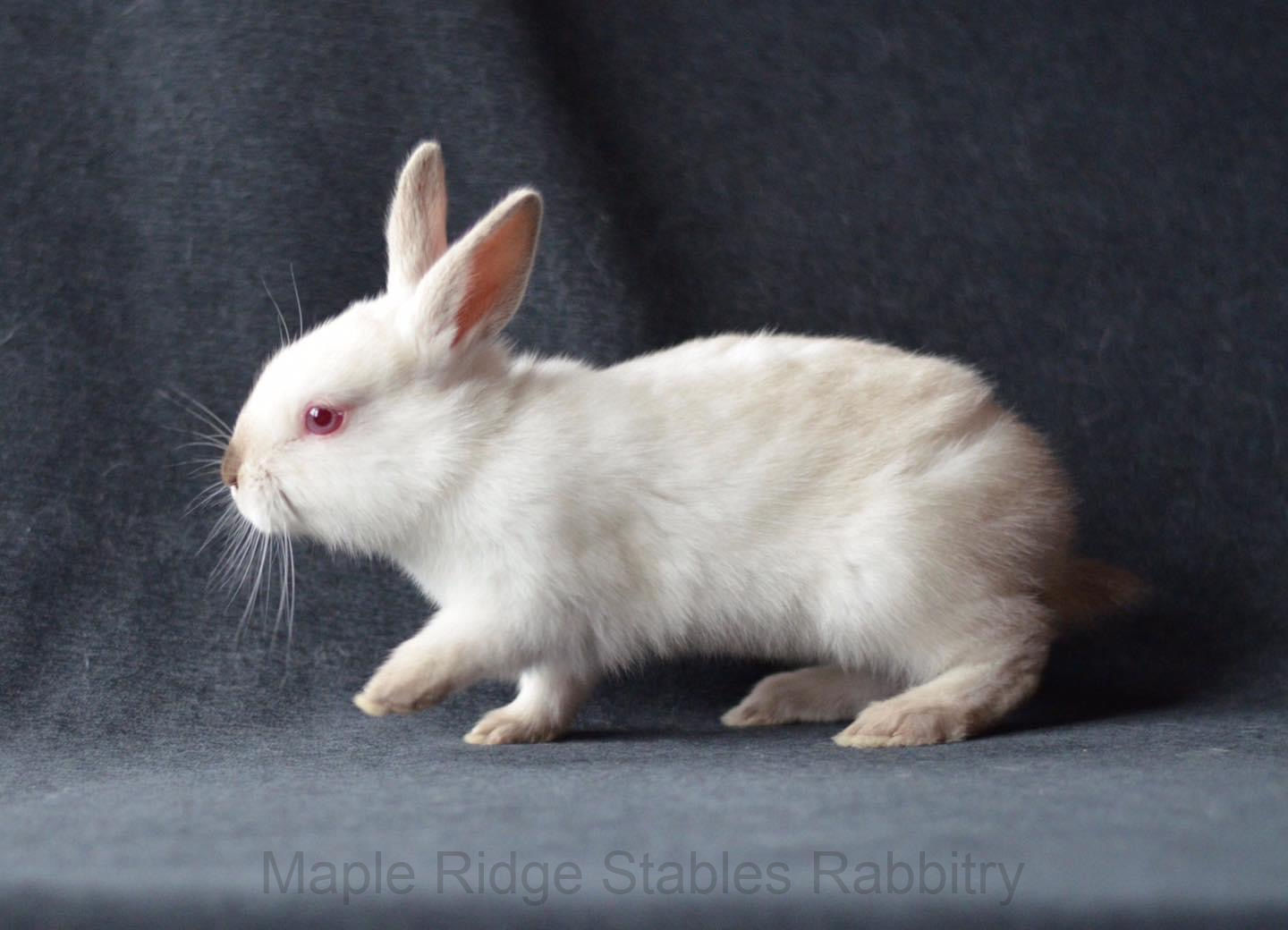 Rigaud, Quebec
Himalayan Rabbits
Also dogs and horses
(Pictured: Adorable chocolate pointed baby)
Rabbits For Sale in British Columbia
Burns Lake, BC
Storybook Rabbitry
Breeds: Mini Plush Lops.
More detail: This is a newer breed which isn't currently accepted by the ARBA but has been accepted by the British Rabbit Council. Ours come from lines from the original stock of Devie D'Anniballe, who worked to develop the breed in the US. They have soft fur similar to a Rex and lopped ears like a Holland Lop. They also have Netherland Dwarf and Mini Lop influences as well.
Phone: (250) 685 - 8019
Email: storybook.miniplushlops @ gmail. com
Website: https://storybookrabbitry.wordpress.com/

Prince George, BC
Winterland Woolies
Breeds: English Angora & Jersey Woolies. 
Phone: (250) 819 - 9681
Email: winterlandwoolies @ gmail. com
Website: https://winterlandacres.wixsite.com/winterlandwoolies
20Sep2022
---
---

Rabbits For Sale in Manitoba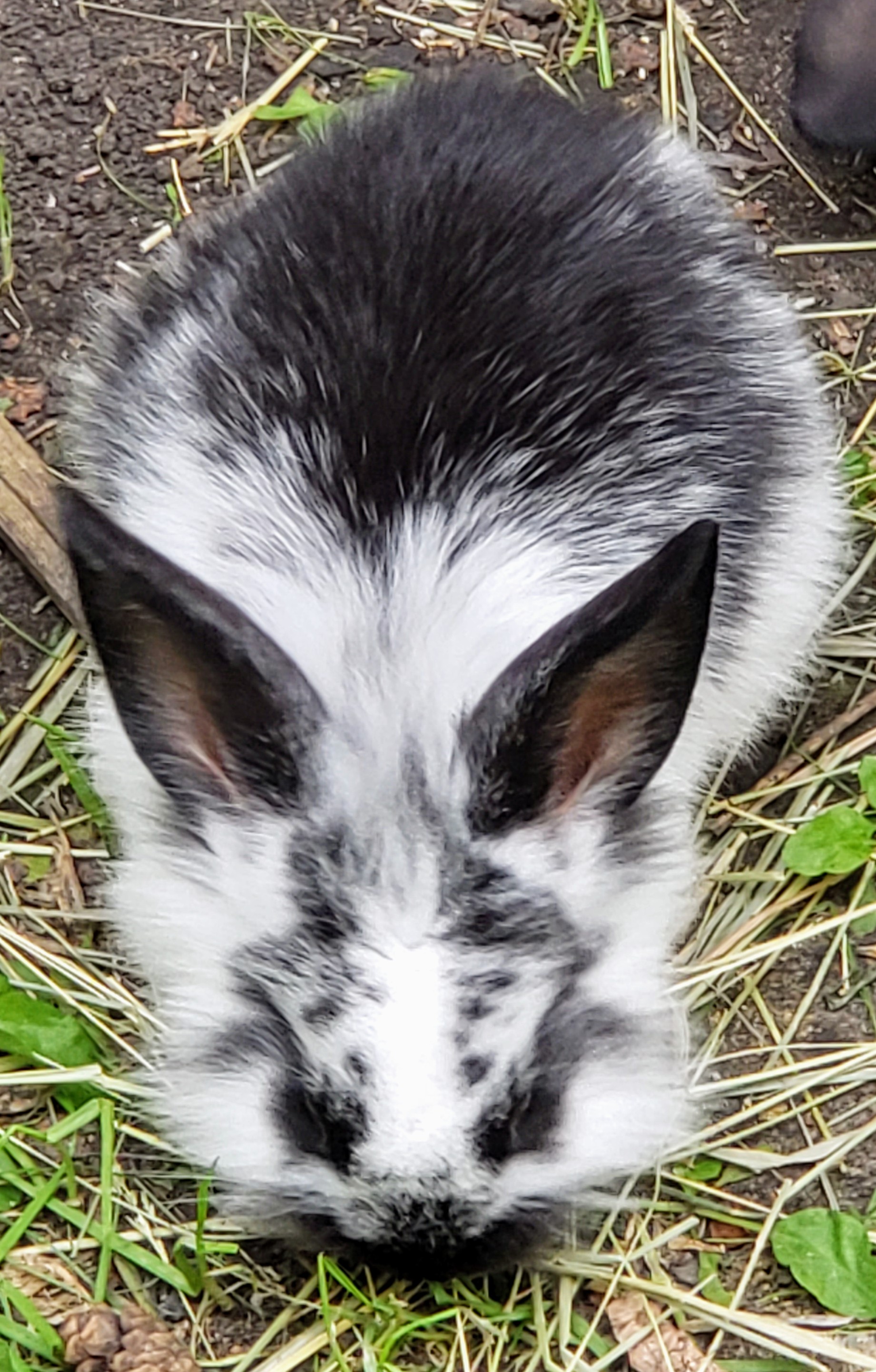 Manitoba Pika Pit
Brandon, Manitoba 
Manitoba Pika Pit
Breeds: New Zealand, New Zealand cross, Lionhead Lop cross, Flemish Giant, Flemish Giant cross. 
Email: manitobapikapit @ gmail . com
Phone: (204) 922 - 1994
(Pictured: Lionhead mix.)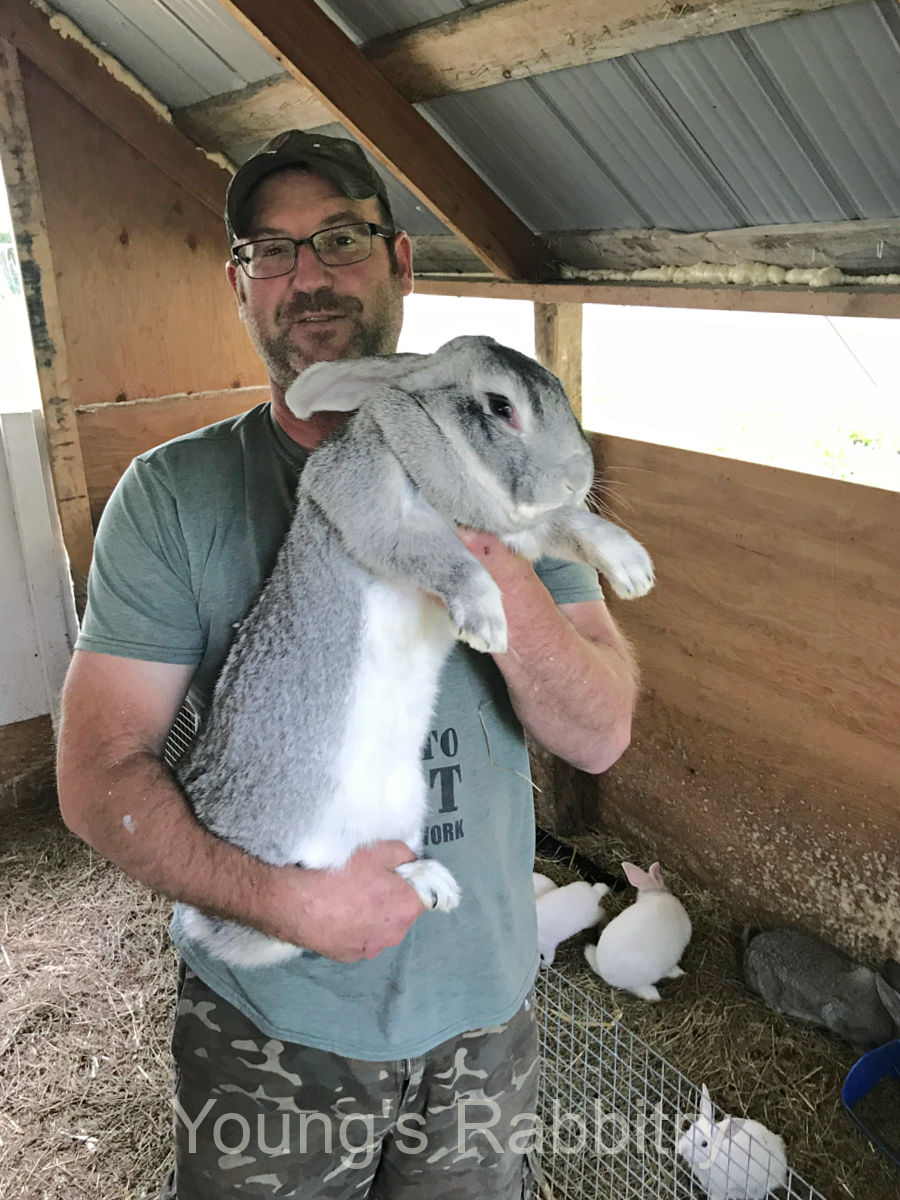 La Salle, Manitoba 
Young's Rabbitry
Breeds: Flemish Giant. 
More detail: We have been raising Flemish now for 4 years, we love doing it and are producing very nice Flemish, they are getting bigger every year.
Email: young.jy6510 @ gmail . com 
Phone: (204) 599 - 7794
3/22/2021

Winnipeg, Manitoba 
Big Hoppy Family
Breeds:  LionHead, Holland Lop cross.
Instagram: https://www.instagram.com/bighoppyfamily/
Email: bighoppyfamily.persiaspets @ gmail . com 
Phone: (204) 396 - 6446
Winnipeg Beach, MB
Creature Comforts Cottage
Point of Contact: Dianne
Phone: (204) 642 - 1261
Email: fdfitz @ creaturecomfortscottage. com
Website: http://creaturecomfortscottage.com
Breed/Color/Age/Size: Satin Angora, French Angora.
More Detail: New litter of Satin angoras ready to go in early Sept 2022. Copper & Chocolate Agoutis, Choc, lynx, cream and lilac.
12Aug2022         

Rabbits For Sale in Nova Scotia
Ellershouse, Nova Scotia
Heaven's Half Acre
Breeds: Californians, Mini Rex
Website: https://www.ibegin.com/directory/ca/nova-scotia/ellershouse/heaven039s-half-acre-rabbitry-7-melody-lane/
Phone: (902) 802 - 6913



Scotsburn, Nova Scotia
The Rabbit Hole
Point of Contact: Francis
Phone: (782) 440 - 2257
Email: ssa6 @ hotmail. com
Breed/Color/Age/Size: French Angora, American Chinchilla       
28March2023      
For Sale in Ontario

Adorable Holland Lops from Bunnykinns Rabbitry in Langton, Ontario.

Langton, Ontario 
Bunnykinns Rabbitry
Point of Contact: Fern
Email: bunnykinns1 @ gmail.com
Phone: (519) 875 - 1482
Breed/Color/Age/Size: Holland lops.
More Detail: I'm a hobby breeder of Holland Lop bunnies. ARBA registered Rabbitry in South Western Ontario. My bunnies are well socialized, handled and played with multiple times through out the day making them excellent pets. I try my very best with the knowledge I have learned to produce healthy happy bunnies. 
9/21/2021 (Updated 6May2022)      
Matachewan, Ontario
Sun's Bee's Rabbitry
Point of Contact: Shannon
Email: sunsbees.gardens @ gmail. com
Breed/Color/Age/Size: Holland Lop, Harlequin Mini Rex, Mixed.
More Detail: These rabbits are handled daily. They are very friendly and loving. Our most recent litter is from our adult doe Holland Lop who had a litter of 9 kits.
2Sep2022        
Mississauga, Ontario, Canada
Megs Fancy Bunnies
Point of Contact: Meg
Email: megsbunnies @ outlook. com            
Facebook: Megs Fancy Bunnies
Breed/Color/Age/Size: Netherland Dwarf, Fuzzy Lop, Holland Lop, Doublemane Lionhead
More Detail: We are a small rabbitry located in the Mississauga/Toronto/Brampton area for your convenience, just off highway 427 and Finch. As a member of the ARBA, DRCBA, & CRBA, our rabbits are amazing quality (pet and show), and are well socialized with both large and small dogs, cavies, cats, and especially the VACUUM CLEANER & children. Much PRIDE is taken in our CLEAN and HEALTHY environment that these bunnies come from for you! To reserve a bunny, a non refundable deposit of half the total price is required. Once a bunny has been purchased a refund won't be honoured, although in some circumstances we may take the bunny back and possibly re home.             
4May2023 
Selkirk, Ontario
Ontario Rabbits
Breeds:  New Zealand Flemish giant crosses.
More detail: We aim produce quality rabbits designed for great meat production, that are also loving and social to make them amazing family pets.
Email: southernontariorabbits @ hotmail. com
Website:  https://www.ontariorabbits.com/
Rabbits For Sale in Quebec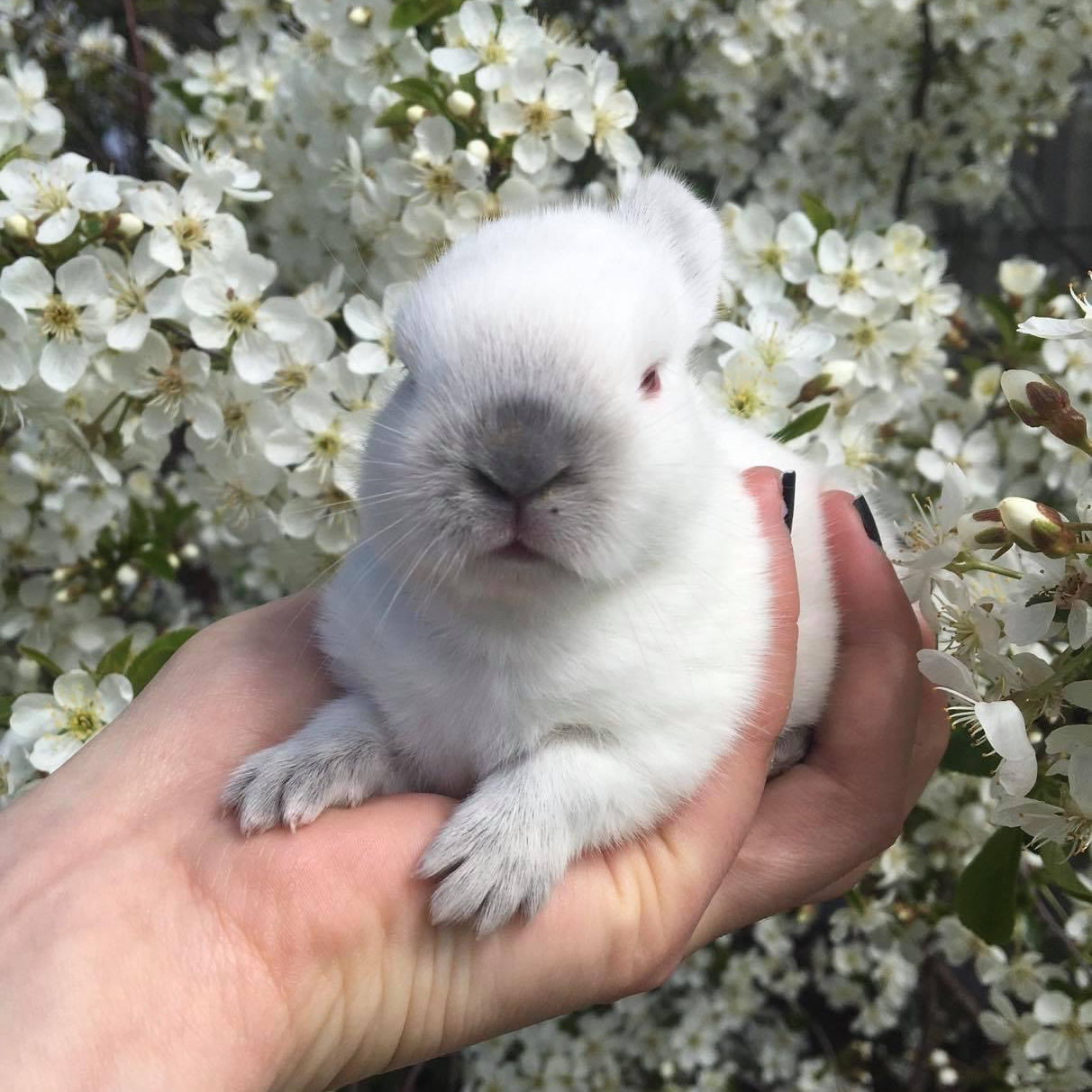 Blue pointed Himalayan kit from Maple Ridge Rabbitry. So cute!
Featured Rabbitry! 
Maple Ridge Stables Rabbitry
Rigaud, Quebec
Maple Ridge Stables Rabbitry
Breeds: Himalayan (The Pandas of the Rabbit World)
More detail: Himalayans have great laid back personalities so they are a good rabbit for kids. They have white bodies with colored "points", ie ears, nose, paws, and tail. The points are in 1 of 4 beautiful colors: black, chocolate, blue, or lilac.
Check out their Featured Rabbitry page for lots of detail and great pictures! 
Email: marieb1 @ sympatico. ca
Facebook: https://www.facebook.com/MapleRidgeStablesinc
Phone: (418) 222 - 1990
6/13/2021

Rabbits For Sale in Saskatchewan

Lucky Lake, Saskatchewan
Three K Angoras
Breeds:  Satin Angora Rabbits.
More detail: I have been raising rabbits for more than a decade and enjoy sharing cuniculture with other enthusiasts.
Email: Eddiep343 @ gmail . com
Phone:  (306) 216 - 5997
Moosomin, Saskatchewan 
Owen's Rabbitry
Breeds: Pure Lionheads, Satin Angoras, more.
Email: macecuador2000 @ yahoo . es
Phone: (306) 434 - 5937 (call/text)
2/24/2021

Carrot River, Saskatchewan
SSJQ Rabbitry
Breeds: Flemish Giant,  New Zealand.
Email: ssjq123 @ yahoo. com
Website: https://ssjqrabbitry.com/
Phone:  (403) 393 - 1798
10/25/2021
*******
If you don't find a Rabbits for Sale in Canada listing in your area, please go to

Rabbits for Sale

for more suggestions on finding your choice of rabbit locally.

Or, check out our

Rabbit Classifieds

page for temporary rabbit listings.
---
FREE to Rabbitry Owners and Breeders!

Request a listing for your own healthy pet and show rabbits on Raising-Rabbits.com for free!

No Cost, No Unfair Flagging or Ad Removal,
BIG Publicity (thanks to Raising-Rabbit's high traffic rates)

Advertise Your Rabbitry on Your Own Featured Rabbitry Page
Why should people purchase your rabbits?
Tell them why, with a Dedicated Web Page on Raising-Rabbits.com that features your Rabbitry.

Get multiple Links to your Information, for Minimal Cost

Buyer Beware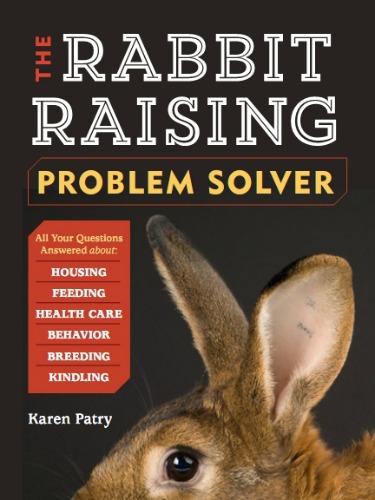 Rabbit raisers are a very good bunch, most of the time. We've heard of no problems with any rabbitries we've listed, but just the same, we ask that the buyer beware.
We have not visited the rabbitries listed. Do your research, keep your eyes open, and get yourself healthy rabbits:
(Pictured: Our book, the Rabbit Raising Problem Solver is a great paperback with questions and answers for everything you need to know about bunny's health.)
(Pictured: Keep Your Rabbits Healthy, our ebook on keeping bunny happy and healthy.



Ask if the breeder has had problems with buck teeth. Look in the rabbit's mouth - the top rabbit teeth should overlap the bottom teeth.

Ask if any genetic problems lurk in the herd. Buying meat rabbits? Ask about yellow fat. Certain breeds and lines within breeds have have their own various genetic problems - ask.

Listen inside the rabbitry - If you hear *any* sneezing or see *any* white snot, you may wish to leave without rabbits. Snotty mats on forearms means a sick rabbit - don't buy. A damp nose (except on very hot days) might (but doesn't always) mean trouble - be cautious.
Turn the rabbit (or bunny) over to ensure the bottom is clean (no diarrhea). (Remnants of a  mild bunny diarrhea between 4 - 9 weeks old that has passed is not a problem.)

Buy at your own risk, and let us know of any problems. Thanks!