Rabbits for Sale in Florida

Rabbits for Sale in Florida:
Find the rabbits you want to raise in your local FL neighborhood.


Rabbits for Sale in Florida and
Florida Rabbit Breeders: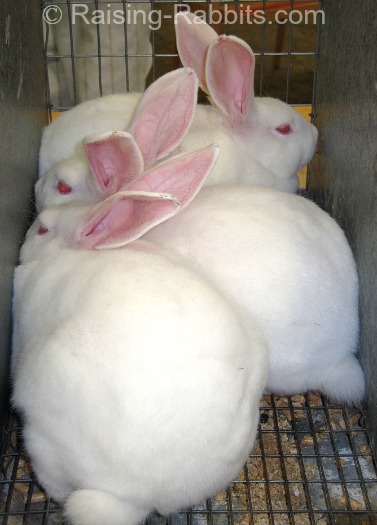 Young New Zealand White Rabbits
---
Anthony, FL | Sal's Rabbit Hut
Breeds: Purebred Californian and Purebred Mini Rex 
Email:  lipirasr @ embarqmail. com
Phone: (362) 425 - 5449 or (352) 425 - 0684
5/28/2021 

Cantonment, FL | Cottin Pickin Rabbits
Breeds: Champagne d'Argents, Silver Foxes, Rhinelanders, Flemish, New Zealands, Cals, Altex, Cane Cutters, Rex and Mini Rex
Email: cottinpickinrabbit @ bellsouth . net
Cape Coral, FL | Porkie's Rabbitry
Breeds: Tan Rabbits, Polish Rabbits.
Contact: porkiesrabbitry @ gmail . com 
Phone: (239) 284 - 6271
10/15/2021 (Updated)
Land o' Lakes, FL | Green Tooth Farms
Breeds: Mini Rex, Rex.
Email: rfarm @ hushmail . com
Website: https://greentoothfarm.wixsite.com/rabbitry
7/7/2021 (Updated)
Myakka City, FL | Heather's Rabbits
Breeds: New Zealand White Rabbits.
Contact: hhenderson13 @ yahoo . com
Phone: (941) 270 - 0733
1/2/2021

Parkland, FL | Hoppity Loppity Rabbitry
Breeds: Holland Lops.
More detail: Small home rabbitry in south Florida raising show quality purebred and pedigreed Holland Lops. We strive to achieve Standard of Perfection. Our animals' pedigrees include multiple grand champions. Contact us regarding show quality and pet quality rabbits.
Email: Lourdes_21 @ yahoo. com 
Phone: (561) 704 - 0733
1/31/2021

South Daytona, FL | Jennifer's Rabbits
Breeds: Dwarf mixes.
Email: jasontsnyder @ iCloud . com
Phone: (386) 872 - 7366
Springhill, FL | Mandy's Monster Farm Flemish Giants
Breeds: Flemish Giants, Continental Giants, Holland Lops
Email: monsterfarm360 @ gmail . com
Williston, FL | Furever Hollands
Breeds: Holland Lops
Email: wowsunshine24 @ gmail . com 
Facebook: https://www.facebook.com/FureverHollands
1/27/2021
*******

If you don't find a listing in your area, please go to 

Rabbits for Sale

 for more suggestions on finding your choice of rabbit locally. 

Or, check out our 

Rabbit Classifieds

 page for temporary rabbit listings.
---
FREE to Rabbitry Owners and Breeders!

Request a listing for your own healthy pet and show rabbits on Raising-Rabbits.com for free!

No Cost, No Unfair Flagging or Ad Removal,
BIG Publicity (thanks to Raising-Rabbit's high traffic rates)

Advertise Your Rabbitry on Your Own Featured Rabbitry Page
Why should people purchase your rabbits?
Tell them why, with a Dedicated Web Page on Raising-Rabbits.com that features your Rabbitry.

Get multiple Links to your Information, for Minimal Cost

This Bunny Food is Currently the Best I Have Found:

Buyer Beware
Rabbit raisers are a very good bunch, most of the time. We've heard of no problems with any rabbitries we've listed, but just the same, we ask that the buyer beware.
We have not visited the rabbitries listed. Do your research, keep your eyes open, and get yourself healthy rabbits: