Rabbit Rhythms November 2021
Champagne d'Argent, a versatile rabbit breed!
Rabbit Rhythms November 2021: 
(click the links in green italics to jump straight to that article)
Just in time for the holidays, Raising-Rabbits now has the BUNNY BAZAAR! The Bunny Bazaar Online Shopping Mall is your one-stop shop for rabbit swag for your buns and humans!
Check out November's Breed of the Month - the versatile Champagne d'Argent Rabbit, an ancient French breed valued for its unique "old silver" pelts. These beautiful bunnies are available at What The Fluffle rabbitry in Dobson, NC.

Tip of the Month: Calling all rabbit breeders in Louisiana, New Mexico, and South Dakota!! If you live in one of these states (or anywhere, actually), you can put yourself on the rabbit raising map and in the view of people interested in purchasing the rabbits you are raising! 
Thanksgiving this year falls on November 25, so we chose a topic for which we can give thanks. Our feature article is titled, "Giving Thanks for Luscious Lapin." With the rise of the homesteading movement comes a return of rabbit meat to the North American dinner table. In case this topic is not your favorite, we've put it at the bottom of this page. 
---
---
Last Call for the Fall/Halloween Bunny Photo Contest!
This November 2021 Rabbit Rhythms Newsletter includes the entry form to our Fall/Halloween Photo Contest! The deadline for submitting your entry is NOVEMBER 15.
Do you enjoy photographing and dressing up your buns in costumes?? Well, we'd love to see your creativity! Send us your photos and you may win some very cool prizes. No application fee! Details about rules and prizes are found on our Bunny Photo Contest page.

To enter our Fall Photo Contest, Click HERE! Thank you! We hope you will have fun participating in our Fall/Halloween Photo Contest!

NEW!


Bunny Bazaar Online Shopping Mall!

Raising-Rabbits is excited to offer to our rabbit-owning friends an online shopping mall featuring anything and everything rabbit-related! We have our own fine products and great items from our affiliated rabbitries (all made in the USA), plus lots of great options from other online stores. 

Do you have someone who is impossible to buy for? Good news - their bunny is easy to shop for! Load up on toys and treats. Does your child want a rabbit but you're not sure yet? Do you already have a rabbit and want to take it to the next level? We have supplies, equipment, and learning materials for rabbit rescuers and ranchers. 

Got bunny on the brain?? Go check out the Raising-Rabbits Bunny Bazaar Online Shopping Mall!
So much cool stuff in the Bunny Bazaar Online Shopping Mall!
---
Breed of the Month: Champagne d'Argent Rabbits
The November 2021 Breed of the Month is the Champagne d'Argent (CDA), or Argente Champagne as it is known in the UK. If you are interested in this unique rabbit, check out What the Fluffle Rabbitry in Dobson, North Carolina. 
Champagne d'Argents are international superstars because they are so versatile. They can be a great rabbit for show, meat, fur, and as a pet. 

Champagne d'Argent on the show table in Washington State. You can see a "molt line" on the shoulders where the fur appears to be a bit darker.
Their standings in shows depend on local standards and emphasis of use.
In the UK, the fur is the main focus, so the standard of perfection is about 8 pounds with super thick fur that stands up so you can see the different hair colors.
In American shows, the emphasis is centered on the meat of the rabbit, so the standard of perfection calls for a 12-pound rabbit with a well-muscled, almost stocky body, but very lean condition, so no chunky bunnies.
---
A close look into the fur of the Champagne d'Argent rabbit breed.
Bunnies are born completely black, but at about 3 weeks their fur will start silvering. (Argente Bruns are born brown and Argente Cremes are born orange.) This becomes fairly obvious at around 7-8 weeks. It's not that the fur loses color so much as that some guard hairs of the incoming new fur are tipped with white. Other guard hairs remain dark, and the undercoat remains slate blue or grey. The overall effect is that of "old silver." 
Their fur continues to lighten as they get older, so senior rabbits will be noticeably lighter than juveniles or young adults. The coat will reach its full beauty at about 9 months old, and continue lightening with each new molt.
To help your rabbit reach its ultimate beauty, our Bunny Branola is loaded with natural ingredients to promote gorgeous color and fur texture. It is the ultimate coat conditioner, so start treating your rabbit a month before show. Your hands will fall in love as you groom your resplendent rabbits.

---
There is a huge amount of variance of shade with Champagne d'Argents, so you if you plan to have them compete in rabbit shows, you need to manage their schedules. They don't have to strut their stuff in bikinis and high heels, but there is a lot of pressure regarding coloring in different regions. Some prefer light coats where others favor a darker fur. Nothing is harder on the self-esteem of a diva doe than winning first prize at a show, then a week later not even being runner up for Miss Congeniality.

They do tend to have very mellow and docile temperaments, which can seem aloof and lazy at times. They are less prone to aggression than many other breeds, but you do need to make sure they get regular exercise instead of constantly indulging in the fashionable angst of film noir. Their laid back attitudes can make them great pets, especially if you also like spending afternoons watching crime dramas on the couch.
Champagne d'Argent Resources
---
Do you breed and raise rabbits in
Louisiana, New Mexico, or South Dakota?
Raising-Rabbits provides free advertising for rabbitries both in the United States and internationally. This is quite a big deal, since our website gets over 10,000 page views every single day.  People everywhere come to Raising-Rabbits to find bunnies.
This is a notice to rabbitry owners; there are NO rabbitries listed for Louisiana, New Mexico, or South Dakota. If you are raising rabbits in either Louisiana, New Mexico, or South Dakota, and you'd like to advertise your rabbits for sale, your listing will get LOTS of publicity! If you breed rabbits in one of these states, you can have great publicity for your rabbitry. When someone clicks on your state, they will see YOU!
This is a FREE service, which includes a picture, all your contact and social media information (such as Facebook pages and Youtube Channels), and the opportunity to introduce yourself to new customers.
Is your rabbitry already doing well and you want to take it to the next level? Upgrade to one of our premium services! You get the free listing on the page for your state and a whole page devoted to your rabbitry with lots of pictures! 
Click here for more info or to submit a free listing.
---
Giving Thanks for Luscious Lapin!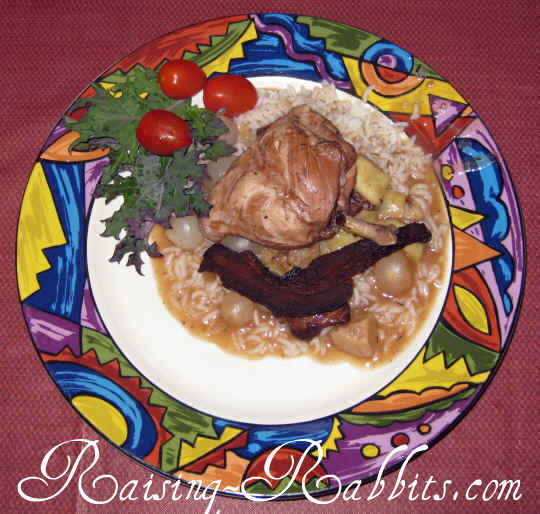 Lapin au Vin served over rice.
They say there is no new thing under the sun, which is certainly true regarding food trends. With a lot of time spent at home in the last year, many families dusted off heirloom cookbooks to try out traditional recipes.
With homesteading gaining in popularity, some families are even considering the idea of raising  their own small livestock so they will have access to organic, free range meats such as mutton, poultry, and lapin. 
Mutton is meat from goats and sheep. People with lactose issues will often switch from cow's milk to goat milk because it is easier to digest. 
Poultry refers to meat from any bird, from the diminutive bantam chicken to the giant ostrich, and can include duck and goose. The eggs of these livestock and game birds are also edible, and some are delicacies. 
Lapin is the meat from hares and rabbits. It is an extraordinarily lean meat, having almost no fat whatsoever, especially in younger animals.


While eating lapin is uncommon for modern Americans, that wasn't always the case.
Immigrants from Europe brought over European rabbits and hares as a quick growing meat source in the wilderness of the New World. Native Americans also hunted the indigenous cottontail rabbits. In fact, European exploration and colony ships often brought breeding rabbits to unknown lands so that there would be a guaranteed food source on any frontier.
Many pioneer families kept rabbit herds to provide sustenance, with the pelts being used to make winter wear that could stand up to long harsh American winters.  
Lapin is Returning to the American Dinner Table Once Again
In the twentieth century and the advent of factory farms, large urban populations, and federal subsidies, lapin faded out of the common cuisine.
However, with growing awareness of questionable practices by factory farms and desire for independent and healthy off-grid living, rabbit meat is making a comeback in the twenty-first century. Those of us who are raising rabbits are thankful to own rabbitries and homesteads that can provide meals for our families from time to time, or when needed.

Some may object to rabbits being used as livestock, because, well, they are cute. However, for those wishing to improve their health, lapin is a very good option.
Pictured: Lapin au Vin is a favorite recipe!

Rabbit ranches keep rabbits in much more healthy environments than factory farms with cows, pigs, and chickens. 
Also, rabbits aren't dosed with antibiotics or bizarre hormones to artificially age the animals to prepare them for processing. 
Also, pigs and chickens on factory farms are often fed waste products from pork and poultry, meaning that these animals are being fed a cannibal diet. 
Rabbits are herbivores, so they get fed plants, NOT other rabbits. 
Connoisseurs will tell you that lapin, while much leaner than poultry, is quite suitable for the same recipes that you would commonly use for chicken, such as Lapin Pot Pie, Lapin Parmigiana, Hawaiian Lapin, and even Lapin Noodle Soup when not feeling well. To compensate for the extreme leanness of the meat, one can easily add butter, ghee, or bacon to the recipe, whichever is most suitable.
A recipe that doesn't work so well is lapin gravy, again due to the extremely low fat content. But you can always use chicken stock to make a good gravy for your Thanksgiving Lapin Feast.
When thinking of meat options, consider lapin and other game meats from mini farms. You will have better health and know that the livestock on your table was ethically and humanely sourced.
Below: Enjoy this excellent video about cutting up your lapin...!
Like this Rabbit Rhythms November 2021 Newsletter?
Maybe your friends would too...
Your friends at Raising-Rabbits.com wish you a wonderful Thanksgiving in November, 2021. 
Enjoy your rabbits!
Bunny Branola - Ultimate Rabbit Nutritional Supplement, and Treat!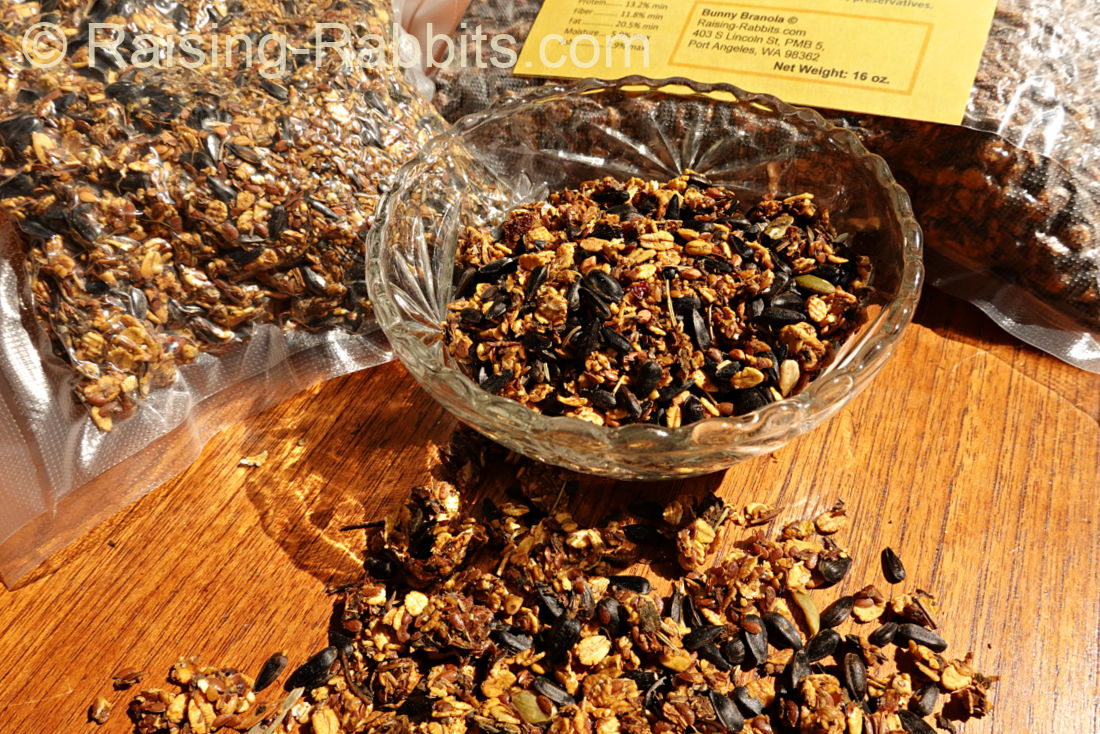 Bunny Branola.
What bunny doesn't love Bunny Bran??!
1 Tablespoon per day of our tasty and nutritious snack mix
sprinkled on their regular food is all your bunny needs to be happier and healthier.
Bunny Branola makes fur softer and shinier, teeth and tummies healthier, and helps relieve stress due to things like barking dogs, new situations, or ultra cold winters. 
Bunny Branola is a wonderful rabbit superfood supplement for pregnant bunnies and growing bunnies. 
Bunny Branola now available in three flavors - Original, Pumpkin Spice, and Merry Mint!
Bunny Branola can be ordered in Multi-Variety Packs!
Chew Stix by Raising-Rabbits


Just the sticks your bunnies need for chewing and gnawing!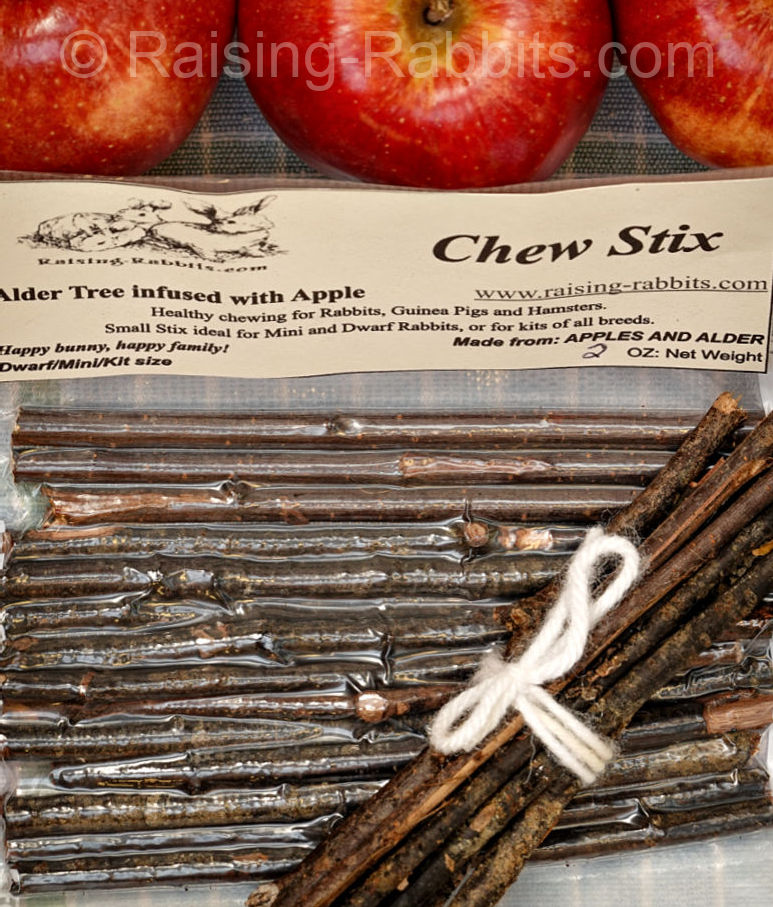 Fruit-infused Raising Rabbits Chew Stix are nature's blessings from the beautiful Washington State forests and orchards.
Fresh alder branches are harvested from trees grown without chemicals, pesticides, or smog. Those branches are then hand cut down to bunny size portions, and infused with apple from Washington's famous apple farms.

Alder is perfect for rabbit dental hygiene! The apple taste and smell will attract your bun, and they can chew to their heart's content, saving your phone cords and your sanity.