Bunny Photo Contest Entry Form and Rules
Bunny Photo Contests on Raising-Rabbits.com: Contest Rules and promised prizes for our seasonal rabbit-themed photo contests!
Is your rabbit photogenic? Festive? A Facebook selfie fanatic?
We want to see!!!
Which is why Raising-Rabbits enjoys seeing the photos submitted in our bunny photo contests! We think you'll love to see all the winning photos as well!
---
---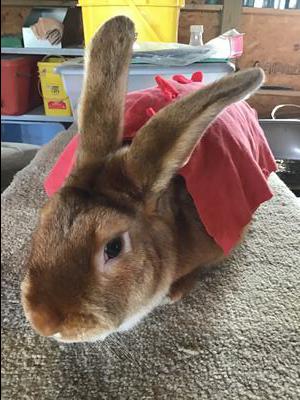 Roy the Red Satin Rabbit, dressed up as Mushu the Dragon. Roy is a past winner of a Raising-Rabbits Bunny Photo Contest!
Current Bunny Photo Contest!
The Fall 2021 Bunny Photo Contest runs from October 1, 2021, until November 15, 2021. This contest is announced in the October 2021 Rabbit Rhythms Newsletter. Winners will be picked thereafter, and announced in the December 1, 2021, Rabbit Rhythms Newsletter.


Bunny Photo Contest Rules
There is no application fee; just send in your pictures of your adorable rabbits.  We would love to see your rabbits in a Fall or Halloween theme, or "dressed" for the occasion, but it's certainly not mandatory.
Winning bunnies will be featured on our website as well as in future Rabbit-Rhythms newsletters.


Bunny Photo Contest Prizes!
Great prizes for THREE winners: Bunny Branola® Rabbit Supplement, OR Rabbit Chew Sticks!
1st place winner will receive 1 pound, a 2 month supply, of Bunny Branola®, OR 8 ounces Chew Sticks! 
2nd place winner will receive 8 oz, a one month supply, of Bunny Branola®, OR 4 ounces Chew Sticks! 
3rd place winner will get a 4 oz, two week trial size, of Bunny Branola®, OR 2 ounces Chew Sticks! 


Bunny Photo Contest Rules: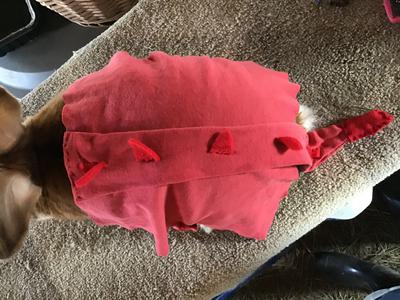 Roy the Red Satin Rabbit, dressed up as Mushu the Dragon!
Your original photos only. No stock photos.


All submissions must be received by October 31st, 2021.


Winners will be notified by November 15, 2021.


Labeling of photo, bunny name, breed, age, state/country, preferred. Feel free to give the photo a cute or clever caption as well. 


All photos should be appropriate for viewing and reading by children. No depictions of any kind of harm, or inappropriate depictions or situations of rabbits. 


All submitted pictures become the property of Raising-Rabbits and may be used for promotional purposes. Pictures will not be sold or given to 3rd parties.


Pictures that do not win prizes may be re-submitted in future photo contests. (Hint: Tell bunny to start sewing a new holiday outfit.)


Pictures may be submitted via the entry form below, or mailed in.
Entries can also be submitted to our Facebook page: https://www.facebook.com/RaisingRabbits.
Mail-in entries must also be received by November 15, 2021. Submissions can be mailed to: 4th of July Photo Contest, c/o Raising-Rabbits.com, 403 S Lincoln St, PMB 5, Port Angeles, WA 98362.

Thank you in advance for participating in our delightful Bunny Photo Contest!

Photo Contest Entry Form!


Enter our latest photo contest here!

This is the submission form... Please tell us more about your rabbit and show us your photos of your rabbit in costume or in a themed setting.

Rules for the contest are above and/or on the Bunny Photo Contest page.

We'll need some info from you - your name and email, your city and state, the breed of rabbit, and your story about your photo(s).

We look forward to seeing all the cuteness!
More Contest Submissions...
Click below to see additional posts that other visitors have made to this page...

Fluffy Fall Fun

Franny My rabbit is a senior ruby eye white Jersey Wooly doe named Zipper!
Rabbits in the Wild Not rated yet
My rabbits outside the white and grey one (named "Lavender") is a natural! ** ** Thank you! Soo cute!! We have entered your photos into our Easter …
Double-Value Guarantee
Our policy is to always OVER-deliver on value,
which is why your purchase is fully covered by our
Double-Value Guarantee.
Go ahead - take any of our e-books for a test drive. Peruse our detailed informational and educational e-books. Examine our plans for building rabbit cages, runs, or metal or PVC hutch frames. Check out the Rabbit Husbandry info e-books.
If you aren't completely satisfied that your e-book purchase is worth at least double, triple or even quadruple the price you paid, just drop us a note within 45 days, and we'll refund you the entire cost. That's our Double-Value Guarantee.
Note: When you purchase your e-books, they will be in PDF format, so you can download them to any device that supports PDF format. We advise making a back-up copy to a drive or cloud account. If the books are lost, you can also purchase another copy from Raising-Rabbits.