Rabbit Rhythms October 2021
Admit it - this is one deadly-cute bunny!!
Rabbit Rhythms October 2021: In honor of October Breast Cancer Awareness Month, this newsletter features a threat to your female rabbits: RABBIT MASTITIS. Learn what it is, how to treat, and how to save the babies.
New Photo Contest! Entry form is on this page!
October's Breed of the Month is the Holland Lop Rabbit, that deadly-cute favorite little lop-eared rabbit breed in all of rabbitdom!

Tip of the Month - calling all rabbit breeders in VA, WY, and VT!! If you live in one of these states (or anywhere, actually!), you can put yourself on the rabbit raising map and in the view of people interested in purchasing the rabbits you are raising. 
Notices: 
Raising-Rabbits now has a presence on Etsy!
Find links to our popular Bunny Bran rabbit supplements and Chew Stix at the bottom of this page.

Thank you for subscribing to our Rabbit Rhythms newsletter!
---
Raising-Rabbits is now on Etsy!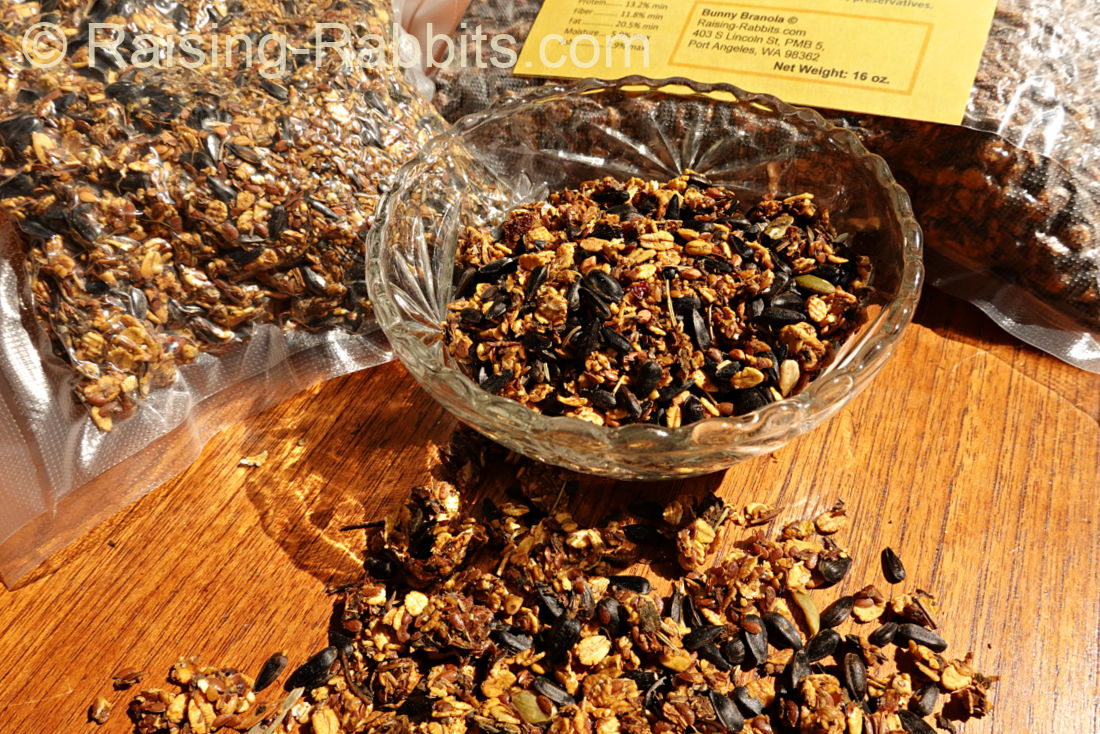 We have set up our store with various different bunny treats and we'll be adding more regularly!
So while you're cruising for nautical themed disco balls or post modern distressed dystopian fashion wear, swing by our shop and see the latest in Bunny Swag! 
And in case you wondered, Bunny Bran also works wonders for hamsters and guinea pigs!
---
Fall/Halloween Bunny Photo Contest!
This October 2021 Rabbit Rhythms Newsletter the entry form to our new Fall/Halloween Photo Contest!
Do you enjoy creating and dressing up your buns in costumes?? Well, we'd love to see your creativity! Send us your photos and you may win some very cool prizes. Details about rules and prizes are found on our Bunny Photo Contest page!

There is no application fee; just send in your pictures of your adorable rabbits.  We would love to see your rabbits in a Fall or Halloween theme, but it's certainly not mandatory. Winning bunnies will be featured on our website as well as in future Rabbit-Rhythms newsletters.
Please enter our Fall Photo Contest using the entry form below. :-)) (An additional entry form is found on the Bunny Photo Contest page. On that page please let us know you're entering the Fall/Halloween 2021 Photo Contest.)
Thank you! We hope you will have fun participating in our Fall/Halloween Photo Contest!
Photo Contest Entry Form!


Enter our latest photo contest here!

This is the submission form... Please tell us more about your rabbit and show us your photos of your rabbit in costume or in a themed setting.

Rules for the contest are above and/or on the Bunny Photo Contest page.

We'll need some info from you - your name and email, your city and state, the breed of rabbit, and your story about your photo(s).

We look forward to seeing all the cuteness!
Rabbit Mastitis in Nursing Does

Cute Lionhead rabbit with pink bow around ears. Image: CC0
October is Breast Cancer Awareness Month, so Rabbit Rhythms is focusing on an important female rabbit health issue: Rabbit Mastitis. 
Mastitis is an infection of one or more mammary (milk) glands that can affect nursing does. It is frequently caused by Staphylococcus aureus, or possibly Pasteurella multocida, the same germ responsible for causing Snuffles.
It can be a very serious issue. Rabbit mastitis can quickly cause permanent injury or death, so it's important to get a diagnosis  right away if you notice any symptoms. If she has any of the following signs or symptoms, check her milk glands immediately and continue to monitor them.
The main symptom of rabbit mastitis infection is finding one or more of the does' breasts being engorged, hot, inflamed, and possibly bluish in color, hence the various colloquial names for mastitis: Blue Breast, Blue Udder, or Caked Udder.
Other symptoms are:
Lack of appetite
Fever of at least 104F
Abscess
Diarrhea
Blocked function of the breast
Does with mastitis may not want to or be able to nurse their kits, so underfed/starving kits may also be a symptom. 
Not all does will have all symptoms, so if you notice any of the above symptoms in your nursing doe, it's important to investigate quickly, and obtain a vet's opinion and treatment as soon as possible.
Mastitis is Preventable and Treatable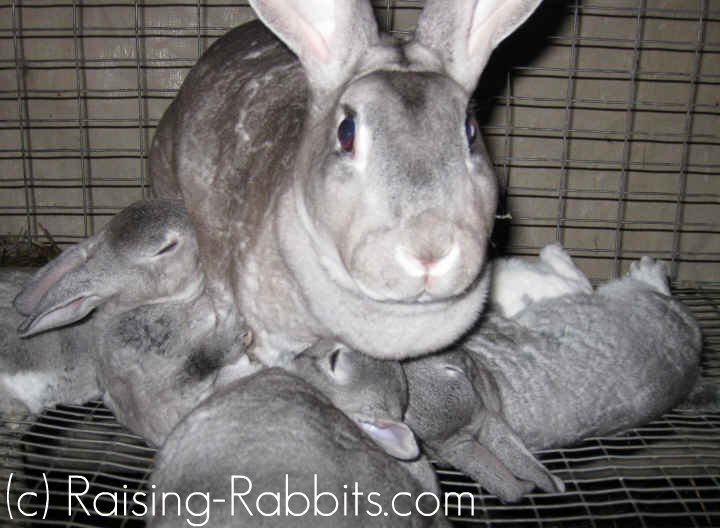 This Chinchilla Rex doe successfully nurses her kits, which are very near weaning age.
Fortunately, mastitis is both preventable and treatable. Like breast cancer in women, mastitis resolves best when detected and treated early. Maintain clean cages with fresh hay daily, and isolate her from other rabbits temporarily, especially in colony settings. 
Raising-Rabbits has 2 formulas of Bunny Branola specifically for helping your nursing does at various stages of lactation; see the Bunny Branola page for all the info: 
Mommy Mix (coming soon) will provide extra calories, protein, fats, and nutrition for healthy lactation.
Merry Mint (it's not just for Christmas!) will help her dry up at weaning time. 
If you find symptoms of mastitis, please see your rabbit-savvy vet asap. You can also give relief by gently massaging the inflamed udders and expressing the milk, and applying warm moist compresses. 
As long as the udders are not completely blocked, you can leave the kits on the doe to continue nursing. Should the milk supply falter, hand-feed the kits. Never foster these kits to another doe because they would likely transfer mastitis to their foster mother. 
Rabbit Mastitis is a Concern!
Find out more and what you can do for your doe.

See Rabbit Raising Problem Solver, pages 175, 197, 200, 202, for the details! Our paper book is autographed by the author.

Our ebook, Rabbit Reproduction, pages 63 and 64 is another great resource.
Ebooks on sale 30% off!
---
Breed of the Month: Holland Lop Rabbits
The October Breed of the Month is the Holland Lop Rabbit, that adorable smallest of all lop breeds, at least in the United States. If you are looking for a family friendly rabbit, here are 4 great rabbitries that specialize in Holland Lops:
---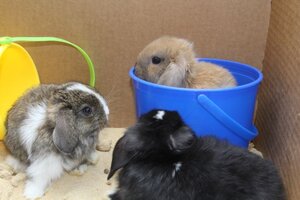 Ruth's Royal Rabbits (New Jersey) go to the beach!
Holland Lops were created by crossing French Lops with Netherland Dwarfs. The goal was to make the ultimate bunny: lopped ears, the cuteness and small size of Dwarfs, with the easygoing nature of the French Lop.
In the first American Rabbit Show that Holland Lops were allowed to officially compete, they won Best in Show!
They even have their own national club, the Holland Lop Rabbit Specialty Club, and social media presence, Holland Lop Rabbit Specialty Club on Facebook!
---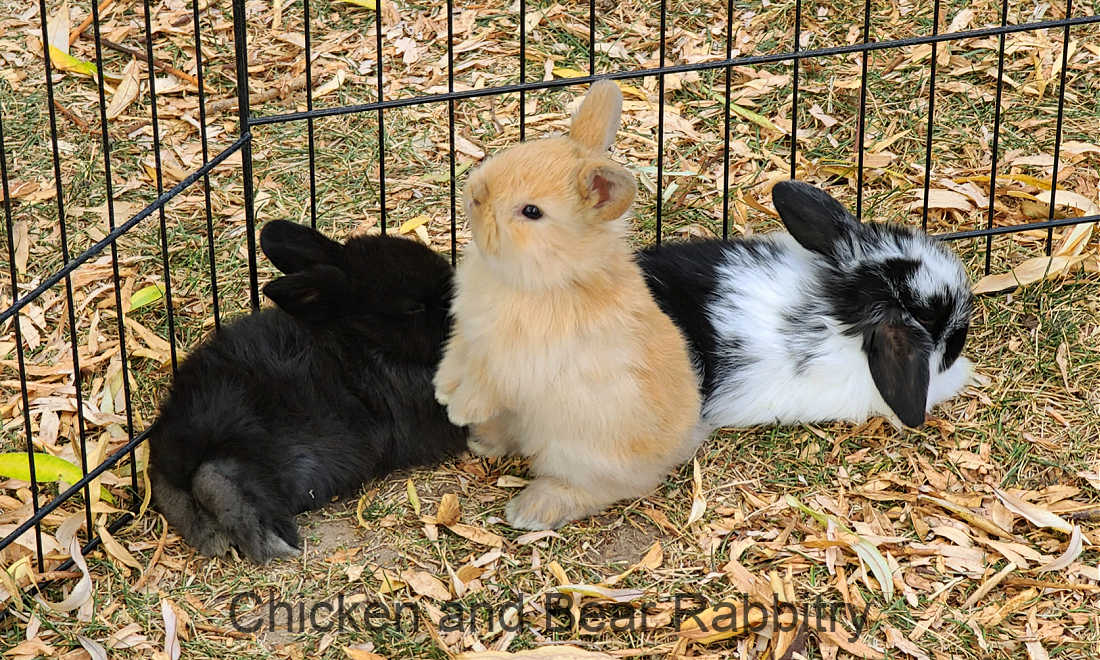 The Holland Lop is very distinct in build and personality. It has a stocky body, big round head, and comes in a wide variety of colors and patterns. Teeth issues, such as malocclusion, can crop up due to the shape of their bulldog faces, and ear mites tend to hide more easily in lop eared rabbits. Those are two issues to be aware of and to check on periodically.
To help you with these, we have have created two excellent resources on issues of rabbit health and disease:
Regarding their dense, normal fur, your rabbit will enjoy a good brushing periodically, and more during shedding season. This helps prevent hairballs that form when the bunny ingests a lot of fur from its daily grooming. Bunny Branola helps prevent fur block by providing support for protein digestion.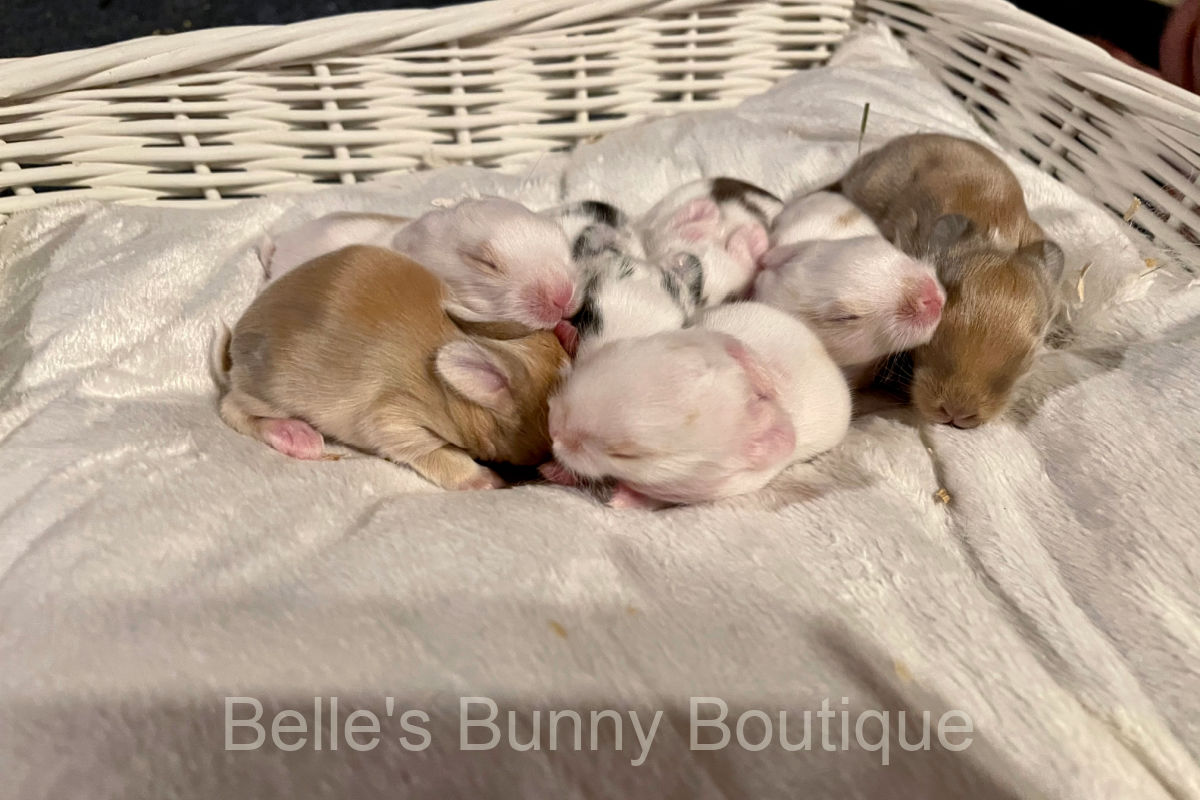 This litter of Holland Lop kits is not yet 10 days old. Belle's Bunny Boutique in New Jersey, US.
Holland Lops are easygoing and energetic, loving attention and affection. They are smart, so they can be litter trained and can do basic tricks. They like lots of room to play and run around, and enjoy being outside. Keep lots of hay and chew toys on hand, like Raising-Rabbits Chew Stix.
If you'd like to learn more about Holland Lops, check out our ebook, Domestic Rabbit Breeds.
If you're looking for a good family rabbit kids will enjoy, it would be very hard to go wrong with a Holland Lop!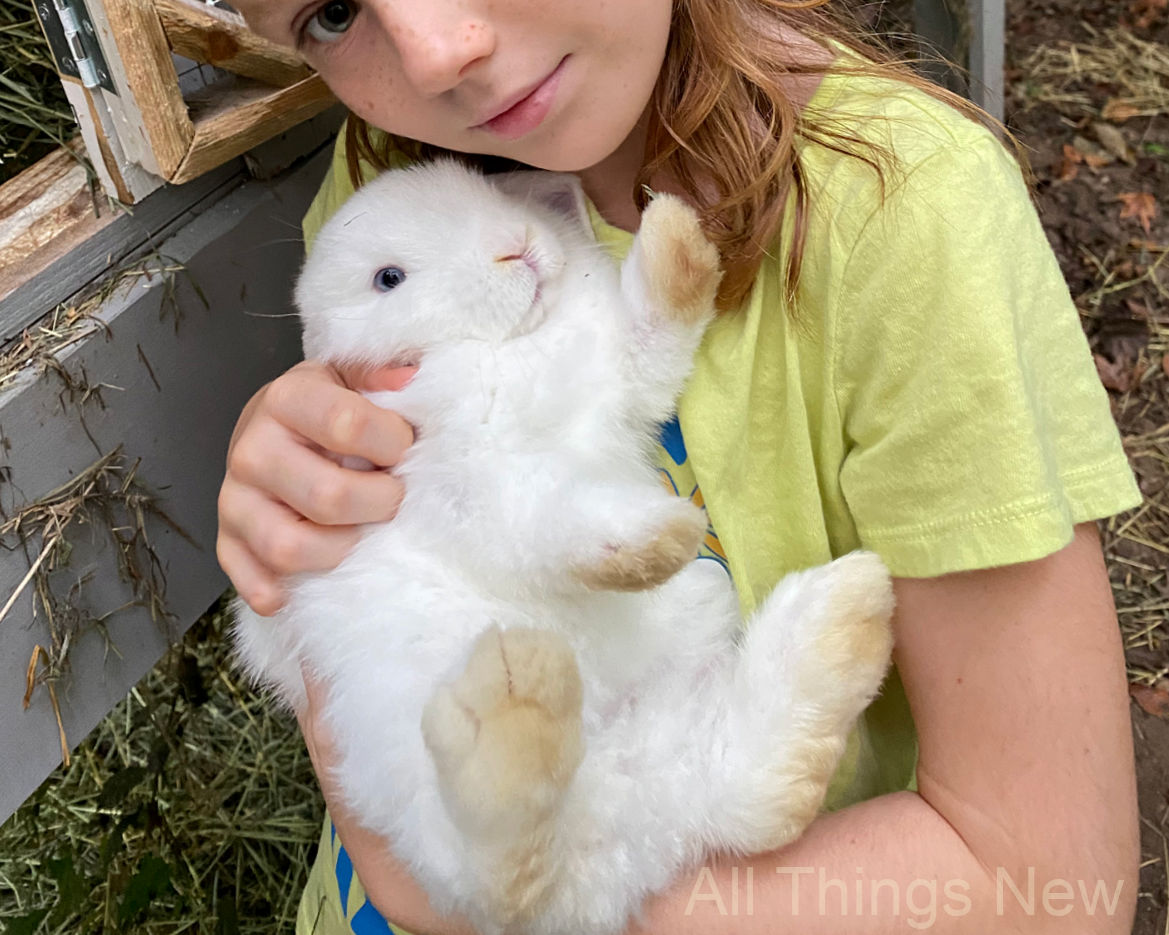 ---
Calling all rabbit breeders in VT, WY, WV!
Raising-Rabbits provides free advertising for your rabbitries both in the United States and internationally. This is quite a big deal, since our website gets over 10,000 page views every single day. Not all of these views are related to rabbits for sale, but some of them certainly are!
This is a notice to our rabbitry owner readers that there are NO rabbitries listed for Vermont, just ONE rabbitry in Wyoming, and just TWO rabbitries listed in West Virginia.
If you happen to be raising rabbits in either Vermont, Wyoming, or West Virginia, and you'd like to advertise your rabbits for sale, your listing will get LOTS of publicity!
Click here to submit a free listing, or to check whether an enhanced paid advertising subscription might better suit your needs.
---
Like this Rabbit Rhythms October 2021 Newsletter?
Maybe your friends would too...
Your friends at Raising-Rabbits.com wish you a wonderful October 2021. 
Enjoy your rabbits!
Bunny Branola - Ultimate Rabbit Nutritional Supplement, and Treat!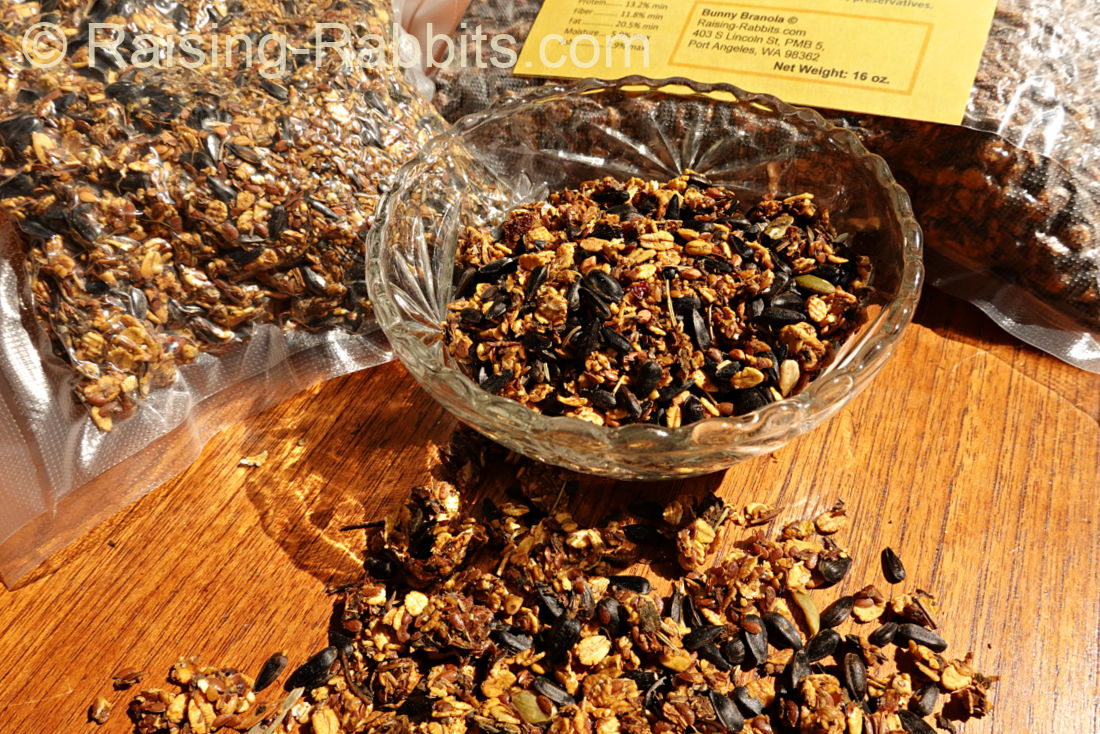 Bunny Branola.
What bunny doesn't love Bunny Bran??!
1 Tablespoon per day of our tasty and nutritious snack mix
sprinkled on their regular food is all your bunny needs to be happier and healthier.
Bunny Branola makes fur softer and shinier, teeth and tummies healthier, and helps relieve stress due to things like barking dogs, new situations, or ultra cold winters. 
Bunny Branola is a wonderful rabbit superfood supplement for pregnant bunnies and growing bunnies. 
Bunny Branola now available in three flavors - Original, Pumpkin Spice, and Merry Mint!
Bunny Branola can be ordered in Multi-Variety Packs!
---
Chew Stix by Raising-Rabbits


Just the sticks your bunnies need for chewing and gnawing!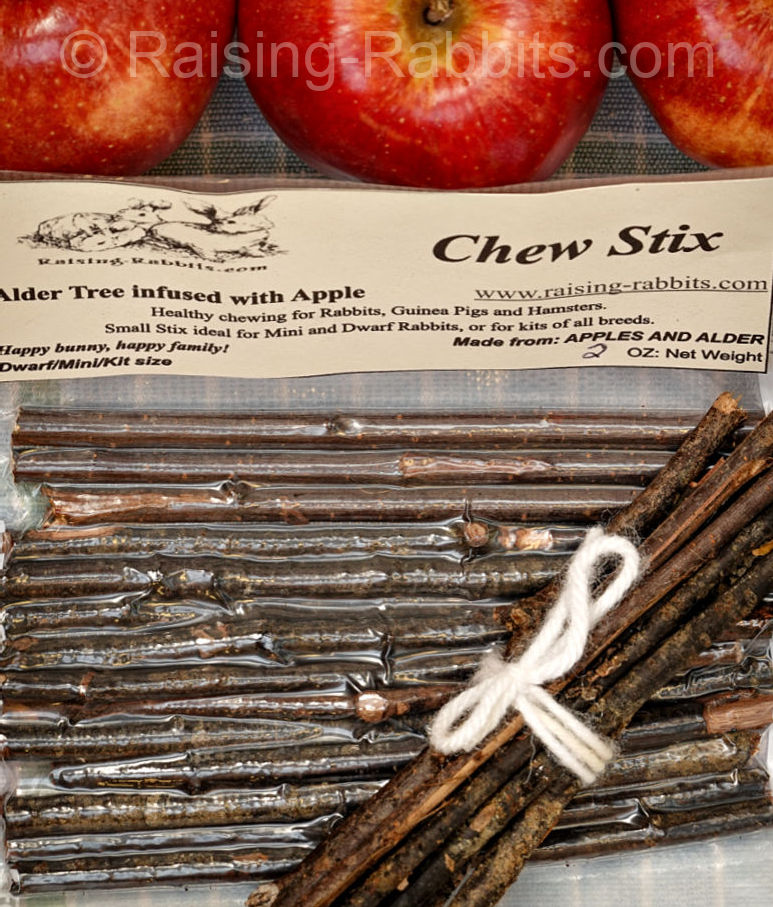 Fruit-infused Raising Rabbits Chew Stix are nature's blessings from the beautiful Washington State forests and orchards.
Fresh alder branches are harvested from trees grown without chemicals, pesticides, or smog. Those branches are then hand cut down to bunny size portions, and infused with apple from Washington's famous apple farms.

Alder is perfect for rabbit dental hygiene! The apple taste and smell will attract your bun, and they can chew to their heart's content, saving your phone cords and your sanity.