Rabbit Rhythms 
August 2019 
Newsletter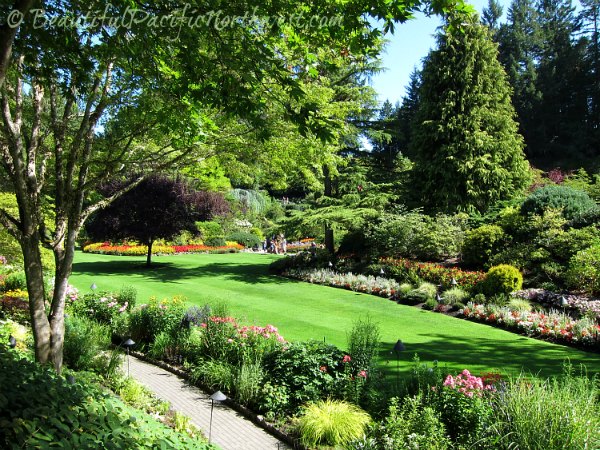 In August, opportunity abounds for feeding your rabbits with wild forages. Your family garden may be exploding. The weeds certainly are! A whole lot of the plant growth around your home may be suitable for gathering and feeding to your rabbits (if no herbicides or pesticides have been used).
However, not all plants are edible. Some are downright dangerous. Check our list of Pet Safe Plants and see if you can supplement your rabbit's diet with some fresh-picked greens or flowers.
Photo: Rabbits would love to forage at Butchart Gardens in Canada!

---
Angora Rabbits
Angora rabbits are much like the sheep of the rabbit species. Like sheep, they are raised for their wool, but their fibers are warmer and softer than a sheep's, and much more easily harvested.  The term 'angora' does not refer to a specific breed, but rather a category of different woolen breeds including the English Angora, Chinese Angora, Dwarf Angora, German Angora and many others, adding up to a total of eight angora breeds. Click here for more information on different angora breeds.

The first angora breed originated in Turkey, and was one of the earliest domesticated rabbit breeds. They were specifically bred for certain wool qualities. For example, the French Angora was bred with less fur around the face and feet to reduce the amount of time it takes to groom them, while the English Angora (the oldest of the breeds) was bred to produce more fiber, about 4 to 6 oz every 90 days. 
The most desirable breed for sheer quantity of wool is the German Angora. This breed has undergone years of high fiber production competition in Germany, which has resulted in phenomenal fiber growth, surpassing all other angora breeds. They produce up to 4 lbs (64 oz) of fiber every year, with the desired wool being silky, instead of cottony in texture. 
Angora wool becomes easily matted and must be brushed regularly. They come in a variety of colors, and make very good pets, as their temperaments are very docile. Generally, angoras were bred to have a gentle and calm temperament to make harvesting their fibers a breeze, while also making them a desirable pet.


New Rabbit Terminology Info on Raising-Rabbits
What the heck does "kindle" mean?? And, people talk about "peanuts"...is that more than just a cute name for a little bunny? Yes, it is.
Maybe you could use a list of rabbit terms!
If you are looking to become more invested in rabbit breeding, or just starting out, let us help familiarize you with the usual rabbit terminology, since the terms will regularly come up in your experience with rabbits, whether you have pet rabbits, show rabbits, meat rabbits, have a friend who owns rabbits, or are just interested in rabbits. 
New 'Classified Ads for Rabbits' Service
Looking for a quick way to sell your rabbits? Can't find your desired breed/pet? We can help! Check out our new Classified Ads for Rabbits page. This service is FREE! Feel free to contact us to add your own listing should you be looking to buy a particular rabbit/breed, or you happen to have rabbits you'd like to sell or give away. Listings last for a month, but you may certainly contact us again if you are still looking to sell or buy rabbits.
Note: These are temporary ads for temporary situations. If you breed rabbits regularly, click here for a free long-standing rabbitry listing.


Rabbits in the News:
Extreme Danger for Your Rabbits: Rabbit Viral Hemorrhagic Disease Reaches the United States (Orcas Island, WA)

What is it?
Rabbit Hemorrhagic Disease is a very deadly virus that only affects rabbits. The virus is highly contagious, and symptoms do not show until late, after the rabbit has already been infected and could have potentially infected others. Once the symptoms of hemorrhagic disease start showing, it does not take long for the rabbit to die.
The disease kills 90% or more of the rabbits that come in contact with it. It spreads by direct contact through feces, urine, biting insects, handling contaminated rabbit meat, contaminated food and water, etc. The virus is resistant through hot and cold temperatures and sticks almost anywhere, which makes it hard to eradicate. 
Origin
The hemorrhagic disease is believed to have first originated in China, killing around 9 million rabbits in 1984, and later spreading to Europe and Australia. The disease was first introduced in Australia in order to contain the rabbit population. However, the rabbits that were resistant to this disease have multiplied since, and the issue of the invasive species continues in Australia. 
The disease was recently found in Vancouver, Canada in 2018, among European rabbits roaming in the wild, which spread to one pet rabbit in Orcas Island, Washington. It is currently contained in the United States, however a few cases have been documented in Ohio and Pennsylvania, but were quickly eliminated.
This disease remains extremely dangerous to ALL domestic rabbits, even in the US. There is currently no vaccination for the virus available in the United States. Although it is currently contained, the fact that it has reached Washington State concerns breeders everywhere.
How do I know if my rabbit is infected?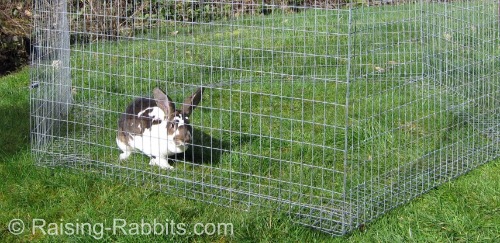 Heart break if your favorite pet rabbit should suddenly die of rabbit hemorrhagic disease!
Early symptoms you may spot include nasal congestion and lack of appetite and energy. More serious symptoms include internal bleeding, bleeding from the nose, high fever, spasms, and sudden death. For more information on symptoms, visit our Rabbit Hemorrhagic Disease page.

The Hemorrhagic virus is a serious disease. Contact your veterinarian immediately if your rabbit dies suddenly and you know the disease is nearby. If you experience a sudden loss of rabbits, or want more information on what to do if you suspect Rabbit Hemorrhagic disease, click here.


Like this Rabbit Rhythms August 2019 Newsletter?
Maybe your friends would too...
Your friends at Raising-Rabbits.com wish you a wonderful August 2019. 
Enjoy your rabbits!
Bibliography
Jenkins, Don, and Capital Press. "Highly Contagious Rare Virus Kills W. Washington Rabbit." Capitalpress.com, 23 July 2019, www.capitalpress.com/ag_sectors/ffa4h/highly-contagious-rare-virus-kills-w-washington-rabbit/article_f345fcf4-acc9-11e9-a171-a3a2894ff18c.html.
Mwangi, Kagia, et al. "Angora Rabbit Breed Information." Modern Farming Methods, 14 Apr. 2018, www.roysfarm.com/angora-rabbit/.
Patry, Karen. "Angora Rabbit. History, Pics, Descriptions of Long-Wooled Rabbits." Raising-Rabbits.com, www.raising-rabbits.com/angora-rabbit.html.
Patry, Karen. "Rabbit Hemorrhagic Disease. Rabbit Calicivirus Disease." Raising-Rabbits.com, 6 July 2018, www.raising-rabbits.com/rabbit-hemorrhagic-disease.html.
Sugrue, Suzie. The Nervous New Owners Guide to Angora Rabbits. Hare & There Productions, 2011.
Whitman, Bob D. Domestic Rabbits & Their Histories: Breeds of the World. Leathers Pub., 2004.